Prestige Wrestling
Vendetta
May 18th, 2019
Corvallis Oregon
What are you going to be doing on May 18th in Corvallis Oregon? Going to Prestige Wrestling Vendetta you say?  We here at ProwrestlingPost.com certainly hope that's the case because there likely isn't going to be anything better than this going on in the entire state of Oregon that evening!
This is the first stop on Prestige Wrestling's tour, taking place in the months of May and June but begins with Vendetta. They have a show later this month in Spokane and another in June that will take place in Portland Oregon. Nothing pleases us more than to see a fantastic promotion doing well and taking their show on the road so others might have a chance to share in the experience.
On May 18th Prestige has created a line up that will no doubt generate an entirely new audience of fans!
Singles Match
Mike Santiago vs. Chris Cruz
Traveling to Corvallis Oregon from San Antonio Texas is talented wrestler Chris Cruz, who moonlights as a nurse when he isn't in the ring. This gentleman came out of the Hybrid School of Wrestling and one half of the tag team Los Diablos. This will be Chris' debut at Prestige and his first appearance in the Pacific Northwest. According to his social media, he is hoping to become a big enough name Selena Gomez will notice him. It seems likely the audience at Prestige can help put him over!
Facing our out of town guest is local wrestling staple, Mike Santiago. This gentleman is one half of the tag team Amerikan Gunz and he has faced some of the toughest competitors in the industry. Mr. Santiago has had a checkered past at Prestige Wrestling Vendetta. He's been accused of interference and was even banned from ringside before. To say he's capable of some underhanded tactics, might be appropriate.
Will Mike Santiago run a clean match against Chris Cruz? It seems unlikely. As a result, this is going to be a very interesting and entertaining match to watch!
Singles Match
Leva Bates vs. Danika Della Rouge
Those present on Saturday night are going to be treated to a fantastic match between two incredible wrestlers! Leva Bates has been a regular at Prestige of late. When you really see how talented she is, there isn't any doubt why they keep bringing her back! She recently signed with All Elite Wrestling and we are lucky to still have her making appearances in our neck of the woods. Go and see her! She won't disappoint.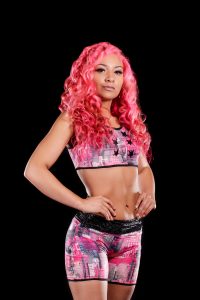 Facing Ms. Bates is one of the up and coming talents in the Pacific Northwest. She was named one of the 10 talents in the Pacific Northwest to watch earlier this year. Danika Della Rouge! She is fresh off her WWE tryout and there's a reason they called her in to show them what's she's got! On May 18th you're going to see that reason for yourself.
This is going to be an incredible match with a high chance of stealing the show!
Corvallis Street Fight
"The Devil Himself" Drexl vs. Funny Bone
Things couldn't possibly get more vile and degenerate than putting these two wrestlers in the same ring together. "The Devil Himself" Drexl has been a staple at Prestige and has haunted the Pacific Northwest for years! He is a manifestation of nightmares and terror! There are few in professional wrestling who are more horrifying to watch in the ring.
Prestige went all out to find the Devil an opponent. Facing him on May 18th will be none other than Funny Bone! This veteran of the industry has been called "The Demi-God of Death." To say he's a horrifying presence would be an understatement… throw Drexl in the mix and this match is going to push the limits of the concept of "Family Friendly!"
If you like down and dirty matches, this one will not fail to please you!
Tag Team Match
4 Minutes of Heat vs. Team C4
If you aren't familiar with "Rock God" Ricky Gibson and Eddie Pearl there is little doubt these two gentlemen will make you fans at Prestige Wrestling Vendetta. 4 Minutes of Heat have been regulars at DOA and WCWC! One could say they have built a reputation for themselves. Whether you love them or love to hate them, there is little doubt these gentlemen know how to entertain the crowd.
Facing off against the Rock God and Mr. Pearl is a well-established tag team at Prestige… Team C4! Guillermo Rosas and "Classic" Cody Chhun will be entering the ring and it's likely they will endure more than four minutes of heat from their opponents. These two talented wrestlers have emerged from the Buddy Wayne Academy, and it shows in their polished technical styling in the ring. While Cody is a by the books, clean wrestler, Rosas has been known to ride the line from time to time.
Tag Team Match
The Eh Team (Lance Pierson & Chase James) vs. Julian Whyt & CJ Edwards
Hailing from Spokane Washington the Eh Team consisting of Lance Pierson and Chase James will be making their way down to Corvallis. These two competitors have been regulars on the Prestige roster and come May 18th they will be facing some of their toughest competitors to date.
Facing off against the Eh Team will be Julian Whyt and CJ Edwards, both from the Portland Oregon area. These two men are no strangers to Prestige and have been making the rounds in the Pacific Northwest over the last couple years.
Needless to say, this match brings four extraordinarily talented wrestlers into the ring together and you can bet they are going to put on an incredible show for the audience!
Prestige Wrestling Championship
"Filthy" Tom Lawlor vs. "Grizzly" Kal Jack
Fresh off a challenging title match with MV Young, "Filthy" Tom Lawlor will be defending his title once again! This man is no slouch in the ring. With his background in MMA, he has moves that devastate his opponents. He'll need them because Prestige found someone who is going to pose a huge challenge for their champion.
The "Grizzly" Kal Jack will be making his way to Corvallis Oregon to make a play for the Prestige Heavyweight Championship. This behemoth of a man is a former WWE NXT talent who is known for his impressive size and his ability to maul his opponents.
This is going to be an incredibly fun competition to watch. These two men are highly experienced and seeing them in the ring together is going to have people biting their nails through the whole match!
Tickets are flying so don't wait. Friday, May 18th is going to be here before you know it! The folks behind Prestige Wrestling Vendetta won't get much sleep after this one. The following Friday, May 24th they will be putting on Prestige The New Fury in Spokane!
What you need to know:
VIP PACKAGE INCLUDES:
* EARLY SHOW ENTRY
* LIMITED EDITION HAND NUMBERED POSTER
* PRIORITY RINGSIDE SEATING IN FIRST 2 ROWS
* PHOTO OPPORTUNITY WITH PRESTIGE ROSTER
* AUTOGRAPH OPPORTUNITY WITH PRESTIGE ROSTER
* PLUS MORE TBA
Tickets are $5 more day of the event – all sales are final – no refunds
Card subject to change without notice
To read our previous Prestige Wrestling preview for Viva La Raza click here.