Melbourne City Wrestling presents New Horizons taking place on Saturday August 31st 2019.  MCW have been busy as of late, having just had their cross over events with SPW New Zealand which saw SLEX becoming the SPW and MCW World Champion on the same night.  MCW also recently held the finals of their Intercommonwealth Championship tournament that saw Danny Psycho coming out as the new champion.  New Horizons continues to put the company on the rise with some incredible matches scheduled for the event.
MCW World Championship
SLEX vs Adam Brooks
SLEX as mentioned earlier in this article recently became the SPW New Zealand Championship and adding to his incredible accomplishments from 2019.  SLEX was recently the Intercommonwealth Champion, a champiosnhip he relinquished in order to allow for the championship to have more spotlight while he went on to continue defending the MCW World Championship.  Adam Brooks is a name that immediately is recognized not only in Australia but the world is starting to know exactly who he is.  Adam Brooks has been dominating the squared circle around the world while SLEX has been holding strong back home.  Now it is time for Adam Brooks to bring his captivating in ring work to MCW to take a shot at defeating SLEX.
SLEX has been unstoppable as champion and is not about to allow for Adam Brooks to put a stop to his momentum.  This match is going to be off the hook exciting and a match that wrestling fans will need to watch.  These are two of the absolute best and they will tear the roof right off of the Thornbury Theatre.  There is a very deep history that also goes along with this match.  For a very in depth and extremely well written look at the history between SLEX and Adam Brooks check out the article written by Chris Small on the MCW website here.
MCW Intercommonwealth Championship
Danny Psycho vs Matty Wahlberg
As mentioned previously Danny Psycho was the man who came out victorious in the finals of the Intercommonwealth Championship tournament.  Danny Psycho showed through the entire tournament the kind of work that wrestling fans have come to expect from the championship.  Matty Wahlberg for those unfamiliar is a bad ass indivdual and a competitors that poses a massive threat to the newly crowd Intercommonwealth Championship.  Wahlberg is like the arrogant jock that picked on you in school that you always hoped would get what is coming to him one day.  Well now all grown up that same jock can still fight and he has a mean streak.  Wahlberg will stop at nothing to be victorious and he will want to make Danny Psycho's championship reign a very short lived one.  Fans will be behind Danny Psycho and hoping that he will lay a beat down on Wahlberg and give them all that dream come true moment of seeing the jock bully get what has been coming to him for years.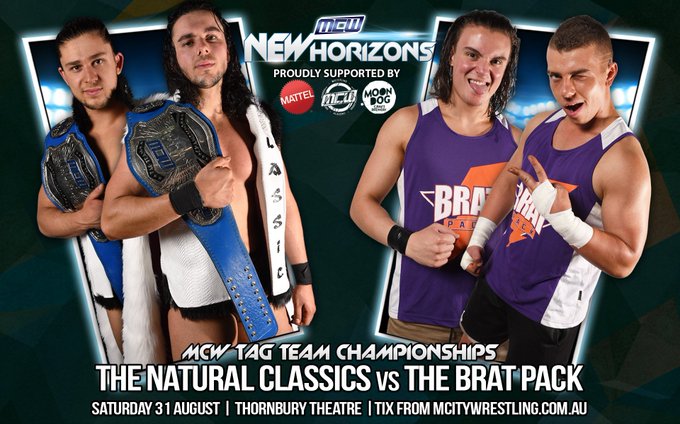 MCW Tag Team Championships
The Natural Classics vs The Brat Pack
The championship matches at New Horizons are plenty and all of them are absolutely stacked encounters.  This is no different when it comes to MCW Tag Team Championships when they are defended on August 31st.  The Brat Pack are going to get another opportunity to put the gold around their wastes and anyone who has ever seen them in action will know these two will stop at nothing to get the victory.  The Natural Classics have every thing and more as a team and they bring it to the squared circle each and every time.  There is no doubt that this encounter is going to be tag team action at its absolute finest.
Jett Rouka, Kaz Jordan, & Jake Lindo vs Disruption
From tag team action to 6 man tag team action.  There is not only an opportunity to settle some scores, but also a opportunity for wrestling fans to witness what is going to a match full of passion and non stop exciting in ring action.  Jett Rouka, Kaz Jordan, & Jake Lindo will team up to take on the team of Disruption.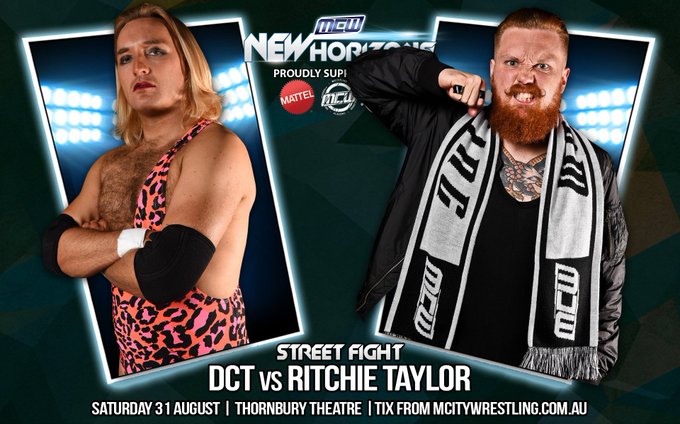 DCT vs Ritchie Taylor
Speaking on scores that need to be settled, there has been bad blood between DCT and Ritchie Taylor.  As always the best way to settle bad blood between two combatants is to put them against one another and throw the rules right out the window.  It is going to be a war featuring carnage galore as DCT and Ritchie Taylor destroy one another in a street fight.  There is no room for a wrestling match here, this is going to be a fight to the finish and you can bet that neither man will quite be the same once this one is all said and done.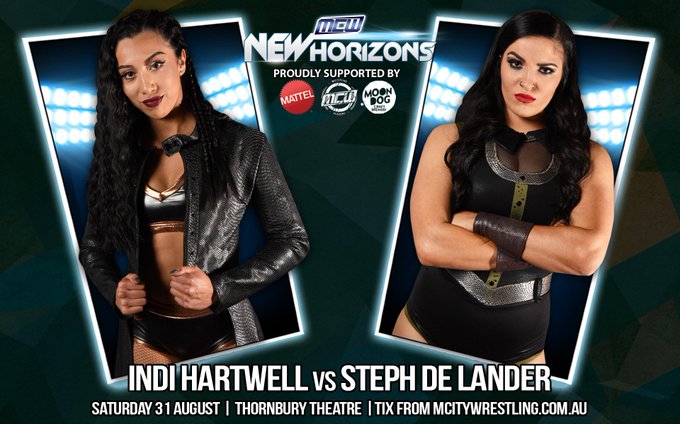 Indi Hartwell vs Steph De Lander
Once friends now turned rivals Indi Hartwell and Steph De Lander plan on showing no love for one another inside the squared circle.  These two wrestlers have been proving time after time why they are two of the biggest names in Australian wrestling.  Now it will be time to find out which of the two can really rise above and become victorious in this exciting collision at New Horizons.
MCW presents New Horizons is another prime example of the endless talent pool that Australian wrestling possesses.  Every match on the card is exciting and rich in history and excitement.  Make sure that if you can not see the event live in person that you get yourself signed up for MCW On Demand.  The service allows you to watch previous MCW events and get all caught up on the action leading up to New Horizons.  Then once the incredible production team behind MCW have New Horizons uploaded to their service you too can enjoy what is going to be one of the most memorable nights of wrestling this year.
If you want to get yourself signed up head on over here and start to enjoy some of the best wrestling on the planet.  MCW presents New Horizons is going to deliver on every level, and you can not go wrong with the rich history of a main event between SLEX and Adam Brooks.  it is going to be epic and you either need to be there in person, or go get yourself signed up and ready to enjoy the fin and excitement of Melbourne City Wrestling.