What's a better way to celebrate the New Year than watching some good ol' fashion wrestling? Well, as always, Bar Wrestling is way ahead of you with their show Ball Drop getting fans ready to bring in 2020. Hosted by Jervis Cottonbelly, it's going to be a night not to forget at the American Legion Post 241. If you have nothing to do and want to have an amazing night, then this is the best way to welcome in the new year.
RockNES Monsters & Rust Taylor & WATTS vs David Arquette, RJ City, Colt Cabana & Joey Ryan
You can't celebrate the New Year at Bar Wrestling without a big multi-man tag match, and this show is no different. With eight of the most loved stars in Bar Wrestling, there's no way that fans aren't excited for this. On one side, we've got a team with wrestlers very familiar with each other both as opponents and more specifically as teammates. We've got the tag team expertise of the RockNES Monsters (not to mention a whole lot of charisma), the athletic big man Watts who can literally do anything, and the veteran submission specialist Rust Taylor. Have you ever seen a more diverse team? They literally have a little bit of everything that a wrestler could want and this will come in handy against their equally diverse opponents that you need to watch out for. They need to watch out for Joey Ryan's Dong, Colt Cabana's ability to combine traditional wrestling and comedy, the experience of David Arquette and the charismatic RJ City. There's a whole lot of personality and talent in the ring, so it could go either way!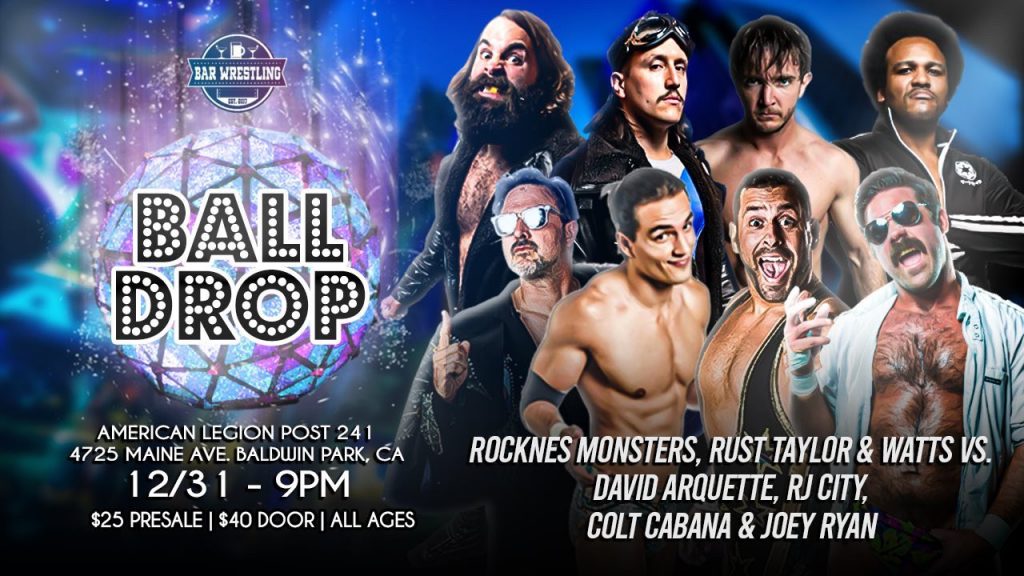 Teddy Hart vs. Jake Atlas
As the new year arrives, there's always going to be people leaving us and moving on. This is the same for this match as it's one of Jake Atlas's last independent matches, but what a match it is. Jake Atlas is one of the best wrestlers in the world, in a lot of people's opinions and there's no denying it. He is this hybrid athlete combining high flying and athleticism in a perfect combination whilst also standing up for what he believes in and just spreading lots of love. Although with not as many years' experience as his opponent, he's already made a massive mark on the independent wrestling scene. On that note, his opponent has over 20 years of experience in the form of Teddy Hart. Hart not only has the experience and family lineage, but also the talent to back it all up. Hart has traveled the world and wrestled in a huge number of different promotions, giving him that edge. However, Bar Wrestling can be seen as Atlas's second home and the crowd will definitely be rooting for the California native. It's going to be a match of pure athleticism and it could go either way!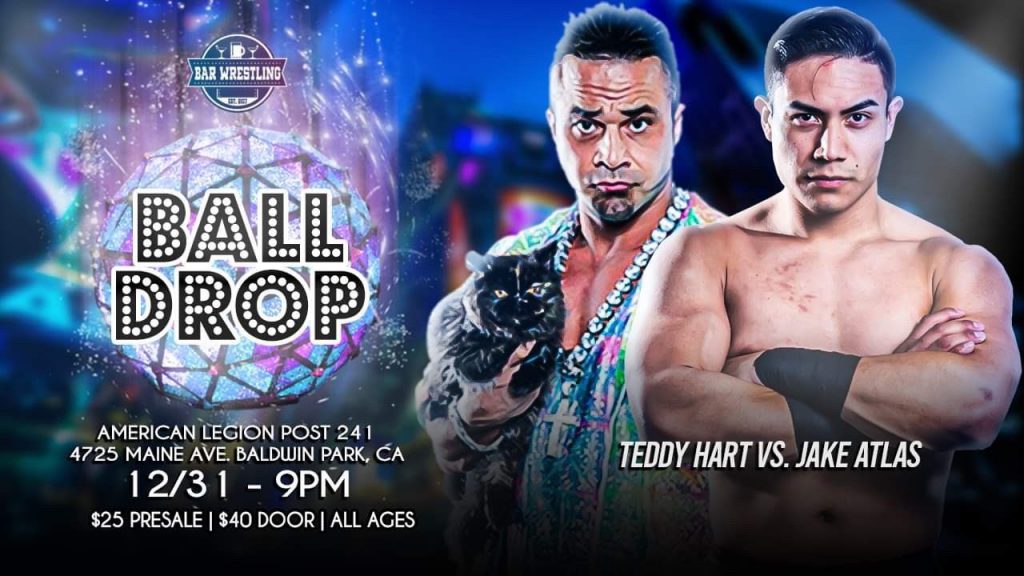 REVOLT vs. Andy Brown & Ray Rosas
Combining these four men in a tag match was pure genius from whoever booked this show. On one side, you've got the experienced tag team of REVOLT who some fans may not be aware of. Caleb Konley and Zane Riley perfectly compliment each other in the team with speed, strength, size, and agility between the two. With over 4 years' experience tagging with each other, they know how to make use of each other their skills against their opponents. However, even though Andy Brown and Ray Rosas may not have that long history teaming with each other, don't count them out. Both Bar Wrestling favourites, Ray Rosas and Andy Brown really are the perfect partners. Some thought that after Peter Avalon went to AEW, Rosas would struggle to find his footing again in Bar, but the opposite is happening. Rosas is thriving both as a singles star and with other partners. His personal experience of tag team wrestling combined with Andy Brown's wrestling skills (and personality that works so well with the charismatic Rosas) is a recipe for success. REVOLT might have the advantage if it comes down to being able to work as a team, but Brown and Rosas know each other as well so it really is down to who can get the upper hand early on.
Gisele Shaw vs. Pricilla Kelly
When it comes to women's wrestling, Bar Wrestling is a promotion that constantly keeps up with fans' demands, giving us diverse matches with amazing women. This match is no exception! Although only wrestling for a few years, Gisele Shaw has a few title reigns under her belt and a whole lot of experience traveling and performing in many different promotions. However, experience is not an issue here as her opponent Pricilla Kelly also started training in 2015 giving them both the same amount of experience. However, to Bar Wrestling fans, the latter may be more of a familiar face and name. That doesn't mean that you should count out Gisele Shaw. Shaw combines high flying and solid technical skills making her a tricky opponent because there's nothing worse than a diverse wrestler. However, there's no denying that Kelly's very unique and sometimes controversial methods of wrestling are tough for any opponent, male or female. Shaw will have to have her head on a swivel and be willing to do some stuff probably out of her comfort zone. It will take strength and a lot of creativity to try and bear Kelly, but it can be done. It's time for Gisele Shaw to show the Bar Wrestling fans what she's made of.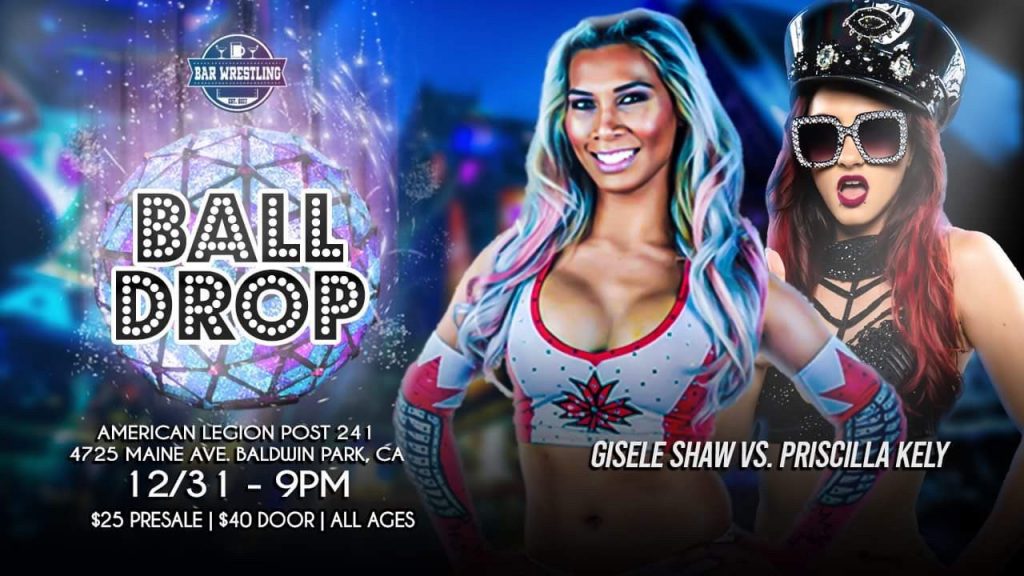 Ruby Raze & Tommy Dreamer vs. Heather Monroe & Dom Kubrick
As far as mixed tag matches are concerned, you could never have imagined one like this because it is just something you would never expect. On one side, you've got the very experienced Bar Wrestling team of Heather Monroe and Dom Kubrick. As we can expect, they will combine a risky, high flying and sneaky style to challenge their opponents. As of late, we've seen Monroe and Dubrick teaming a lot more and this is only going to help them in the match. However, you can't look at their opponents and go, wow. Ruby Raze is one of my favourite wrestlers at the moment pairing pure strength with agility and athleticism unlike any other – a deadly combination. Then you look at her tag team partner, no other than the legend himself Tommy Dreamer (brother, brother). Although this team is at a slight disadvantage with their lack of teaming experience, the combined wrestling experience from Dreamer alone is enough to counteract that. Adding Raze to the mix will mean that Monroe and Kubrick need to step up their game and figure out how to defeat the more experienced and stronger team. It may call for some of Monroe's sneaky style. However, with all four wrestlers so amazing and diverse, it's definitely going to be a dream match fans didn't know they needed.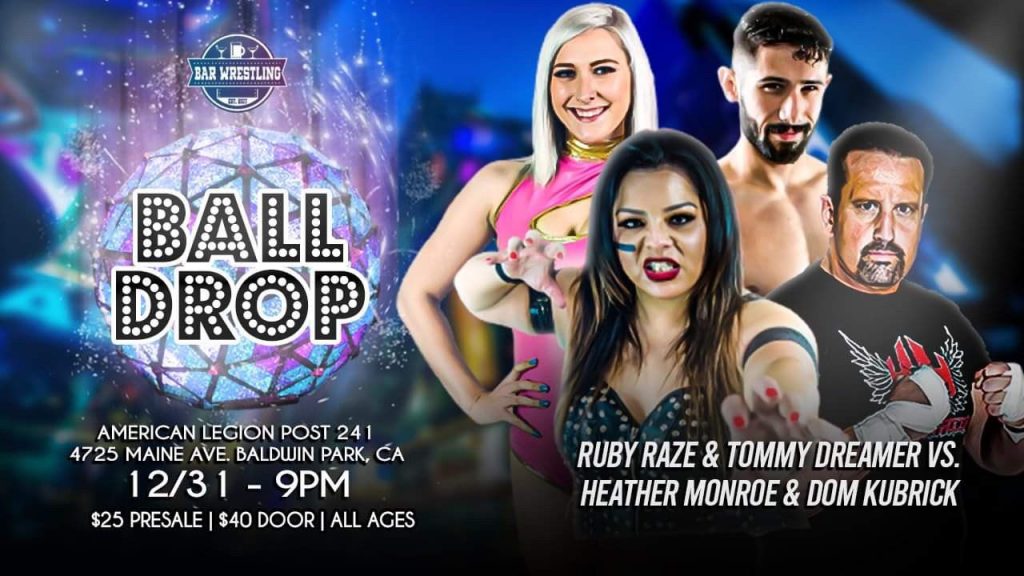 Douglas James vs. Eli Everfly
This match sees two graduates of the Santinos Bros Wrestling Academy and where else is better to see this than in LA? Eli Everfly and Douglas James are both very charismatic wrestlers perfectly combining their styles and personalities to draw in audiences and memorise fans. Douglas James is such a well-rounded wrestler with a strong and sound technical ability combining it with both deadly strikes and athleticism that is unlike any other. You've then got the equally athletic Eli Everfly who, although is known for his DoomFly tag team expertise, is one of the strongest and diverse single stars on the scene. Everfly combines daredevil, high-risk offence with influences from some of his wrestling idols, whilst putting an Eli spin on it. This match is definitely going to be one of the most impressive on the card and will have the ability to shock crowds and keep them on the edge of their seats. It will be fast-paced, dynamic and a lot of fun!
Chris Bey vs. Lucas Riley
In the past, you would always equate amazing wrestling with experience and age. However, this match is the perfect example of how age is but a number and some talent is just there. With Chris Bey at only 23 and Lucas Riley really just a baby at 20, it could be easy to underestimate these two athletes. But you would be stupid to do that! Both men have been wrestling for around three years against so many different opponents. They are so talented and have their own style and edge that puts them ahead of their elders. Chris Bey combines personality, skills and strength perfectly drawing crowds in with his varied offence and ability to entertain crowds. With his small stature and frame, Lucas Riley is able to use that to his advantage flying across the ring as if he had no cares in the world. Combining that with his athleticism means that he's tricky for any opponent to catch, never mind get offence in. Pitting these two together will see a match that is fast pace, athletic and full of high spots to get crowds excited in the lead up to 2020.
Make sure you go down and check it out because this is the best way for any wrestling fan to celebrate an amazing year in the industry and bring on another year. As always, presale tickets are available at https://m.bpt.me/event/4414635 for only $25 but they will sell out because it's an amazing price for an experience like this. However, if you're still unsure (though who knows why?), then a limited number of tickets will be available on the door for $40. But why wouldn't you guarantee your entrance to the hottest ticket in LA for a price this good!