You're missing out if you haven't been keeping up with New South Pro Wrestling presents this summer! I've been devotedly following this crew throughout 2020. As a result, I've attended several shows in the southern Tennessee/northern Alabama area over the past couple of months, and let me tell you – I've had a blast! This coming Sunday promises to be a damn good time too. New South will be back in Huntsville at the Furniture Factory presenting Top Shelf. Look for me at ringside when this party airs on IWTV!
New South presents Top Shelf: Preview
The lineup of matches for this third round of Top Shelf is absolutely solid. New South has made their mark at the Furniture Factory in Huntsville on two previous occasions this summer, and now on the last Sunday of the season we'll see their biggest show yet at this venue. Here's what we'll see:
Kung Fu Donnie Janela vs. Alpha Wolf Steven Michaels
There's been a series of memorable matches that Steven Michaels has had this year with Adam Priest. Meanwhile the out-and-out brawls Donnie Janela has had this past summer in Bloodsport and Buried Alive matches has been equally unforgettable. I'm highly anticipating how brutal these two will be once they're standing toe to toe and ready to fight tooth and nail. I can't say it enough – I told you all this would be the year everyone finds out about Donnie Janela and this match against the Alpha Wolf is going to be a classic just made for New South highlight video packages in the near future.
DyLan and 2 Fly Ty vs. New South Express vs. Lady Killerz vs. Talladega Knights
This one will be a four-corner tag match for the New South Tag Team Championship! I'm pretty sure everyone knows I'm a hundred percent biased in favor of DyLan and Ty here (well, more DyLan than anything else), but I have to say I'm a little worried about the outcome for the boys here when they've got staunch competition from the other three corners of the ring. We've seen how good New South Express is; Brandon and Dump are only getting better as a team. The Lady Killerz established themselves at the last Top Shelf event as red hot competitors and everybody should know that it's time for the young Talladega Knights to shine. There's challenges from all directions here and it's way too close for me to call. All I can say is DO WORK, DyLan, and don't let the team down, Ty!
Chris Crunkk vs. Brett Ison
Here we go! Chris Crunkk is Mr. Nothing to Lose, but in this particular case he's got everything to lose going up against the Pitbull. Not only is Crunkk losing the toughest and most dangerous ally he's ever aligned himself with in Ison, but now he's got to face off with him with (hopefully) no help from the other members of the Akuto Death Society. I say this will be a one-on-one match, but anyone who's been following this situation knows the ADS has a clear interest in seeing Crunkk win decisively over Ison and assert their authority as the dominant group in New South. However, it'll take more than that army to take out the Pitbull. Ison for the win!
Akuto Death Society vs. Dojo Boyz
Speaking of those devils in the Akuto Death Society, they've got their own challenge to focus on as they take on the Dojo Boyz. Erron Wade and Leo are straight out of the dojo and know nothing but respect for the fight, but these two will have no other choice but to get absolutely WILD here against Kevin and Shean. Expect this one and the four-way tag match to have some of the most gif-worthy matches of the show.
Shalandra Royal vs. Kenzie Paige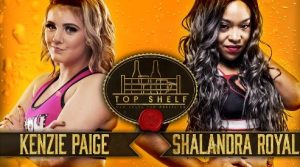 Awww yeah! These ladies are gonna get down again and I'm telling you, they put on a hell of a show. Kenzie and Royal are two names that especially stand out in this summer of New South shows, as I wasn't too familiar with either at the beginning of the season. Now, though? I'm ready to see another round of this excellent series of matches they're having! LET'S GO ROYAL!
New South Pro Wrestling Presents Top Shelf
Mance Warner vs. Cabana Man Dan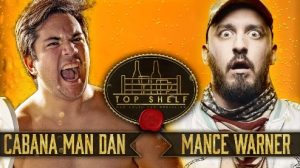 Full disclosure, this is the match that sold me on this show. Yes, yes, I was planning on going anyway, but when I heard Mancer would be taking on Our Man Dan I cleared my schedule to make damn sure I'd be there live for this one. For one thing, this will be the first time we've seen Mance and Dan get crazy in the ring. And then – have you seen Dan lately? I mean damn, this is not the same Cabana Man Dan we knew even from earlier this year! The man is buff, cut, ripped, chiseled, and jaaaaacked and I am loving it, friends. This is that version of Dan that will definitely give Mancer a hell of a fight and make this match worth every penny.
New South Pro Wrestling Presents Top Shelf
Suge D vs. Derek Neal (New South Championship Title Match)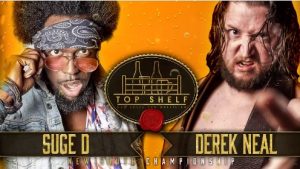 Suge D is back in Bama, baby! He's not playing with anybody this time, either, ya'll – Suge is back for the gold. That's right, the man we often call Pineapple Pete will be challenging the badass King's Road Slayer himself, Derek Neal. Now, Derek Neal would be what I call ten times more than just a fighting champion, dude's an annihilating champion. As much as I love Suge D, I can't see the King's Road Slayer letting anyone come that close to taking what's his. He's enjoying his reign atop New South too much to let anyone knock him off his throne. I do expect, though, for this to be one hell of a main event match to cap off what's sure to be a fantastic show from start to finish.
Don't miss New South's third Top Shelf event when it airs soon on IWTV; check their schedule within the next few days for an official air date and time. For those who are making the trip to Huntsville this Sunday for the show, I'll see you at the Furniture Factory – let's PARTY!