Known as The Latina Sensation, Mercedes Martinez is a 20-year veteran in the wrestling business. Even though she has two decades of experience, Martinez waited 17 years to have her first match within WWE. She was officially signed to NXT in January 2020. Mercedes Martinez hasn't just spent 20 years in the industry hiding in the shadows. She pushed herself to the front of the line. Martinez was proving that her age meant nothing compared to her hard-hitting, raw ability.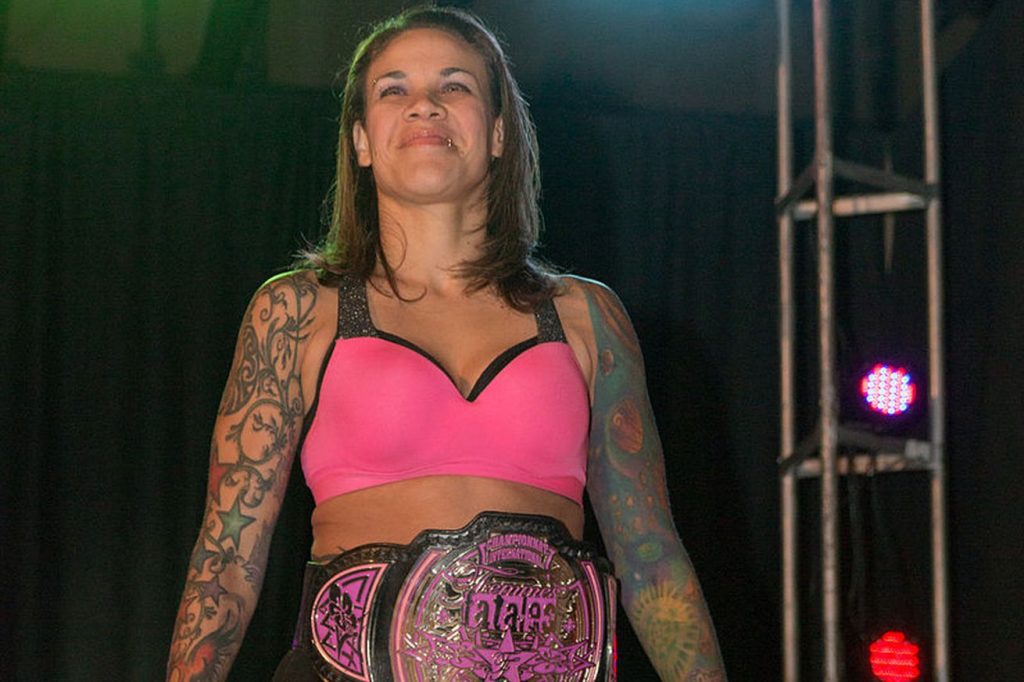 Switching From Basketball To Wrestling 
Mercedes Martinez is like many wrestlers who made a name for themselves playing another sport. Martinez has a love for basketball. Mercedes became a well-known basketball player within high school and college leagues. That was until she picked up an injury which meant it was no longer wise for her to race across the court. She changed her focus from basketball to wrestling, she sat down with the Boston Herald in 2004 to explain "wrestling just came at the right time."
Mercedes Martinez made her debut on the 12th of November 2000 against Juice. While she had the odd match Martinez continued to train under Jason Knight who helped her develop a solid wrestling style. In 2001 Martinez's career started to take off. It was then where she worked under promoter Sheldon Goldberg who formed a women's division within New England Championship Wrestling. While working with Goldberg Martinez faced a number of foreign talent including Sumie Sakai. Mercedes Martinez continued wrestling for different promotions but her career started to take off in 2004.
On the 6th of November 2005, Martinez wrestled in the first-ever female exclusive wrestling promotion Shimmer Wrestling Athletes. Martinez's first event at Shimmer was against Sara Del Rey which ended in a time draw. She continued wrestling for the promotion owned by Dave Prazak. She did this while working at other promotions on and off for another 11 years.
It was on the 25th of March 2006 in New York City when Mercedes Martinez finally debuted for Ring of Honor (ROH). This was against Allison Danger, Daizee Haze and Lacey. In December of 2007, Martinez joined The Vulture Squad until it was announced she left the promotion in May of 2008.
Making Waves, Winning Belts & Kicking Arse 
Leaving Ring of Honor did not end Martinez's career, she focused on continuing to build her wrestling career. In 2007 Martinez made her debut for Women Superstars Uncensored working with Angel Orsini. They did win the WSU Tag Team Championships at one point. Their teamwork didn't end well though. It was only a few months later they were fully focused on feeding and kicking each other's arse. This hard-hitting feud lasted well into 2009. On the 7th of March 2009, Martinez beat Orsini to win the WSU Championship. Orsini and Martinez's feud was extremely impressive ending on the 6th of June 2009 with a 60-minute Iron Woman Match in Boonton, NJ.
While holding the WSU Championship she had matches against Nikki Roxx, Awesome Kong, Rain, Portia Perez, Alicia, Amber O'Neal, Mickie James, and Jazz. Orsini and Martinez feuded again in 2011. Together they faced each other in January where Martinez captured the All Guts No Glory Championship in a ladder match. In August of 2011, Martinez would face Lexxus in the longest women's wrestling match in history lasting 73 minutes. Martinez's next feud was against Jessicka Havok, this feud ended in February 2013 when Martinez lost in a Casket Match against Havok.
While working with Women Superstars Uncensored she also appeared in Jimmy Hart's Wrestlicious promotion in 2010, NCW Femmes Fatales between 2010 to 2019, and Shine Wrestling between 2012 to 2019. While wrestling in Shine Wrestling Martinez she faced Leva Bates, Jazz, Jayme Jameson, Rain, Awesome Kong, Mia Yim, Su Yung and Nikki Roxx.
Entering The Mae Young Classic, Twice 
In 2017 Mercedes Martinez received the opportunity that would change her career forever as she was invited to take part in the first-ever Mae Young Classic. In the first round of the classic, she faced Xia Li and won moving on to face Princesa Sugehit who she also eliminated. She next eliminated Abbey Laith. Martinez then went to the semi-finals to face Shayna Baszler and was eliminated.
Her NXT career didn't end here though as a few months later in October 2017 Martinez returned to NXT to take part in a Battle Royal qualifier for the NXT Women's Championship. Martinez lost this Battle Royal but returned a month later to face Ember Moon in a singles match, which she lost.
"After going so far in the 2017 one, I kind of thought that was it. I thought I had my chance and they weren't going to have anyone else returning. I was excited because I didn't know who they were going to bring in. But I was ready. I'm always ready for anything when it comes to WWE."
– Mercedes Martinez speaking to TV Insider.
Martinez was invited back to compete in the second Mae Young Classic in 2018, at this point she was already an 18-year veteran within wrestling. While Martinez did not win the second Mae Young Classic she did become a quick fan favorite after an incredible match against Meiko Satmoura.
WWE did not rush to sign Martinez even though she proved popular with the fans, it would take another two years for Martinez to be officially signed with the company. Martinez made her debut on NXT on the 15th of January 2020 within a Number One Contendership Battle Royal. She then defeated Kacy Catanzaro on the 5th of February 2020 for her first win within NXT. Martinez did appear on the 2020 Royal Rumble PPV as a competitor within the Women's Royal Rumble match, she was thrown out of the ring by Sonya Deville and Mandy Rose.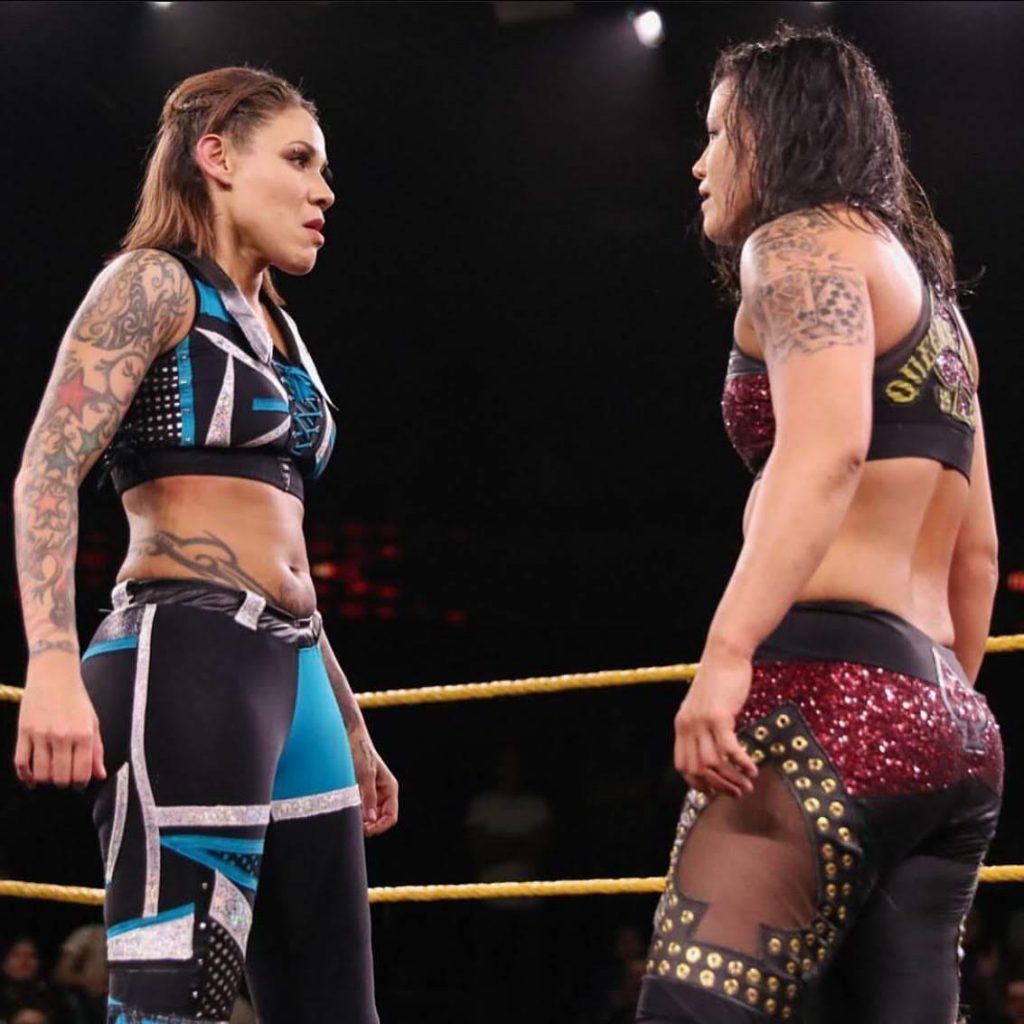 All images and videos courtesy of WWE and Shimmer Wrestling 
———–
Before the journey began for several WWE talent, their skills were being honed in gymnasiums, auditoriums, and in front of crowds of a few hundred people. They never wavered in the pursuit of their goals, and those roads they traveled helped them achieve the success they have today. "Before the E". 'The E' is inspired by a common nickname for WWE. To understand where talent is today, it is important to know how they came to be part of the Entertainment side of World Wrestling Entertainment. This week we present Mercedes Martinez.