It takes a special kind of person to be in the professional wrestling industry. It takes an extraordinary person to be in the professional wrestling industry for more than three decades. Matt Hardy has traversed his career in a way that many could not.
He is continuing to cement his legacy as a legend and, most importantly, someone who gives back. There are countless moments that Matt Hardy has provided to fans that will forever be praised in the annals of wrestling.
_____________
If you are reading this article, you most likely know a great deal about Matt Hardy. This is less of an informative piece as it is a tribute to the person who has spent their life providing entertainment to others.
Matt Hardy is a generational talent, and it's time to pay homage to him. Sit back, relax, and enjoy Part One of the AEW Talent Preview of Matt Hardy. Lord knows we couldn't fit everything in one.
Matt Hardy –
Early Life
Matthew Moore Hardy was born on September 23rd, 1974, in Cameron, North Carolina. Matt would gain a brother 3 years later named Jeff. The two boys worked for their father at a young age on his tobacco farm.
Heartbreak hit the Hardy family in 1986 when Ruby Hardy, Matt and Jeff's mother, had died from Brain Cancer. Matt, who was just 12 years old at the time, never thought that she would actually pass away.
As Matt and his brother Jeff were trying to understand life without their mother, their father provided great advice. Their father expressed to them the importance of overcoming this grief to honor their mother's memory.
Matt Hardy did his best to honor his mother in any way he could. He devoted his time to playing sports and excelled scholastically at Union Pines High School. Hardy received the "Morehead Award" in High School, where he had a scholarship to any North Carolina college.
He ended up at the University of North Carolina, where he majored in engineering. However, heartbreak would hit the Hardy family once more as his father became ill. It's very important to note that Hardy enrolled at Sandhills Community College and received his Associate's Degree.
Matt Hardy –
Influences of Professional Wrestling
Some people become professional wrestlers for the money. However, most successful professional wrestlers are those who are "lifers." Matt Hardy has been a fan of wrestling since he could remember. He has explained who and what got him into wrestling during an interview with Chris Van Vliet:
"The first guy that I became a fan was Macho Man Randy Savage. And that happened at WrestleMania IV when he won the tournament for the WWE World title.
And I think the reason I was such a big fan of his was because he was an over-the-top character, and he talked in this crazy voice. He wore these extravagant outfits; his finisher was the flying elbow."
Hardy would continue to talk about his inspirations to get in the business:
"As time went on, I was a fan of Bret Hart. I loved his work rate. I think he was one of the best workers of all time. So believable in so many ways.
And then, obviously, Shawn Michaels. He was a big influence on myself and my brother. The Rockers all the way through to his singles run. And obviously, the Shawn Michaels and Razor Ramon ladder match was a big inspiration for us."
Hardy fell in love with the exuberance of characters like Savage and The Rockers. At the age of 18, Matt and his 15-year-old brother Jeff started their very own wrestling promotion. It would be known as the Trampoline Wrestling Federation, and the two brothers would mimic what they saw on television.
After some experience was gained, the boys would put on shows at country fairs. Eventually, Hardy sent a tape to WCW's Power Plant in hopes of getting noticed.
The tape was received and watched by many in WCW, but the only thing they did was steal Hardy's gimmick. Matt was going by High Voltage, and WCW ended up taking the name and giving it to Robbie Rage and Kenny Kaos. Former WCW wrestler Chris Kanyon confirmed this.
Matt Hardy –
First Emerging on WCW

Hardy realized that his name was taken and being shown on WCW television. So instead of combating this, the creative mind of Matt Hardy rebranded to Surge.
Both Matt and Jeff would wrestle around the North Carolina independent circuits. They would continue to get noticed as the two brothers were brought into WWF as enhancement talents.
Matt Hardy had his first WWF match against Nikolai Volkoff on the May 23, 1994, episode of Monday Night Raw. He would continue to wrestle the independents while doing jobs for Owen Hart, Razor Ramon, Steve Austin, and Hunter Hearst Helmsley.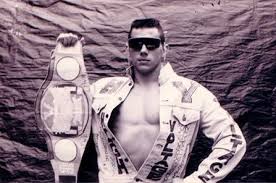 In 1997, Matt and Jeff created another wrestling promotion. The Organization of Modern Extreme Grappling Arts, also known as OMEGA. Matt and Jeff set up and broke down the ring for every event. Matt started to dabble in his ability to make gear as he sewed all outfits for the promotion. OMEGA did not last long as WWF finally signed the two brothers. They were sent to get formally trained by Dory Funk Jr. The duo of Matt and Jeff would forever be known as The Hardy Boyz when they made their debut in 1998 during Heat.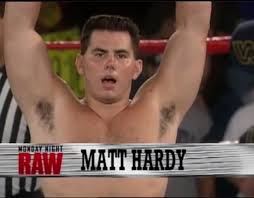 The Hardy Boyz quickly became fan favorites as they wooed many with their high-flying abilities. In 1999 the team added Michael Hayes as their manager during their feud with Edge and Christian.
The North Carolina natives would capture their first WWF Tag Team Championships on July 5th by defeating the Acolytes. They wouldn't hold the belts for long as they lost them back to the Acolytes a month later.
This was followed by the Hardy's dumping Hayes and joining Gangrel in The New Brood. Once again, the Hardy's would disband and eventually would win the manager services of Terri Runnels in the first tag team ladder match.
The New Millennium –
Matt Hardy

The Hardy Boyz were off to a great start in their careers, but 2000 is where things really got moving. The brothers would further lean into their extreme high-flying ways. They were joined by real-life friend Lita in 2000 and would be known as Team Xtreme.
Around this time, The Hardy Boyz, Edge and Christian, and The Dudley's were reinventing what professional wrestling could be.
At SummerSlam 2000, these 6 men competed in the first-ever TLC match. The trio of teams continued their destruction path, and at WrestleMania 17, they shocked the world.
The second-ever TLC match is regarded as one of the best matches in professional wrestling history. All 6 men, including Spike, Lita, and Rhyno, put on a spectacle of a match.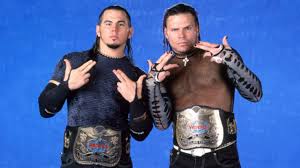 The Hardy Boyz collected four tag team title reigns in their first 3 years in the company. They had a brief singles stint early in 2001.
Jeff Hardy would win the Intercontinental Championship, and Matt would win the European Championship. Matt would go on to hold the European Championship for 125 days after defeating Eddie Guerrero on SmackDown.
Team Xtreme would rejoin together later in 2001, where they would capture the WCW Tag Team Championships and later their 5th WWF Tag Team Championships.
Although everything seemed to be fine with the Hardy's, Matt turned on his brother Jeff in 2002. Matt would then join the SmackDown roster to create his own single path once more. Thus, Version 1 Matt Hardy was born.
Matt Hardy –
Version 1

Version 1 Matt Hardy was the first to adapt to the new digital era. His entrance would start with the typing of his name and then a belt of "OOOOH YEEEEAH!". Who could ever forget the best opening line to entrance music that was "I can slap a tornado"?
Matt Hardy fully embraced the ".com" era and would even have Matt Facts. These included facts like "Matt has never locked his keys in his car" or "Matt hates cleaning his carpet," or everyone's favorite "Matt enjoys looking at pictures in Playboy."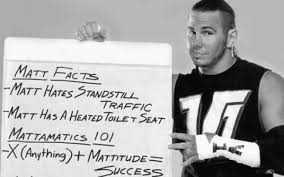 Hardy's gimmick was getting over, and he was doing everything he could to get down to 220lbs for the Cruiserweight division. His Mattitude Follower Shannon Moore assisted him in cutting weight in hilarious vignettes.
Hardy eventually made weight in time for his match against Billy Kidman at the 2003 PPV No Way Out. Matt was victorious and would hold the Cruiserweight championship for 100 days.
Hardy would successfully defend the belt against Rey Mysterio at WrestleMania 19 and the likes of Funaki, Brian Kendrick, and Tajiri. V1 would eventually lose the belt to Mysterio on the June 6th, 2003 episode of SmackDown.
Hardy eventually dropped the V1 gimmick and went to the Raw brand so he could travel with real-life girlfriend, Lita. In the storyline, Matt turned on Lita by fake proposing to her. He ended up turning back to face as he feuded with Kane in a storyline involving Lita.
Hardy would end up being choke slammed by Kane off the stage during his wedding with Lita. This was a way to write off Matt so he could deal with a knee injury.
Matt Hardy, Edge & Lita –
The Love Triangle
During his time off, a real-life scandal was brewing. Hardy's good friend in the industry Edge had been involved sexually with Lita unbeknownst to Matt.
It turns out that Hardy heard a voicemail from Edge sent to Lita confessing his love for her. While sitting at home rehabbing, Matt Hardy went online to air his grievances. The top brass of WWE was not happy with Matt making this situation public.
The fans started to chant at Edge on TV that he screwed Matt. This obviously wasn't planned, but it led to Matt Hardy being brought back into WWE. Hardy returned on the July 11th episode of RAW, where he would break kayfabe calling Edge "Adam."
He also called out the head of Talent Relations, John Laurinaitis, for how he handled the situation and unjustly fired him.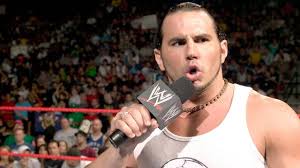 This blend of real-life and storyline surely had fans questioning what was real and what wasn't. Many were surprised that WWE had resigned Matt, but it was hard not to with money on the table.
Edge and Matt would meet at SummerSlam in an underwhelming Street Fight. Surprising, Edge would be victorious, which confused many at home and in the arena. Hardy would get his payback at Unforgiven in a Steel Cage match. With the two men at one win each, it was time to finish this real-life feud.
On the 2005 WWE Raw Homecoming Episode, Matt Hardy and Edge would face off in a ladder match. The prize hanging above the ring was none other than Edge's Money in the Bank Briefcase.
The winner would gain a future World Championship match, and the loser would have to leave Raw. The match would see Lita assisting Edge by tying up Hardy in the ropes. Edge and Lita would continue their relationship on and off-screen, and Matt would be moved over to SmackDown.
To Be Continued

There is much more left to cover about the career of Matt Hardy. During his first 13 years in WWE, Matt Hardy captured 9 championships. He would continue to collect championships throughout his career in WWE.
Matt Hardy has Native American roots. It is important to celebrate him and all descendants of Indigenous People.