On Wednesday, March 17th, 2021, for the very first time, All Elite Wrestling had two women close the show in the night's main event. Thunder Rosa and Britt Baker closed out Dynamite in an Unsanctioned Lights Out – Anything Goes Match. 
The two ladies delivered a wild, bloody brawl that saw them use everything but the kitchen sink in efforts to win the match. This match got me thinking about the first time WWE Monday Night Raw had two women in the main event. Let's go back to December 6, 2004. Lita and Trish Stratus, long-time rivals, were set to meet in the show's main event. 
___________________
On the line, the WWE Women's Championship, something the two had fought over for years. You see, before the WWE, women's wrestlers were known as Divas, and long before the Women's Revolution, the WWE had a stacked women's roster. Lita and Trish defined a roster featuring the likes of Victoria, Molly Holly, Jazz, Ivory, among others, and now they were given the chance to shine in front of the world. 
Lita and Trish Stratus
Generation Defining Rivalry in Women's Wrestling
Even with the pressure of headlining Monday Night Raw, both Lita and Trish Stratus were confident in carrying the show. Something Lita stressed in a Youtube match watch; the two did together years later. 
"It meant so much to be given that spot, but I knew we'd deliver. I knew it, because we had worked so well together and we were like great, finally we get to go out there and do our thing."
See the full video below:
Lita had returned from neck surgery earlier that year and felt the brunt end of Stratus' cocky, heel persona. The two fought at Survivor Series a few weeks earlier, but Stratus escaped with her title after Lita was disqualified for hitting her with a chair.
Stratus suffered a broken nose during the bout, adding more intensity to their feud. Entering as the champion, Stratus arrives complete with a face protector mask. Lita emerges second to a hometown hero's welcome from the North Carolina audience. 
The two start with a collar and elbow tie-up, sending both tumbling through the ropes to the floor. Once back in the ring, Stratus pulls out her patented Matrix-style backbend, ducking Lita's clothesline attempt. But Lita, knowing her opponent so well, kicks her legs out from under her for a two-count.
Lita then sends Trish over the top rope with a back body drop. Keeping the momentum, Lita follows that up with a suicide dive to the outside. Awkwardly landing on her head and neck immediately raised concerns for her surgically repaired neck. 
A Generation-Defining Rivalry
Trish uses her mask to gain the advantage, proving announcer Jim Ross' theory right that she didn't need it anymore. With the crowd firmly behind her, Lita is able to fight off Trish's attack, nailing the champion with a superplex from the top turnbuckle. The high-risk maneuver garners a close two count. 
Trish gets her own close two count after nailing what would eventually be dubbed the "Chick Kick". Another false finish comes when Lita power bombs Trish. It's followed by yet another close call when Lita counters Trish's powerbomb attempt with a roll-up.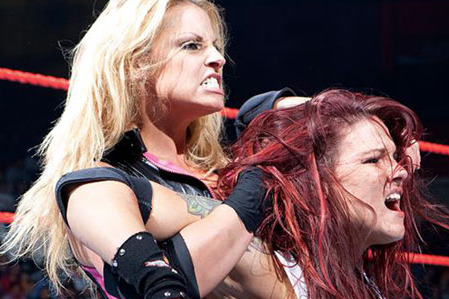 But, the closest fall of the night comes after Trish counters a DDT attempt from Lita by holding the ropes. Ever the heel, Trish uses those ropes to try and gain more of an advantage during her pin attempt. Lita, much to the delight of the crowd, kicks out just before the three count. 
From here, Lita hits a modified twist of fate before climbing the turnbuckle. Facing the crowd, Lita throws all caution to the wind and connects with a beautiful moonsault. A three count later, and Lita is the new WWE Women's Champion, causing Jim Ross to proclaim boisterously…
"By Gawd Lita did it , Lita did it King. I can't believe the effort, the heart both women displayed, but Lita tonight, the better woman. Lita tonight is the new Women's Champion."
The crowd shared in Ross' excitement during a truly iconic Monday Night Raw moment. These two women, icons in their own rights, grabbed the brass ring that night, proving women could main event any show. It was the main event both Lita and Trish Stratus couldn't be prouder of, something Trish talked about on her website.

"We were totally honored when we found out, we had worked our butts off to bring the level of our matches and the interest in our feud to this point, so it was like our hard work had paid off – we worked for that main event spot, and we earned it – that felt great! We knew we had a huge responsibility to pull off something great."
To read it in its entirety, click here
This match between Lita and Trish Stratus was the peak of a rivalry that defined the women's division.  It set the standard for women's main event matches for the likes of Thunder Rosa, Britt Baker, Charlotte Flair, Sasha Banks, and all the women currently competing in the crazy world of professional wrestling.