Impact Pro Wrestling fans, the time has finally arrived. This Saturday, May 8th, the stars of IPW return to the Forte Center in Des Moines, Iowa. The COVID pandemic forced IPW and most pro wrestling promotions to find ways to entertain their fans without those fans in attendance. IPW dealt with social distancing by presenting their fans with Facebook live shows. This Saturday night, IPW welcomes back their fans with an action-packed show. Not only is it IPW's first show at the Forte Center in over a year, but it's also Impact Pro Wrestling's 20th Anniversary Show. Let's look at the card.
__________________
Impact Pro Wrestling 20th Anniversary
IPW Heavyweight Championship
The Big Picture © vs. "Golden Boy" Bryce Jordyn
For over two years, a large shadow has been cast over Impact Pro Wrestling. That shadow belongs to the current IPW Heavyweight Champion, The Big Picture. Since winning the championship, the monster of a man, who appropriately enters the arena to Blue Oyster Cult's "Godzilla," has been on a tear in IPW.
Never backing down from a title defense, The Big Picture seems to always end the night with his precious championship in tow. Some of his defenses have come by nefarious means, but when you're the champion, you hold on to your title by any means necessary.
"Golden Boy" Bryce Jordyn is at the forefront of the current youth movement taking place in IPW.
Before the pandemic hit, Jordyn was building a ton of momentum. Highlights of this include winning the Golden Ticket Ladder Match and recently becoming IPW Vault Championship. Winning the Golden Ticket at IPW's last show at the Forte Center earned him a championship match whenever he saw fit.
During one of IPW's most recent Facebook live shows, Jordyn let the world know he was cashing in his ticket on Saturday, May 8th. He could have very easily cashed it in on a weakened Big Picture, who had just gone to battle with the Death Dealer but instead chose to announce his intentions of challenging for the championship in front of the fans. 
We'll find out this Saturday whether Jordyn's nobility comes back to bite him or if the Golden Boy will leave the Forte Center with two championships. 
Impact Pro Wrestling 20th Anniversary
IPW Extreme Championship Death Match
Malice © vs. Dalton Cooper
When IPW last entertained the fans at the Forte Center, Dalton Cooper came in through the crowd and attacked Malice. Cooper's crusade to not only embarrass the "Monster of the Midwest" but wage war on everything IPW leads to this Death Match. Malice, proudly carrying the IPW banner, enters this match, determined to finally shut Cooper's mouth.
A mouth that spewed a venomous promo during IPW's latest Facebook Live Show. The promo came after Cooper, aided by the Max Chill Mafia, viciously attacked Malice. This heated rivalry comes to a head Saturday night. 
Impact Pro Wrestling's 20th Anniversary
IPW Women's Championship
Sage Hale © vs Briar Hale
Sibling rivalry personified when these two twins step into the ring Saturday night. During the pandemic, the Hale sister learned under the wing of former IPW Women's Champion Miss Frankie Jay. Learning from one of IPW's most respected performers was a great experience for both of these rookies. However, Sage Hale felt the need to break out on her own in the most convincing of ways. 
During an IPW Facebook Live show, the Women's Championship was up for grabs in a triple threat match. With the referee incapacitated, Sage Hale used the championship as a weapon to become the new IPW Women's Champion. Since then, her new "me first" attitude hasn't set well with her sister, and Saturday, they will have it out. 
Impact Pro Wrestling's 20th Anniversary
IPW Tag Team Championship
The Princes of the Universe (AJ Smooth, Gable Galileo, Daniel Mott) vs. Justin Decent & Ethan Everheart
For months Justin Decent and Ethan Everheart have been chasing the tag team champions. The pairings have faced off in a bevy of multi-man matches, and Decent and Everheart had an opportunity at the gold recently. 
During an IPW Facebook live show, Decent and Everheart made their way through a tag team gauntlet, defeating a handful of other teams. However, once they faced off with the champions, their luck ran out. 
The Princes of the Universe have been Tag Team Champions for over a year. Having held the gold for that long, IPW fans can expect them to do anything to keep those title belts around their waists. 
Jaxon King vs. Lil N8
Over the past year, Jaxon King has become one of the hottest stars of IPW. His high-flying, fear-no-man attitude has made him a hit with the fans. Something that was on full display during IPW's last show at the Forte Center in front of fans. 
He is looking to continue his momentum in hopes of a future championship opportunity. Lil N8 has been on the quiet side of IPW during the pandemic. This is his chance to make a big impression on his return to an IPW ring. No better place to start his comeback in IPW than against Jaxon King. 
The Super Step Brothers (Clay Cooper & Jimmy Wylde) vs. The Legend Killers (Matty Star & Sparrow)
Clay Cooper and Jimmy Wylde are a new team in IPW, recently pairing up. They've only had one match together, but their chemistry was apparent. Both bring a high-flying, fast-paced attitude to the ring, and they want to take a step towards the tag team titles. 
They are facing a team in the Legend Killers that haven't wrestled together in years. Star and Sparrow, former staples of the IPW tag team division, return to show the world they are still the very best.  It's the new age of the IPW tag team division versus the former standard-bearers. One thing is for sure; this could be a show-stealer!
Impact Pro Wrestling 20th Anniversary
Gauntlet for the Gold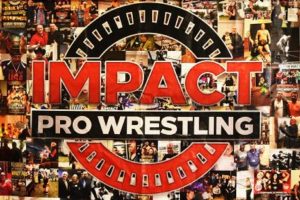 IPW's past, present, and future collide Saturday night when the Gauntlet for the Gold is held. More than a handful of stars from the early days of Impact Pro Wrestling return to the Forte Center. They intend to win the gauntlet and become the number one contender for the IPW Heavyweight Championship. Waiting to meet the stars of IPW's past are a new generation of wrestlers. 
Each determined to cement their status as the top guys in IPW. Announced so far for the Gauntlet for the Gold are Latin Thunder, Thrill Cat, Gil Rogers, Jasson Turner, James Jeffries, Ugly, The Death Dealer, Max Chill, Adam Love, The Shank, Damien Saint, Mason Reaper, Cole Cannon, Cody Lee, Ricky Bronson, Jaxon King, Viktor Payne, Chriss Mercer, Quayvon Orlando, Andrew Gathercoal, Ceci and Zay-K 47. 
But, with a shot at the IPW Heavyweight Championship on the line, fans can expect a few surprises to join the fray.