Throughout the history of pro wrestling, certain wrestlers have earned the reputation as ultimate opportunists. Guys or gals that, by hook or by crook, always seem to be in the right place at the right time. Names like Edge, CM Punk, Charlotte Flair, and Triple H immediately come to mind. The latter served as a major influence on Impact Pro Wrestling's resident opportunist, Gable Galileo. Triple H's ability to be goofy but at the same time keeping his badass persona, is something Galileo strives for as a professional wrestler. 
A graduate from the IPW Vault in Collins, Iowa, Galileo has been wrestling just short of two years. Receiving training from IPW legends like Justin Decent and James Jeffries helped Galileo take to the sport quickly. He credits Decent for helping him break out of his shyness and how to be a loudmouth on the microphone.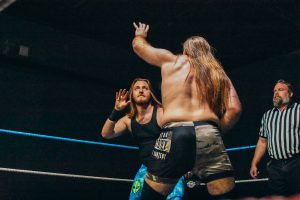 Something he prides himself at being able to do every time he steps inside the squared circle. Galileo's first match took place in January of 2019 at an IPW show in Algona, Iowa. 
"I was pretty nervous, but as soon as I came out for my entrance (I still get butterflies today before coming out) but once I was in front of that crowd it was like, man I got this, this is a piece of cake." Gable Galileo
It didn't take long to impress the top brass at IPW and pardon the pun, make an impact. His in-ring work and ability to raise the ire of the fans put him in numerous beneficial positions. Included in that was a feud for the IPW Extreme Championship. 
Eight months into his career, Galileo won his first championship. In his first title match, he defeated the "Monster of the Midwest" Malice for the IPW Extreme Championship.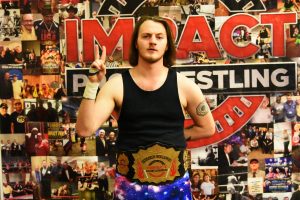 "I didn't think it was real. Malice is iconic and definitely a monster. For him to be the guy I won my first championship from was a big deal. It's still hard for me to think I won a championship from him after watching him wrestle when I was just a fan." – Gable Galileo
Galileo proved the championship win wasn't a fluke, holding the title until January of 2020. It was during IPW's first show of the year when Malice finally won the championship back from Galileo. Their match was an out of control, weapons bonanza that stole the show.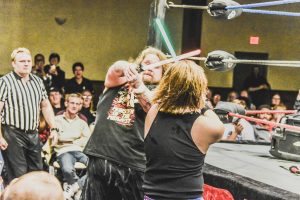 The loss didn't deter Galileo as It wouldn't be long until he was holding gold once again. During IPW's final show in front of fans before the COVID pandemic slowed the world down, Galileo once again had gold wrapped around his waist. IPW Lethal Leap Day took place in March and that night Galileo aligned himself with AJ Smooth and Daniel Mott. 
Collectively known as the "Princes of the Universe", the three worked as a cohesive unit to win the IPW Tag Team Championships from Jimmy Wylde and Ryan Slade. 
"We are definitely a unique group and just like with the Extreme Championship my goal is to take this title to the top. I want people watching IPW to see me defending the Tag Team Championships." – Gable Galileo
As of this article, the Princes of the Universe have been IPW Tag Team Champions for over 200 days and counting.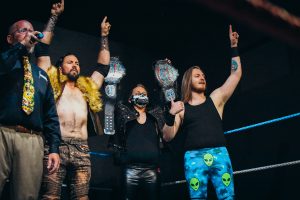 Seizing opportunities put in front of him haven't just been in IPW. Galileo has wrestled for numerous independent wrestling companies throughout the midwest. Companies like Rugged Pro Wrestling, Magnum Pro Wrestling, USA Championship Wrestling, Showtime Pro Wrestling, and LWE have given Galileo the chance to shine in their rings.
"A lot of guys had to slow down because of the pandemic. I kind of capitalized on it, traveling the midwest. If a promotion had an open slot because of quarantine I was ready to travel no matter how far the show was away." – Gable Galileo
Working shows with other promotions gave him the opportunity to work with "The Charismatic Canine" Yellow Dog. Someone who is held in high regard within the midwest independent wrestling scene. Having someone like Yellow Dog vouch for him is something Galileo is extremely proud of. Another person Galileo credits with the advancement of his career is prominent wrestling photographer Chris Manning of Photos by Manning.
"Chris is always willing to talk with me about promotions I have the chance to work for. We've rode to a lot of shows together and he is basically what got me into Magnum Pro." – Gable Galileo
With the uncertainty of what the rest of 2020 will bring, Gable Galileo has made it his mission to keep traveling and work as many matches as he can. Whether it be in IPW or other promotions, one thing is for certain, Gable Galileo will capitalize on the opportunities put in front of him. Because that's what the "Center of the Universe" does.