We are back for IMPACT Interrogation just days following the history-making Hard To Kill event. This week's IMPACT was one of the more unique episodes as IMPACT did not record a full episode in one location, but instead included Josh Matthews and Don Callis from headquarters, a match happening prior to Hard To Kill, and even traveling to House of Hardcore to see four of IMPACT's finest go head-to-head. And finally, an exclusive sit-down interview with the new IMPACT World Champion, Tessa Blanchard.
Lucha Style Rules: The Rascalz vs Desi Hit Squad vs Reno Scum vs TJP & Daga
A Lucha style rules match, for those who may not know, means no tag are necessary, leading to a far more faster impact of a match. Which is somewhat difficult to believe can even be possible with these eight men. Attempting to name all the action in this one is almost impossible, but here we go. Each team opened with their time to shine at times, with Reno Scum showing the most dominance early on. The Rascalz were not so shockingly incredible in this one, but the close came down to a heck of a performance by Daga. Daga put Rohit up for a deadlift powerbomb but was taken out by The Rascalz. The finish came when Mahabali Sherra planted Dez of the Rascalz with a sit-out chokebomb. This is another week of dominance for the Desi Hit Squad against some of the best teams in IMPACT.
Moose laid down threats to his competitors for his fatal-four way match later in the night.
Ace Austin was seen on the phone talking to someone, but then looked into the camera as he assumed they wanted his thoughts on the fatal-four way match. Simple for him. "Aces up".
Rich Swann and Willie Mack were seen after the match as Mack attempted to avoid Swann as he remained upset for "blowing" the opportunity. Swann reassured that he did the best he could alone and he wants him to use that performance and become even better as he is one of the best. This team deserves another chance.
RVD & Katie Forbes Celebrate His Dominance Over Brian Cage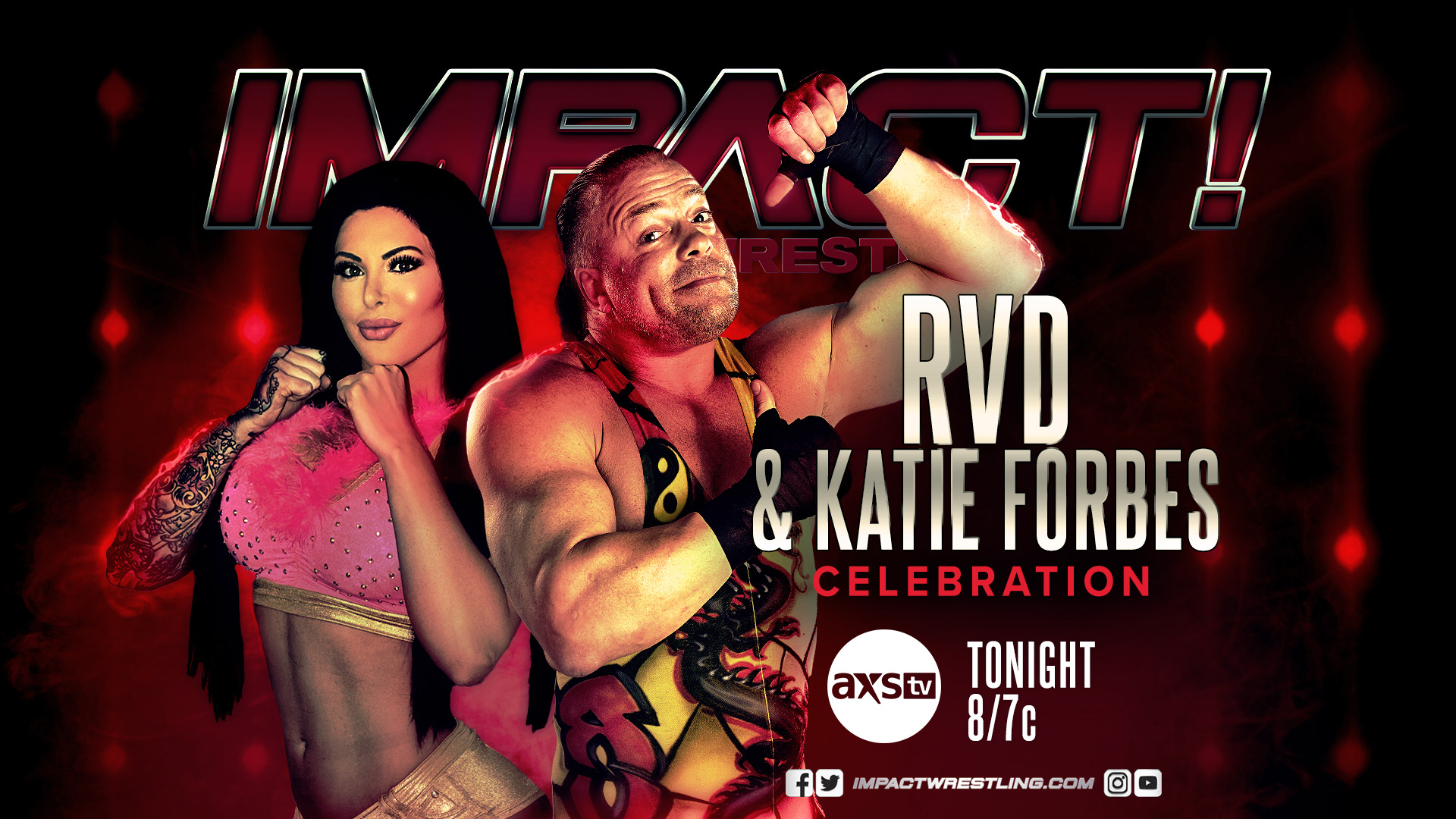 A bed, rose petals, champagne, and RVD talking non-stop. Trying to say this was nothing more than RVD making the world know he is happy and no one else should be. He states that he makes more money and Katie Forbes and Jennifer go to get "more comfortable". RVD called present-day wrestling a "tribute to RVD". This was certainly something afterward, as the two ladies had enough waiting. You get the picture.
Joey Ryan vs Johnny Swinger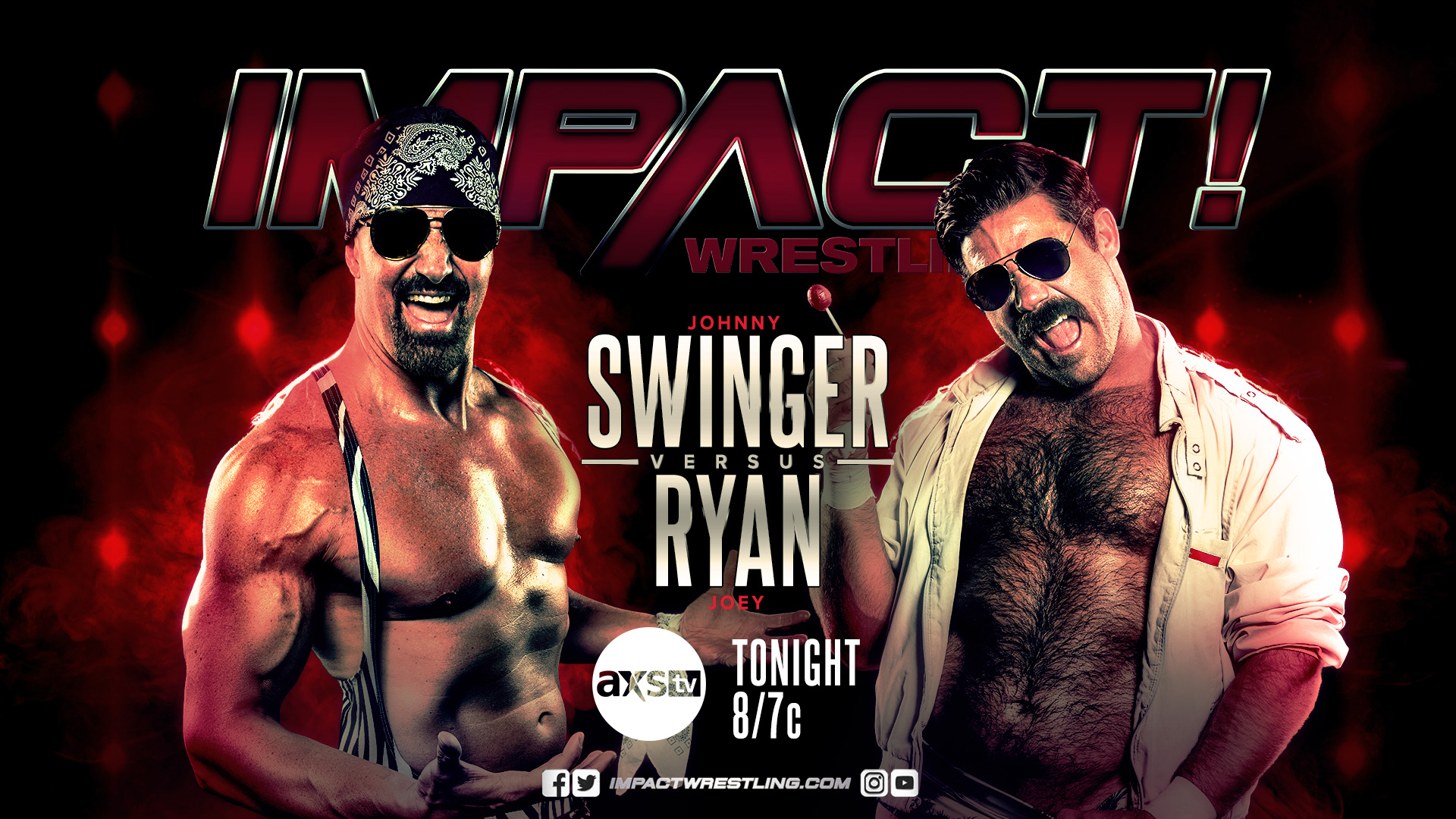 Sleezefest and seeing if Johnny Swinger would touch "it". But after weeks of Swinger attempting to mess with the stuff of Joey Ryan, this match was inevitable. Believe it or not, it was actually a real wrestling match for some time between these two. Swinger took advantage but it was Ryan who needed to turn it around when the ref was out. Swinger attempted a low blow, but of course, hurt his hand. The lollipop was placed in Swinger's mouth and a superkick won Ryan the match.
X Division Championship: Moose vs Fallah Bahh vs Ace Austin (c) vs Eddie Edwards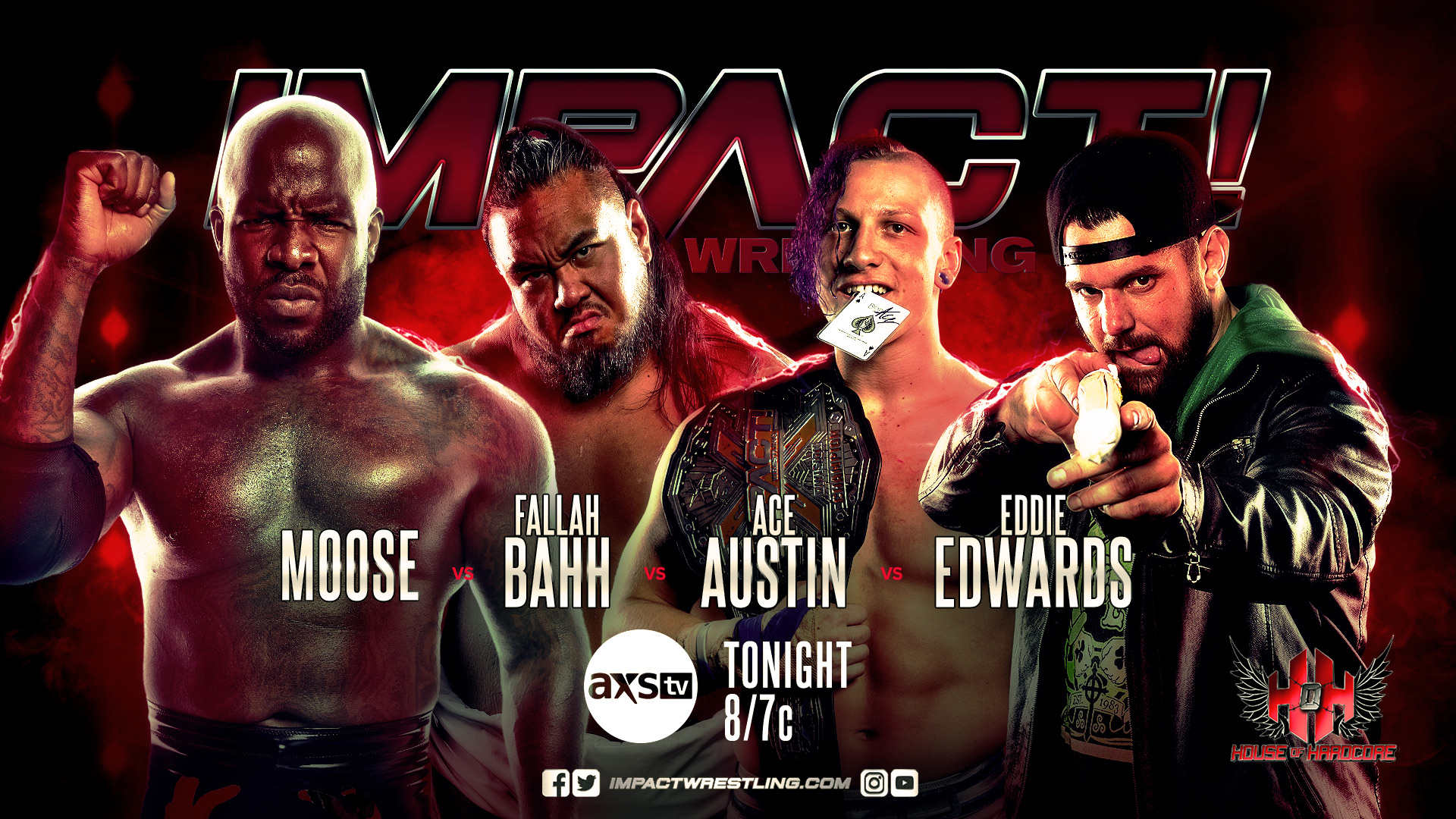 Four unbelievably talented men go into battle to gain the X-Division Championship. If anyone were to pin Ace Austin, that would sure catapult them to the top. But for someone like Moose, this was a chance to continue a hot streak. Before the commercial break, Eddie Edwards hit a splash out to the floor on all three men to get the upper hand. But as the match got near the finish, it was all four men in the ring get their respective offense in. Moose found dominance on all, as he hit a superplex on Fallah Bahh. Ace Austin followed this up by a senton but Moose kicked out. Austin seemed lost after coming up short on all three. Bahh would hit a devastating lariat onto Moose as all four laid on the ground heading back into commercial.
Coming back from the break, it was a chop fest between Moose and Eddie Edwards. Austin dropped Moose but Bahh got to Ace. A Boston Knee Party to Moose took him out of the match. A powerbomb from Bahh to Edwards left Ace and Bahh to decide this one. The X-Division Champion hit a top rope fold on Bahh to win the match and retain his title.
TOP ROPE FOLD gives @The_Ace_Austin the win. #IMPACTonAXSTV pic.twitter.com/k82JJOOz7C

— IMPACT (@IMPACTWRESTLING) January 15, 2020
Exclusive footage of what happened after Tessa Blanchard made history was shown. A great hug between Gail Kim and Tessa was highlighted as all of her friends were out there to appreciate the shattering of the glass ceiling. Tessa was crying as she fought through the noise and proceeded to make history. You can see some of the footage below. Incredible stuff.
Exclusive backstage footage from Sunday moments after @Tess_Blanchard won the IMPACT World Championship. #IMPACTonAXSTV pic.twitter.com/NFD4dJOnpg

— IMPACT (@IMPACTWRESTLING) January 15, 2020
Tessa Blanchard Exclusive Interview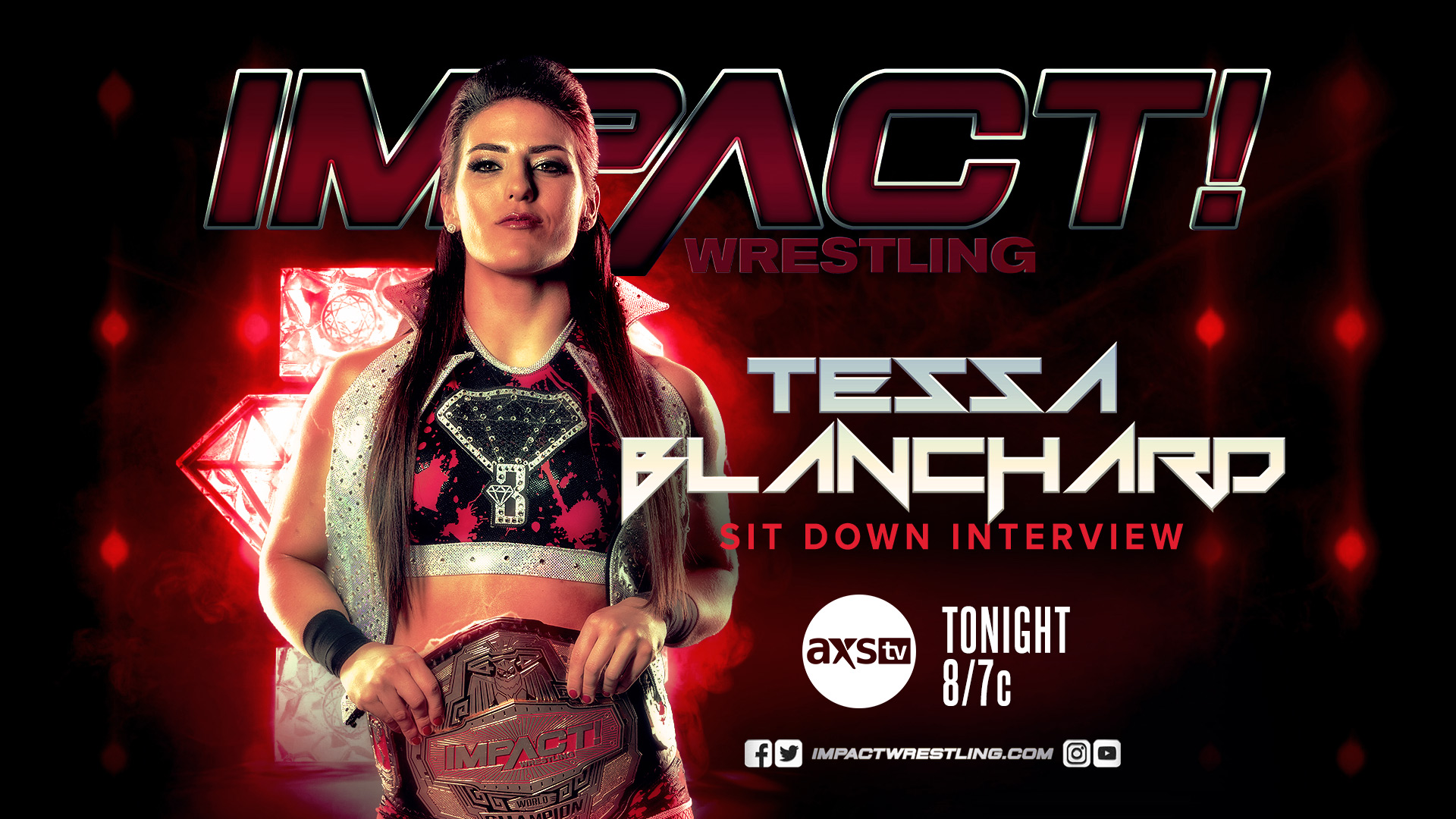 History was made on Sunday. That is a fact. Josh Matthews sat down with Tessa Blanchard and midway through, Sami Callihan managed to hack into the television they sat in front of. He said he was the only history-maker around these parts. He wanted to make Tessa aware that he, not her, brought IMPACT to AXS TV and places they never had been before. Callihan informed Tessa that she needs to keep her eyes open as he is coming for her. "The Death Machine" was in the same building as her, sending the world champion on the hunt for Sami Callihan. He faked her out. Blanchard told him any place, anywhere. He told her one final thing, which is that she will never see him coming. Here's the full segment below.
.@Tess_Blanchard made HISTORY Sunday at #HardToKill but @TheSamiCallihan isn't done with her yet. #IMPACTonAXSTV pic.twitter.com/LB4e6CpuO1

— IMPACT (@IMPACTWRESTLING) January 15, 2020
IMPACT is hitting on all cylinders right now. That is a fact. Keep tuning in as IMPACT's future is only getting brighter and brighter. This Tessa Blanchard exclusive interview only adds to that.
Originally written by Scott Edwards