Classic IMPACT Wrestling pay-per-view Hardcore Justice returns this Saturday night. The IMPACT Plus exclusive event comes at the behest of IMPACT Wrestling commissioner Tommy Dreamer. The Innovator of Violence begged executive VP Scott D'Amore to bring back the Hardcore Justice ppv, which has laid dormant since 2015. Not only did D'Amore agree, he's allowing Tommy Dreamer to book the show himself. Here's what kind of extreme action you can expect on Saturday night, live on the IMPACT Plus app.
_____________________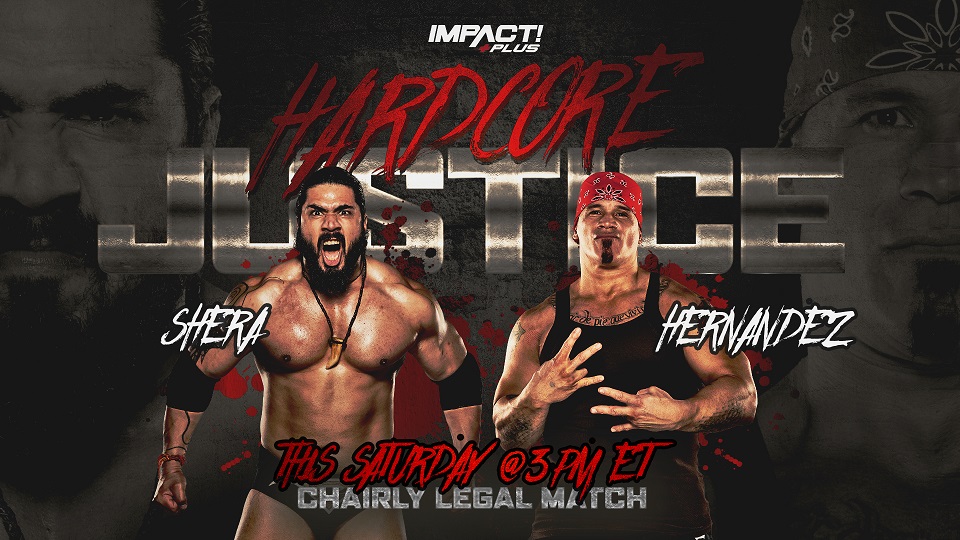 Mahabali Shera vs Hernandez
Last week on Before The IMPACT, Rohit Raju was in a jam. His former tag team partner Mahabali Shera had teamed up with Fallah Bahh to challenge The Desi Hitman. Having made no friends in IMPACT, Raju had no choice but to hire Hernandez. This turned out to be a prudent move, as Hernandez utilized a steel chair to secure their team a victory. However, Tommy Dreamer wasn't pleased about the result and booked Mahabali Shera to take on Hernandez under hardcore rules this Saturday night. Will the hungry young Shera get revenge, or will Hernandez stand tall again? Find out when these hulks collide at Hardcore Justice.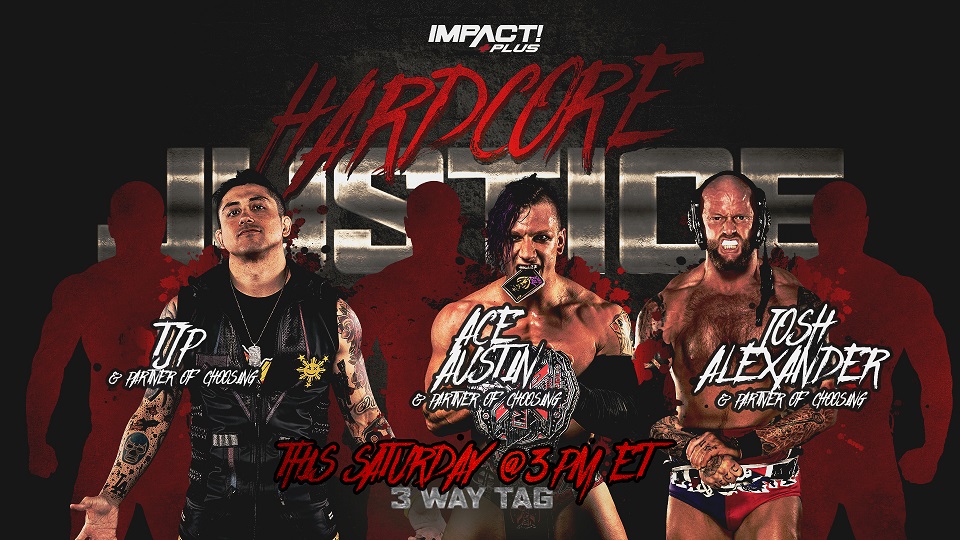 Ace Austin & TBA vs TJP & TBA vs Josh Alexander & TBA
– Triple Threat Tag Team Match
Next Saturday night at Rebellion, Ace Austin, Josh Alexander, and TJP will face off for Austin's X-Division Championship. But before then, they will face off in a triple threat tag team match with partners of their choice. Due to their existing partnership, Ace Austin will likely team with Madman Fulton. Similarly, TJP could partner up with Fallah Bahh, marking the first time they've wrestled together since last July. This leaves Josh Alexander as something of a wild card. His last three tag team partners have been TJP, Matt Cardona, and Ethan Page. Alexander could choose Cardona as his partner. However, the working relationship with AEW leaves the door open for him to team with Ethan Page. Could we see The North reunite on Saturday night?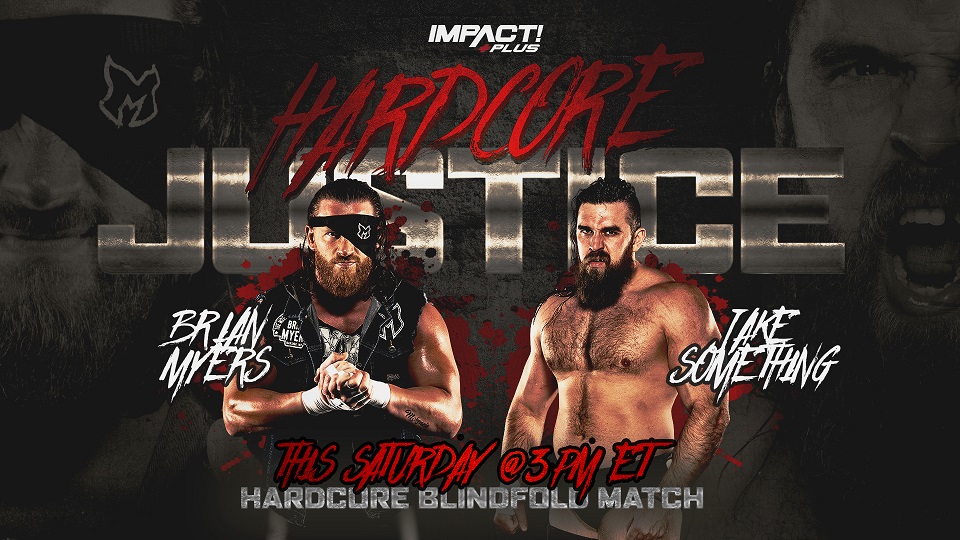 Brian Myers vs. Jake Something
On This Week's IMPACT Wrestling, Matt Cardona faced Jake Something in singles action. The two put on a solid back and forth contest, and when Cardona went for Radio Silence, Jake Something had it scouted. Jake captured Cardona in a powerbomb position but lumbered into the ropes, sending both tumbling to the outside. While both men were on the outside of the ring, Brian Myers invaded the ringside area. The Most Professional Wrestler pushed Jake Something aside to focus his attack on Matt Cardona. After Myers laid out Cardona, he sent Jake Something face-first into the ring steps, injuring Jake's eye. This leaves both Myers and Jake Something with one working eye apiece. As such, Tommy Dreamer saw fit to book them in a blindfold match this Saturday night.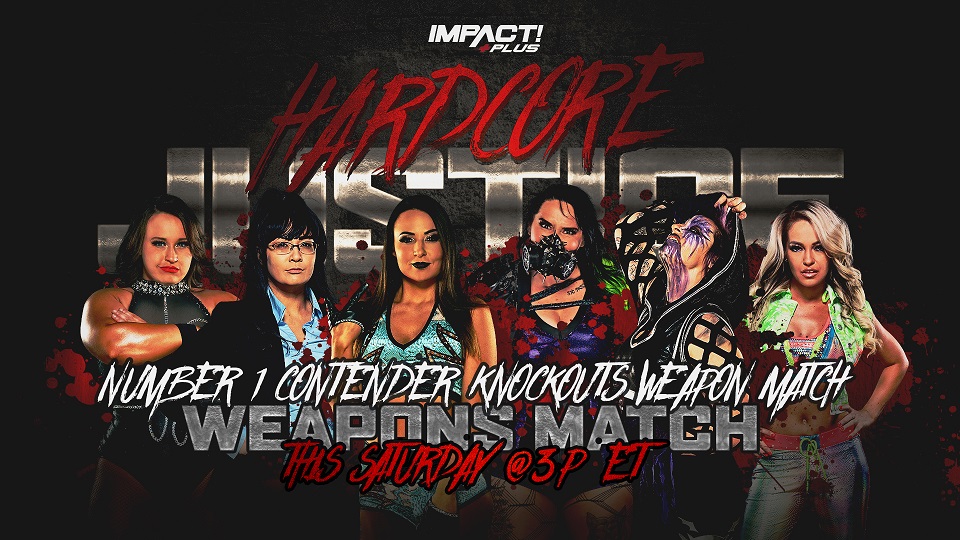 Hardcore Justice
Jordynne Grace vs. Susan vs. Tenille Dashwood vs. Havok vs. Rosemary vs. Alisha
– #1 Contender's Weapons Match
The return of the Knockouts Tag Team Titles had the unintended consequence of taking the focus off the Knockouts Championship. This left the division's pecking order to fall into disarray. As such, it's only fitting for there to be a #1 contendership match. Looking at all the contenders, Jordynne, Tenille, and Havok stand out as the strongest competitors. Jordynne Grace seems like the most natural fit as Knockouts Champion. However, Jordynne Grace was the woman Purrazzo defeated to become Knockouts champion. Tenille Dashwood has been working towards a championship match since she returned in September. However, her personal photographer, Kaleb, uses much the same strategy that Purrazzo's minions do. This leaves Havok, who stands the best chance against The Virtuosa should she win. However, Havok still has some unfinished business with Neveah. No matter who wins, however, we're in for a barn burner in this high stakes, 6-Woman match.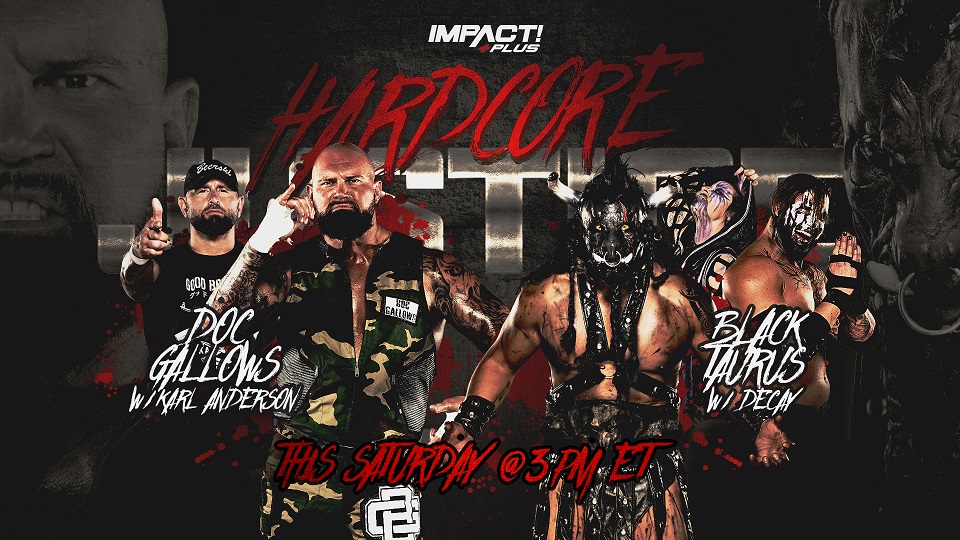 Doc Gallows (w/Karl Anderson) vs. Black Taurus (w/Rosemary & Crazzy Steve)
The Good Brothers have been trying to get back on track after losing the IMPACT Tag Team Championships. This week on IMPACT, Gallows & Anderson, along with AEW World Champion Kenny Omega, lost to the team of Rich Swann, Willie Mack & Eddie Edwards. The upset loss lead Decay to have a chuckle at their expense. Decay have been poking fun at The Good Brothers quite a bit lately. On Saturday night, The Good Brothers have a chance to put Decay in their place as Doc Gallows faces Black Taurus in singles action.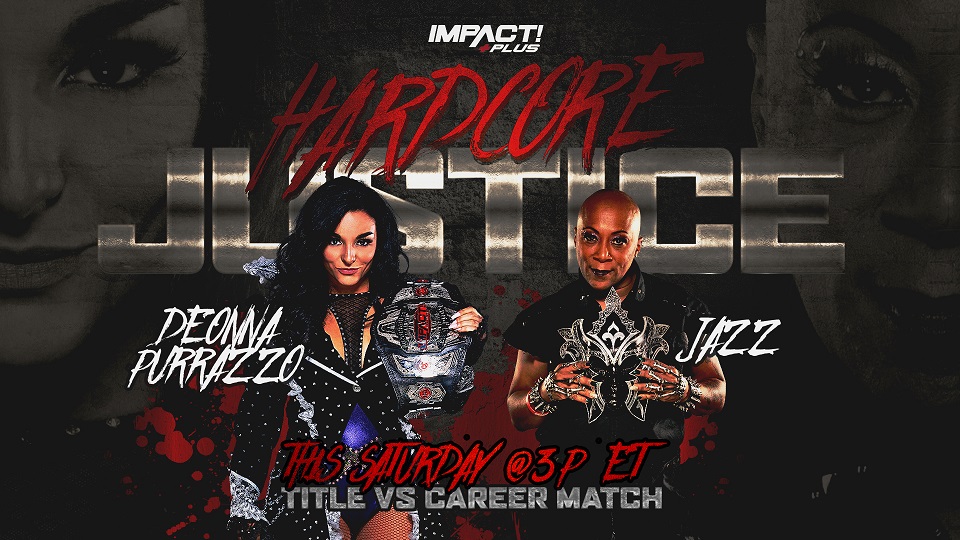 Hardcore Justice
Jazz vs. Deonna Purrazzo (c)
– Knockouts Championship
When Jazz debuted for IMPACT Wrestling on November 24th, she came with one goal in mind: To retire as champion. She joined forces with Jordynne Grace in an attempt to capture the Knockouts Tag Team Championships. However, they fell to Havok & Neveah. Since then, Jazz & Jordynne Grace have focused on a common enemy, Knockouts Champion Deonna Purrazzo. The Virtuosa has made an art form of placing obstacles in her challengers' paths.
First, she had Kimber Lee fight most of her battles. But when Jazz and Jordynne joined forces, Purrazzo brought in Susan to keep the numbers advantage. Last week on IMPACT Wrestling, Tommy Dreamer offered Jazz a one-on-one match with Purrazzo for the title. However, this match would be under Ultimate Jeopardy stipulations, meaning Jazz had to give something up. She ultimately decided to make this a title-vs-career match. On Saturday night, we'll find out if Jazz fulfills her promise or if she becomes another statistic in Deonna Purrazzo's rise.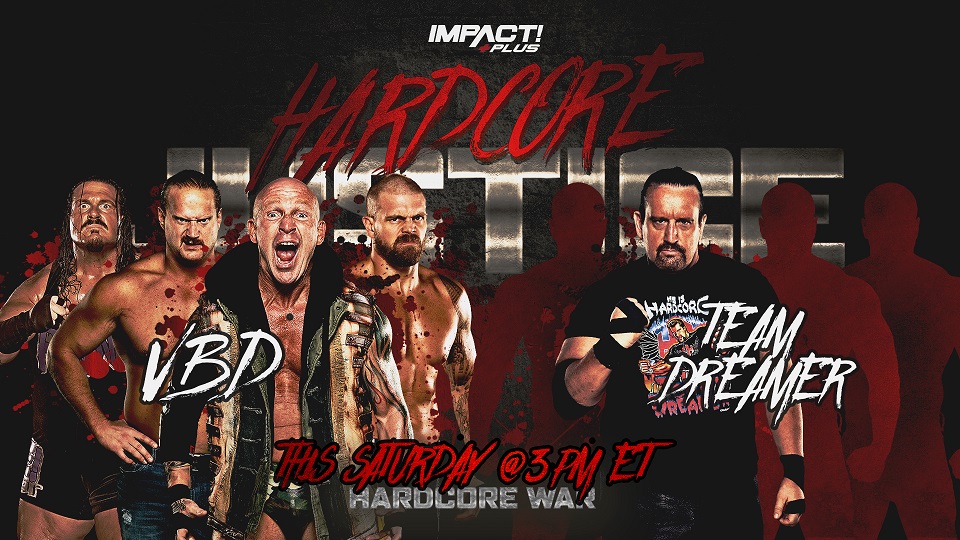 Hardcore Justice
Violent By Design vs. Tommy Dreamer's Team
– Hardcore War
For months now, Eric Young and company have been tearing through the IMPACT roster. It started when Young started teaming with Joe Doering at Turning Point in November. The duo would invade ongoing matches to launch an assault on all involved. The following month at Final Resolution, Cody Deaner turned on his cousin, Jake Something, to join Young and Doering. Christening themselves Violent By Design, the trio continued their path of destruction.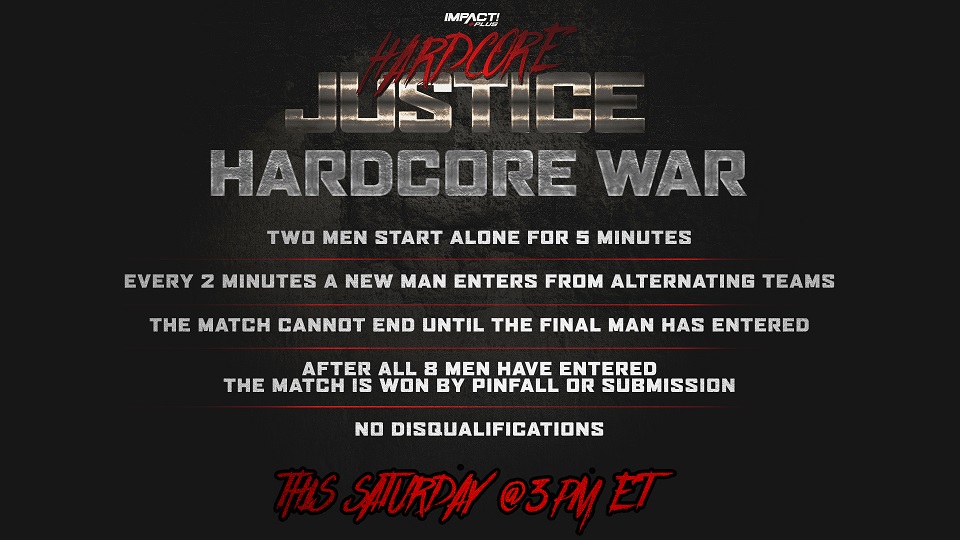 In March, Young gained another follower in Rhino, who stood against him in the early days. Seeing their dangerous influence growing, Tommy Dreamer has decided he has to put a stop to their wicked ways. To that end, Dreamer has booked a Hardcore War match, a War Games match but without the cage. Eric Young brings his stablemates in Violent By Design, but who will show up on Tommy Dreamer's team? Find out in the explosive main event of Hardcore Justice.
*****
Be sure to stay tuned to the Pro Wrestling Post for this and additional stories from the wrestling world. Readers can rely on Pro Wrestling Post to be their daily source for all things inside the squared circle. As a result, readers can expect daily news, history, and so much more. Please visit IMPACT Wrestling's official website here for news and information on the promotion and upcoming events.