This Saturday SCWPro returns to Wildwood Saloon and boy do they have a main event on tap for Good Partners Better Enemies. In said main event, two of the most charismatic wrestlers on the independent scene will go toe-to-toe. It will be JT Energy defending his SCWPro Iowa Championship against Jah C in a Ladder Match.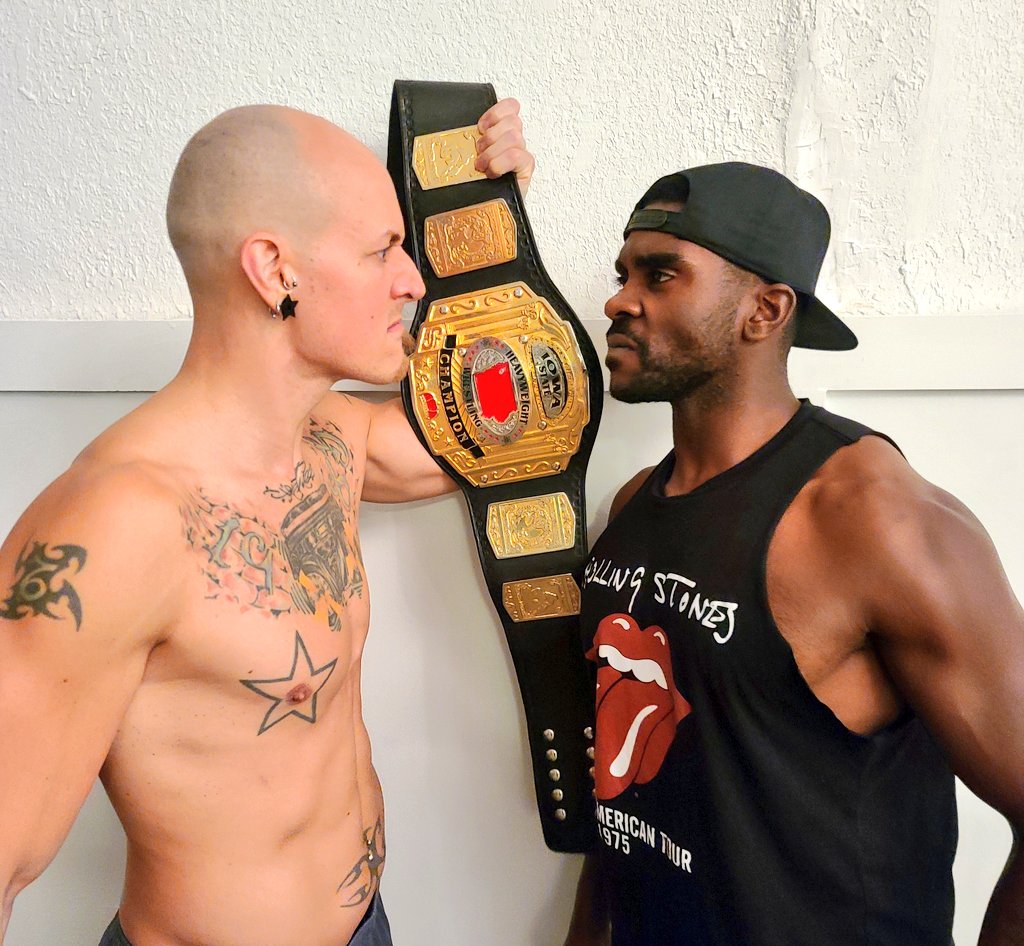 Adding even more intrigue to this monumental ladder match is the amount of history between these two. Both men trained at the Black and Brave Academy and both have won titles everywhere they've gone. But, the personal grudge goes much deeper as these two were once united in their quest for glory.
Once upon a time, the "Frontman" Jah C and the "Unsolved Mistery" JT Energy were a successful tag team. The two, collectively known as Vicious and Delicious, ran roughshod over the SCWPro tag team division.
In fact, they held the SCWPro Tag Team Titles three times together. One more reign together would make them the most decorated team in SCWPro history. But, like many great teams before them, the party couldn't last forever. 
Good Partners Better Enemies
– The End
These are two proud men with sizable egos and that made for a relationship not long for this world. The beginning of the end came during night one of the "Best of the Black & Brave" Tournament in 2019. Jah C won their first and only match against each other as a team with a superkick. 
Obviously, this didn't sit well with Energy, who turned on his partner with one swing of a steel chair. Actions Energy, to this day, feels were justified.
Good Partners Better Enemies
"We could have been so much more than what we settled for, but I was done settling and that's why I ended VnD. We are the greatest tag team in SCWPro history and when I couldn't take Jah's bull**** anymore when he was willing to kick me in the face. 
I did what he was always too afraid to do and that makes an impact as a singles star and creates a moment the fans of SCWPro would talk about all year!"
While justified in Energy's eyes, these actions are ones Jah C used for motivation before moving on to the next step in his journey. 
"I do not think about that anymore. VnD accomplished some really cool things, this I know. But pardon my foggy recount of just how important we were.
Unfortunately for myself, on the climb to the top of the mountain, a chair covered in steel slapped my dome and I've had no choice but to leave the memories alone ever since."
Good Partners Better Enemies
After the violent split, the two engaged in a series of matches. The first, won by Jah C at Hawkamania XII: Hawks by a Million, was a regular singles match. At SCWPro's 16th Anniversary Show, Energy got his first win, utilizing a pair of brass knuckles to seal the victory. 
"Initially I was taken aback because I realized that idiot was actually paying attention and got a few fluke victories over me, but once I learned how he was approaching me I jumped five steps ahead and got my victory back at one of the biggest events in SCW Pro history at the 16th Anniversary show."
Watch their match at the SCWPro 16th Anniversary show below.
In the rubber match after the split, Jah C got his revenge defeating Energy in a Street Fight at Hawkamania XII: Hawks by a Million. After their feud, both men went their own way, taking different paths within the independent wrestling scene. 
Each man, utilizing their plethora of skills made an impact across multiple promotions. But now, even after all their success, the paths of Vicious and Delicious are set to cross yet again.
Frontman Jah C Promo:
Stop it – Frontman Jah on JT Energy @DJClickNPlay @SCWPro pic.twitter.com/E7qBZpcJaP

— FRONTMAN JAH (@FRONTMANJAH) October 19, 2021
Heading into this match, there is no love lost between the two and neither is afraid to let their true feelings known. When asked their thoughts on the other, here's how they responded. 
"I want one thing from Jah and that's his best effort because if he wants my Iowa Championship then I hope he has an entirely new game plan because I sure as hell do and if he hasn't done his research he will be laying under the lights once again! – JT Energy

"Such a vague question for such a vague man. A vague man who has been lost in himself ever since he jumped the gun and tried to stop my shine before I got too bright." – Jah C

Good Friends Better Enemies
Inevitable Showdown
After suffering through a losing streak that pushed him to the brink of insanity, JT Energy shockingly won the SCWPro Championship. He defeated Conan Lycan much to the chagrin of the SCWPro faithful. 
In his first defense, Energy retained the championship against SCWPro Hall of Famer, Nevin Knoxville. With his new bodyguard Augustus Draven by his side, Energy was ready to bask in the boo's and celebrate his victory. However, that same night,  the return of the Frontman soured those plans. 
JT Energy Promo:
Everyone thinks the words and wisdom of @FRONTMANJAH are gospel

But

Everyone prays for a savior when your world crashes down around you

The Unsolved Mistery can fill your soul if you just follow the way of The Mist

Listen 🎧 @SCWPro pic.twitter.com/y9hMwqvNfL

— JT Energy "The Unsolved Mistery" (@DJClickNPlay) October 20, 2021
Jah C made his triumphant return to the place he considers home and did so with legacy solidifying intentions. 
"Plain and simple. If I have any intention on solidifying myself as the greatest SCWPro has ever had to offer, then I have to stomp out what USED TO BE & plant my flag in the ground for what WILL BE." 
This brings us to this Saturday at the Wildwood Saloon. In what will surely be a packed house, these two step in the ring together yet again. Both are hell-bent on continuing their ascent to the top and both are determined to climb the ladder in order to reach ultimate glory.
Good Partners Better Enemies

"Frontman's music will cut the speakers, I will make my walk and proceed to remind the SCWPro faithful that I am the most important part of the show, the absolute best thing going independently today, and that I am, I am , GOOD GOD ALMIGHTY BOBBY LASHLEY, I AM your NEW Iowa Champion. The Frontman JAH-C."
"I will win and walk away from HawkAMania Wicked Ways leaving the SCWPro fans in awe. When Jah and I wrestle as a tag team or against each other we create magic. Some very dark magic will be brewed up on October 23rd. I plan to bring Tricks & Treats!"
The next chapter in this iconic SCWPro rivalry will be written Saturday as the team formerly known as Vicious and Delicious blows the roof off Wildwood Saloon.