Gail Kim is the type of athlete that comes along once in a while. Her perfect combo of beauty and athleticism dominated the TNA IMPACT Knockouts Division. She was the inaugural Knockouts Champion. She held that title a record-setting seven times. Gail Kim also won the WWE Women's Championship in her WWE debut on Monday Night Raw. 
During the WWE Divas division era, Kim used her in-ring ability to escalate herself and her opponents. A true pioneer, the Toronto native was always on the pulse of the business.
________________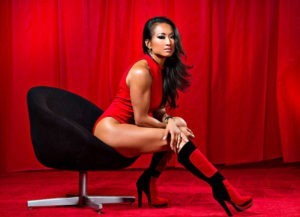 Gail Kim – Humble Beginnings
Gail Kim started her pro wrestling career training at Ron Hutchinson's School of Pro Wrestling in Toronto, Ontario, Canada.  Always a standout student, Kim quickly found herself thrown in the mix. In 2000 she made her debut wrestling under a mask with the ring name  La Felina the Queen of the Cats.
Her first major rivalry was against Tracy Brooks. In a mask vs. hair match, La Felina lost her mask to Brooks. Shortly after that, Gail Kim met another wrestling superstar named Nora Greenwald, aka Molly Holly. Holly liked Gail Kim's style and regularly encouraged her to send tapes to WWE.
In an interview in 2017, Gail Kim credited Molly with helping her get into the business.  She also said that Molly's morales about not backstabbing anyone and getting in the right way was a motivational point in her career. In 2002 that motivation paid off when WWE signed Kim. She was immediately sent to Ohio Valley Wrestling in Louisville, KY, to train. Finally, after eight months in OVW, Gail Kim made her WWE debut. 
WWE Women's Champion
On June 30th, 2003, on an episode of Monday Night Raw, the WWE Women's Championship would be decided in a seven-woman battle royal. The current WWE Women's Champion Jazz was a powerhouse that could destroy most male competitors. Former champions Trish Stratus, Ivory, Victoria, and Jacqueline, were determined to regain the gold.
Molly Holly was attempting to mark her place in history. Little did anyone know that a rookie was about to make the impact of the night. Gail Kim had arrived, and she wasn't leaving empty-handed. Stratus and Victoria's rivalry had been boiling over for the last few months, and Kim was caught right in the middle.
At one point in the match, Victoria and Trish were battling on the top turnbuckle when Trish fell on the ring apron. Victoria then grabbed Gail Kim and used her like a slingshot to eliminate the former champion. Victoria knew with her greatest rival now out of the equation, the title was hers.
Like a woman who has "lost her mind," Victoria attacked Gail Kim, taunting her every step of the way. As Victoria set up her up for a powerbomb, Kim wrapped her legs around the black widow's neck, and her head scissored her to the floor.  In her debut match, Gail Kim had won the WWE Women's Championship.
With Mixed Emotions
When asked about her thoughts on that day, Kim always says she has mixed emotions. She said, looking back, she's not very sure if that was the right decision with her being so new to the WWE.
She said that she was very appreciative of the moment, but it means a lot more when it's something you have worked for your entire life, and she only started training a few years before that. Four weeks after Gail Kim won the title, she was defeated by her mentor Molly Holly with a Molly go Round.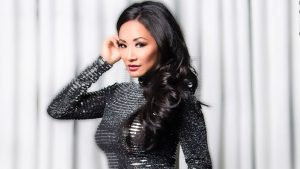 Gail Kim – Change of Heart
On the August 8th, 2003, episode of Monday Night Raw, Molly Holly defended the title against Trish Stratus. During the match, Victoria and Molly attacked the challenger prompting Kim to make the save. After clearing the ring, she went over to help Trish but instead gave her a vicious clothesline.
After that, Kim joined her mentor and WWE Women's Champion, Molly Holly, against Trish Stratus and her best friend, Lita. Unfortunately, in November 2003, she suffered a collarbone injury that put her out of action for a few months. 
In 2004 Gail Kim returned to action targeting the new WWE Women's Champion, Victoria.  She even made her submit twice in the middle of the ring. This led to a championship match at WWE Badd Blood. Unfortunately, after Lita pinned Kim, Lita, and Trish were added to the match.
Stratus ended up regaining the women's title, but Gail Kim came within seconds of taking home the gold.  Shortly after that match, surprisingly, she was let go by the WWE.  However, soon the Asian Sensation was about to find a new home in Total Non-Stop Action Wrestling. 
The TNA Legacy Begins 
Disillusioned but not defeated, Gail Kim made her TNA debut on September 6, 2005.  During a match with Team 3d vs. AMW, she gave a low blow to Bubba Ray Dudley. To pay for her sins, Devon Dudley grabbed her, but Jeff Jarrett hit Devon with the NWA Heavyweight Championship.
It was obvious that Gail Kim had aligned herself with the King of The Mountain. She looked on as America's Most Wanted, and Jarett destroyed Team 3d.  In 2007 America's Most Wanted had a fallout between Cowboy James Storm and the Wildcat Chris Harris.
Storm choose to be managed by someone Kim knew very well. Jacqueline had arrived in TNA and wasted no time starting a fight with her.  After several knockdown drag-out fights between the two Knockouts, TNA Commissioner James E. Cornette made a cage match at Lockdown. On April 15, 2006, Gail Kim defeated Jackie inside the six sides of steel. Kim was now gaining momentum and fans. She was slowly building a Hall of Fame career. 
Gail Kim – Inaugural TNA Knockouts Women's Champion 
Ever since leaving the WWE, Gail Kim always felt like she wanted another opportunity to be a champion. That opportunity presented itself on October 14, 2007, at Bound for Glory. TNA had signed a 10-women gauntlet match to determine the first-ever TNA Knockouts Champion.
This time Gail Kim was ready to not only make an impact but make history. The final two left were Kim and The Vodoo Priestess Roxxi Laveaux. Roxi was brutal, but Kim was determined. She caught Roxxi in a Samoan drop and got the victory. Gail Kim was the first-ever TNA Knockout Women's Champion.
In Gail Kim's own words;
"this time, I earned it."
The champion's toughest challenge was looming; a monster competitor named Awesome Kong had debuted. Kong was bigger, faster, and stronger than anyone Kim had faced before.  By the time 2008 had arrived, the two knockouts had victories over one another. Their third encounter was on January 10, 2008, on TNA IMPACT.
As Gail Kim was attempting to hurricanrana Kong, the monster powerbombed the champion to the mat. Kong followed that up with another powerbomb and her finisher, The Awesome Bomb. Kim was helpless as Kong became the new champion. On January 24, 2008, Gail Kim was awarded the Knockout of the year award.
After months of fighting to get back to the top, she was finally given an opportunity to become the number one contender and get retribution for the beating from Kong.
At TNA Sacrifice, she entered a Makeover, Battle Royal. The match would start out just like a traditional battle royal, except the final two women would compete in a ladder match. The winner of that match would face Awesome Kong for the title. The loser would get their head shaved.
Luckily Gail Kim climbed the ladder of success and won the match. However, she came crashing down in defeat when Awesome Kong retained her championship. Kim then went on to tag with ODB and Taylor Wilde against the Beautiful People. In her final TNA match, Gail Kim lost to Kong in a street fight. Her contract with TNA had expired. Three letters were going through the champion's head….WWE
Return to the WWE
In late 2008, Gail Kim returned to where it all began. She made her WWE return by interrupting a Divas Title match between Michelle McCool and Maryse. Kim was traded to Raw and immediately won a fatal four-way match to declare her the new number-one contender.
However, once again, she lost, this time to WWE Women's Champion Mickie James. Gail Kim had gotten so close so many times to winning back WWE gold. After that, Gail Kim started a rivalry with Melina. What should have been a great rivalry turned into three matches on WWE's syndicated tv show Superstars? By this time, Gail Kim was becoming frustrated with the direction of the WWE.
On the August 1, 2011, episode of RAW, she participated in a battle royal. The plan was for Kim to be eliminated early; however, given the level of competitor Gail Kim is, she had enough and eliminated herself instead. She wanted to quit the company, but WWE made her stay through her contract.
In an exclusive interview on Fight Network, she explained that she was very unhappy in WWE. It felt like she was always walking on eggshells.  Kim also said that she would try to do everything she could to not just put on "another girls match," but those opportunities were few and far between. On September 30, 2011, Gail Kim left WWE. 
Gail Kim – Making a Second IMPACT

As newly crowned TNA knockouts champion Velvet Sky confronted Karen Jarrett, Gail Kim made her presence known. She was back in TNA. She wanted the Knockout Women's Title.  In appreciation for the attack, Jarrett named Kim the #1 contender. She won the TNA Knockout tag team championship with Madison Rayne.
On November 13, 2011, Gail Kim defeated Sky to win her second TNA Knockout Women's Championship at Turning Point.  She was now a double champion. Gail Kim had changed the TNA landscape.
In the weeks that followed, another former WWE superstar made her debut in Impact. Mickie James came to TNA for some competition. She found it with Gail Kim. The two had several classic matches that can only be described as art. Gail Kim and Mickie James were meant to wrestle one another.
However, every time Kim and her partner Madison Rayne would interfere, causing Mickie to walk away empty-handed. At Against All Odds, the partnership between the two champions began to crumble.
Threats For Her Title
The week after the pay-per-view, Madison Rayne won a number 1 contenders battle royal for Kim's championship. The mind games began as both knockouts kept interfering in each other's matches. On the March 8, 2011, episode of Impact, the duo lost the Knockout tag team championship to ODB and Eric Young.
That's right; EY was a Knockout Tag Team Champion. No longer tag team champions, it was every woman for herself as Madison Rayne challenged Gail Kim for the TNA Knockout Women's Championship.
In a highly contested battle, Kim retained the title. The next night on IMPACT, Gail Kim and Madison Rayne reformed their tag team. In April 2012, the champion was defeated several times in non-title matches by Brooke Tessamacher. This prompted TNA to make Brooke the number one contender.
On June 10, 2012, Gail Kim lost the Knockouts title to Brooke. She may have lost the title, but she earned a place in history. Gail Kim had become the longest-reigning Knockouts World Champion at 210 days.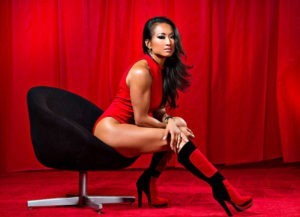 Dealing with Obstacles
On January 13, 2013, Gail Kim competed in a 5-woman gauntlet match. Velvet Sky pinned Kim after Taryn Terrell; the referee did not notice Kim's foot under the ropes. On February 21, 2012, episode of IMPACT, Terell got physically involved in the match. At the 2013 Lockdown, Terell once again got in Kim's way of becoming Knockout Champion.
Kim had enough and slapped Terell. Terell responded with a spear. On the next episode of IMPACT, Taryn was  Finally on October 20, 2013, at Bound for Glory; Gail Kim regained the TNA Knockouts Championship by defeating ODB and Brooke in a three-way dance. However, she didn't do it alone.   
At Genesis, Madison Rayne received a title shot and defeated Kim, thus ending her second championship reign. On the April 24, 2014, episode of IMPACT, Kim saved her former partner Madison Rayne when the Beautiful People attempted an ambush.
This renewed a rivalry between Kim and current Knockouts champion Angelina Love of the Beautiful People. On the July 3, 2014, episode of IMPACT, she defeated Angelina for the title. After a title successful title defense against Taryn Terell, Gail Kim was attacked by Havoc.
Battling Injury
This started an intense, physical rivalry where Kim injured her shoulder. Against the doctor's orders, Gail Kim put the title on the line against Havoc. She ended up losing the Knockouts Championship. Due to a separated shoulder, she stepped away from the ring for several months. In January of 2015, Gail Kim started an alliance with her former rival, Awesome Kong, to challenge the Dollhouse, a group led by the current champion Terell.
During a steel cage match, the Dollhouse attacked Kim injuring her arm. She returned to IMPACT in July 2015. Shortly after her return, Kim won her fifth Knockout Championship in a fatal four-way match. After several title defenses, Kim lost the Knockout Championship to Jade when Maria used the title belt to knock out the Knockouts champion. 
Bound for The Hall of Fame
In June of 2016, TNA announced that they would induct Gail Kim into the TNA hall of fame. She also got some retribution when at Bound for Glory On October 2, 2016, Kim defeated Maria to win her sixth TNA Knockouts Championship. Unfortunately, Gail Kim had to vacate the title a few weeks later due to a back injury.
Kim knew her career was coming to an end. On July 6, 2017, on GFW IMPACT, she announced that she planned on retiring at the end of the year. However, Kim wanted to win the Knockout Women's Championship one final time.
On November 5, 2017, at Bound For Glory, Gail Kim won the Knockouts Championship for the record-setting seventh time in her very last match. It was just 10 years ago that Gail Kim won her first Knockout title at this very event. What a fitting end for a historic career. The next night on Impact, Gail Kim vacated the Knockouts Championship and said goodbye for the last time. 
Giving Back to the Business
After her retirement, Kim accepted a role as a producer for IMPACT Wrestling. There she can give back to the business that gave her so much. In November 2018, she was a special guest referee for the match between Taya Valkyrie vs. Tessa Blanchard. During the match, Blanchard took it upon herself to attack Kim.
In response to that, Kim hit her eat defeat finisher on Blanchard, enabling Valkyrie to win the Knockout Championship. Blanchard was furious and began a series of vicious assaults on Kim. Blanchard even went so far as to attack Kim's family.
This prompted the Hall of Famer to come out of retirement for one last match against the young upstart.  At IMPACT Wrestling's, Rebellion pay-per-view on April 28, 2019, Gail Kim had her official last match when Blanchard defeated her. After the match, the two hugged out of mutual respect for one another. Behind the scenes, Tessa Blanchard actually idolized Gail Kim. Likewise, Kim wanted to do everything she could to put over Blanchard.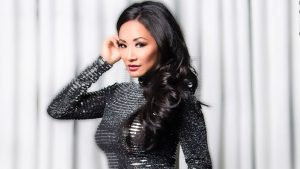 One of the Best Ever
Gail Kim is arguably one of the best women's wrestlers to ever step in the ring. Her Hall of Fame career is the motivation for any aspiring athlete. She has done it all, including a former WWE Women's Champion and a record-setting seven-time TNA Knockouts champion.
Gail Kim always refused to believe that women wrestlers can only be eye candy. She was determined to show the world what women can do if given a chance. As a current producer at IMPACT Wrestling, Kim wants to take the women's division to even greater heights by sharing her knowledge with the current roster. 
On Busted Open Radio, she said that she tries to give a little bit of life and wrestling advice.
"Wrestling wise I think all of them know my personality by now. I am very direct, I think they know that when I come at them in a direct way. I'm just trying to help. I'm very invested in the women's division. It's like my baby."