Empire State Wrestling's events this year showcased many of the top wrestling stars currently on the independent wrestling scene. But its next event, Friday Night Heat, will give Western New York's best local talent will more time in the limelight.
On Friday, June 23, at the Frontier Fire Hall in Niagara Falls, N.Y., fans in attendance will get extended looks at many of ESW's established stars. However, there will still be a few new names debuting with the promotion.
Empire State Wrestling presents Friday Night Heat
ESW Tag Team Champions High Seas will defend the belts at Friday Night Heat. They continued their title reign after retaining the belts against To Infinity And Beyond last month. High Seas will face ESW newcomers The Outrunners – a team that is a true early 90s throwback.
The Outrunners made names for themselves with their appearances on All-Elite Wrestling (AEW) and Ring of Honor programming in recent years. They are also known for being long-time roster members of Ohio Valley Wrestling.
After being unable to best ESW Interstate Champion "The Prize" Alec Price last month, "The Holy Hand Grenade" James Sayga will look to return to the win column at Friday Night Heat. He will face Mambo Italiano, another wrestler making their ESW debut. Italiano's resume includes wrestling for years in Europe before moving across the Atlantic. He also appeared on World Wrestling Entertainment and AEW television.
In a clash of two of ESW's younger stars, "Red Hot" Vinnie Moon will seek to end his losing skid against Edge of Hope's newest member Darren Crowe. Moon was unable to beat Edge of Hope's Jeremiah Richter in March, even with ESW legend Will Calrissian on his side. Crowe was able to earn a spot in the faction when he teamed with Mattick and Cerin Rahne in a three-on-three tag team match last month in victorious fashion.
Richter will be in singles action at Friday Night Heat. The monster of a man will face CXR's, Chael Connors. Last month, Connors and his tag partner T.J. Epixx scored an impressive victory over Bang Bros from Chicago, Ill.
"CXR are definitely a talented tag team who we've had quite a few run-ins with, and it doesn't matter if I face T.J. Epixx or Chael Conners," Richter said. "The result will be the same: a big boot, choke bomb, and my hand raised in victory."
Epixx will compete in singles action, as well. He will take on "The Inspiration" Gregory Iron, who made his return to the promotion last month. Iron was a surprise entrant into the scramble match and pulled out the win.
Buffalo's own Haley Dylan faced "The Queen of the Silver Screen" Katie Arquette in her first ESW match in April. She will be back in action at Friday Night Heat against one of Pittsburgh, Penn.'s fastest-rising stars, "The Shining Lite" Catie Brite.
Friday Night Heat will feature a singles match that includes two Western New York wrestling scene staples who are looking to make an impact in ESW. "Rock Star" Robby Vegas will have his first one-on-one match in ESW against "The Good Looking God" Sebastian Braun. Vegas previously teamed with "Buck Wild" Tommy K. and Tommy Cato versus Edge of Hope last month. Braun last competed in ESW in April as part of the No. 1 contenders' battle royal.
"Sebastian Braun is a big and tough competitor, but I'm not exactly one to back down from a challenge or be afraid," Vegas said. "I'm ready to show ESW what I'm all about, and this is a great way to start. So in the words of Motley Crue: take me to the top!"
ESW Heavyweight Champion "The Remix" Kevin Bennett will make a special public announcement at Friday Night Heat. This proclamation comes on the heels of him losing the title to "The Indy God" Matt Cardona and winning it right back thanks to his Ilio DiPaolo Memorial Cup title shot, all within the same night at Brawlfest 2023.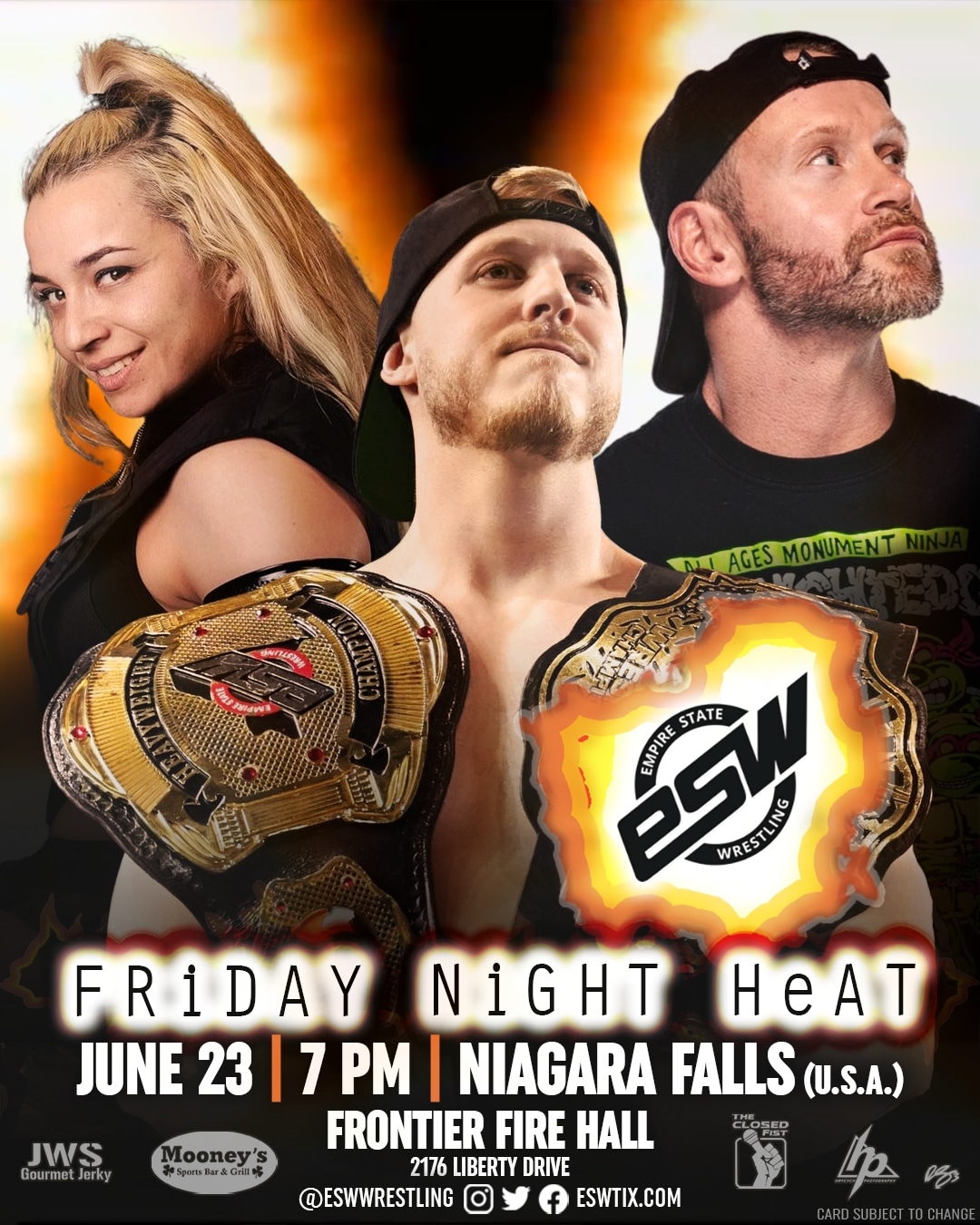 Many of ESW's regulars will also be in action, such as "Courageous" Christina Marie, "Invincible" Vince Valor, and "Big Time" Bill Collier. All three of these stars were active at Brawlfest 2023. Marie was victorious against Ray Lyn. Valor overcame "His Royal Freshness" Frank Feathers in a brutal dog collar match. Collier squared off against "Raddy Daddy"
Cole Radrick
.
ESW will be holding a food drive for Little Free Pantry: North Tonawanda at Friday Night Heat. Fans are asked to bring non-perishable food and grocery items to the event, which will be distributed across the pantry's location across the City of North Tonawanda.
One front-row ticket remains available for the event at the pre-sale price of $35. Second-row tickets are $25. General admission tickets are $20. Tickets can be purchased at ESWTIX.COM where service fees apply. Ticket prices increase by $5 on the event day. Doors open at 6:00 p.m. The opening bell is set for 7:00 p.m.