For the first time in four years, a professional wrestling event will be held within Orleans County, N.Y.
The end of this multi-year drought will occur this Saturday when Empire State Wrestling holds "Spring Smash" at Medina High School. Along with breaking this wrestling-less period, Spring Smash will serve as ESW's debut in Medina, N.Y. Empire State Wrestling Presents Spring Smash.
"We're so excited to bring ESW back to Orleans County for another fundraiser for our fire company," said event organizer Ryan McPherson. "ESW has been a pleasure to work with and they provide unmatched entertainment. Unfortunately, due to the pandemic and safety precautions, we've postponed the event for three long years, but we know it will be worth the wait."
Empire State Wrestling Presents Spring Smash
In 2018 and 2019, ESW previously ran at the Orleans County 4-H Fairgrounds in Albion, N.Y. These events fundraised for the East Shelby Vol. Fire Dept. Spring Smash will also continue the tradition of helping the fire department generate revenue.
"We're bringing the event back to a new location, the Medina Jr.-Sr High School, with aspirations for our biggest crowd yet," McPherson said.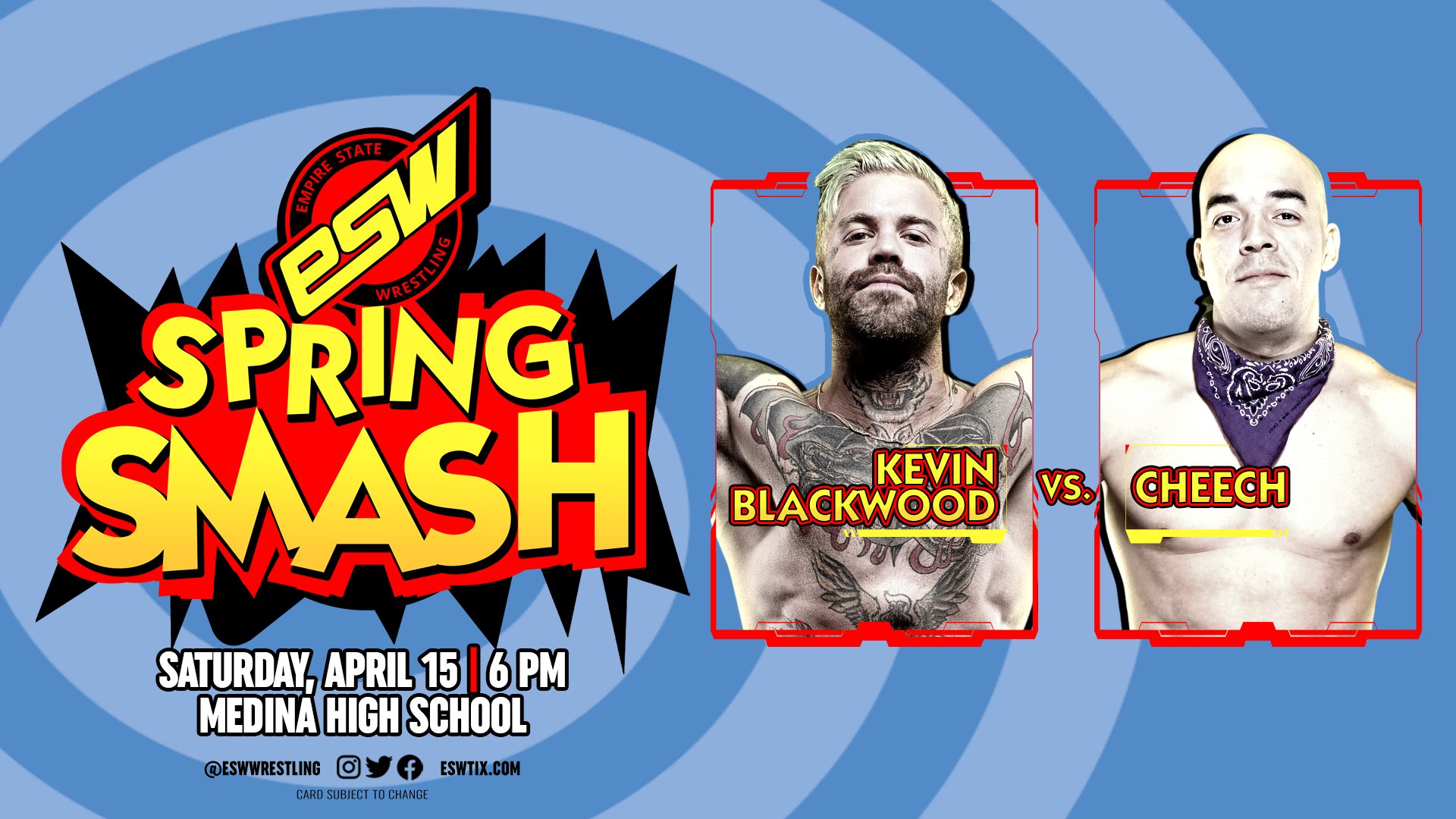 Spring Smash will be a homecoming event for several wrestlers on the ESW roster who are from Medina and other nearby localities. The biggest name of this group is former ESW Heavyweight Champion
"The Aesthetic Crippler" Kevin Blackwood
. Now based in Los Angeles, Calif., Blackwood is originally from Albion, N.Y.
The last time Blackwood was in an ESW ring, he dropped the Heavyweight title to "The Remix" Kevin Bennett in August 2022. The match became an impromptu three-way match after "Invincible" Vince Valor utilized his Ilio DiPaolo Memorial Cup title chance during the bout.
At Spring Smash, Blackwood will take on To Infinity And Beyond's Cheech. Last month, Cheech and partner Colin Delaney teamed with Starboy Charlie in a six-person tag team match to defeat Second Gear Crew (Mance Warner, Matthew Justice and 1 Called Manders).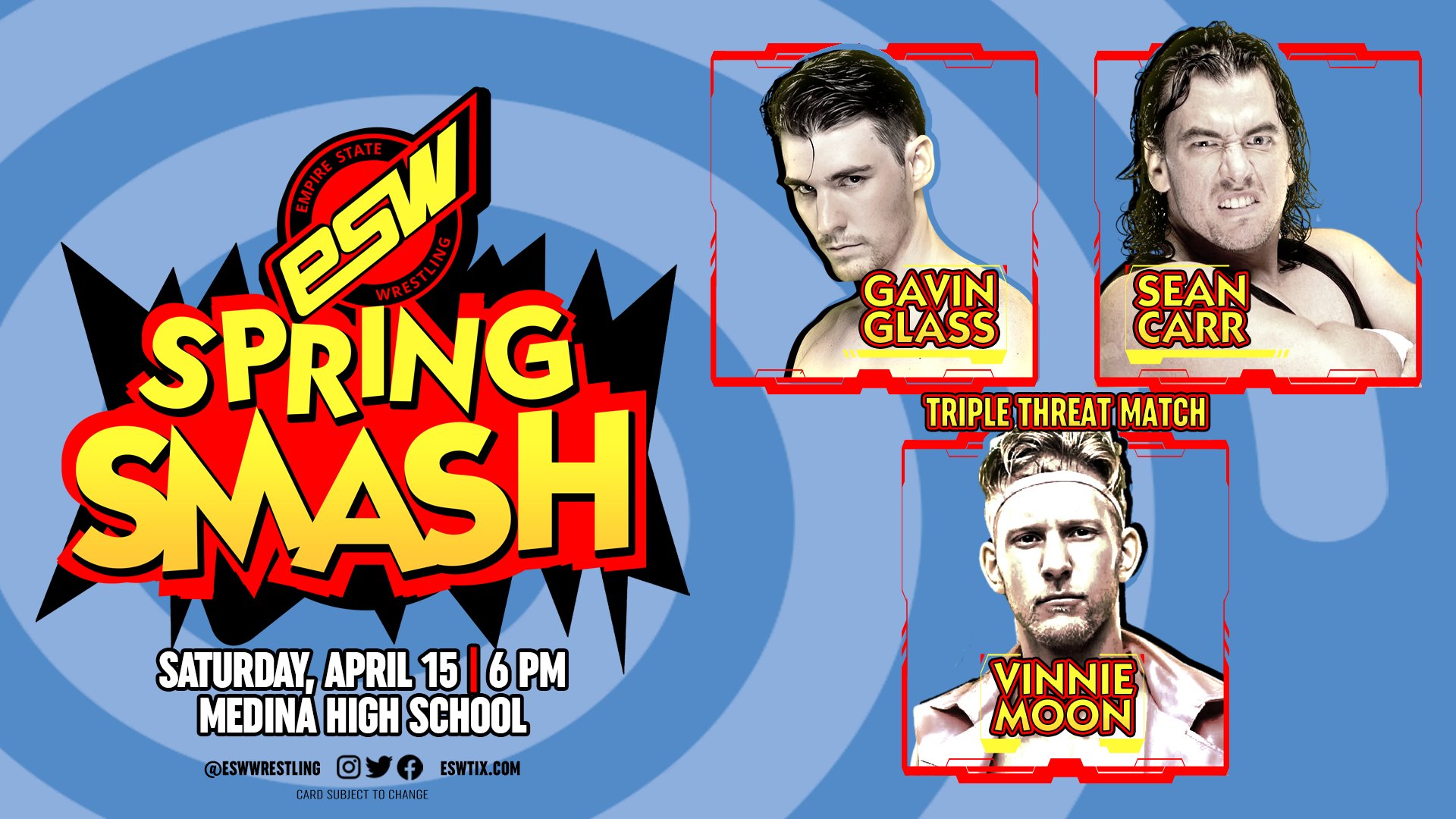 "A Cut Above The Rest" Gavin Glass began wrestling in January 2014. Nine years later, he will wrestle in his hometown of Medina for the first time at Spring Stampede.
"I'm very excited to be wrestling in my hometown for the first time," Glass said, "let alone in my high school gym. My gym teacher laughed at me when I said I wanted to be a pro wrestler so it's like a full circle moment for me."
Glass will be in a three-person match against "Hybrid" Sean Carr and Vinnie Moon. This match ends a multi-month hiatus from wrestling for Glass. His last match was in August in which he faced Space Monkey.
"I've been in the ring with Carr on several occasions and Moon only a couple time," Glass said. "Both are very talented performers and I understand the rest that awaits me on April 15. I've been away from the ring for a bit after the birth of my daughter and focusing on my family, but I think this is a perfect time to return in my hometown and against two of the best this area has to offer."
Carr comes back to ESW after facing "The Holy Hand Grenade" James Sayga in January. Meanwhile, Moon will aspire to end his growing ESW losing streak after falling to Edge of Hope's Jeremiah Richter. This will be Moon's second match under the managerial services of ESW legend Will Calrissian.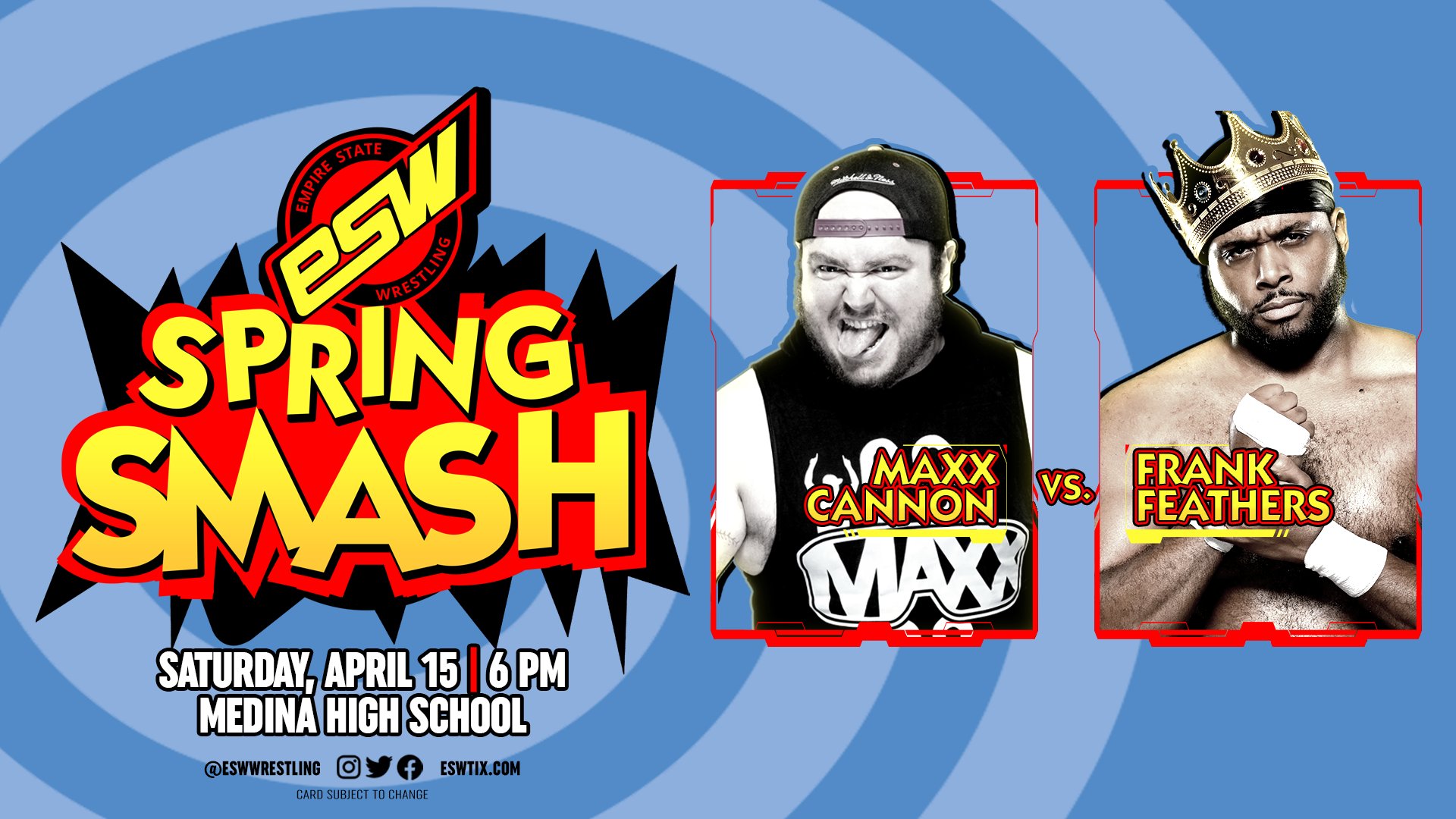 "Filthy" Maxx Cannon is another wrestler hailing from Medina. Wrestling in front of his hometown crowd will be extra meaningful to him.
"Spring Smash is monumental for me," Cannon said. "The last couple of times that ESW came to Orleans County, it was in Albion, and I was just a fan then. Now it's in Medina, in my high school and I'm on the poster. That's surreal for a small-town guy like me who has lived wrestling my whole life. It will be the first time much of my family and friends will get to see me compete and to be able to share the life I have for this business with them."
Cannon will take on longtime ESW staple "His Royal Highness" Frank Feathers, someone that he previously looked up to.
"To make things even more sweet," Cannon said, "I get a one-on-one match with a guy I used to really look up to in Frank Feathers. For what feels like forever, he's been a fan favorite in ESW and someone I model a lot of my character around.
He was the fun-loving, dancing, incredible athlete that knows how to have fun but also gets down to business. Lately, he's been someone that I do not recognize and someone who, unfortunately, when I step across the ring from, I'll have to keep a close eye on. Not just from my front, but I'll also have to watch my back."
Cannon also thinks this as an opportunity to show his depth as a performer within the squared circle.
"I really want to use this as an opportunity to show ESW that I'm not just a comedy act," he said. "But that I'm the real a deal and there is no better way of doing that then by going toe-to-toe with an ESW all-time great."
The tag team Greed will make their ESW debut. Greed consists of Lotto and Albion's Big Budget. Their first ESW match will be in major fashion, as they will challenge for the ESW Tag Team Championships against High Seas (Cloudy and "Your Captain" Nick Ando). High Seas successfully defended the belts against the Nu BackSeatz last month.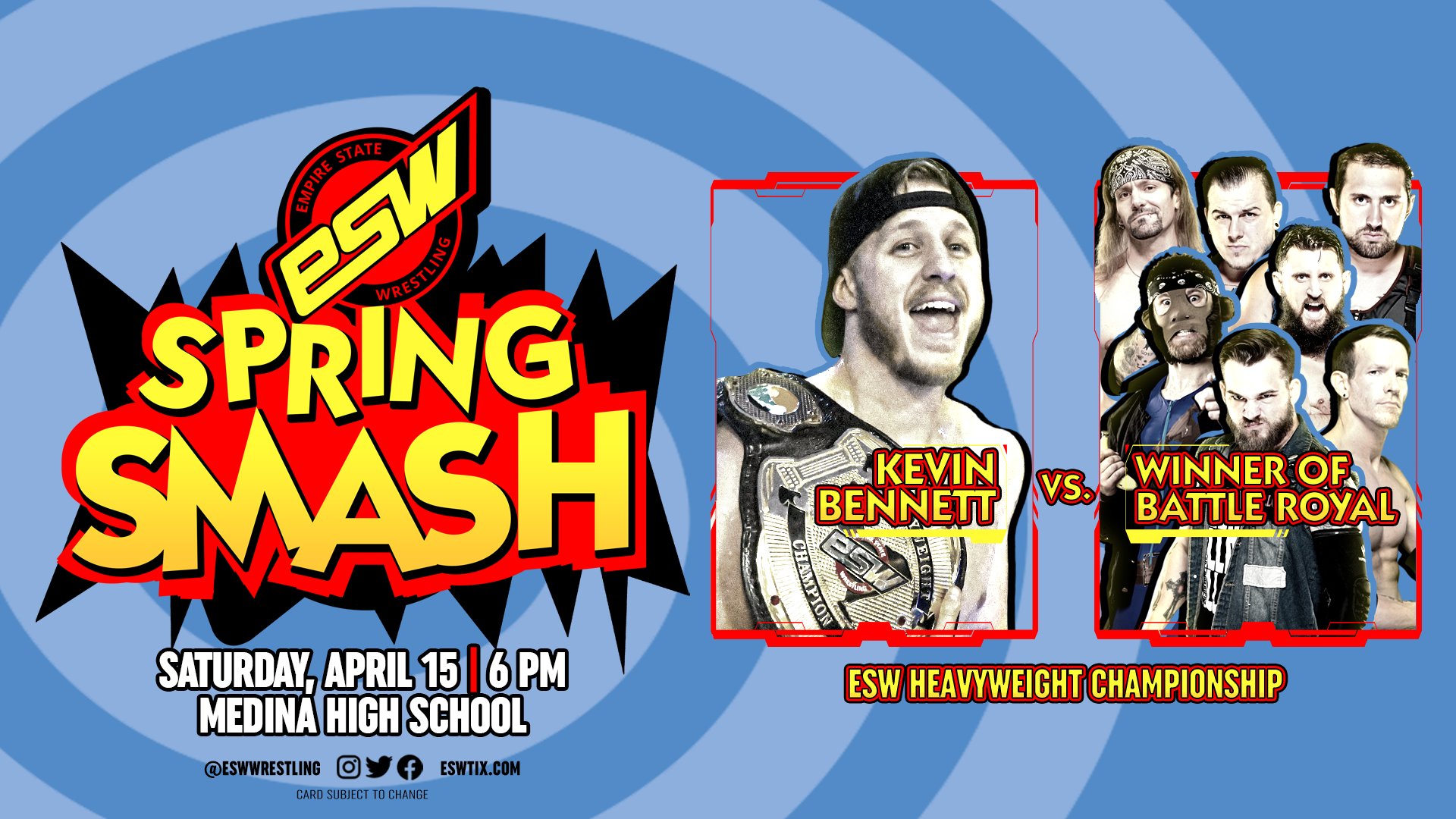 The other title match at Spring Smash will see
Kevin Bennett
putting the ESW Heavyweight title on the line. His challenger will be determined by the winner of a battle royal earlier in the event. Some of the entrants will include Edge of Hope's Cerin Rahne and Mattick, "Buck Wild" Thomas Kennedy, Matt McCoy, Space Monkey, Sayga and Robby Vegas. Bennett retained the belt last month in an impressive match with Impact Wrestling's "Speedball" Mike Bailey.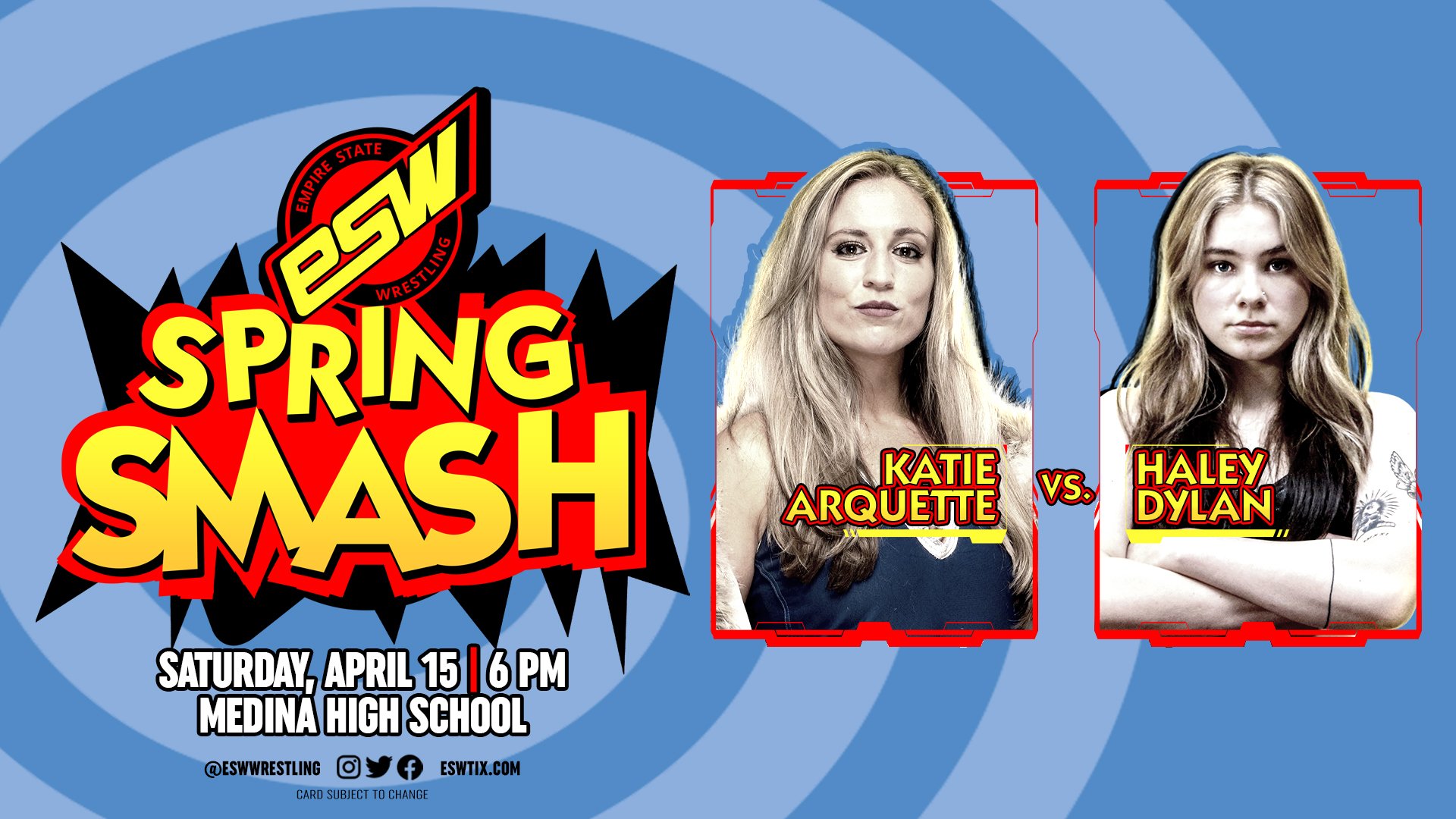 "The Queen of the Silver Screen" Katie Arquette will return at Spring Smash. She will face the debuting Haley Dylan from Buffalo, N.Y. In her last ESW match, Arquette scored the win over Adena Steele in November.
American Strong Style will be in action against Critical X Revolution. ASS faced Feathers and Valor in their first tag match in ESW in October. CXR competed in different matches last month, with T.J. Epixx beating "The Big Bang" Jerk Cockins in singles action and Chael Connors competing in a six-way scramble match.
Valor will be taking on one of his tallest opponents to date in Richter. In March, Valor's match with Feathers went to a no-contest as the two brawled out of control around the outside, leading to a dog collar match being setup for ESW's Brawlfest 2023 in May at Buffalo RiverWorks.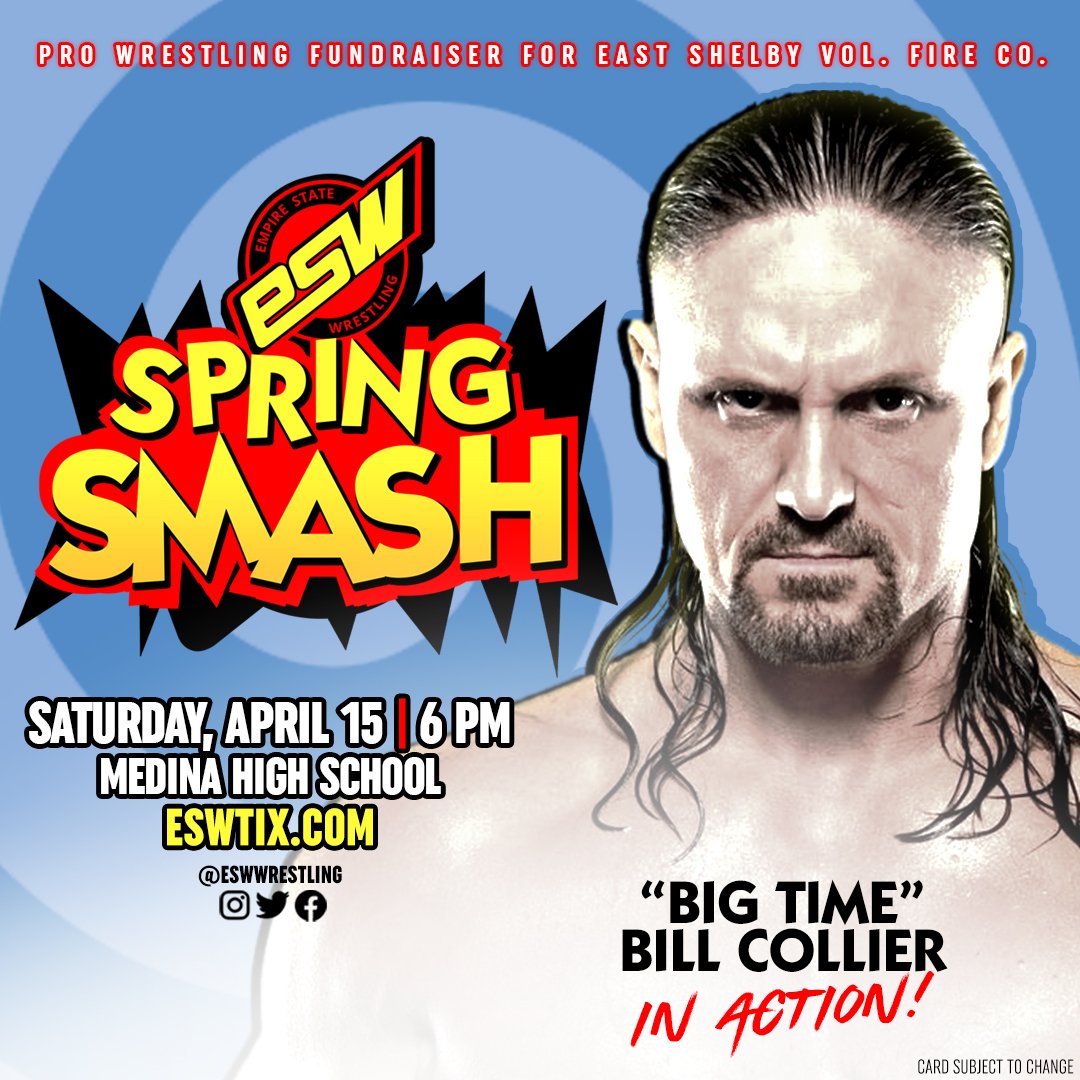 Rounding out the card, "Big Time" Bill Collier will also be in action. Collier defeated "The Intense Icon" Joshua Bishop last month. No opponent was announced yet for him.
Doors for Spring Smash open at 5 p.m. with bell time set for 6 p.m.
Various ticket specials are available for Spring Smash. Front-row tickets are sold out, but General Admission tickets are available for $20. An online exclusive GA four-pack is available for $60. Tickets for K-12 are $10 with the purchase of an adult ticket. Children 3 years old and under are free. Tickets can be purchased at ESWTIX.com. All ticket options increase $5 at the door.
"We believe this will be our highest-attended event to date," McPherson said," with ticket presale tickets selling at an unprecedented rate."
The official Spring Smash after-party will be held at Poler's Pub in Medina. The after-party is open to wrestlers and fans alike.