As of the early 1970s, one of the mainstays on the Québec wrestling scene was Dino Bravo. Bravo distinguished himself not as a tag team competitor but as a solo performer as well. Born Adolfo Bresciano in Montreal in August of 1948, a childhood move at the age of three would change his life forever.
Dino's family became neighbors with the Accocella family, whose patriarch, Jack Britton, wrestled out of Boston and was given his name by the promoter who was looking to push Irish faces to cater to the city's demographic.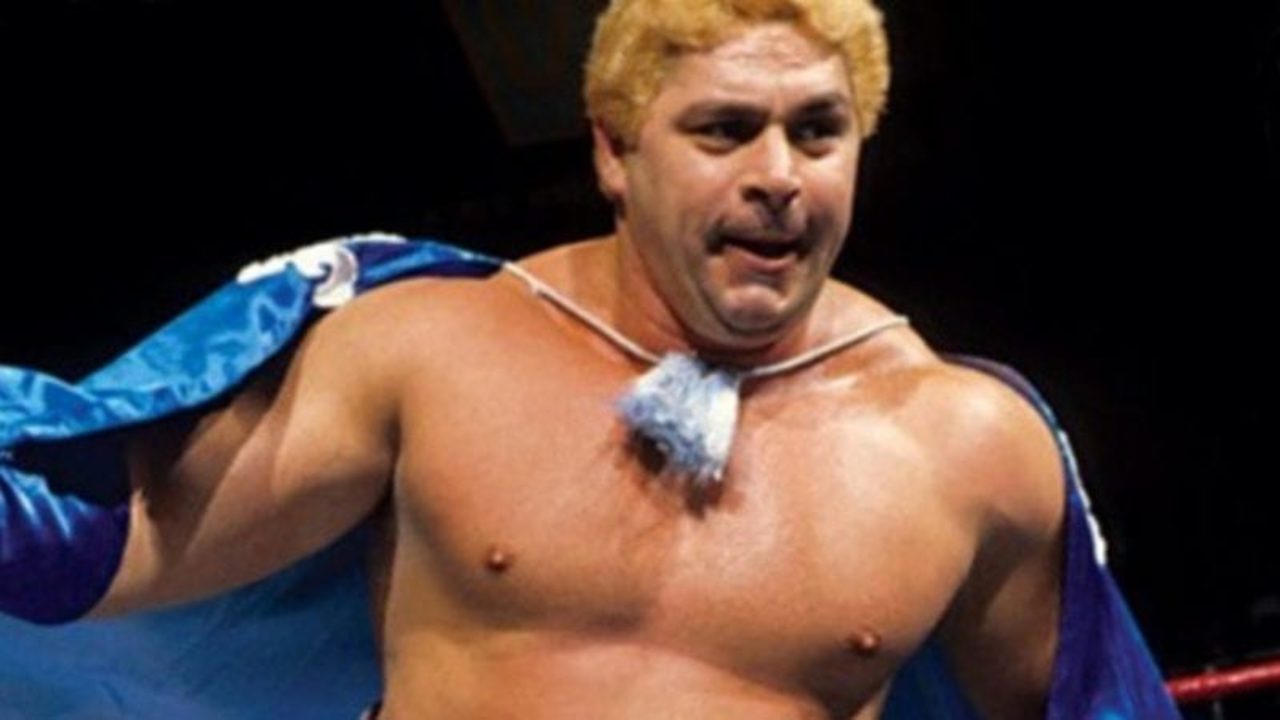 Britton had a son, Gino Brito, who was born in 1941. Brito and Bravo would develop a brotherly bond. As a teen, Dino Bravo excelled in amateur wrestling. With his size and attributes and bond with Brito, it was only natural that the latter took the former under his wing and trained him to join the burgeoning professional ranks.
At the age of 22, on November 22, 1970, Bravo made his professional debut. He embarked upon a life's journey that would sadly play itself out like a Shakespearean tragedy. Bravo initially signed with Québec's leading promotion at the time, which had a coveted pre-hockey dinner hour slot for TV while being run by Johnny Rougeau and Jacques Rougeau Sr.
Bad timing for Dino, the fed was hell-bent on giving a monstrous babyface push to Raymond Rougeau, and Bravo became a very tepid commodity.
One door closed, and another opened very, very wide. Another promotion was burgeoning in Quebec at that very time, Grand Prix Wrestling. Bravo would not have to play second fiddle to anybody. He was young, handsome, trilingual, and technically sound. Basically, a success story looking for a place to happen.
Dino Bravo: A Top-Tier Talent
Dino Bravo immediately became a top-tier babyface tag team competitor and was even paired with his mentor Gino Brito. In no time, the tandem was selling out arenas across the province. Bravo and Brito would have notable feuds with the likes of the Green Hornets, the El Santos, Gilles "The Fish " Poisson, and Maxime Zarinoff Leboeuf.
Bravo and Brito would also lock horns with immortals who were also at the outset of their careers. One team they crossed paths with was the Kiwis, Crazy Nick Carter, and Sweet Williams. This duo from New Zealand would later be known as the Sheepherders and later the Bushwhackers.
Another team of future renown they would hook up with was the Hollywood Blondes, one of many many teams to have that moniker. Years, of course, before Brian Pillman and the future Stone Cold. This early 1970s duo competed under the guidance of manager Sir Oliver Humperdink, a Minnesota native who never shied away from the camera to cut a promo in broken French for the Quebec television audience.
This particular combo was comprised of Gerry Brown, who was initiated to the sport by Bob Geigel and Dale Roberts. Roberts would later pack his bags and take residence on Bad Street, Atlanta, Ga. He became Buddy Roberts, a member of the Fabulous Freebird faction who revolutionized tag team wrestling.
While part of Grand Prix, Bravo was very much at home mixing it up with top-level up-and-coming performers. He was more than a local golden draw. Bravo never failed to deliver.
His allure was that of a sound technician who was also mobile. Strong, yes, but by no means a fearsome brute. He was the master of the out-of-nowhere dropkick and used the airplane spin as his finishing hold. Bravo, in the early years, was similar only in name to the character he became in the then WWF.
Grand Prix Wrestling ceased operation in the mid-1970s. This compelled Bravo to look outside his backyard to remain active and continue his progression. Dino Bravo began appearing for Crockett Promotions and was a successful worker, but didn't really garner superstar status. He would, however, hold the NWA-Mid Atlantic and NWA tag team titles which certainly gave his career a shot in the arm.
In March of 1978, he, along with Dominic DeNucci, would win the then WWWF tag team championship, retaining the belts for three months.
Bravo also knew success on the singles level by taking the NWA Maple Leaf Wrestling title from the great Gene Kiniski, who deemed himself Canada's greatest athlete. Kiniski, who used to thank the fans for allowing him into their living rooms via television, was in his forties at that time.
While definitely shining on the road, Dino Bravo headed back to his native province. In the early 1980s, with the emergence of a new upstart promotion International Wrestling. The brainchild of close friend Gino Brito, Bravo would become a partner in the venture. Contrary to previous runs, Bravo would focus primarily on singles competition and be naturally cast as a top-tier championship-caliber face.
Just like he had done in Grand Prix a decade or so earlier, Bravo had the chance to lock horns with many future legends. One prime example was a performer known as King Tonga; later on, he would become, of course, Haku and Meng. International Wrestling provided a definite launching pad for Haku.
International's roster boasted many names, including Samu (one-half of The Headshrinkers) and Alofa, the Polynesian Prince – a very young and svelte Rikishi. 1986 brought about a huge change in Bravo's life and fate as well. At the age of 38, he was recruited to join the WWF, which brought about a whole new persona and portrayal. Gone was the handsome and valiant face to be repackaged as a bleached blonde foreign strongman in an era where you didn't mess with the USA.
At that time, 24-inch pythons were as commonplace as pumpkin lattes in the Fall, and it is hence no surprise Bravo's physique transformed rapidly, adding significant muscle and volume. Dino Bravo teamed with Greg 'The Hammer' Valentine and was managed by the Damon Runyon-esque Johnny Valiant.
Bravo relied more and more on pure power. His finishing move became the Sidewalk Slam. At the 1988 Royal Rumble, Bravo would have the spotlight on him by attempting to break the world bench press world record of 715 lbs. 715, no longer merely a magic number for Hank Aaron.
Hacksaw Jim Duggan, in an interview with Wrestlers vs. the World, claimed that the attempt, which failed and had Jesse Ventura along for a helping hand, was, in fact, bona fide. While falling short, it was said that Bravo had no problem bench-pressing weights upwards of 500 lbs.
Bravo was packaged as the World's Strongest Man and went the singles route once again. The convention of the lumbering foreign strongman was played to a tee. Bravo, who came to the ring draped in a Fleur de Lys cape, was managed by Quebecois Frenchy Martin, who dressed as if he came directly from a Parisian street café.
All that was missing was the smell of freshly baked croissants. His entrance music was La Marseillaise which drew similar heat to Nikolai Volkoff singing the Soviet national anthem. To elicit even more reaction, Martin would tote a sign which read, "The USA is NOT Ok".
Bravo's more notable feuds were against Jim Duggan, Ronnie Garvin, Ken Patera as well as Don Muraco. The Duggan program resulting in a pre-match battle of flags. The Fleur-de-Lys against the Stars and Stripes. In every venue except Montreal or Quebec City, even Toronto and Winnipeg, etc., the crowd would overwhelmingly rally behind the native of Glens Falls.
This still being the month of April, we would be remiss not to underscore Bravo's WrestleMania moments. WrestleMania VI and VII respectively would see Dino lose to Jim Duggan and Kerry Von Erich.
After Frenchy Martin's departure, Bravo was managed by Jimmy Hart. He feuded with the Ultimate Warrior in a foregone conclusion program in pursuit of the WWF/E Intercontinental Championship. He was also teamed with Earthquake as a means to an end of introducing and pushing the latter. When the pair did team, Bravo would warm up in the ring doing pre-match pushups with the 400 lb. Quake on his back.
Gradually, the bloom faded off Bravo's rose. He was in his mid 40's, still impressively strong but far less mobile and agile. Grand Prix days were far behind in the rear mirror.
Bravo still thought he warranted top-level status and treatment, but Stamford felt very different. The pair parted ways, but not before an old friend and International Wrestling colleague, Rick Martel, went to bat for Bravo. The one-time AWA champ suggested that he and Bravo form a tag team.
In a video interview summarized on ProWrestlingStories.Com, Martel stated…
"I'll take the bumps and do all the moving around, and he can do all the strong stuff."
An interesting and loyal proposition but one which the office would nix. The never say never adage suffering some exceptions. This is where the real conflict and issues began.
We all, at some time, live beyond our means. The vicious circle being the more one acquires great wealth, especially in a relatively short span, the harder it is to change your modus vivendi. Once the cash flow, like the waters of the mighty Mississippi, comes to a grinding halt, the real trouble begins unless drastic changes are made. Easier said than done.
Dino Bravo was very accustomed to a lavish lifestyle but no longer had the means to support it. Out-of-control spending carried on, which meant accumulated debts and other woes.
There was another means to an end, albeit a real-life game of Russian Roulette. Bravo was related through marriage to a kingpin of Montreal's organized crime network, Vic Cotroni. Not the card Bravo wanted to play, yet felt pushed into to continue living as he had become seduced by.
Rick Martel in the same interview we quoted earlier, had this to say about Bravo's views on the matter.
"Rick… I know I could go into crime and do really good money…. but I don't want to go that route. … I know myself and what kind of guy I am
It was at that time that governments levied significant taxes on cigarettes, making the addictive habit all but unaffordable. A thriving black market would quickly develop with the forces of organized crime deeply involved in the operation.
Dino Bravo, after having to borrow money from his mother and hitting rock bottom, opted to call in the card made available to him. He got deeply involved in cigarette smuggling and was able, at least for a short time to re-familiarize himself with his life of abundance and luxury.
Tragically, Bravo's addiction to material comfort would turn out to be as toxic as the addiction to nicotine that would cater to at the end of his life. Like we have witnessed too often in sports and entertainment, nothing can do more harm than an influx of cash leading to drastic changes in lifestyle. It is followed by a halt of the revenue sources. Like the apple in the Garden of Eden, the taste of success is tremendously alluring and so hard to put aside.
The trip down from the top of the mountain was perilous for Dino Bravo. However, it also led him to make decisions that he knew were wrong. They would ultimately lead to his demise. Heartbreaking and tragic, to say the very least.