Chris Kanyon started his career in 1992 on the East Side of Manhattan, NY. Booby Bold Eagle trained him at the Lower East Side Wrestling Gym. In his first match, he competed under the name Chris Morgan. Kanyon paid his dues; he worked as a physical therapist during the week and wrestled on weekends and nights.
Eventually, he was teamed with another of wrestlings, unsung stars, Billy Kidman. Together with a hockey gimmick, Kanyon and Kidman competed against the East Coast's best tag teams.
Many don't realize that 2001 was not Kanyon's first appearance in World Wrestling Entertainment. In 1994 Chris Kanyon was an enhancement talent on WWF Superstars. There he competed against the likes of Tatanka, Diesel, Bob Holly, and Shawn Michaels. During that time, James Mitchell, also known as James Vandenburg, saw potential in Chris. So Chris Kanyon was sent to Wild Samoan Wrestling and trained by Afa and Sika.
Who Better Than Kanyon?
In 1995 Chris Kanyon made his World Championship Wrestling debut. He was teamed with Mark Starr in a tag team called Men at Work. The idea was that Kanyon and Starr were construction workers. Unfortunately, the tag team wasn't meant to be taken seriously, and Men at Work often lost due to stopping matches to measure things. Shortly after that, Kanyon disappeared. It was a good thing for him, though, because WCW had plans for Kanyon.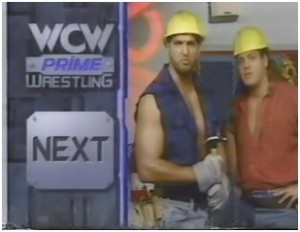 In 1997, the video game Mortal Kombat was sweeping the nation in popularity. WCW felt that they could make wrestlers that resembled Mortal Kombat characters. Chris Kanyon was one of those chosen to do this. In 1997 Chris Kanyon transformed into Mortis. Mortis wore green and black skeleton gear.
To add to the theme, Mortis was managed by his good friend James Vandenburg. Vandenburg was known for managing oddities. Mortis went on a path of destruction in WCW. Eventually, he was challenged by Glacier, another one of WCW's Mortal Kombat like characters. Shortly after that, Wrath, also known as Adam Bomb and Bryan Clark, joined Mortis. Unfortunately, this tag team combo did not last long, and Mortis and Wrath went their separate ways.
In 1998 Raven cast a shadow over the WCW roster with Ravens Flock. Ravens Flock was a group of misfits that followed Raven. No longer tagging with Wrath, Mortis wanted to be a part of Raven's entourage. Raven said Mortis could join under one condition, defeat Diamond Dallas Page for The United States Championship.
Diamond Dallas Page had previously defeated Raven for that title, and Raven wanted payback. Unfortunately, Mortis got the Diamond Cutter courtesy of DDP and failed to win the United States Championship.
The Birth of Chris Kanyon
As punishment, Raven used the Even Flow DDT on Mortis. That DDT lit a fire under Mortis. Chris threw away his Mortis gear and rechristened himself as simply Kanyon. During this time, Kanyon's in-ring skills were showcasing themselves. He became known as the "Innovator of Offense."
Several of his moves were a sight to be seen. Kanyon was the master at hitting finishing moves out of a fireman's carry. These included the Flat Liner and the Kanyon Cutter. It was also during this time that Kanyon started grabbing the microphone and asking, "Who's better than Kanyon." Hollywood noticed Kanyon's skills and asked if he wanted to be a stunt coordinator on the Jesse Ventura Story.
Kanyon enjoyed his time in movies,  but the wrestling ring was his true passion. And in 1999, Kanyon returned and helped Raven and Saturn win the WCW Tag Team Championships. Kanyon also wasted no time in joining the Jersey Triad.
Diamond Dallas Page, who went from being one of the most beloved men in WCW, was now one of the most hated. So to protect his newly won WCW Championship, DDP formed the Jersey Triad, which consisted of himself, Bam Bam Bigelow, and Kanyon.
Chris Kanyon Returns to WCW
The Jersey Triad became WCW Tag Team Champions at the Great American Bash when they defeated Saturn and Chris Benoit. WCW President Ric Flair made a ruling that the Jersey Triad could defend their title Freebird style, which meant that any two members of the Jersey Triad could defend the belts at any given time.
The Jersey Triad eventually felt the heat and lost the WCW Tag Team Championship to Booker T and Stevie Ray aka Harlem Heat. Due to his work in Hollywood, WCW chose Kanyon to be a stunt double in the upcoming movie Ready to Rumble.
"He may be the most underrated guys ever. Chris was part of the FOP – which was 'Friends of Page' – and that helped him and that hurt him in ways too. I felt like whenever I worked with him, cause he was down in the Power Plant when I was down there, I wanted him to get his body better because, back in our generation, that was important.
"Every time I wrestled him, I felt like I was wrestling a much younger version of myself, so I didn't even have to think out there."
Diamond Dallas Page on working with Chris Kanyon –
Even though Hollywood called a second time, Kanyon returned to WCW. In 1999 Kanyon renamed himself Chris "Champagne" Kanyon. Kanyon had an entourage complete with a new agent named Joey Briggs and two nitro girls at his side. Unfortunately, WCW bookers didn't buy into that character, so it didn't last long.
Finally, in April 2000, Kanyon dumped the champagne bottle and was back tag-teaming with DDP. One of the most jaw-dropping moments of this run was when Mike Awesome threw Kanyon off a three-tiered steel cage. Ironically enough, it was the exact cage from the movie Ready to Rumble. This remains one of the most must-see moments in WCW history.
Chris Kanyon Wrestling's Unsung Innovator of Offense
Kanyon appeared the next night on WCW Monday Nitro in a wheelchair with a neck brace. In order to avenge his injured friend, Diamond Dallas Page challenged Mike Awesome to an ambulance match. This is a match where the winner throws the loser into an ambulance and drives off in the vehicle.
During one of the most key moments of that match, Kanyon got up from his wheelchair and cost his best friend DDP the match. After that, Kanyon went on to join the New Blood. At the time, WCW was split into two factions. The New Blood was led by Eric Bischoff and Vince Russo, while Hulk Hogan led the Millionaires Club.
Alliance MVP in WWE
It was an intercompany war between the new stars and the established stars. Kanyon once again renamed himself. He was now known as "Positively" Kanyon. This was a direct stab at DDP. Kanyon even went so far as to dye his hair blonde and use a move called the Kanyon cutter. Kanyon would walk through the dressing room using the Kanyon cutter on anyone. This is what drew Kanyon into his feud with Buff Bagwell and the infamous Judy Bagwell on a forklift match.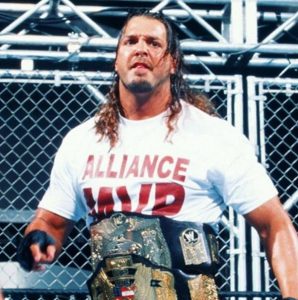 In the Spring of 2001, WCW was in financial peril. Vince Mcmahon, the World Wrestling Federation owner, bought WCW a few weeks before Wrestlemania 17. Kanyon's contract was a part of that deal. On July 6th, 2001, in WWE Smackdown episode, Kanyon made his WWE debut by joining the Alliance.
The Alliance was a group of WCW and ECW wrestlers that Shane McMahon and Stephanie McMahon were using to run their father, Vince McMahon, out of business. Kanyon's first WWE pay-per-view match was at WWE Invasion. He teamed with Shawn Stasiak and Hugh Morris in a six-man tag against Billy Gunn, Big Show, and Albert.
When WWE bought WCW, Booker T was the WCW champion as well as the United States Champion. Under the orders of Stephanie McMahon, Booker T gave the US title to Chris Kanyon. As the United States champion Kanyon named himself the Alliance MVP.
The WWE Invasion
Not only was Kanyon invading WWE, but another former member of the Jersey Triad also made his presence felt, and no one saw it coming. Diamond Dallas Page made his debut in the WWE, stalking the Undertaker's then-wife Sarah. Kanyon decided to help his friend eliminate the deadman.
Together Kanyon and DDP defeated the APA of Farooq and Bradshaw to become the WWE tag team champions. They held onto the titles until they faced the Brothers of Destruction, Kane, and The Undertaker. Defeated but also injured, Kanyon took time off to rest. He has extensive surgery on his anterior cruciate ligament.
Kanyon only made one brief appearance the rest of 2001 at the WWE Survivor Series, where the entire Alliance was fired due to the WWE survivor series team victory.
Chris Kanyon Joins OVW
In 2002 Kanyon was cleared to return to action. He spent some time in WWE's developmental territory Ohio Valley Wrestling, to get back into ring shape. Kanyon made his return to WWE television on Velocity, where he would unfortunately stay. He wrestled mostly in dark matches.
Kanyon's injuries were catching up to him. In 2004 the WWE released Kanyon from his contract. Kanyon briefly showed up in TNA battling Raven. Later in 2004, Chris Kanyon came out as openly gay. He also started working on a book called Wrestling Reality: The Life and Mind of Chris Kanyon with author Ryan Clark about his struggles as a closeted gay man in the wrestling world. Unfortunately, on April 2nd, 2010, Chris Kanyon passed away.
"He was so underrated, so underutilized. He trained like every celebrity who's ever worked in WCW. Chris had so many great ideas. He has a bunch of little unknown accolades. And he was such a nice dude.
There's not a lot of nice guys in the wrestling business. He helped out so many. And helped so many people break into the businesses, and get jobs or get opportunities."
Brian Cage on his mentor, the late Chris Kanyon
Innovator, MVP, or Jersey Triad member Kanyon was definitely an unsung star. He was way ahead of his time in the ring and out of it. Kanyon helped bring in some of the most talented WCW stars. He gave back to the business whenever he could. Wrestling needs people like Chris Kanyon. People that just love the business.