From his musical pursuits to his success in writing to the sheer litany of accolades he achieved in professional wrestling, Chris Jericho is among the most multifaceted talents to step foot in the ring. He's also one of the most recognized, as he started his career in the mid-90s. Jericho continues to perform to this day.
Needless to say, when All Elite Wrestling made the announcement that he would be part of their roster, a sense of excitement was felt in the wrestling world. A talent with the experience of Jericho can only help them. Not only in terms of caliber matches but recognition on a worldwide scale. In this two-part preview, we will detail Jericho's wrestling career. From where he got his start to his signing with AEW.
Chris Jericho started wrestling when he was 19 years old, entering the Hart Brothers School of Wrestling. It was here that he met Lance Storm, who he would team with early in his career. They would become close friends with over time. He wrestled independently afterward. It was during this time that he came up with the ring name "Chris Jericho."
According to Jericho, his original ring name was supposed to be "Jack Action". But when he was told that the name was stupid, he decided on "Chris Jericho," the surname being lifted from "Walls of Jericho," an album by the metal band Helloween.
Chris Jericho traveled the world as a developing talent, particularly Mexico and Japan. In Mexico, he went by the name "Corazon de Leon". Which translates to "Lion Heart". During the early-to-mid 90s, he wrestled for Consejo Mundial de Lucha Libre.
In CMLL, he worked with the likes of Silver King and Ultimo Dragon, which helped him craft his wrestling style. He also won the NWA World Middleweight Championship in the country, defeating Mano Negra in a two-out-of-three fall match.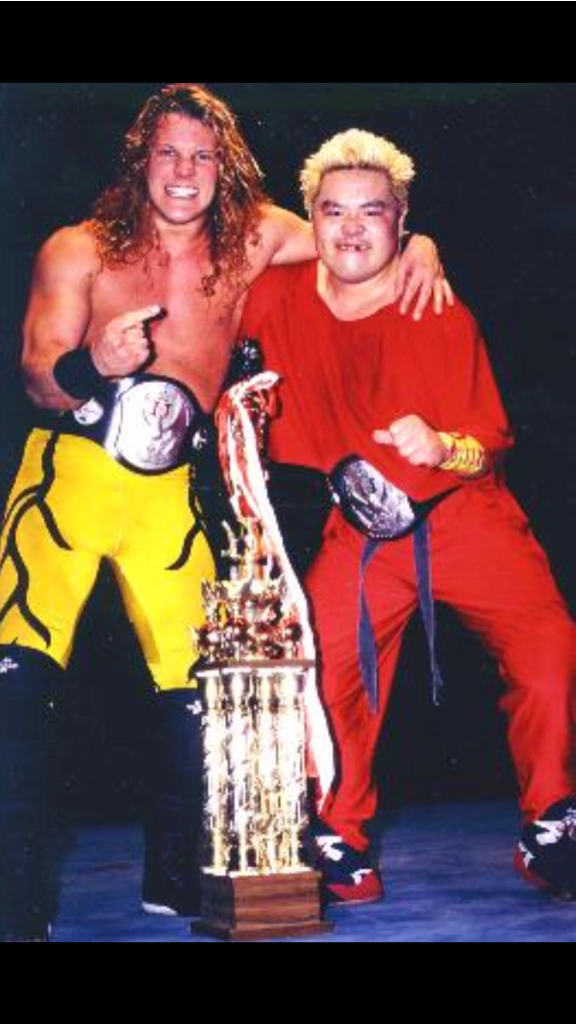 Chris Jericho – In Japan
In Japan, he wrestled for Wrestling and Romance. One of his major accomplishments in the promotion came in 1995. Jericho defeated Gedo, the current booker for New Japan Pro Wrestling, to become the WAR International Junior Heavyweight Champion. During that same year, he would go on to team with Gedo to win the International Junior Heavyweight Tag Team Champion.
Chris Jericho would work for NJPW a couple of years later under the guise of Super Liger. As Super Liger, the idea was that he would play the rival of Jushin "Thunder" Liger, complete with a silver outfit that resembled Liger's. The gimmick proved disastrous, largely due to Jericho's difficulty maneuvering in the suit, and it was dropped only after one night.
The first American organization Jericho became involved with was Smoky Mountain Wrestling, where he worked in 1994. According to Jim Cornette, one of the founders of SMW, he received a videotape from Canada featuring Jericho and Storm.
Impressed by their work, Cornette brought in the young Canadian talents, putting them together as the tag team called The Thrillseekers. As a babyface tag team, The Thrillseekers took on such teams as The Heavenly Bodies and The Rock 'n' Roll Express.
Extreme Championship Wrestling
Jericho would join Extreme Championship Wrestling in 1995. The story was that Mick Foley saw a tape of Jericho's match against Ultimo Dragon for the WAR International Junior Heavyweight Championship before sharing it with CEO Paul Heyman. Jericho regarded his time in ECW as being part of a revolution of sorts, which matched the counterculture nature of the promotion.
Not only would he win the ECW World Television Championship, but he worked with such talents as 2 Cold Scorpio, Taz, and Rob Van Dam. His work with ECW, which featured athleticism and an understanding of wrestling styles around the world, reinforced that the company was more than a hotbed for extreme violence.
It didn't take long for Jericho to catch the attention of World Championship Wrestling, which he joined in late 1996. He won the WCW Cruiserweight Championship in 1997, defeating Syxx, who fans may know better as X-Pac. His babyface character up until then was lacking.
This was the period when the New World Order, despite technically being a heel stable, was one of the most popular acts in wrestling. At the beginning of 1998, Jericho started to show a more nefarious side. Up until then, upon losing matches, Jericho became increasingly frustrated, which came to a boil at Souled Out in January.
There, he lost once again. This time to Rey Mysterio Jr., but attacked the luchador afterward to the point where he was rendered unable to compete for the next several months.
WCW Rivals
From there, Jericho defended the Cruiserweight Championship against Juventud Guerrera before entering a feud with Dean Malenko. This feud brought life to the infamous in-ring promo where Jericho proclaimed that while Malenko was "The Man of 1,000 Holds," Jericho knew 4 more.
From there, he pulled out a long sheet of paper, which he started to list numerous techniques from. Most of the techniques in question weren't even holds, or real wrestling maneuvers for that matter, which made the promo all the more humorous.
Jericho defeated Malenko at Uncensored in March; Malenko took an extended leave from WCW after. Prior to Slamboree, a cruiserweight battle royal took place, with the winner receiving an immediate Cruiserweight Championship match against Jericho. The winner, who many believed to be Ciclope, unmasked to reveal himself as Malenko.
Following one of the loudest reactions in WCW history, Dean Malenko soon defeated Jericho, becoming the Cruiserweight Championship in the process. Jericho soon proclaimed that he was a victim of a conspiracy, even going so far as to travel to Washington, D.C. to voice his grievances. The "conspiracy victim" angle was another example of Jericho's comedic chops.
Chris Jericho  | Quest for the WCW Championship
Though Jericho added character to the WCW cruiserweight division, he would soon move up the card, challenging for the Television Championship. In August, he defeated Stevie Ray for the championship in question. This was before setting his sights on the World Heavyweight Champion, Goldberg.
The idea behind this feud was that Jericho would routinely call out Goldberg, even going so far as to defeat a Goldberg impersonator at Fall Brawl in September. Unfortunately, the storyline failed to meet the conclusion Jericho desired.
According to Jericho, not only did Goldberg fail to see the humor and eventual payoff with the angle, but Eric Bischoff and Hulk Hogan didn't believe in it, either. These reasons, along with general frustration in WCW, resulted in Jericho looking to greener pastures in wrestling.
Leading to his Debut in the WWE
Leading up to Jericho's debut in the World Wrestling Federation, a clock was periodically shown on the Titantron. Above the digits being counted down was the headline "Countdown to Millennium," which was a reference to the Y2K bug leading to the year 2000. The idea for this impending debut was inspired by a clock Jericho saw while waiting at a post office.
On August 9, 1999, while The Rock cut a promo in the ring, the "Countdown" finally reached zero. "RAW is Jericho," the newcomer exclaimed as he made his debut, following up by saying that he would save the company. Not long ago, The Rock verbally ran down Jericho in true People's Champion fashion. Though Jericho ended up on the receiving end of a verbal beatdown by The Rock, Jericho made an impression on his first night in the company.
Though he started his run as a heel, he began to turn face during his storyline with Chyna, his first big program in the WWF. This feud led to them becoming co-Intercontinental Champions, but he would eventually become the sole champion. From there, he would feud with the likes of Kurt Angle and Chris Benoit.
The latter of whom he would partner within the near future. Jericho became so popular, during this time, that he was slated to be part of the WrestleMania 2000 main event. There it would see him challenge The Big Show, The Rock, and WWF Champion Triple H. Ultimately, Mick Foley took Jericho's place. Despite the fact that the newcomer was advertised for the main event on posters beforehand.
Chris Jericho – Origins in the WWE
Jericho's next big feud involved Triple H, as he was at odds with the WWF Champion's wife, Stephanie McMahon. After repeated insults by Jericho toward Stephanie, Triple H accepted his challenge for a title match. In one of the biggest upsets in company history, Jericho pinned Triple H to win the title.
Unfortunately, the former champion accused referee Earl Hebner of a fast count, which resulted in the title change being reversed. This title win is not officially recognized by the company. It was a moment that helped to propel Jericho's status. Jericho's feud with Triple H concluded at Fully Loaded, in July, where he lost their last-man-standing match.