Brace For IMPACT for 11/17/20
With Turning Point in the rearview mirror, we have quite a lot to look forward to as we build towards January's Hard To Kill pay-per-view. We have new tag team champions coming out of the show in The Good Brothers, and we have a new Knockouts Champion in Deonna Purrazzo. Meanwhile, X-Division Champion Rohit Raju seeks to continue his wiley ways with the Defeat Rohit challenge. And let's not forget IMPACT World Champion Rich Swann has Sami Callihan, Ken Shamrock, and Moose all out for his title. Here's more of what you can expect Tuesday night at 8 on AXS TV's IMPACT! Wrestling.
____________________
Brace for IMPACT for 11/17/20
Hernandez vs. Fallah Bahh
As the best man for John E. Bravo's wedding, it was up to Fallah Bahh to raise money for the ceremony. On October 6th, Fallah Bahh stole a wad of money that Hernandez won in a series of arm-wrestling matches. Since then, Fallah Bahh has been trying to hide his secret while Hernandez hounds him about knowing where the money is. This week, Hernandez has the opportunity to beat the information out of Fallah Bahh. But will the Filipino giant prove to be too much for even a man as strong as Hernandez?
Brace for IMPACT for 11/17/20
The Rascalz (Dez & Wentz) vs. Trey Miguel & Rich Swann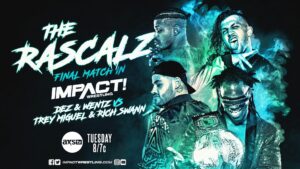 Last week on IMPACT! Wrestling, The Rascalz returned to their treehouse to learn that they're being evicted. It turns out the trio hasn't paid a dime in rent since their arrival in IMPACT! Wrestling 2 years ago. With nowhere to stay, they're leaving to seek pastures new. Later in the show, IMPACT World Champion Rich Swann suggested they do something special for their last match. More specifically, he suggested Dezmond Xavier and Zachary Wentz face off against Trey Miguel and himself in tag team action. This match promises to be a barn burner main event, packed with high flying action.
Alisha & Tenille Dashwood vs. Havok & Nevaeh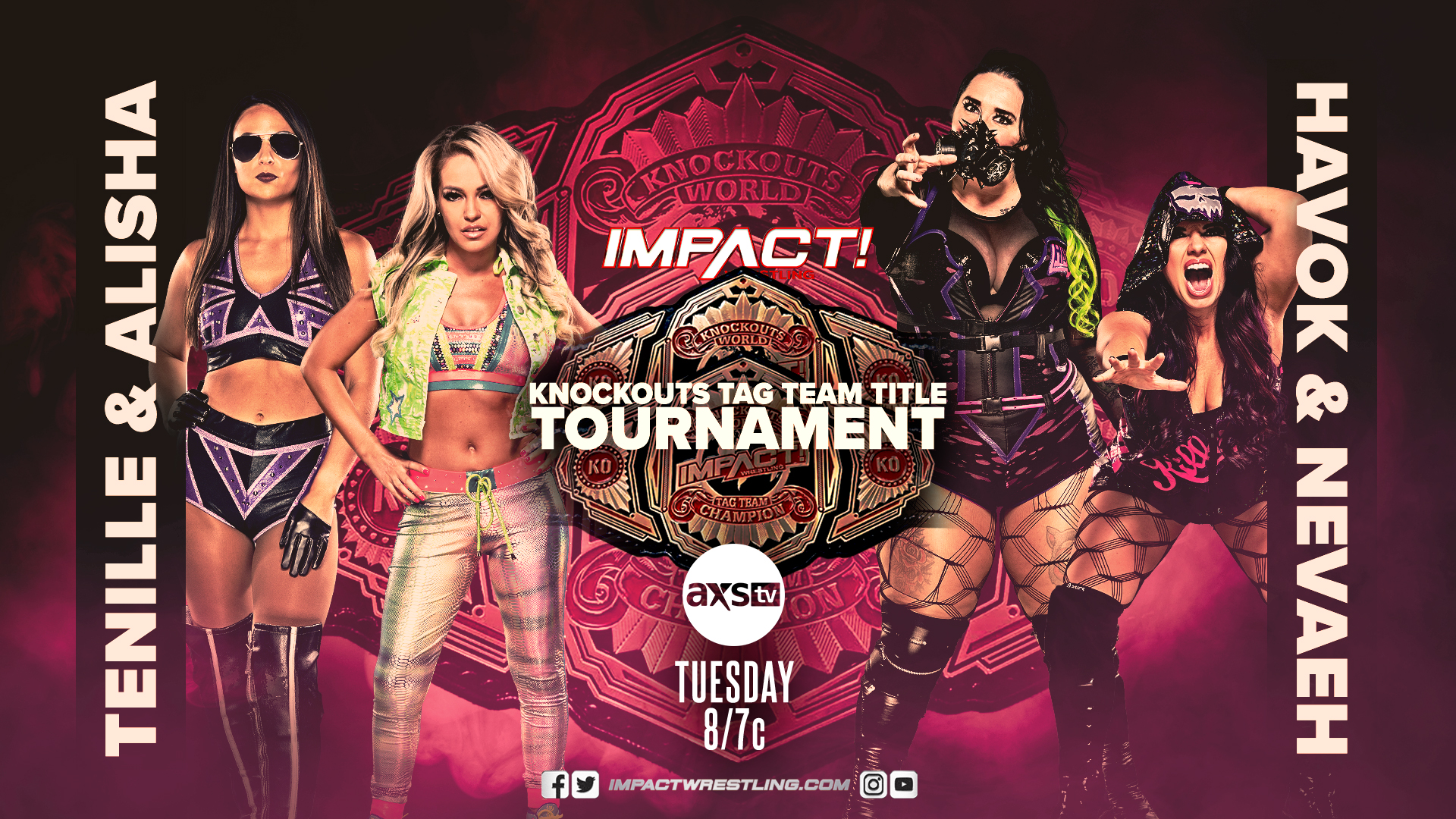 After failing to find her groove with Madison Rayne and Jordynne Grace, Tenille Dashwood has decided to enter the Knockouts Tag Team Championship Tournament with Alisha. However, Alisha has had her own troubles with tag team partners, teaming with Jordynne Grace in a loss to Tasha Steelz & Kiera Hogan. Hopefully, these two can get on the same page in time to face Havok & Nevaeh on Tuesday night. Nevaeh has been working with Havok since Slammiversary, giving them the advantage in-experience. On the other hand, their record together stands at 2-3. Will their most recent victory over Tenille Dashwood and Jordynne Grace at Turning Point give them the momentum to push into the next round? Or has Tenille Dashwood finally found her perfect partner?
The Knockouts Tag Team Championship Tournament Begins!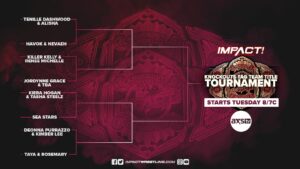 As we learned at Turning Point, the tournament to crown the inaugural Knockouts Tag Team Championships begins Tuesday! The tag team action in IMPACT's Knockouts division has been one of the best-kept secrets in wrestling over the past few months, with some dynamic and interesting pairings. Taya Valkyrie & Rosemary have the experience advantage, probably the duo who kicked off the women's tag team renaissance in IMPACT! Wrestling. However, Rosemary's new husband suffered a near-fatal gunshot at their wedding, which is likely to impact their performance.
Fans of IMPACT Wrestling are also familiar with the teams of Havok & Neveah, Tasha Steelz & Kiera Hogan, and Deonna Purrazzo & Kimber Lee. Purrazzo and Lee are an interesting entry in the tournament, as Deonna captured the Knockouts Championship on Saturday night. Tenille Dashwood and Jordynne Grace had the opportunity to see how they gel on Saturday night but came up empty against Taya and Rosemary. It seems they've decided on a change of partners, as Tenille has joined forces with Alisha Edwards and Grace is still on the lookout. Also of note in the bracket are Killer Kelly & Renee Michelle and The Sea Stars. These 4 competitors have yet to debut in IMPACT Wrestling, which leads nicely into…
Debuts To Look Out For
Team Sea Stars
"Poseidon's Siren" Ashley Vox and "The DelmiGoddess" Delmi Exo are real-life sisters from Providence, Rhode Island. Ashley made her pro wrestling debut in 2014, with her sister joining her the year after. On August 29th of that year, they made the obvious decision to perform as a tag team, and they haven't really looked back since. They've performed mainly in the New England area for promotions like Chaotic Wrestling and New England Championship Wrestling. They've also wrestled for CHIKARA, Beyond Wrestling, and SHIMMER Women Athletes, where they're over 377 days into their first reign as tag team champions. The sisters wrestle a unique style, a mix of European technical wrestling and lucha libre, along with some wiley tricks akin to Orange Cassidy. Definitely a tag team to keep an eye on in IMPACT! Wrestling.
Renee Michelle
Renee Michelle is a wrestler from Washington, DC, and has spent most of her career working on the indie circuit in Maryland and Delaware. She's worked for promotions like East Coast Wrestling Association, National Wrestling League, Maryland Championship Wrestling, and SHINE. However, she's had several noteworthy opportunities in WWE. In 2017 she entered the Mae Young Classic but lost in the first round to Candice LeRae. She also appeared alongside her husband Drake Maverick on the July 22nd, 2019 episode of Monday Night Raw, and competed with him in a tag team match against R-Truth and Carmella on July 29th.
Killer Kelly
Killer Kelly has spent the last 10 years making her name in the European indie wrestling scene. She's worked for Pro Wrestling Allstars in Belgium, Revolution Championship Wrestling in Spain, Westside Xtreme Wrestling in Germany, and PROGRESS Wrestling in England, among others. However, like her partner Renee Michelle, she also had a run with the WWE. She participated in the 2018 Mae Young Classic, losing in the first round to Meiko Satamura, but impressed management enough to land a spot in NXT UK, where she wrestled from 2018 to this year. Her last appearance on US soil was working double duty, at  Black Label Pro's 'Threat Level Noon' in a victory over Billie Starks and at Josh Barnett's Bloodsport 3 in a loss to Allysin Kay. While her technical repertoire is impressive, it's her striking skill that will really set Killer Kelly apart in IMPACT! Wrestling.
Brace for IMPACT for 11/17/20
Joe Doering
Former All Japan Pro Wrestling Triple Crown Heavyweight Champion Joe Doering made his return to IMPACT! Wrestling on Saturday night. He came out with Eric Young following the Defeat Rohit Challenge to lay a beatdown on Cody Deaner and Cousin Jake. He previously appeared in IMPACT! Wrestling back in the TNA days, from December 2005 to September 2006 without leaving much of a mark. Following his release from IMPACT! Wrestling, he signed with All Japan Pro Wrestling in 2007, where he worked with the legendary Keiji Mutoh, capturing the world tag team championships. He went on to hold the tag team titles on three other occasions, with Suama, Kono, and future NJPW star Seiya Sanada. His style speaks to his AJPW roots, strongly reminiscent of brutes from the past like Stan Hansen and Bruiser Brody. One can only imagine what he and his cohort Eric Young have planned for IMPACT Wrestling.