In the late 1990s, pro wrestling was one of the most popular forms of entertainment in the world. Larger than life stars giving everything they had to the fans night in and night out. One of the major highlights of both World Championship Wrestling and World Wrestling Entertainment was their variety of talent showcasing their skills. A new breed of fast-paced, high flying lucha style was featured on both WCW and WWE. They called this style the Cruiserweight division or Light Heavyweight division. One of the standouts in both companies was Billy Kidman. Kidman bought to fans a style of wrestling that was technical but also high flying. He would wrestle his opponents to the mat as well as take the air for his finisher the shooting star press.
Billy Kidman – Pro Wrestling's Shooting Star
Birth of a Cruiserweight Superstar
Billy Kidman aka Peter Gruner started training in 1994 with Wild Samoan Wrestling in Hellertown, PA. Kidman was a banker by day and a pro wrestler at the weekends. In his first match, he went by the name of Kid Flash. Shortly after Billy Kidman's debut, he teamed up with Ace Darling and won the East Coast Wrestling Association Tag Team Championships. Kidman and Ace became an unstoppable tag-team combo. Billy Kidman was friends with another unsung wrestling star Kanyon. Chris Kanyon knew that Kidman had the "it factor". Kanyon convinced World Championship Wrestling to take a look at Kidman. It wasn't long before Billy Kidman was headed to Atlanta to prepare for his WCW debut.
A Kid in the Flock
Billy Kidman's first year in World Championship Wrestling was not easy. He was used mostly as an enhancement talent. However, WCW did see something special in Kidman. They were just waiting for the right opportunity. In 1997 that opportunity came as a member of Raven's Flock. Raven gained a lot of attention in Extreme Championship Wrestling with his mind control gimmick.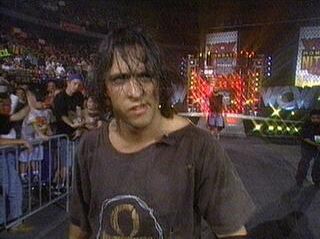 Raven recently joined WCW and wasted no time in recruiting a group to watch his back. This group was called Raven's Flock. Billy Kidman was recruited by Raven to join his group of outcasts. Now going by just the name Kidman, his character changed into an outcast. Kidman played the part well including calling his Shooting Star Press finisher the Seven Year Itch. A few months went by and the fans started noticing how talented some of the members of the Flock actually were. They were misfits, yes, but a few standouts were also excellent wrestlers. Kidman was earning the respect of the fans. Eventually, the Flock disbanded after Kidman helped fellow Flock member Perry Saturn defeat Raven. According to the stipulation in that match, if Raven lost, the Flock would disband. Billy Kidman saw this as an opportunity to shine.
Billy Kidman – Pro Wrestling's Shooting Star
WCW Cruiserweight Champion
After leaving Raven, Kidman changed his look to a clean-cut babyface. He was quickly becoming a fan favorite as the cruiserweight division in WCW was on fire. Billy Kidman had amazing matches with Juventud Guerrera, Rey Mysterio Jr, Psychosis, and Lionheart Chris Jericho. On September 14, 1998, Kidman defeated Juventud Guerrera for the WCW Cruiserweight Championship. The WCW Cruiserweight division was very competitive in 1998 and Kidman lost the title back to Juventud just weeks later. But Kidman was not going away quietly. At WCW World War 3 1998, Kidman took back the Cruiserweight Championship by defeating Juventud a second time.
Kidman stayed WCW Cruiserweight Champion until he was defeated by Rey Mysterio Jr in a cruiserweight classic on Nitro. Rey Mysterio was so impressed with the match that Rey asked Billy Kidman to be his tag team partner. On March 29, 1999 edition of Nitro, Billy Kidman and Rey Mysterio became tag team champions. Unfortunately at Slamboree 99, the team of Kidman and Mysterio lost the titles in a three-way dance to Saturn and Raven. Billy Kidman challenged once again for the Cruiserweight Title. He defeated Prince Iaukea for his third Cruiserweight Championship but lost it one day later back to Iaukea on Nitro.
Kidman gets Filthy
In late 1999 Billy Kidman, Rey Mysterio, Konnan, and Eddie Guerrero renamed themselves the Filthy Animals. The plan was for the Filthy Animals to be WCW's version of Degeneration X. However unlike DX, they were not just heels. They would prank heels and faces in WCW. The Filthy Animals mostly squared off against The Revolution which was comprised of Shane Douglas, Chris Benoit, and Dean Malenko. Eventually, the Animals added Tygress and Torrie Wilson, who was Kidman's girlfriend and eventually his ex-wife.
It was around this time in WCW that new talent was being overlooked for some of the stars that according to many, were way past their prime. Vince Russo and Eric Bischoff joined forces to create a stable of new hungry wrestlers called the New Blood. Kidman knew the biggest way to make an impact was to challenge the leader of the old guard himself, Hulk Hogan. On Nitro, Billy Kidman cut a promo on Hogan saying he might not have a body as good as Hogan's but there are two things Hogan doesn't have, and that's heart and talent.
Billy Kidman – Pro Wrestling's Shooting Star
Hulk Hogan responded by verbally attacking Torrie Wilson. Kidman and Hogan got into an all-out brawl ending with Eric Bishoff helping Kidman out with a chair shot to Hogan. This led to several matches with Hogan including one where Billy Kidman, wearing a Hulkster t-shirt, frog splashed Hogan on a table. Unfortunately for Kidman, Hogan won the war between the two.
After the wrestling lesson from the Hulkster, Kidman returned to his fan-favorite ways. Shane Douglas recently started antagonizing Torrie Wilson. Standing up for his girlfriend,  he challenged Douglas to a match. Little did Billy Kidman know that it would be Torrie Wilson stabbing him in the back and leaving with Shane Douglas. The two competed in a Scaffold Match as well as a Viagra on a Pole match. Yes, you did indeed read that right. In their final encounter, a strap match, Kidman suffered an injury when he was hung by Shane Douglas with the strap.
Kidman took some time off but returned to WCW in 2000. He once again teamed with Rey Mysterio to win the brand new WCW Cruiserweight Tag Team Championship. However the night they won the title, was also the very last episode of WCW Nitro. Vince McMahon had purchased WCW.
The Shooting Star becomes a WWE Superstar
On July 5, 2001, Billy Kidman challenged Shane Helms in the very first WCW match broadcast on WWE Television. Billy Kidman won that match and became WCW Cruiserweight Champion. At the WWF Invasion PPV, WCW Cruiserweight Champion Billy Kidman defeated WWF Lightheavyweight Champion X-Pac. Not only did he defeat X-Pac, but he also did it with the Shooting Star Press. On April 11th, 2001 Billy Kidman defeated X-Pac for the Cruiserweight title, making Billy Kidman a five-time Cruiserweight  Champion. Again Kidman suffered an injury that he had to take time off to recover.
When he returned to WWE, Billy Kidman found himself as one of the must-see stars on Smackdown. Just like he did in WCW, Kidman was earning fans and respect with every match. Eventually, Kidman challenged the current Cruiserweight Champion Tajiri. On an episode of Smackdown, Billy Kidman defeated Tajiri to capture his sixth Cruiserweight Championship. However, Kidman did not hold onto that title for long. At Backlash 02, Kidman was defeated by Tajiri. The next time Kidman would taste Championship gold was when he defeated Jamie Noble at Survivor Series. Billy Kidman became the only man to be Cruiserweight Champion a record-setting seven times. Kidman lost that title to Matt Hardy Version 1 at No Way Out with a Twist of Fate.
Tagging with Paul London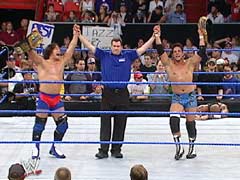 In 2004 Billy Kidman formed a tag team with another cruiserweight Paul London. The current WWF Tag Team Champions were the Dudley Boyz. Kidman and London wanted that title. On July 10, 2004, the team defeated the Dudley Boyz and became WWE Tag Team Champions. However, the celebration would not last and the London bridge would come falling down. During a match with Chavo Guerrero, Kidman hit the Shooting Star Press but accidentally gave Guerrero a concussion as he landed. Kidman looked visibly distraught in the ring.
During a match against Kenzo Suzuki and Renee Dupree, Kidman was going for the win with a Shooting Star Press when he stopped. He hopped down off the ring and left Paul London to be defeated by Dupree and Suzuki. Paul London accused Billy Kidman of costing their team the championship. Billy Kidman accused London and the WWE fans of being too violent and only wanting him to injure people with the finisher. In a match with Booker T, Billy Kidman attacked Paul London with a steel chair. This lead to a match at No Mercy 04 with London. Kidman won the match and hit the Shooting Star Press on Paul London on a stretcher.
Shortly after that Chavo Guerrero returned to WWE and sought revenge against Kidman. Chavo got his revenge and now Kidman was the one with the injury. Kidman suffered a broken orbital bone. Billy Kidman was released from his WWE contract in 2005
Billy Kidman – Pro Wrestling's Shooting Star
Indies
After his release, Billy Kidman did spend some time in the Independents. He was part of a UK tour for Frontier Wrestling Alliance. He also challenged Robbie Brookside to determine the first Real Quality Wrestling Champion. Billy Kidman was also part of an Australian tour, where he beat Bryan Danielson, aka Daniel Bryan, for the WSW Heavyweight Championship. He also teamed with former cruiserweight rival X-Pac in a triple threat match for the NWA World Tag Team Championship
Kidman Returns to WWE
In 2007 Billy Kidman made his return to WWE in a new role. He was now a trainer at WWE developmental. He also wrestled his very last match to date against Afa Jr. In 2010 Billy Kidman was hired as a producer for WWE. He also appeared one more time in a WWE ring as Paul Heyman's doctor named Dr. Weisenheimer. Billy Kidman continues to work as a backstage producer for WWE.
Whether it's his reign as Cruiserweight champion or his backstage expertise as a producer, Kidman has given back to wrestling. He was one of the leaders at the forefront of the cruiserweight division in WCW and WWE. Kidman challenged Hulk Hogan and had several reigns as a tag team champion. He continues to share his love of wrestling with new talent. Billy Kidman truly is Pro Wrestling's Unsung Shooting Star.