Every wrestler's journey into the industry is different in their own way. In the case of Allison Danger, while part of her journey came through family, it was in being friends with one of ECW's most recognized valets and an independent show that drew her into the industry.
The name Allison Danger immediately brings about memories of a career that made a difference in professional wrestling for women. But for Cathy Corino's who competed under the name Allison Danger. Wrestling began through her brother Steve Corino, her new friend Francine and attending an IWA show in Pennsylvania.
Steve Corino had earned a name and reputation for himself in ECW as its world champion and had one of the promotion's most notable feuds with the legendary American Dream Dusty Rhodes. But in knowing her brother and all his career achievements and accolades, it became imperative to Allison that she stood on her own rather than leaning on her brother to carry her through the industry's challenges.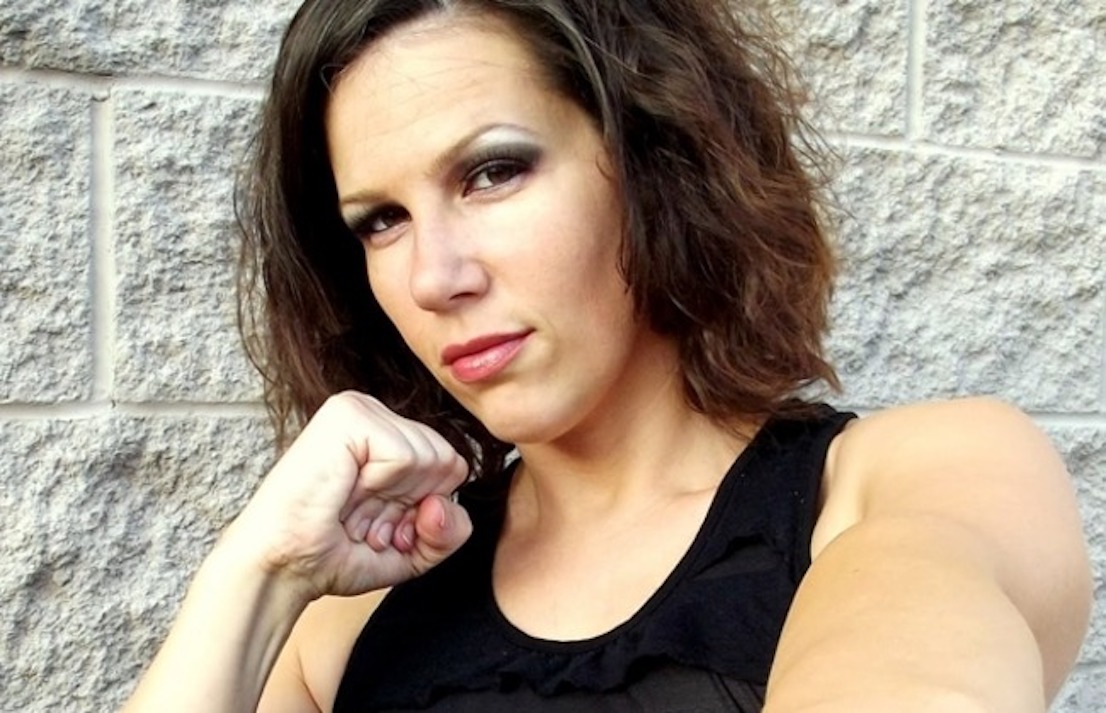 "I didn't want it known in the beginning because I didn't want people to hand me jobs just because I was Steve's sister. I wanted to prove to him that I was serious about wrestling and treating it with due respect.
Allison is actually my middle name, and he gave me the last name Danger when I told him I didn't want to use Corino…In doing that, I chose to take a harder path in wrestling, but it ended up being more rewarding because I knew people were booking me because they saw something in me, not because'

She's Steve's little sister that might get us in good with Corino.' It is like when guys' girlfriends can bump in the ring a little bit so they get put in the ring because they are their girlfriend. I didn't want to get that treatment. I'm the kind of person that needs to know I've earned it."
– Danger on wanting to earn her way on ability and not who her brother was in the industry.
Danger would accompany ECW's The Sandman in place of his wife Lori who would normally accompany him and never look back. She was encouraged by Francine to do so, and the experience opened the door for different opportunities in the industry right away. A few weeks later, Cathy Corino would work for the IWA once again.
She now had the wrestling bug that bit her brother years earlier. But unlike Steve, Cathy would sit under the initial learning tree of her brother. Along with training under Rapid Fire Maldonado, Corino developed a persona that was the polar opposite of what her brother was.
If Steve Corino was the King of Old School, then Allison Danger would become a Queen of New School Punk. When we say punk we're talking about the character she had adopted. The tattooed Danger would embrace a character was more aggressive and hardcore in nature that her her brother was. Her first match was alongside her trainer Maldonado. After some time the two found success eventually capturing the IWF Tag Team Championships together.
It really kicked in when I was dating a musician; he had a life that I really admired and wanted for myself in a way. He was independent, traveled a lot and really lived his dream. I remember asking myself, "Why do I hold myself back?
What steps do I need to take to really follow what my heart wants?". I realized I held myself back a lot because I never really saw females in my environment grab life by the balls and take it for themselves.
It was always about family, putting themselves on the back burner, and dreaming. That is why I chose not to start a family until later in life. I think deep down the feminist roots were there, I just had to dig to find them.
Interview: Allison Danger talks SHIMMER, motherhood and feminism
As time passed, Danger was earning a name for herself on the US East Coast. She competed for the likes of Jersey All-Pro Wrestling during this time and even participated in a tour of Japan. Eventually, she would find a new home competing in Ring of Honor. She would first join the promotion as the manager of the Christopher Street Connection.
As the manager of Buff E and Mace Mendoza, he immediately felt her first bump with the company in the promotions debut show. Danger was put through a table by her teams' opponents at the time Da Hit Squad.
Allison Danger – The Queen of Old School Punk
At a time when women were applying their craft in meaningful matches in major promotions, Danger was taking bumps through tables which was rarely seen or heard about. Once the Christopher Street Connection left Ring of Honor, she would align with Christopher Daniels as part of his 'The Prophecy' faction. At this time, the faction would feud with a group led by Steve Corino, Allison's brother.
After the Prophecy had disbanded and Danger was "fired" she was on a crusade to make her former clients pay for their decision. If the saying nothing worst than a woman scorn held any value in this instance, Danger assured that it would be true! Former clients BJ Whitmer and Dan Maff had a bounty on their heads that saw them lose consistently.
It would ultimately culminate with them defeating the Ring of Honor Tag Team Champions at the time, the Havana Bulldogs, Rocky Romero and Ricky Reyes, and bringing an end to this feud between Danger, Maff, and Whitmer.
Danger would briefly feud with Daizee Haze before leaving the promotion briefly. Upon her return, she resumed her managerial role guiding Christopher Daniels. She remained by his side until both left the company in the Spring of 2007 on the same weekend of shows.
While working in Ring of Honor lent her the opportunity to develop her character, it would be in Shimmer where she would show just how prominent and a competitor she could be in the ring. She co-ran the promotion for a time with Dave Prazak. In fact, one of her most prominent feuds was with a talent known then as Rebecca Knox. Knox would later achieve notoriety in the WWE as Becky Lynch.
Danger would also rage war against standout independent women's wrestler Portia Perez. But as it's often said, wrestling isn't ballet, and injuries come with what these men and women subject themselves to, Danger suffered a fractured clavicle missing three months and then reaggravating a shoulder injury facing Perez. She would then team with former Ring of Honor rival Daizee Haze against Perez and her partner Nicole Matthews.
But on April 9th, 2013, Shimmer announced that Allison Danger would be retiring. She would finish her commitments the following weekend. The match was initially a loss, but because Cheerleader Melissa refused to relinquish her hold on Danger the win was reversed to a disqualification.
Danger would announce the reason for her retirement. In January 2013, Danger had suffered a stroke, and after tests were conducted, it was revealed she had non-threatening lesions on her brain. But this diagnosis would ultimately end her in-ring career.
In 2021, nearly a decade after retiring from in-ring action Danger was given an opportunity to become a coach to help cultivate the next generation of WWE wrestlers. She first came into the WWE's Performance Center as a guest coach but not as Allison Danger but rather Allison Corino.
Alongside her brother Steve who was a coach at the WWE's performance center, Allison came highly recognized. So while the position should have given her a new purpose, she was let go early in her tenure. The effects of her dismissal was financially devastating. They had purchased a house and relocated their family only to rethink what they were going to do next. Danger had no connections and didn't know what to do next.
By July of 2022, Danger would be hired by the Women's Wrestling Army as a coach. The promotion is run by Maria Kanellis. Danger has proven to be someone that is faced with adversity and overcomes those challenges.
Whether it was a stroke, the home-work balance that comes with being a mother, or being terminated as a cost-cutting measure in about 3 months, Allison Danger has seen and faced it all. Danger remains one of women's wrestling's most important performers and someone who helped to shape their future.
While her in-ring career may have closed, her contributions to the industry and women's wrestling have yet to come to an end. After all, if the King of Old School has ruled, there is no reason why the Queen of Old School Punk shouldn't as well.