Few women have had as much of an impact on women's wrestling as Aja Kong. She is the standard-bearer for all women's wrestlers that 'don't fit the mold'. Instead of being a skinny woman with little wrestling skill wearing even less clothing, Kong was and still is the women's wrestling version of Big Van Vader. She's a dangerous monster that kicks ass and doesn't take crap from anyone.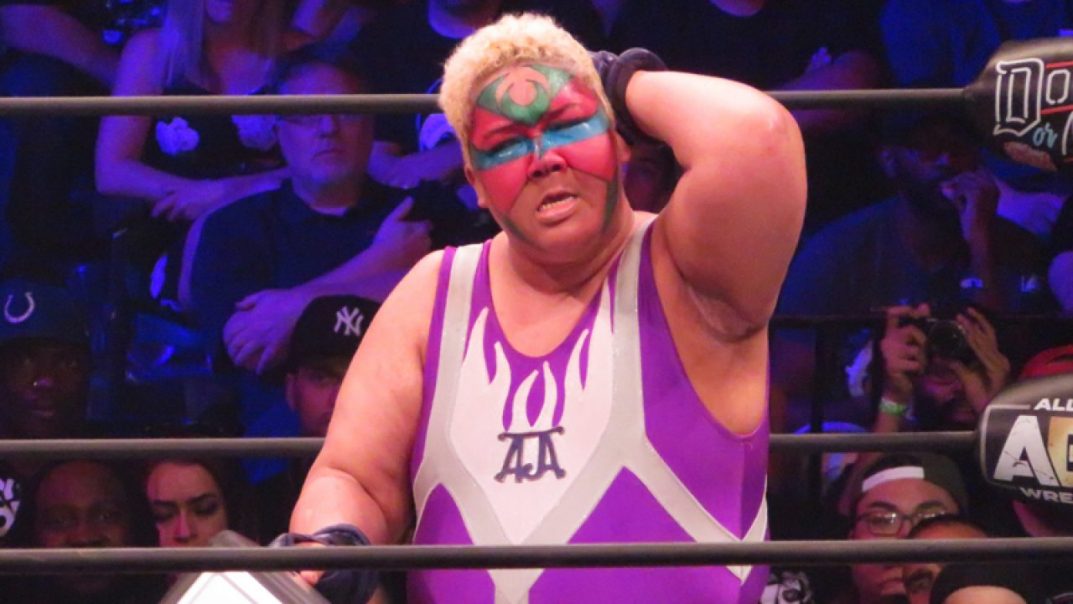 ________________
Aja Kong – A Difficult Start
Erika Shishido, the woman behind the Aja Kong persona, became so vicious and notorious. This is due to a combination of her upbringing and her creed. She was born to a Japanese woman and an African-American father, the latter of whom left the family when she was only five years old.
Sadly, this combination of traits made her early life extremely difficult. She was ostracized by her peers at school, not only due to her mixed racial background but also for coming from a broken home, as Japanese culture frowns upon divorce to this very day.
Looking for an escape from the teasing and cruelty of her school life, she beat 2,500 other applicants to be accepted to the All Japan Women's Pro-Wrestling (AJW) dojo. She became a trainee at their dojo in 1986, at age 16. This was at a time when it was common for people under 18 to enter pro wrestling in Japan, especially for women. And AJW was the only women's promotion in Japan at the time, so it isn't like she had a choice.
But that didn't matter because AJW was enjoying major mainstream success in the 1980s, thanks to the widespread popularity of their main duo, the Crush Gals (Chigusa Nagayo and Lioness Asuka).
Making The Best Of Things
By the time Kong was ready to go pro, she approached the promoters of AJW and asked them if she could portray a babyface or sympathetic hero. But they rejected that proposal and insisted that she play the heel, or villain, instead. This direction was made partly due to her creed and part due to wrestling tradition at the time.
Puroresu in Japan was, and largely still is, monolithic and rather conservative when it comes to presentation and storylines. Japanese wrestlers were and are portrayed as heroes defending their company and country. Whereas outsiders – especially American ones – have historically been the villains for them to overcome.
This tradition stems from the early matches of Rikidozan, the father of puroresu, who became a Japanese national hero during the post-war era thanks to his heroic, valiant fights against outsiders.
For Kong, she was placed in the role of the villainess because people didn't believe she could be a credible heroine. So she became the heel. But she wasn't a devious, underhanded, or mischievous villainess; she was a monster and a terrifying one at that. Kong was much bigger than the majority of her peers, which allowed her to use her raw power to decimate her opponents.
And once they were almost exhausted, she'd finish them off with the Uraken, a devastating spinning back fist to the face.
Worldwide Fame and Success
By the early 1990s, Aja Kong was a household name in Japan. Although she portrayed a villainous character on-screen, people began to cheer for her due to how well she wrestled. She was a badass that could take an absolute thrashing and dish out punishment in equal measure. She was incredibly convincing in her role as the giant that crushed her smaller opponents.
And those opponents also came across as valiant and heroic in trying to survive her. Her matches, especially with much smaller opponents like Manami Toyota, are still widely regarded as some of the best matches of all time.
This was because Kong didn't fall into the typical 'monster' trope that has come to plague pro wrestling. It's common for 'bigger' wrestlers to be sluggish, less athletic, and presented as monsters simply because of their size and nothing else. These wrestlers have often been disappointed because the novelty of their massive statures wore off quickly.
In modern women's wrestling, the two names that stand out the most that fit this description are Tamina Snuka and Nia Jax. Both are larger and more closely resemble Aja Kong in terms of stature. But neither one is even remotely close to her in terms of pure wrestling talent.
The Success of Aja Kong
That talent brought Kong some truly immense success. She won virtually every major title in AJW. These included; two reigns as WWA World Single Champion, a title which has a lineage that can be directly traced to Mildred Burke. And the first women's wrestling champion on the entire planet in 1937.
Beyond that, Kong has also won singles and tag team championships GAEA Japan, JWP Joshi Puroresu, Ladies Legend Pro-Wrestling, OZ Academy, Sendai Girls Pro-Wrestling, Pro-Wrestling Diana, and ARSION, a wrestling company Kong herself founded. She even enjoyed a stint in WWF/E during the mid-1990s. It spoke volumes of her drawing power and reputation as one of the top women's athletes in the world at the time.
Aja Kong | The Standard-Bearer For Future Women Wrestlers
Even though she's still active as a wrestler, Aja Kong has done enough in her career to be considered a true standard-bearer for women's wrestling. Her agility, strength, credibility, longevity, and dedication to pro wrestling are astounding. She was able to accomplish so much in her career and still enjoys an impressive reputation as a wrestler. Whereas many older wrestlers end up viewed as 'washed up' or 'past their prime,' Kong doesn't appear to show signs of age.
She still wrestles well despite being fifty years old and maintains a loyal fan following, especially in Japan. Nowadays, people care less about her background and creed and more about what she can do in the ring. She is one of the most badass women to ever enter the squared circle. Kong has influenced many to follow in her footsteps (most notably Awesome Kong/Kharma).
If there were ever a woman worth celebrating in pro-wrestling for achieving far greater success than ever expected, it's Aja Kong.