Brandon Lasher: It is time for the Pro Wrestling Post AEW Presents All Out 2020 Preview! This will be the first AEW pay-per-view that will have limited fans since the Pandemic began. It is tough not having the show in the Sears Center in Chicago but AEW has built an interesting card for Saturday night. Let us see what they have in store for us!
Graeme Bremner: AEW presents it's All Out PPV event, this year with limited fans in attendance. With the culmination of months of stories taking place at All Out. Let's unpack the action that we're going to witness!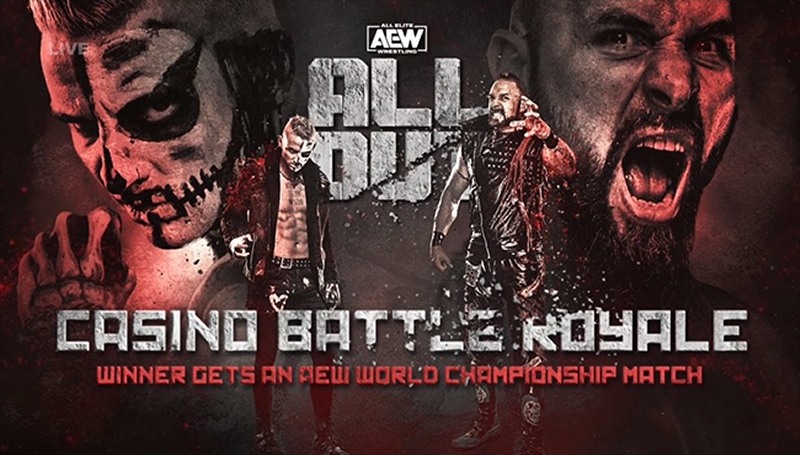 AEW All Out 2020
21 Man Casino Battle Royale
(Winner Receives A Future AEW World Championship Opportunity)
BL: Is it weird to have a Casino themed match outside of Las Vegas? I certainly think so but I don't run AEW. The good news is Battle Royale matches are always fun and the stakes are pretty high in this one.
This match seems to be a mixture of tag teams and wrestlers who have had previous AEW World title shots. It is truly hard to say who will win the match. The field is so wide open. Maybe it is time to give Eddie Kingston a chance? Could you imagine the promos between Kingston against either MJF or Jon Moxley? It would be fantastic.
GB: The Casino Battle Royale returns at All Out with the winner receiving a future shot at the AEW World Championship. We know who nine of the participants are so far. Notable names being Darby Allin, Ricky Starks, Brian Cage, and Lance Archer. Both members of the Lucha Bros will be included and we can only begin to wonder what to expect from them and this match itself.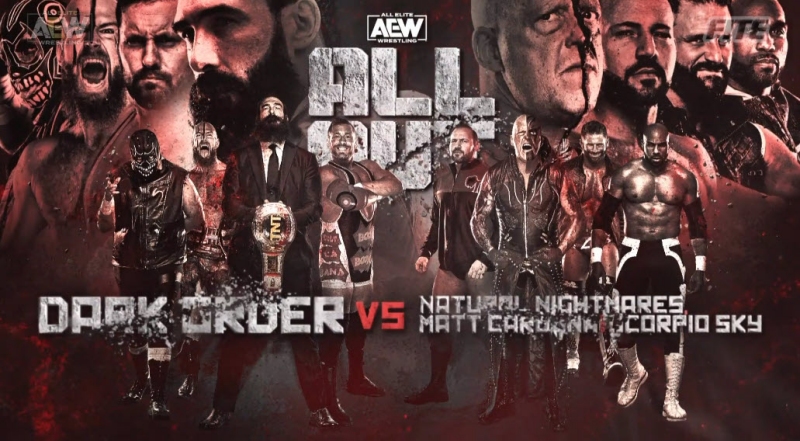 The Dark Order (Brodie Lee, Colt Cabana, Evil Uno & Stu Grayson) vs Matt Cardona, Scorpio Sky & The Natural Nightmares
BL: Brodie Lee shocked the AEW fans when he destroyed Cody and won the TNT Championship on a recent Dynamite. He continued his assault after the match as the Dark Order assaulted Cody, Arn Anderson, and even Brandi Rhodes. What will the Dark Order have in store for us on Saturday night?
Some of Cody's closest allies will seek revenge at AEW All Out. This match should be a great showcase, especially for Matt Cardona and Scorpio Sky. But can they overcome the growing stable that is the Dark Order? It certainly seems a tall order for any team.
GB: The Exalted One, Mr. Brodie Lee took out Cody and no one knows when we will see Cody again. The minions of Mr. Brodie Lee aka The Dark Order will take on the friends of Cody in an eight-man tag match.
Dustin and Matt Cordona are out for a measure of payback for Dustin's brother while Scorpio Sky joins them out of respect for Cody.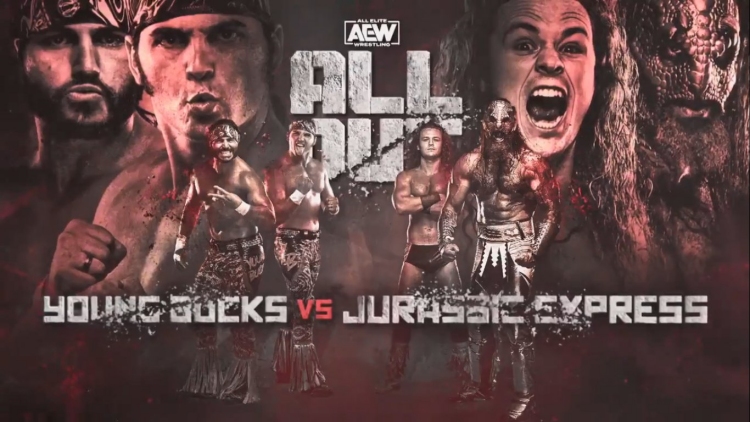 AEW Presents All Out 2020
Jurassic Express vs The Young Bucks
BL: We couldn't have an AEW pay-per-view without the Young Bucks, right? The Young Bucks, coming off a shocking betrayal by Hangman Page two weeks ago, was able to win a match on AEW Dynamite this week to get a tag match against their partners, Jurassic Express.  What will be their mindset at AEW All Out?
Jurassic Express is in need of a big win. They are constantly putting on strong matches but are almost always on the losing end. Can they pull off the biggest win of their careers? With the four competitors involved, this could be the show-stealer.
GB: Winning their 8 man tag match together, both The Young Bucks and Jurassic Express will be pitted against one another at All Out. Both teams are in the running in the tag team division. With The Bucks ranking in at third, and fifth for Jurassic Express. A win here could push either team further in the tag team contender race.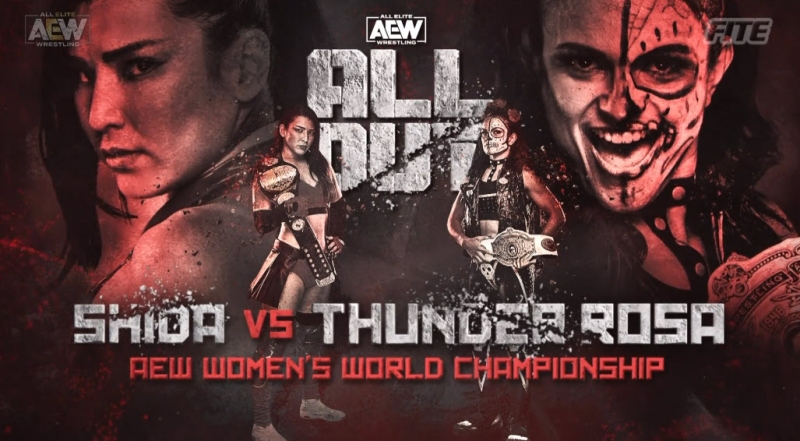 AEW Presents All Out 2020
AEW Women's World Championship
Hikaru Shida (c) vs Thunder Rosa
BL: The AEW Women's Division has certainly been the weakest part of the show in recent months. It is a shame because Hikaru Shida is truly fantastic in the ring. She was just in need of a strong challenger. It was certainly a shock to see who answered her open challenge.
Thunder Rosa, the NWA Women's Champion and one of the best female wrestlers in the independent scene, answered the challenge. It is exciting to see a match between two of the best female wrestlers mix it up in a cross-promotional match. It would seem likely that Shida would defeat the outsider. Or could we actually see a shocking upset at AEW All Out? The biggest winners will be the fans who see this excellent match-up.
GB: NWA women's champion Thunder Rosa shocked the world by challenging Shida for the AEW Women's Championship at All Out. She answered Shida's invitation for challengers and Thunder Rosa is here and aiming for the Women's championship. It's going to be an interesting and physical cross-promotional bout for the title.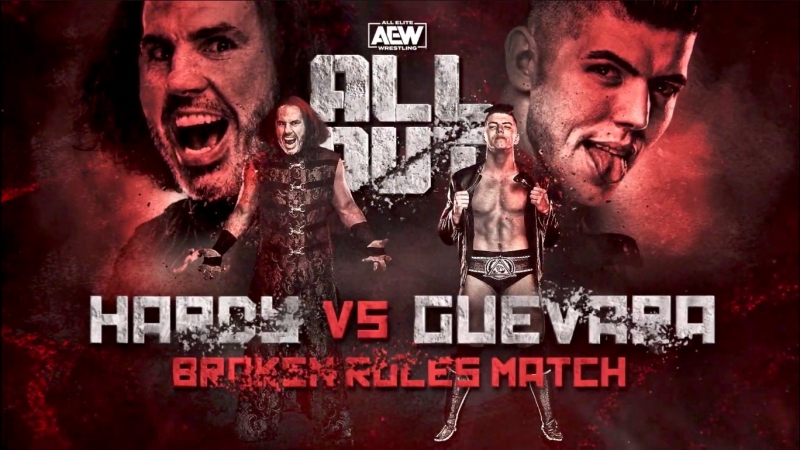 AEW Presents All Out 2020
Broken Rules Match
Matt Hardy vs Sammy Guevara 
BL: This rivalry has been quite brutal in recent weeks. Whether it be Tables Match or a chair launched at Matt Hardy's head, the rivalry has gotten literally bloody in quite a hurry. It comes to an end with a Broken Rules Match at AEW All Out.
The Broken Rules match seems to resemble a Last Man Standing Match. It certainly makes sense for the feud to end with this style of match. The match does have one added winkle. If Matt Hardy loses, he must leave AEW. They couldn't possibly have Hardy leave the company already right? We shall find out this Saturday night in this bloody end to their feud.
GB: Veteran Matt Hardy has been impressed by Sammy Guevara. Matt has gone on record to say that he thinks Sammy could go further but is being held back by the Inner Circle. Sammy responded by attacking Matt Hardy and the two have battled ever since.
Guevara may have overstepped the mark, leading to Matt Hardy challenging Sammy to a Broken Rules match. Sammy has shown that he can hang with Matt Hardy but can he handle Damascus alone?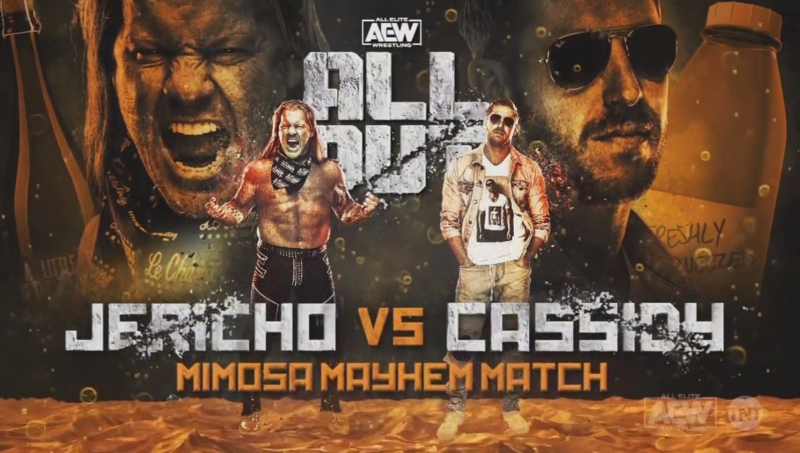 AEW Presents All Out 2020
Mimosa Mayhem Match
Chris Jericho vs Orange Cassidy 
BL: This has quickly become the hottest feud in AEW. Chris Jericho has tried his best to destroy the laziest man in wrestling in the past few months. They have now both won one match each in their epic feud. It is time for the rubber match.
The stipulation suggested by Chris Jericho is one of the strangest in professional wrestling, the Mimosa Mayhem Match. You can win the match by pinfall, submission, or being thrown into eighty gallons of Mimosa. It has to end with Jericho pouting in a vat of Mimosa right? It will be a good comedy match at All Out.
GB: Mix a little bit of the bubbly with some freshly squeezed orange juice and you would usually get a mimosa…minus the mayhem. Things have got personal between the painmaker and wrestling's favorite sloth. Orange Cassidy and Chris Jericho had two matches on Dynamite and are tied at one win each.
Cassidy has ruined a considerably expensive jacket belonging to Le Champion which has been the catalyst for much of the animosity felt by Jericho towards Cassidy. The only way this blood orange feud will end is by pinfall, submission, or throwing your opponent into a vat of mimosa. As you do…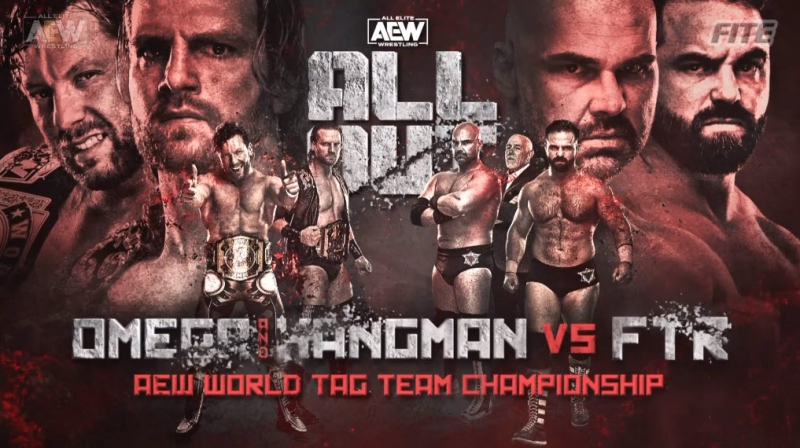 AEW Presents All Out 2020
AEW Tag Team Championship
Kenny Omega & "Hangman" Adam Page (c) vs FTR 
BL: This is certainly my pick for match of the night. The build to this match has been excellent. FTR has done their best to get between the tag team partners Hangman Page and Kenny Omega. Why they even gave Page a lot of beers!
Kenny Omega has sided more with the rest of the Elite in recent months. However, he has shown a dark side as well when he attacked other wrestlers in the company. Now that Hangman Page has been kicked officially out of the Elite, can he focus on this tag match? It seems likely FTR will win but the match itself could be one of the best in AEW tag team history.
GB: FTR won the gauntlet in unusual circumstances. Hangman Page assisted FTR in winning the gauntlet. The camp for Kenny Omega and Adam Page looks at the breaking point and FTR has been very vocal since their arrival in All Elite Wrestling. Since aligning themselves with Tully Blanchard, the duo has been almost unstoppable in the tag division. FTR has pulled the strings of Adam Page masterfully and it looks as though there are some real doubts around Adam Page.
AEW All Out 2020
AEW World Championship
Jon Moxley (c) vs MJF
BL: MJF has begun his campaign against "Dictator Jon". It has quickly become one of the most unique builds to a World Title match in pro wrestling. MJF is quickly becoming one of the biggest heels in professional wrestling and seems the biggest threat to Jon Moxley to date.
Jon Moxley has been putting on some of his best matches since becoming the AEW World Champion at AEW Revolution. He seems a worthy champion to be the face of the AEW brand. But if MJF cannot defeat Moxley, who can? The future of the company is on the line on Saturday. It should be a fun main event to end a good night in Jacksonville.
GB: MJF has campaigned like no other to get this match with Jon Moxley. We're seeing a new side of MJF since he's starting this campaign he's showing an ability to outwit Mox. Moxley has overcome giants such as Hager and Brodie Lee, even Darby Allin presented a different challenge.
Jon is going to have to wrestle the smartest match of his career. Can Moxley keep the match at his pace? Or will MJF pull him into his mind games? We can't forget the scenes at the end of Dynamite with MJF bloodying up Jon Moxley.