Welcome to this week's AEW (AFTER) Dark Review here on Pro Wrestling Post! This week on guest commentary we heard an all too familiar voice. A voice that has pierced… I mean pleased our ears on WWE television. Both as a manager/General Manager figure for nearly a decade in WWE. Debuting with her then-husband Eddie Guerrero back in 2005 with the company while ending her run with various roles and crazy storylines behind her with the back in 2014. This was a refreshing use of Vickie Guerrero. It's well over five years later and to have her calling in-ring action and bringing some of her unique takes as would be expected. We would all have to excuse her, after all. And with a huge main event of TH2/PAC vs Best Friends/Orange Cassidy, we have another stacked show!
There's only one way for @VickieGuerrero to introduce herself to #AEWDark…

➡️ https://t.co/osd4Le3UUu pic.twitter.com/WhKNI8RvAO

— TDE Wrestling (@tde_wrestling) December 18, 2019
---
Private Party vs. SCU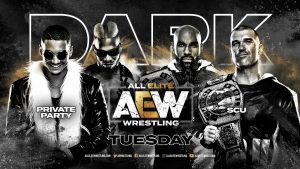 This was a battle of youth versus experience once more, as Private Party tried to take their 4 years of independent circuit experience and match that to the 17 years of Scorpio Sky and the 21 years of Frankie Kazarian in the ring. And it became a clear advantage to the champions. But give credit where it is due, Private Party is looking crisper every time they step into the ring. And this match was no exception to that.
A nice technical opener saw Kassidy and Kazarian jockeying for position and methodically going back and forth with one another. The crafty veteran stays one step ahead of him. Taking advantage of headlocks, armlocks, fireman's carries, and whatever else to stay in control. Slowly devolving into a quicker pace as both men try to outdo one another.
After a couple of quick pin attempts, a double kip-up showdown leads to a nice mutual show of respect. A beautiful show of what classic wrestling storytelling looks like in its purest form. A great moment to begin the match as they both make the tag to allow Scorpio Sky and Marq Quen to have their own showdown.
Gotta love that @Marq_Quen and @IsiahKassidy teamwork! #AEWDark

➡️ https://t.co/osd4Le3UUu pic.twitter.com/d9EQbzL7gy

— TDE Wrestling (@tde_wrestling) December 18, 2019
After a brief exchange of grabbing waist locks, it goes to the ropes in a headlock. Leading to a shoulder tackle by Marq but Scorpio shoots up for a dropkick. Not to be outdone, moments later he would return the favor as well. This simple bit of "anything you can do I can do better" started the match off nicely. A great way of teaching the younger team on the fly and the experience they've gained is already showing through beautifully. After getting worked over for a bit, Marq was able to get the misstep he needed to lead to the hot tag to Kassidy who worked it nicely.
Coming in with a nice moonsault and a quickened pace, this allowed Private Party to go on a run of their own. Hitting some of their signature brand of high flying tandem offense. But their cockiness would come back to haunt them. They went for one too many of those types of maneuvers and it led to Scorpio Sky being whipped into Kazarian.
Frankie then monkey flipped over for a humongous double lariat that nearly murdered the young tag team. After some more hard-hitting offense from SCU, it looked like Private Party might be done. As Frankie and Scorpio went for the SCU Later though, they had some fight left in them. Kassidy grabbed a leg of Kazarian and hit a kick, as did Marq Quen, leading to both men on the outside for a tope and Asai moonsault combination.
.@FrankieKazarian picking apart Private Party! #AEWDark

➡️ https://t.co/osd4Le3UUu pic.twitter.com/hgSUg5bfmg

— TDE Wrestling (@tde_wrestling) December 18, 2019
After hitting a stunner to assisted sliced bread combo, the desperation clearly started to set in for Private Party here. This lead to Quen attempting his ridiculously perfect shooting star press. But nobody was home for it. Instead, they tried to improvise and hit the Silly String shortly after. But SCU, as they have shown in the past, has it scouted well. Scorpio Sky pulled Kassidy down and Quen suffered the SCU Later to give the champs a hard-fought victory. Great way to put over the young guys, and have them learn from your great veteran tag team champions.
Winner – SCU
Dr. Britt Baker vs. Machiko
Two things to take away from this match really. Britt Baker is a very dominant part of the AEW women's division and is a clear building block for them going forward. And also, she is a DENTIST.
Yes, those are the things you need to know here folks. This was a very simple squash match with not a whole lot of content. It is nice to see them using Dark as a platform to allow new talent to make their way to potentially landing a contract. But you never like that opportunity to be as small and unflattering as the situation was here for Machiko. But at the same time, Emi Sakura needs to stop absorbing losses for the sake of putting over other talents. Bringing in other wrestlers for that purpose makes all the sense in the world.
Fast start for @RealBrittBaker! #AEWDark

➡️ https://t.co/osd4Le3UUu pic.twitter.com/gVVzYTOdhx

— TDE Wrestling (@tde_wrestling) December 18, 2019
Nothing of much note here, unfortunately. Machiko did get to open with a bit of personality, attacking off a faked handshake which was a nice moment. However, Baker hit a majority of the offense with a swinging neckbreaker leading to a near fall early on. This then would lead to a Russian leg sweep to lockjaw submission combination. With some polish could make that finisher even that much nicer.
Nothing amazing here by any means, but it is taking the right steps to tell better stories and expand this women's division properly. This is all leading up to the Kris Statlander #1 contender's match on Dynamite. That is building up quite nicely. Further expanded upon by the next match as well.
Winner – Dr. Britt Baker
Kris Statlander vs. Bea Priestley
In a similar fashion to the previous match, this was all about building up Statlander. Her status in the match to fight for number one contender with Britt Baker. Which does sort of give away the ending, but did not detract from the quality in this case.
Quickly becoming the talk of the division early on, the alien has crash-landed into AEW and clearly brought some star power with her. Hitting a crazy mix of stiff kicks, lariats, scissor kicks, and nose boops (yes, you read that correctly) she had a little bit of everything in her arsenal. Even utilizing the Oklahoma roll, a gutbuster, and a tope (the unwritten rule of AEW, after all) she uses her size as an advantage, not a weakness.
Just a matter of time before everyone in the galaxy knows @callmekrisstat! #AEWDark

➡️ https://t.co/osd4Le3UUu pic.twitter.com/SLso6BapMF

— TDE Wrestling (@tde_wrestling) December 18, 2019
This is true for her selling ability as well, which she used to put over the nice mix of suplexes, foot stomps, and more. Showcased by Priestley who meshed quite nicely with the harder-hitting and stiff Statlander in one of the more fluid women's contests to date.
It all came to a close however with one of the coolest finishers in all of wrestling, the package tombstone piledriver Big Bang Theory by Statlander. This will end up sending the alien into Dynamite this week with out of this world momentum against the dentist.
Winner – Kris Statlander
TH2 and PAC vs. Best Friends and Orange Cassidy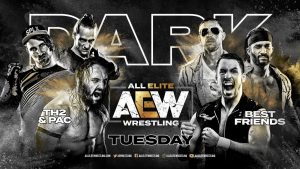 Perhaps no tag-team has been a casualty of the depth of the division quite as much as Jack Evans and Angelico. Despite all the talent in the world, they have been mostly relegated to AEW Dark. And whilst that is very good for a fan like me who happens to watch both, you can't help but feel like they should be a bigger part of Dynamite going forward and even the commentary mentioned it. Maybe we need to start a petition, maybe they need to join the Dark Order. Who knows?
This match itself was a very classicly paced trio tag contest. With frequent tagging between the heels to keep the constant advantage in their corner. The offense is very reminiscent of AAA, playing to TH2's experience there as AAA Tag Team Champions. Known there as Los Gueros del Cielo. They are no stranger to working these sorts of trios matches. Given the ties to AAA with Omega holding gold from there and the spillover of talent, you have to wonder if this may be a potential future title division for AEW.
Big moves were plentiful. Some highlights including a beautiful blue thunder bomb from PAC, a huge tornado DDT from Trent, and of course tons of impressive as always offense from the trio of TH2 and PAC. But none of that got the pop that Orange Cassidy received simply just for being tagged in.
ABSOLUTELY.BRUTAL!
Clearly @BASTARDPAC can't handle the pain @orangecassidy is dishing out! pic.twitter.com/6ZU7T2uM8I

— All Elite Wrestling (@AEWrestling) December 18, 2019
.@trentylocks working hard to earn that legendary @orangecassidy thumbs up! #AEWDark

➡️ https://t.co/osd4Le3UUu pic.twitter.com/RKKYZfCMM8

— TDE Wrestling (@tde_wrestling) December 18, 2019
Ducking under some clotheslines with his hands in his pockets, he kipped up and made PAC pump kick Evans as he tried to hold him. Exerting all the effort he had in his body it seemed, Orange pulled out a tornado DDT and a "tope la Naranja" as Excalibur dubbed it before giving the crowd the lovely trio hug in the center of the ring. Then the devastating hang time of the flop splash (no idea if it is called that, but that is what I will refer to it as in honor of the Guerrero in attendance) got the crowd going as well.
A beautiful sequence of standing to elevated 450 splashes by Evans and then PAC lead to a near fall, but ultimately the witty and gritty nature of PAC would prove to be the equalizer. And the Brutalizer would prove to be the finisher, causing Chuck Taylor to tap as he slowly started to fade in the center of the ring. This is certainly one of those matches that your eyes catch better than words ever could and is well worth a watch especially if you enjoy more international-inspired contests.
Winner – TH2 and PAC
---
"Commentary Quote of the Night" and Until Next Time…
A new section of this weekly review will be to honor the awesome weekly guest commentary. This week being Joey Janela and Vickie Guerrero. I have decided to start encapsulating their genius by commemorating it with at least one "Commentary Quote of the Night" each week. This week, it goes to Joey Janela for this absolute genius gem before the main event that made NWA Powerrr fans' ears perk up:
"Vickie, you might be right with Orange Cassidy, he's a pretty tough guy. He's not one to back away at a Blink 182 concert. The man is actually one of the bravest I've ever seen. He's so brave, that he would strap a bucket of maple syrup to his back and drive a motor bike through the great country of Canada."
I think that speaks for itself, don't you Mr. Cornette? But there you have it! This week's edition of the AEW (AFTER) Dark Review! A step towards building the women's division up further. And more proof of what makes AEW's tag division so diverse and special. Plus a little bit of nostalgia and comedy are thrown on top to keep you thoroughly entertained. I think those are good ingredients for any good wrestling show, especially a casual YouTube product in a one-hour bite-sized format like AEW Dark.
Expect all the reactions to catch you up on that action, right here on Pro Wrestling Post. But, as always, until next time…
Goodbye, and goodnight!