It's a big edition of AEW Dark with the women's Champion Hikaru Shida in action and a debuting former NXT star. Darby Allin also returns to action in AEW, Taz and Excalibur are in the commentary booth, and Shida is going to get us underway. This is our AEW After Dark for 7/21/20.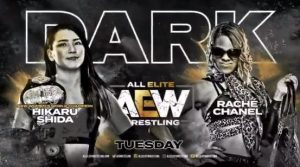 Hikaru Shida vs. Rache Chanel
Rache has become a bit of an AEW Dark staple in recent weeks, but this is arguably the biggest test in her short tenure. Shida gives some ground to her opponent but Chanel can't keep up with the champion's pace. Shida would win hitting a falcon arrow after some serious shots to the head.
Winner Hikaru Shida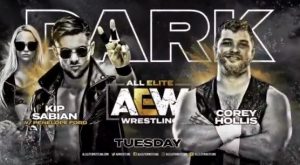 Corey Hollis vs. Kip Sabian
Sabian starts the match off with his sunglasses on, but still manages to wrestle circles around Corey. Corey would hit an arm drag before backing off Kip would go back in to engage in the test of strength before delivering a right hook to Corey. Sabian would get a bit cocky after hitting a penalty kick to Corey, allowing Corey to hit some offense. Kip would recover enough to win the match and celebrate with Penelope.
Winner Kip Sabian
We cut to footage of Dasha trying to interview the Nightmare Sisters. Allie's attitude is more dismissive than Brandi, who is more open and friendly. Brandi talks about enhancing the women tag division. All before Best Friends are going to be in action.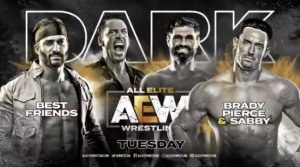 Brady Pierce and Sabby vs. Best Friends
Trent starts off with Sabby in the ring who overpowers the veteran of Best Friends. Sabby would try to lift Trent on his shoulders before Trent slid behind him, taking him out at the knees. The big man goes down, and Trent has enough about him to keep Sabby grounded. Trent would tag Chuck in allowing Sabby to tag Brady unto the ring. Things would be a bit more back and forth when Chuck and Brady were the men in the ring. Sabby and Brady would have the better of the match for large parts, but Best Friends experience would land them a win hitting a strong zero for the win.
Winners Best Friends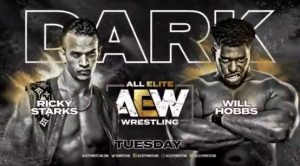 AEW After Dark for 7/21/20
Will Hobbs vs. Ricky Starks
Ricky Starks has been on something of a roll since his loss to Cody on Dynamite and has shown himself to be almost unstoppable on Dark. Will Hobbs is still looking for a win in AEW despite some encouraging performances. Starks learns quickly in the match he's not going to take down the brick wall that Will Hobbs is by running at him. Hobbs is taken down by a dropkick, but while Ricky showboat Hobbs hits a delayed suplex. Starks uses his creativity to lure Hobbs away to take advantage Starks makes sure to keep Hobbs where he wants him. The match culminates in Starks lifting Hobbs to plant him down to win the match and keep his hot streak going. During the match Taz and Excalibur talk about Taz and his thoughts on Starks, foreshadowing perhaps?
Winner Ricky Starks.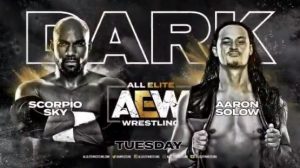 Scorpio Sky vs. Aaron Solow 
Sky has been representing SCU in singles competition for these past few months, and it is fair to say he's been successful so far. He recently hit the 20 match win record in AEW a feat only, a few have accomplished. Solow hits Sky with some offense and gets the better of the match by stopping so low as to utilize the referee's counts and straight shots to the head of Sky. Sky would try to fight back but would be hit with a spinning enziguri. Scorpio really struggles in this match almost losing but recovers just enough to hit a TKO after riding the wave of momentum his opponent was on.

AEW After Dark for 7/21/20
Diamante vs. Kilynn King
Both these women are looking for their first wins in AEW, so one losing run is almost guaranteed to end. King starts off on the advantage, keeping the match moving slowly. Diamante is outmaneuvered by the lankier Kilynn King for the early part. Still, King would get complacent holding Diamante instead of going for the slam, allowing Diamante to get on the front foot. Diamante would hit a destroyer into a pinfall from nowhere to gain her first win in AEW.
winner Diamante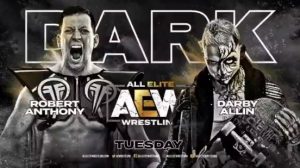 Robert Anthony vs. Darby Allin 
Darby Allin will see hs first in-ring action in months since returning last week to attack Brian Cage. The match starts, and Darby Allin is more interested in Taz than he is in Robert Anthony. Robert is getting more incensed by this as it goes on, but Darby is able to avoid Anthony. Darby hits Anthony with a lot of high impact offense. Anthony shows a vicious streak when he gets some offense in draping Darby on the guard rail and slamming him into the exposed ring. Darby does manage to counter Anthony from a back suplex to look in an armbar. Anthony escapes it by the ropes, not once but twice!
Darby hits a coffin drop on Anthony after working over the Arm of Robert Anthony to the outside. It would take a second Coffin drop inside the ring to win the match for Darby Allin.
Winner Darby Allin
FTW Champion Brian Cage suplexes Darby back into the ring. Robert Anthony steps in to calm the situation when Ricky Starks from nowhere attacks Anthony in a shocking turn of events. Taz's announcement on Dynamite may be more interesting than we first thought. It looks as though Starks has aligned himself with the Machine Brian Cage.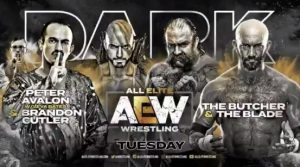 AEW After Dark for 7/21/20
Peter Avalon and Brandon Cutler vs. Butcher and The Blade
Avalon and Cutler have been working better together in recent weeks but still looking for their first win together. Butcher and The Blade have an opportunity to gain some momentum going into their match with the Young Bucks on Dynamite. Butcher is caught out by the teamwork of Avalon and Cutler, but the tag to the Blade quickly neutralizes the threat of Cutler and Avalon. They separate Avalon in their corner. Avalon is subjected to suplexes and being choked at the corner. Leva tries to help out by jumping on the butcher outside the ring, allowing Avalon to dive through the ropes. With a breather ensured Avalon wastes no time in tagging in Cutler. Cutler clears house and leaves an opening for Avalon to get the closest of two counts.
Avalon would hit Blade with a book but Cutler wouldn't take advantage. Butcher and Blade hit full death on Cutler to win the match.
Winners Butcher and the Blade