The third episode of the A&E original biography series presented the life and times of Macho Man Randy Savage. The faces and names involved in this edition were a who's who.
The biography began with Lanny Poffo sharing on behalf of his brother about their upbringing. We heard from his mother sharing about how Randy was all over the place as a child. Lanny shared that Randy would push him to be better. In school, he would protect students that were bullied. His mother shared that he wasn't involved with anyone romantically because he was often preoccupied, whether with baseball or something else.
_______________________
Savage's baseball skill was really incredible. He was able to pitch with his non-dominant left hand after breaking his right arm. After he was cut by the St. Louis Cardinals, for whom he played minor league baseball, he began competing in wrestling. Randy would join the ICW promotion, which his father, Angelo Poffo, ran. We then hear from Bruce Pritchard, who shared about the territories that were active during the 1970s and early 1980s.
Jerry Lawler shared how the Poffos would challenge him time and time again in the Memphis market, as they were in direct completion with his promotion. Lawler shared that they believed it was false advertising to promote something on a card that wouldn't happen. However, Lawler shared that the Poffos ran out of money and thought they would go away. But a match would eventually happen as part of his Memphis Wrestling promotion.
Lanny shared that his mother said that the song 'Macho Man' by the Village People was an inspiration for his brother's ring name, but the name Savage was reflective of his persona. He then took his promo style from Pampero Firpo, leading to the distinctive voice that fans would recognize.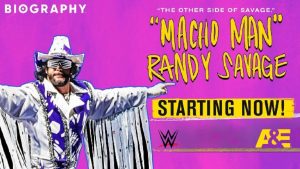 A&E Presented 'Macho Man' Randy Savage
January 7th, 1984
When Hulk Hogan captured the WWF Championship, Vince McMahon said that there were several very rich characters in the territories. But they did not have national exposure. When he came to the WWF, Savage's size and stature may have been smaller than many WWF wrestlers of that period, but he made up for that with other qualities.
During an appearance on Tuesday Night Titans, 'Macho Man' Randy Savage would declare himself the next champion. Several managers celebrated his early success and wanted to represent him. When he finally announced who is manager would be, it was none other than Miss Elizabeth.
Elizabeth and Randy met in Memphis Wrestling and were married on December 31st, 1984. Savage wanted his wife and his brother 'Leaping' Lanny Poffo to join him with the company. He and Elizabeth were the first example of a husband and wife being on television together in a prominent role. She was the queen in the eyes of many fans. Onscreen, he was threatened if anyone would look at her and wanted to control her. What is notable was that this was a case of art imitating life.
'We didn't know if it was a protective factor or sincere'
Ricky 'The Dragon' Steamboat
Fans would want to see Savage get a beating because of his treatment of Elizabeth. She was not so much a manager but rather a possession. This was evident during several interviews with the likes of 'Mean Gene' Okerlund. And behind the scenes, although he loved her very much, he made clear that no one had better consider talking to her.
We are told that Tampa, Florida was a hub for wrestlers during that time, as several wrestlers moved there. Hulk Hogan shared how he, his ex-wife Linda, Randy, and Elizabeth were all very close friends. We then hear from Natalya Niedhart, who shares that their home and how pristine it was. Hogan shared that he introduced him to a costume designer. Some of his inspiration for his outfits came from pimps in the 1970s. Hogan shared a story about how Savage sent  a car back because his signature cowboy hat wouldn't fit underneath the roof while on his head. Savage spent a great deal of money on his outfits. However, it was quite important to him to save his money. While on the road, he would sleep in his car to save on paying for a hotel room.
Savage's 'Pomp & Circumstance' theme song defined him and his character. The preparation that went into his presentation and persona was extensive and showed his commitment. Hogan believed that Savage often cared too much.
A&E Presented 'Macho Man' Randy Savage
WrestleMania III
His match at WrestleMania III with Ricky 'The Dragon' Steamboat for the WWF Intercontinental Championship is then discussed. McMahon shared that this was going to be the biggest event ever. Steamboat shared that they wanted to have the match of the night and upstage Hogan and Andre The Giant. Peter Rosenberg shared that Savage was meticulous in preparation for the match, and they broke it down step by step on a letter-size notepad. Steamboat said that he had to remember the 160 steps of the match. As a clip from the match is shown, we hear him count them. The highlights show the true athleticism of both men.
How can you tell a story with your body and your face? There was nothing like telling a story of 20 false finishes.
– Ricky 'The Dragon' Steamboat
Steamboat shared that as the pin was happening, he could hear Savage say, 'we got them, Dragon, we got them.' Wins and losses didn't matter because the story was what mattered. Lanny Poffo shared that match was Savage's magnum opus but couldn't match the success in his mind. McMahon shared that no one matched Hogan's success, but Savage came close. Hogan was the unbeatable guy, but Macho Man didn't get nearly as much credit.
Tonight is definitely the scariest night of my life
– Miss Elizabeth
The storyline that centered around Miss Elizabeth got a big reaction from fans. Vince shared that Savage was quite possessive of Elizabeth. Honky Tonk Man said that they would practice having Miss Elizabeth pushed down. The idea of her being slapped by Jake or pushed down by Honky Tonk, that was something you don't do. Eventually, when Savage once again turned heel, Elizabeth was replaced with Queen Sherri. But when Sherri turned on Savage, Elizabeth returned, and she and Savage embraced. When he asked her on-screen to marry him soon after, that didn't reflect the status of their real-life relationship at the time. We then recall the Match Married in Heaven, the on-screen marriage, but Jimmy Hart shared that he recalls Savage coming to him at the time and saying maybe Elizabeth wanted a divorce.
Rosenberg shared that he wonders how much the turmoil in the on-screen relationship took out of him as a person at this time. Jake 'The Snake' Roberts shared that they were doing a lot of pills to deal with the demand of the road. Their whole empire was built on their physiques.
A&E Presented 'Macho Man' Randy Savage
Summer 1992
Hogan said his ex-wife invited Elizabeth to come to his place. He shared that Savage blamed him for Elizabeth leaving him. Hogan lamented that this ruined their relationship for 10 years. Savage then ended up on commentary, but he questioned why he wasn't being used in the ring. He never had any major injuries throughout the career, so that was not the reason. The suspicion was that McMahon thought he was too old.
WCW didn't think that he was too old, though, and so Savage joined that company. McMahon shared that it wasn't a pleasant surprise to have him leave the company. But Savage didn't want to do commentary as he still had a lot to give, and after he debuted on WCW Saturday Night in 1994, he had a new lease on his career. Savage also had the Slim Jim sponsorship, which was paying him $750,000.
Lawler shared how, during the Monday Night Wars, several names left the WWF for WCW. There, Savage was reunited with Hogan, and their time working together was always business. He did whatever he needed to do in order to keep himself in an active role, but in WCW, Savage was never considered a threat to Hogan, unlike their time in the WWF. There was also still a great deal of animosity between them.
Miss Elizabeth Comes To WCW
Eric Bischoff discussed the arrival of Miss Elizabeth in WCW. By then, Elizabeth had converted to Judaism. Sting shared how he spoke with Lex Luger about getting romantically involved with Elizabeth. Sting never thought it was a good idea but never imagined what came out of it. We hear from 'Gorgeous George,' who became romantically involved with Savage and subsequently became an on-screen character. Their relationship began when she tracked down his phone number and address. George became the eye candy to replace Elizabeth, in the words of Hogan.
1999
Before 'Gorgeous George arrived, Savage was coming out in black and white, alone. They traveled 300 days a year, and George's sister would watch her son while she was away. Savage and George would go out a lot; although he was older by this point, he was always 'go go go.' George shared that Randy was doing steroids, claiming it was 'medicine' from his parents. He was also doing ecstasy, and one time was his high on screen.
As time went on, she shared that he was paranoid, and she didn't know how to describe what she was seeing. She said that he put cameras in her house and was recording her! Eventually, they split up because she didn't want to be a part of his behavior anymore. She shared there was a lot of bad between them, but what was good was very good.
We heard about Lex Luger and Miss Elizabeth, and how as their relationship intensified, she became less tied to the Bischoff's. Hogan claimed to have said at the time that if things continue with Lex the way they are, we will be reading about her in a couple of years.
A&E Presented 'Macho Man' Randy Savage
Tampa, Florida
2002
Savage and Hogan had a dysfunctional relationship in the eyes of Sting and Eric Bischoff. Hogan shared that every time Savage would make fun of him, he would retaliate. In 2003, Savage released a rap album, which included a song, 'Be a Man' that took lots of shots at Hogan.
Marietta, Georgia
May 1st, 2003
Lex Luger recalled that horrible day when Miss Elizabeth passed away. He called 911, and when the police arrive, there were drugs all over the house. She had died of an overdose, and Luger was arrested. He shared that he was a negative influence on her and that her passing was heartbreaking. Lanny Poffo said in the subsequent year; he didn't talk about Elizabeth unless Savage spoke about it.
According to Rosenberg, Randy seemed to walk away peacefully from wrestling. Bruce Pritchard said that Savage let go of his personal and professional career. He appeared to find peace. We are shown how Savage got a role as 'Bone Saw McGraw' in 2002's 'Spider-Man,' which was memorable for long-time fans.
A&E Presented 'Macho Man' Randy Savage
Tampa, Florida
2011
Hogan shared that eventually, he and Savage reconnected, and he was forgiven. Natalya shared how he began a relationship with Lynn, his high school sweetheart, and they were married and happy again. Then on May 11, 2011, while Savage and Lynn were driving, he said he wasn't feeling well and steered the truck into a tree. Savage died at the scene. Many people are then shown sharing how much they wish they connected more with Savage. Hogan shared that if the two had not reconciled and he had never seen Randy again, that it would have haunted him.
Savage is beloved to this day, and his contributions to the industry are still felt. His persona, his matches, and his moments continue to be talked about today.
I am the baddest dude on the planet and you don't want any of this
– 'Macho Man' Randy Savage