Adrian Adonis had rugged good looks like a cast member of On The Waterfront. Being billed as hailing from Hell's Kitchen was first-rate casting. Adonis was decked in leather with a biker-like cap and a riding crop. His look was very akin to that seen at New York's wildest establishments in the late seventies and early eighties.
Adonis was catering to the bold and the beautiful looking to frolic to a fantastic disco beat. Gaga at the Gogo, indeed! Joking aside, the young Adonis could have passed for a hybrid mix of John Belushi and Dean Ambrose; remember him!
Adonis combined a thick linebacker-like build with tremendous technical acumen. He reminded me of Mike Rotundo. Moreover, his agility was also outstanding. He systematically sold being thrown into the corner by doing a backflip. Shawn Michaels effectively adopted this move. In the early eighties, Adonis was very well matched with Jesse Ventura, and the duo would form an entertaining and successful East-West Connection. Vern Gagne's AWA was their initial home.
After an all too predictable switch to the then WWF, Adonis and Ventura became a top-rank tandem and held championship gold. Let s now look at Adonis in his formative years and see how and where his journey began.
Adonis was born Keith Franke in September of 1953 in Western New York State. He excelled in High School wrestling but had other ambitions. While athletic as a youth without being a physical specimen height-wise, he attempted to break into the ranks of the Canadian Football League. Like Dwayne Johnson and even Roman Reigns, Adonis was not acknowledged as being grid iron worthy.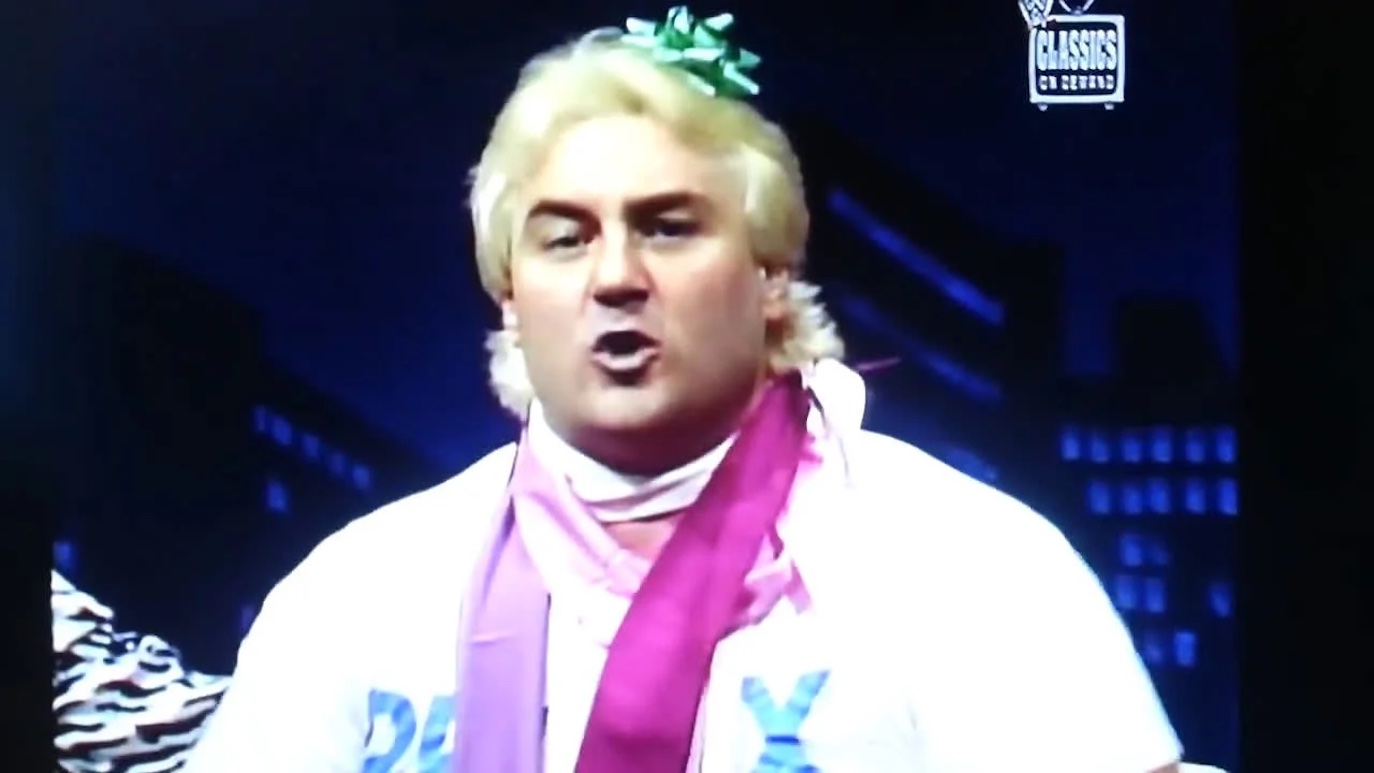 Adrian Adonis | The Chronicle of a Life Cut Tragically Short
Luckily, he had a plan B. That being to become a professional wrestler. He was trained in Canada by Fred Atkins. With Adonis' natural acumen and the superlative guidance of Atkins, the results were exceptional.
Atkins was New Zealand born, in 1910, to be precise. He had settled in Ontario, where he had a lengthy and successful performing run. He then cultivated a passion for training talent. He was known as a very strict and demanding trainer, yet he treated his students like family. Other notables trained by him include Tiger Jeet Singh, Sailor Art Thomas, and the Giant Baba. There were no days off with Atkins.
Atkins favored stamina over raw strength, and his opinions were highly sought after in the realm of fitness. So much so that he even works with Punch Imlach and the 1970 expansion Buffalo Sabres. Atkins is said to have considered hockey workouts like the local Church social club. All that was missing were tea and scones.
Adrian Adonis and Jesse Ventura – The East-West Connection
Getting back to the East-West Connection, that tag team was there for a good time but not for a long time. This, notwithstanding a smooth transition into the still-then WWF.
Jesse Ventura was injury-riddled and was unable to perform after 1983. Not helping his cause were 3 pulmonary blood clots that sidelined him for good.
We all know that the future Governor would fare very well himself as a Color Commentator. I distinctly remember one episode of Superstars opening up with the following line ..'Jesse the Body and his lawsuit against the world, Agent Orange.
Adrian Adonis was then called upon to exchange latitude for longitude. He went from the East-West Connection to the North-South Connection, where he was paired with the no-frills no gimmick needed, Dick Murdoch. This was a classic odd couple pairing. Adonis, the fresh-faced fast-talking New York street urchin, and Murdoch, the callous West Texas red-neck rancher.
Murdoch would constantly berate his partner as a soft Yankee. This pairing had all the makings of a sixties sitcom, kind of like Green Acres on testosterone. The landscape looked good for the soon-to-be adorable one. Check out this vignette of the pair in hot and dusty West Texas. Adonis was lost without concrete and steel.
At the end of the segment, you will want to pay special attention to Mean Gene Okerlund and his honky tonk vocal stylings. The pair enjoyed a nice championship run before Murdoch headed off to wrestle in Japan. Murdoch was quite the story in his own right. A native of the cosmopolitan Waxahachie, Texas, he was a brawler with anything but an athletic body.
He was tougher than Jim Ross's proverbial two-dollar steak and threw a vicious right which he referred to as Big Bertha. Murdoch was an unabashed brawler and a great storyteller. You would never see him apply a Fujiyama arm bar.
Adrian Adonis and Dick Murdoch – The North-South Connection
While Adonis and Murdoch were tag team champions, they were cast as cowardly paper champs, hanging on to their belts via chicanery and subterfuge. Better teams were on their heels yet managed to come up just a bit short. Jack and Gerald Brisco were left holding the bag.
The following excerpt of Piper s Pit shows Murdoch and Adonis gelling very well in their paper champion heel roles. Their suggestion of giving a crack at the belt to Jose Luis Rivera and Frankie Williams was sheer comedic brilliance. The team dissolved with Murdoch leaving the Federation, and Adonis found himself at career crossroads. One door closed suddenly while another was broken wide open.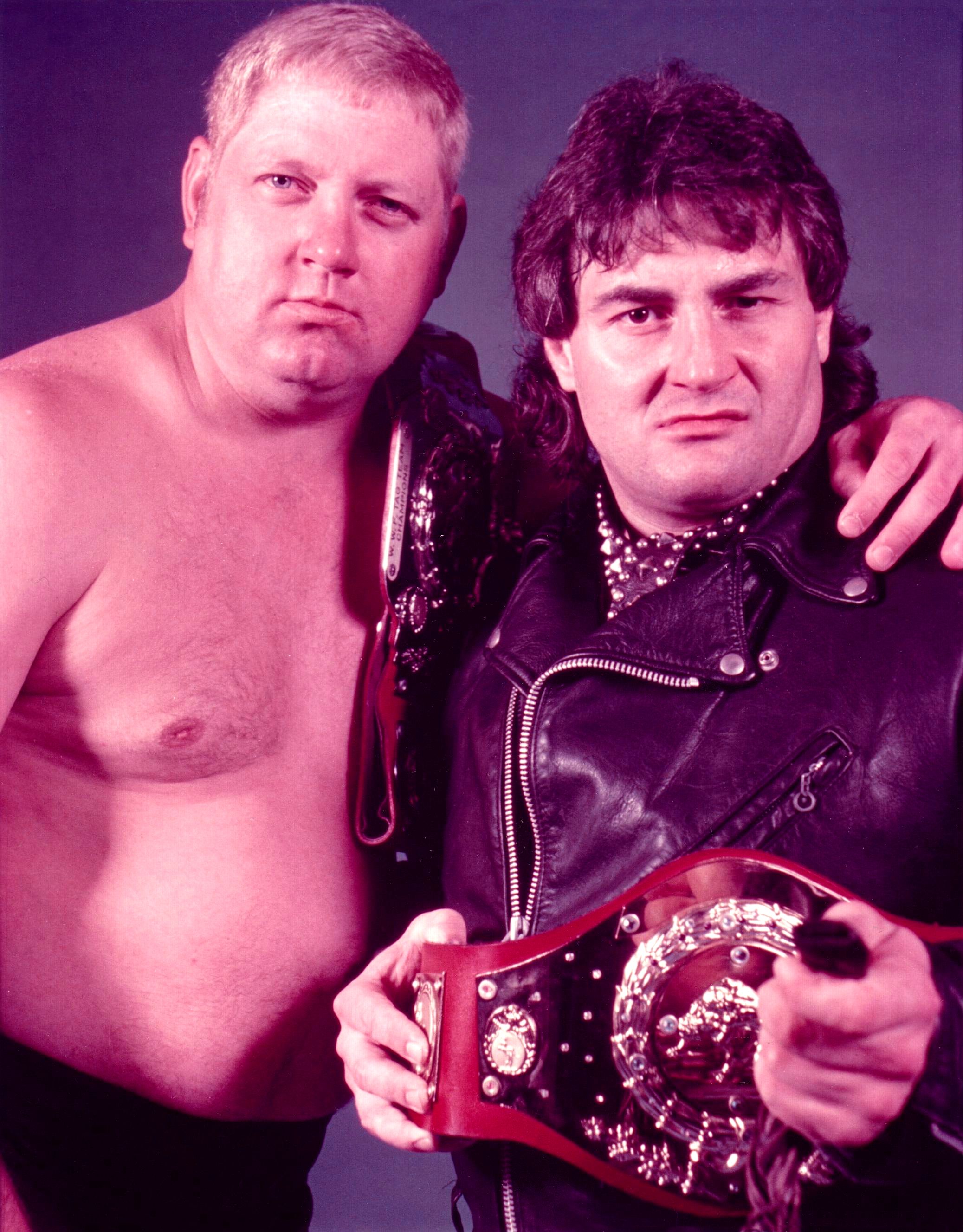 Meanwhile, Murdoch passed suddenly a few weeks shy of his 50th birthday. Scores of anecdotes are told of him, including his immense pride in seeing his 6-year-old son guzzle beer like it was Hi-C. There was a case of the apple not falling far from the tree. Dick Murdoch packed a whole lot of living into his half-century life. Anecdotes by the score are passionately recounted about this no-gimmick-needed legend.
Cast into going solo, Adrian Adonis was initially managed by the immortal Bobby Heenan and later, via trade, to Jimmy Hart. It was under the tutelage of the latter that things changed drastically for Adonis.
A character change was imposed, which saw the performer come out of the closet and become the Adorable Adrian Adonis with a very effeminate and later grotesque appearance while all the while maintaining his tough-talking New York speech patterns. This episode of Piper s Pit brought Adonis to the forefront for all the wrong reasons. Watch as Adonis transforms himself on this episode of Piper s Pit, originally aired on November 1st, 1986.
Many speculate that Adonis was not on the best of terms with the bookers and with creativity. This was the ICO-PRO bulk-up era. The Fed wanted to churn out muscle-bound quasi-freaks, but Adonis was not buying into it. Perhaps because of his training days and the emphasis on stamina and staying power over muscle and mass. Even morbidly obese, Adonis could move around like a nimble and spindly cat.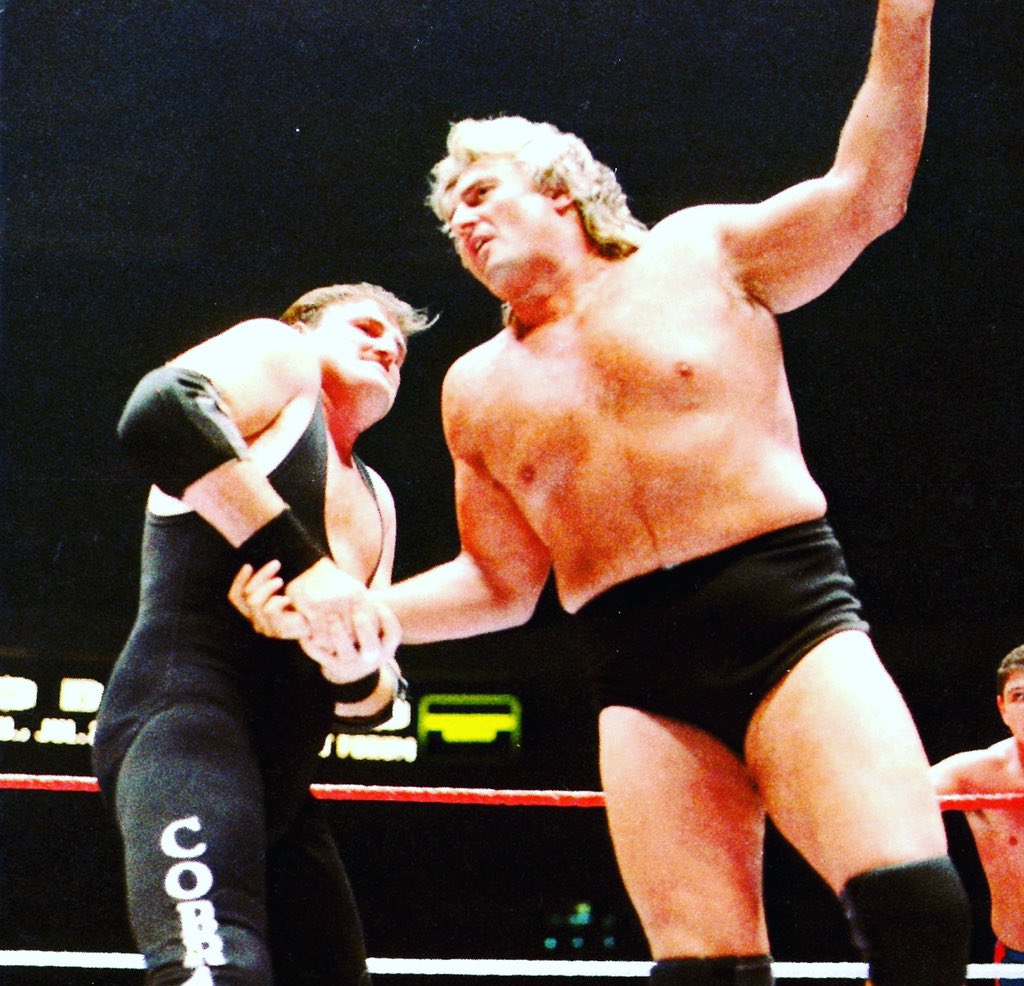 Adrian Adonis grew more and more rotund and out of shape over time. It would appear that he favored 18-inch hoagies over 24-inch pythons. The Adorable character was said to have been meted out as a punishment for letting himself go so badly while at the same time paving the way for an epic feud with
Roddy Piper,
who had been on hiatus.
At stake was a weekly time slot for an interview segment. Would the Flower Shop continue to blossom or be bumped for the returning Piper's Pit? Much was at stake here with WrestleMania 3, where the world would definitely be watching!
We all know that wrestling asks us to suspend reality while at the same time allowing for its theatre of the absurd nature to create bad guys and hence paving the road for emotional involvement by the fans. All too often, promoters aim for the lowest common denominator and use stereotypes and unflattering portrayals to evoke heat through ridicule and even disdain. The examples of this are too numerous to mention here, but we will illustrate with but a few cases.
Different eras, different targets, different approaches. One common goal creating villainous characters to illicit crowd reaction and have those in attendance and on tv to invest emotionally in the performer cast as the good guy.
The heel opponent was, of course, meant to be despised, be successful, and, in most cases, illegitimately achieve success. That success would endure thanks to underhanded tactics, accidental ref bumps, and losses by DQ, where the belt would not be lost.
We begin our study in the post-World War Two era; Kayfabe Axis Soldiers were all the rage. They were North American but portrayed German soldiers who did not quite realize that the war had ended. Quebecois Guy Larose portrayed the vicious Hans Schmidt in these parts. Midwesterner James Raschke appeared for decades as Baron Von Raschke with his vicious claw and goosestep and salute.
No one pulled the Axis Soldier schtick off like the Von Erich family of Texas. Led by Fritz Von Erich, and Jack Adkisson of Denton, Texas, he was then paired by a kayfabe brother, Waldo, by the legendary Stu Hart. Waldo was none other than Canadian Wally Sieber of Toronto. Waldo would flash the Nazi salute on TV.
While portraying the vilest characters possible, they avoided being overly offensive in promos and, while drawing a ton of heat, came off like a tandem of containable goofy brutes.
Nikolai Volkoff was portrayed in a similar manner during his epic heel run. We were in the early to mid-eighties. Involved in an ongoing Cold War with the Soviet Union, President Reagan was begging Mikhail Gorbachev to tear down the Berlin Wall. Again, Volkoff was neither vile, offensive, nor threatening.
He was also made into a goofy brutish simpleton who did a great job of getting the crowd to shout USA-USA when singing the Soviet anthem in a way not dissimilar to that of Roseanne Barr at the MLB All-Star tilt a number of years ago.
The Adrian Adonis characterization was a whole different ballgame. We were in the mid-eighties, and America was in the midst of the AIDS epidemic. Homophobia was at an all-time peak. One form that goes back centuries became very much in mode was to mock and dehumanize the perceived threat by making them appear to be grotesque and inhuman.
We witnessed the same phenomena at the start of the Covid crisis when Asians were being targeted with offensive, seditious cartoons and drawings. The President at the time took great joy in referring to the frightening outbreak as the China flu.
The Flower Shop vs. Piper's Pit
In the mid-eighties, a despicable heel was needed to enter a lengthy program with Rowdy Roddy Piper. Piper had just completed a face turn and was enjoying great popularity. A made-to-measure threatening heel was needed, and the powers that be turned to Adonis to play this role.
This would be a dragged-out feud with a time slot on TV as its ultimate prize. The transformed out-of-the-closet Adonis was given a weekly interview segment known as the Flower Shop. This show took the place of the iconic Piper s Pit, which riled the masses. Keep in mind, a freshly minted face is even more appealing than one that never broke down to the other side.
Piper would put an end to this drawn-out feud by beating Adonis in a hair vs hair match at WrestleMania 3. Brutus Beefcake would shave Adonis bald. Just a few days later, Adonis would wrestle his last televised match before being unceremoniously dismissed. That contest went down on May 2, 1987.
Long-time fans will definitely see the Shakespearean irony in this match, having Mel Phillips as its ring announcer and Jake Milliman as the foe. His dismissal was not without controversy. After all, Adrian Adonis complied wholeheartedly with the powers that be and played a freak-like grotesque character in a climate of homophobia caused by the Aids epidemic.
To his credit as well, he never swayed from character, and even though he came off as being marginal and eccentric, his speech and cadence were not far off from his Bowery roots during his earlier days. The portrayal of a wrestler performing in drag in an era of serious homophobia, while bad enough, could have been significantly worse.
'Hitting rock bottom is a relief in a sense because you have nowhere to go but up'. Adonis was out of work and sought a source of income.
A long look in the mirror might have been Franke's catalyst. He resumed serious training and had dropped a considerable amount of weight. Try 126 pounds over 6 months. He returned to his AWA roots and was managed by this brash young kid from New York City by the name of Paul E. Dangerously.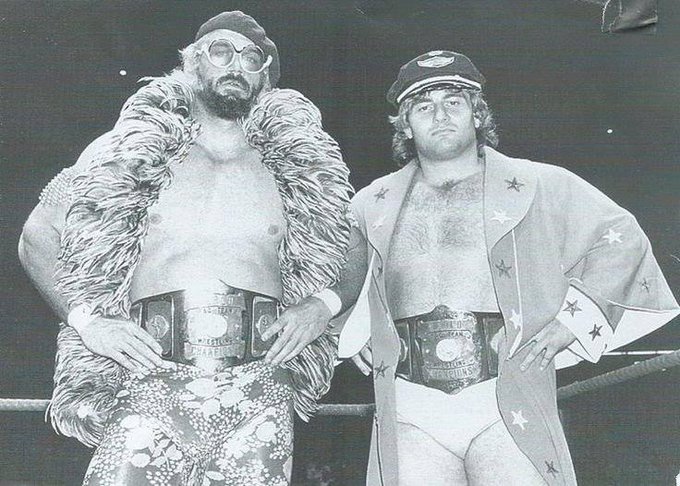 Then, in early 1988, Adrian Adonis sustained a serious ankle injury that saw him dropped from an NJPW tour and from Vern Gagne's AWA payroll. Wanting to work and showcase his metamorphosis, he accepted lower-profile bookings from all over. He found himself in Newfoundland and was killed instantly in a wreck with three other Canadian wrestlers.
One can speculate and lament until the end of time, but it's highly unlikely that we will ever know the full truth. Pro wrestling is a vicious game, and the eighties were rife with a number of traps and snares. Moreover, all the finger-pointing in the world will not bring Keith Franke back.
Here then, is my perspective and attempt to make sense of it all. Franke had a dream and pursued it, combining his natural skill set and a ton of effort, focus, and sacrifice. He leaves us a legacy of enjoyable work, albeit not at all in the best of taste. We are still talking about him 35 years or so after the fact. His place in wrestling history is very well-earned and enduring.
The Adrian Adonis Character Wouldn't Be Accepted Today
One must also not lose sight of the fact that the standards and practices of today are worlds apart from how we saw things 40+ years ago. Back at that time, plot lines would regularly feature both psychological and physical spousal abuse, performers sporting black face, and many racial stereotypical portrayals.
One such example, one which bothered some to no end, is where women would be used as chattel, pure objects having no say at all in there in their fate. Let us reference the following made-up but actually used plot line, which can even be said to have attained convention status.
The lovely and pure Miss Melody Songbird is like a baby sister to the handsome face tag team High Tide. The Tide is feuding with the spoiled and narcissistic tandem known as Handsome Is. When the Tide loses their championship thanks to an untimely ref bump, they plead for a rematch. The new champs comply with one condition.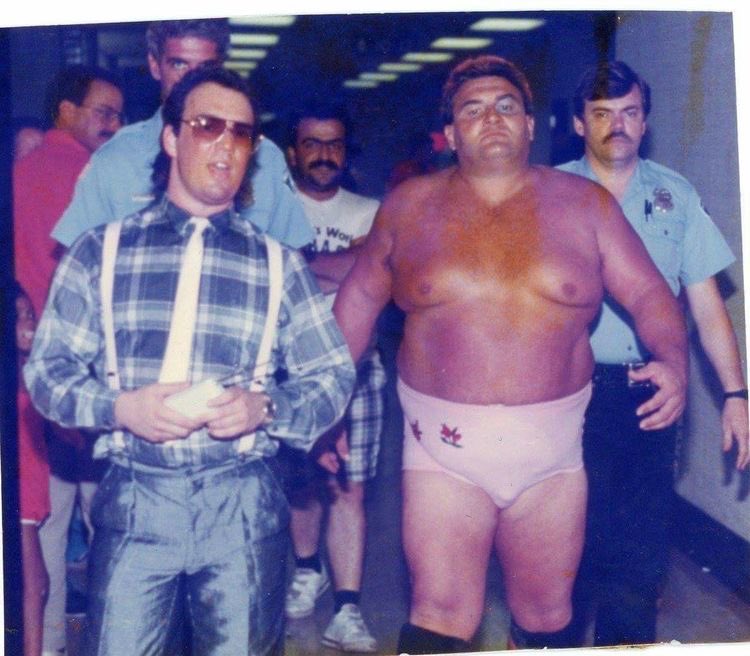 If they win, they get exclusive possession of Melody Songbird for one month. The predictable happens, and over the next few weeks, we see disturbing vignettes showing the valet pampering the new champs with breakfast in bed and champagne while being yelled at because the Moet Chandon is too bubbly and the orange juice having too much pulp.
Unfathomable today but par for the course in the days of cassette tapes and Sergio Valente jeans. While things have improved remarkably, lapses still occur.
In the AEW Inner Circle, Le Champion would regularly refer to his stablemates Santana and Ortiz as a couple of street thugs. Such verbiage, while making the Jericho character seem to be out of line, came off as banal because his character was so over, thus giving credibility to a grossly inappropriate remark. We are still evolving as a society as our pop culture evolves as well. The journey is far from over.
While being proactive in these steps forward, let us not neglect giving full credit to Adrian Adonis and keep discussing his professional exploits and appreciating what he gave so much effort to leave behind. What a perfect way to honor his memory. He would not want us to lament but marvel at his agility and comedic acting skills shown in the North-South Connection vignettes. Count me all in on that score!