5150 discuss MLW Tag Team Championship Opportunity Ahead of MLW's War Chamber Event.
This Wednesday, November 17, MLW will broadcast MLW Fusion from the 2300 Arena (FKA ECW Arena). In the main event of the evening, 5150 (Danny Limelight and Slice Boogie) will take on Los Parks for the MLW Tag Team Championship.
Having won tag team gold in numerous independents across the country, a win this Wednesday would surely be the biggest victory of these two young competitors' careers. However, in the face of this enormous pressure, both men appear unfazed.
Pro Wrestling Post was on the scene in Philadelphia at the taping of the show. Our own Dylan Hughes got the chance to catch up with 5150 mere hours before their huge match. As 5150 discuss MLW Tag Title Championship Opportunity.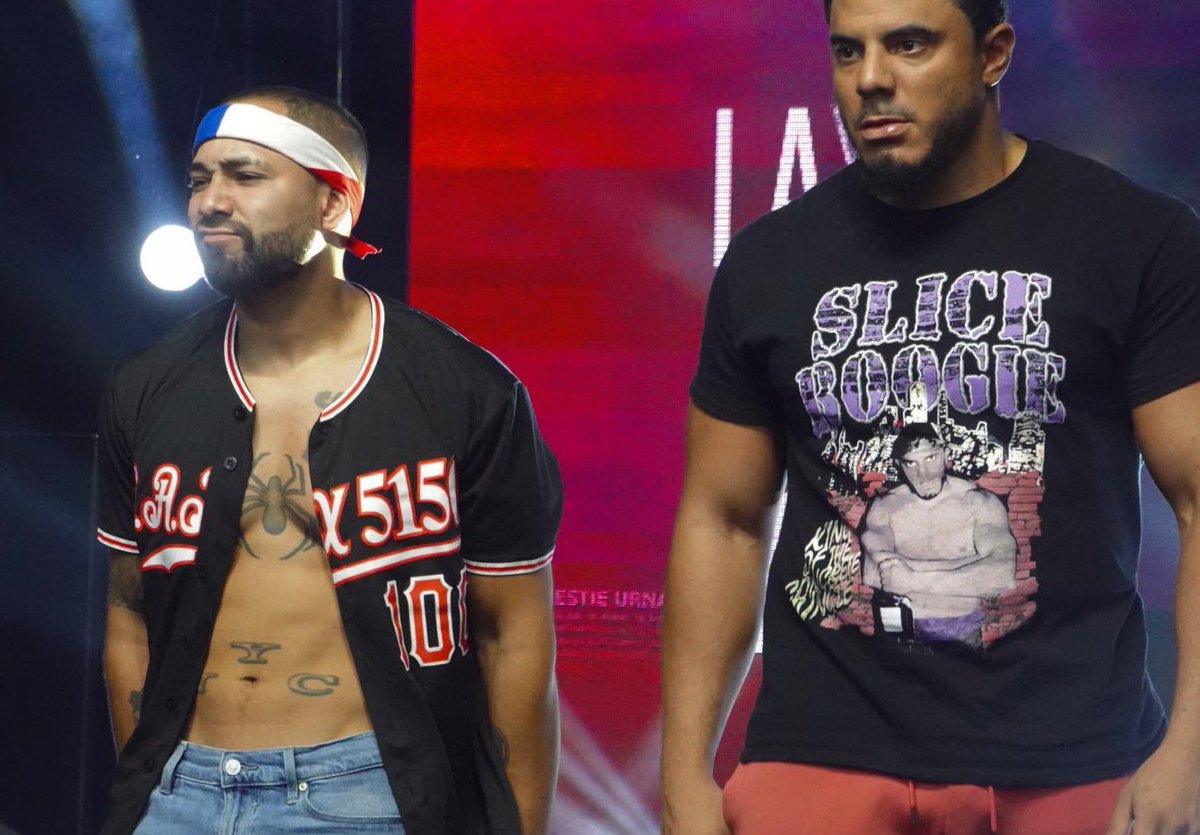 "So, tonight, y'all got your first [MLW tag] title shots ever. Philly Street Fight. 2300 Arena. Does the setting increase the stakes at all for you guys?"
Danny Limelight: "Man, I mean honestly, this is a legendary building, it's a legendary city. This is a big fight feel city, ya understand? But you know what? Like he's said plenty of times before, and like I say, we came here to rob the house man. This is my brother; we've been tag team champions before, at other companies, ya understand?
So this street fight shit? We've been prepared for this our whole life, man. Yes, the building, the legacy, all that stuff matters. But to us, what matters most, is walking in with nothing and coming out with everything! Ya understand? Cuz those belts signify everything we never f**kin' had growing up!
Slice Boogie: "I mean like, I've been watching ECW since I was a child. They revolutionized violent wrestling; you know what I mean? I can't say the building makes the stakes higher; it just makes it realer for us; it makes it more survival of the fittest for us. I mean, if we were in a street fight, in a backlot in Mexico, it wouldn't be any different.
But here?! I feel like we got home turf advantage. We from New York, the East Coast f**ks with us, we f**k with the east coast. We got home-field advantage!
5150 discuss MLW Tag Title Championship Opportunity ahead of MLW's War Chamber event.
We're gonna use the energy from the crowd, the violence in the air, and that's gonna be to our advantage. You know what I'm saying? So I feel like it gives us the edge. If we were in Mexico, where they're from, they would definitely have the advantage. They have the experience, they have the titles, but we're hungrier. We want it more than them.
'Cuz they might have got a little too comfy, a little too chubby, you know what I mean?! Eating what they wanna eat—living good! You know what I mean?
Danny Limelight: "And it's like he said, living good! Look, mountaintops. That's all good to be on top on the mountain. But rock bottom, where we at?! That shit teaches you lessons the mountaintops never will. So we coming from nothing, and like I said, we want everything!
He said it; we got home-field advantage. We on the east coast. The beast coast! We comin' to beat they ass. Word to my momma!
Slice Boogie: "Like I was locked up, eatin' ramen noodles and shit! I want lobster now; you know what I'm saying?! We gonna get them championships! I want lobster now! I want prime rib now! I'm not f**kin' playing. And I can't take a loss; I CAN'T! It's not gonna help me out in my career; I need gold! I need people to know I'm the real f**kin' deal.
Danny Limelight's the real f**kin' deal. Y'all seen us on tv already; it ain't nothing new. We just gotta keep progressing. With life in general, in the streets, in wrestling. Keep going up, that's it. It's up."
To see Dylan's interview with Danny & Slice please click the video link below. WARNING: NSFW COURSE LANGUAGE USED THROUGHOUT.
You can catch MLW Fusion: Alpha every Wednesday for free on YouTube.
As always, be sure to follow Pro Wrestling Post across all social media for the most eclectic professional wrestling coverage on the internet. Hit the comment section with what matches from the Philadelphia taping you are anticipating the most. You can also follow Dylan Hughes on Twitter @DylanHughesPWP.
*****
Stay tuned to the Pro Wrestling Post for this and additional stories from the wrestling world. Readers can rely on Pro Wrestling Post to be their daily source for all things inside the squared circle. As a result, readers can expect daily news, history, and so much more. Please visit Major League Wrestling's official website here for news on the promotion and upcoming events.