Since taking over 205 Live Landscape review of the fastest and exciting hour of WWE television on Friday nights late in 2019, I've enjoyed the high flying, more wrestling based show than I have in years past.
Gone are the days of over the top RAW & Smackdown storylines, and more mat-based content that has made NXT what it is today, which made the announce talent exchange between 205 GM Drake Maverick and NXT GM William Regal so much more impactful.
So while we may not have a live edition of WWE's purple brand, I figure I can give you three articles that cover 205 Live in details… a few things to whet the appetite before the show comes back to the WWE Network in 2020.
Introducing 205 Live Landscape Year In Review, a 3 part journey into the brand that I've watched since it's inception. Today, I give you Part 2 5 Things for a Better 205 Live. If you would take a look at my… POWERPOINT PRESENTATION (sorry), you'll see exactly what we deserve as fans of the brand. First, I want…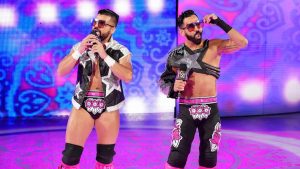 1) …the NXT Tag Team Championship titles be held by Cruiserweights
Yes, it sounds utterly ridiculous that any of the brands budding "teams" or resident team, The Singh Brothers, would actually take down any of the brands three titleholders but hear me out. Imagine, somehow, getting a win in a random NXT Tag Team Championship triple threat tag team match where, for example, the Singh's are involved in AND they actually get the win. Can you imagine the level of heel-ism they would be in? The non-stop "red carpet events" these guys would take the titles to another level and elevate themselves and the brand in one Bali Bali swoop.
2) …another cruiserweight Fatal Five-Way match to main event 205 Live
I mean this match was one for the ages. You had people in multiple submission holds, high flying expertise, oh yeah and f'n umbrellas. Yes, this match and one other (which Enzo Amore won) were the most excitement I've seen in a long time on the brand. With a finish that had it all were the first-ever Cruiserweight Champion, TJP put Gallagher in the knee lock but the Gentleman barely made ropes which turned to Perkins hitting the Detonation Kick into a counter Headbutt, a second headbutt for good measure and The Gentlemens' Dropkick for the pin. This was all in 5 minutes after these guys went at it for almost a half-hour. THAT'S what I want for the purple brand… and I think we deserve more of these.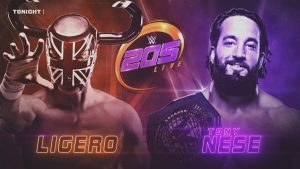 3) …more integration with NXT, more specifically NXT UK
You've been living under a rock if you have not seen one minute of the awesome work NXT UK has been putting on, especially since their exposure on Smackdown in the UK a month ago. Outside of Imperium, guys like Ligero, Travis Banks, Flash Morgan Webster, Mark Andrews and even Ilja Dragunov (all of which are under 205 pounds), have put on some amazing matches even with stars bigger than them. Even former 205 Live roster member Noam Dar has embraced his new role on the brand. Imagine Ligero vs. Raul Mendoza? Dragunov vs. Danny Burch? Hell, let Lio Rush and Andrews go flight for flight… all I know, there may be some hidden Match Of The Year gems if these guys can let loose on 205 Live.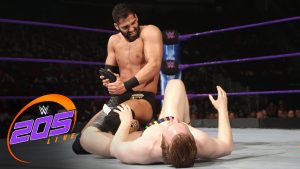 4) …either Nese, Gallagher or Daivari have their own stable
As much as I've enjoyed Tony Nese's Wrestlemania title win, Gallagher's amazing match with Chad G… I mean Shorty G, and Ariya Daivari being the resident gatekeeper of the mat on 205 Live, I want more from them. These three men still live and breath on the purple brand. Why not reward them with title aspirations and a couple of guys to help run the ship and overthrow the hierarchy? Why not have two? Listen I'll make it easier for WWE. Before his greatness as the Cruiserweight Champion, and before he was giving Powerpoint presentations, Drew Gulak was the head of Catch Point, a mat-based/hybrid group of athletes hell-bent on the betterment of EVOLVE. So Imagine a Money Team with Lio Rush and Ariya Daivari? Or Gallagher creates a real-life The United Kingdom faction similar to what WWE '12 created?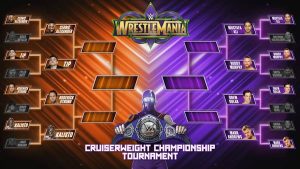 5) …a Cruiserweight Championship Match on the main show of Wrestlemania
After Enzo Amore vacated the title, Drake Maverick issued an epic tournament of cruiserweights leading to Wrestlemania 34 where the winner becomes the new Cruiserweight champion. And while that tournament gave us some amazing matches including Roderick Strong's debut against Hideo Itami, Buddy Murphy vs. Mustafa Ali and an amazing exchange between TJP and the eventual winner Cedric Alexander, the final was relegated to the pre-show.
Now infamous Austin Aries responses aside, I truly believe it's an amazing thing to be on the Wrestlemania card at all. But on a show that included 8 minute waste of don't hinder Jinder for the U.S. Championship and a very blah moment with a then 10-year old becoming WWE Tag Team Champion with Braun Stroman, there was room for the main card for the greatness of 205 Live. Even if they are the opener, I think they deserve that spot. How else do we continue to build the brand if they aren't on that main card?
As I finish this Part 2 of my 205 Live Landscape Year In Review, please be on the lookout for my 3rd and final part of this series which includes my Top 5 matches of 2019 for 205 Live. While this may be my list, what would you like for the 205 Live brand? Make sure to tweet me @MakeTheCaul and I will personally reply to everyone!
And to prepare you for my Part 3: the 5 Best Matches in 2019, for kicks, check out WWE's list for the 10 best WWE 205 Live Matches ever including mine previously mentioned Fatal 5-Way Elimination Match I spoke of which not only stands as one of the best matches on the brand ever but should even be more reason why we need to do Fatal 5's again.