Xcite Wrestling LLC announced yesterday that the New York State Athletic Commission has granted them permission to run shows. Their show, "There Can Be Only One", will be the first pro wrestling event in New York state since lockdown was imposed. The show will take place at the new X Drive-In East at the Oakdale Mall in Johnson City, NY on Saturday, August 22. It will also be the first drive-in wrestling show in the state of New York. This show took months of planning between Xcite, the village of Johnson City, The Oakdale Mall, and the NYSAC.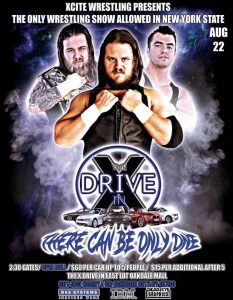 When the COVID-19 pandemic struck in March, the State of New York canceled all live events. At present, the state allows social gatherings not exceeding more than 50 socially distanced people. Pro Wrestling is handled by the NYSAC, who have deemed that no sporting events can take place with spectators. However, the state of New York still allows drive-in theaters to operate. Xcite Wrestling decided to merge the two, allowing fans to watch the in-ring action from the safety of their cars. Other promotions like ICW No Holds Barred and AAA have also tried the drive-in audience approach.
Jonathan Musok, Xcite Wrestling owner, had this to say –
"August 22 is a huge day for professional wrestling in NY State. We will have the chance to give the NYSAC a viable option for other wrestling companies to run a show this year. With the help of the commission, we hope to build a template to allow many shows to take place, in a safe way, for everyone to enjoy in person. There is an extreme amount of pressure to get it right, as we want to help give pro wrestling a chance to survive in New York State."
****
Be sure to stay tuned to the Pro Wrestling Post for this and additional stories from the wrestling world. Readers can rely on Pro Wrestling Post to be their daily source for all things past and present inside the squared circle from around the globe. As a result, readers can expect daily news, history, and so much more. Please visit Xcite Wrestling's official website to access their content here.