Smackdown will have some major fallout from last Sunday's Clash of Champions event Sasha returned to exact revenge for the attack Bayley did to her a few weeks ago. Depending on who you believe Sami Zayn either retained or recaptured the Intercontinental championship, thanks to some handcuffs. Roman Reigns' assault on his younger cousin became less about the title and more about Roman's want for acknowledgment as the Tribal Chief. Let's look at the fallout and more in this WWE Smackdown Preview for 10/2/20
---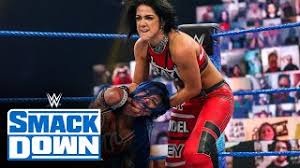 The Boss Is Out For Revenge
The history of these two is long and winding. From main eventing Takeover in an unforgettable Iron (Wo)man match to the Two Woman Power Trip, these two women are intertwined. Bayley has benefited the most from her friendship with The Boss. Sasha helped Bayley retain the SmackDown Women's Championship and have won the tag titles together. Cracks appeared in the friendship when both had to defend their titles against Asuka. Sasha would assist Bayley in her match but the receipt was not checked in Sasha's match as she lost the Raw Women's Championship. The actions of Bayley would cause a rift between the two and they would eventually lose the tag titles at Payback.
Frustrations would get the best of Bayley as she would turn on her friend at SmackDown. A steel chair wrapped around the neck of Sasha would put The Boss on the shelf for weeks. While still injured, Sasha would gain a measure of revenge by attacking Bayley following her open challenge at Clash of Champions. Sasha would gain the upper hand and has made it clear she is coming for Bayley's championship. It's a certainty that Bayley isn't going to stay quiet about this recent attack, what will she have to say?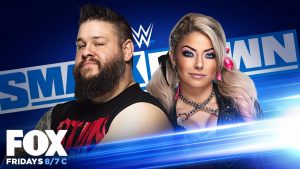 WWE Smackdown Preview for 10/2/20
The KO Show Returns to Friday Nights 
Kevin Owens returns to SmackDown to once again host the Kevin Owens Show. Alexa Bliss is this week's guest. We've seen Alexa possessed by the Fiend in spells in recent weeks. The first time was when she hit Sister Abigail on Nikki Cross. And again last week during her match with Lacey Evans. Kevin Owens will be looking to find out what the link is and why Alexa has been so affected by The Fiend.
Alexa had an encounter with The Fiend back in July and has slowly been changing in front of our eyes. Nikki Cross has talked about Alexa being different but no ones been able to snap her out of it. Will Kevin Owens reach a fellow talk show host? Or could we hear from Bray Wyatt?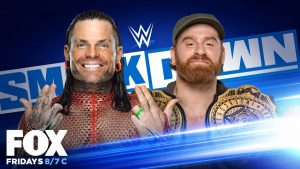 Intercontinental Championship
Jeff Hardy vs Sami Zayn (c)
Sami came back to the WWE after taking a leave of absence due to the pandemic. And he immediately made a nuisance of himself for then-champion Jeff Hardy. Sami proclaimed that he was the true intercontinental champion as no one beat him for the strap. All his mind games would pay off last Sunday as he won the ladder match to recapture the Intercontinental title that he never lost.
Jeff found himself unable to retain his title, in thanks, to being handcuffed to a ladder by the ear. Sami walked out of Clash of Champions as the undisputed champion but he immediately has to defend his gold against the former champion Jeff Hardy.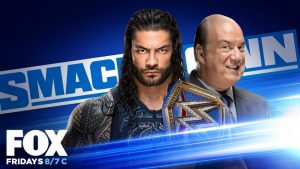 WWE Smackdown Preview for 10/2/20
Crowning The Tribal Chief
What happened last Sunday in the main event of Clash of Champions was intense, to say the least. Roman beat down his cousin while demanding Jey acknowledge him as the tribal chief. Jey refused to acknowledge Roman and took one hell of a beating in the process. The beating only stopped after Jimmy threw in the towel. Throwing himself ontop of Jey to stop the beating. Jimmy would acknowledge Roman as the tribal chief, asking his cousin to "chill". Roman stood tall next to an uncomfortable-looking Paul Heyman.
Paul Heyman has arranged to crown Roman as the Tribal Chief on tonight's SmackDown. While we're unsure what exactly that means it would be unwise of anyone to interfere based on what Roman will do to family to keep his place at the top.
****
Be sure to stay tuned to the Pro Wrestling Post for this and additional stories from the wrestling world. Readers can rely on Pro Wrestling Post to be their daily source for all things past and present inside the squared circle from around the globe. As a result, readers can expect daily news, history, and so much more. Visit WWE's official website to access more