Monday Night Raw opens with the Monster Among Men, Braun Strowman, one half of the Raw Tag Team Champions and will showcase a match, later on, involving Becky Lynch, Bayley, Nikki Cross, and Alexa Bliss. The Universal Champion and the half of the Raw Tag Team Champions, Seth Rollins is out next. Michael Cole is in the ring to moderate the contract signing for their Universal Championship match in two weeks at Clash of Champions. Michael Cole asks them how they plan to coexist in their championship match against Robert Roode and Dolph Ziggler, knowing they have to face off against each other for the Universal Championship. Seth Says that he plans to walk in and out of the Clash as a double champion. Strowman counters by saying that they'll beat Roode and Ziggler but it'll be awkward having to turn around and beat his partner for the Universal Championship. Seth tells him that to win the Universal title he had to slay The Beast, which was something Braun couldn't do.
They are interrupted by The OC and the United States Champion, AJ Styles. AJ insults Seth and Braun before they enter the ring and a melee ensues. Rollins and Strowman get the upper hand and clear the ring. Back from commercial, it's an impromptu tag match with the champions taking on Gallows and Anderson. Styles tried to get involved in the match, but it backfired as Seth rolled up Anderson for the pinfall victory. After the match, they laid waste to The OC but Strowman accidentally tackled Seth on the outside. Roode and Ziggler showed up and it became a 5-on-2 beatdown. The OC, Roode, and Ziggler stood tall while Rollins and Strowman lay in the ring beaten.
Cedric Alexander was backstage doing an interview when he was ambushed and laid out by AJ Styles and The OC. Cedric still has to face off against Baron Corbin in a King of the Ring matchup later.
Dolph Ziggler and Robert Roode are in the ring facing former Edgeheads & former Tag Team Champions, Zack Ryder and Curt Hawkins. A superkick from Ziggler into a Glorious DDT by Roode spelled the end as Curt Hawkins was pinned in the middle of the ring.
Lacey Evans was on her way to the ring and Natalya attacked her from behind before their match started. Natalya controlled the pace and offense of the match but suffered a Woman's Right off of the referee's distraction and fell to Lacey Evans.
the raw women's champion and the man, Becky Lynch came out to the ring. She addressed Sasha Banks comments from last week. Said that while Sasha ran away after WrestleMania, she became the face of the company. Becky said that it could have been Sasha in that position. The Boss came out and told Becky that the only reason she got so much notoriety is because Nia Jax broke her face. Becky responded by issuing a challenge for a match at Clash. Sasha accepted. After the interview, they cut backstage to the Street Profits who were actually speechless…for once.
Baron Corbin versus Cedric Alexander in a King of the Ring quarterfinal is up next. Baron came out first and as he made his entrance, a short clip played where he said the first thing he's going to do is banish all unworthy people when he becomes king. Cedric made his way out to the ring favoring his shoulder after the attack by AJ Styles and The OC. He gave a very valiant effort but in the end, he fell victim to Baron Corbin's End of Days. Baron Corbin advances in the King of the Ring tournament.
A video recap of the Roman Reigns/Daniel Bryan saga airs.
Smackdown Women's Champion Bayley is backstage during an interview with Charlie. She asks Bayley about Sasha Banks return and Bayley had nothing to say. Bayley also told Charlie that her Smackdown Women's Championship is just as important to her as the Raw Women's Championship is to Becky Lynch. She says at the end of the night the world will see who's standing in whose shadow.
The Viking Raiders demolished another job squad.
Backstage Sasha Banks was asked how she felt about her best friend Bayley tagging with Becky Lynch. Sasha replied, "I know what you're trying to do, get the hell out of here!"
Another King of the Ring quarterfinal matchup took place between Samoa Joe and Ricochet.
the match ended in controversy after Samoa Joe lock the Coquina Clutch onto Ricochet while they were perched on the top rope. Ricochet flung himself backward and they both came crashing down to the mat. With both their shoulders down and an arm draped over the other, the referee counted to 3 but could not name a winner. the referee left the ring and pretended to speak to someone in the back. He said that he would render his final decision later.
Bray Wyatt Firefly Funhouse is up next. he apologizes for what he did to Finn Balor. Then, a puppet caricature of Vince McMahon with horns appears. He asked Bray was he crazy for challenging Seth Rollins or Kofi Kingston to a match at Hell in a Cell. Bray fed the puppet a $100 bill and it disappeared. He claimed that in a past life Seth Rollins and Braun Strowman both took something from him but he used his team to help him cope with the pain, and The Fiend helps him inflict it.
Backstage Baron Corbin is informed that WWE management has ruled that both Ricochet and Samoa Joe have advanced and will face Baron Corbin in next week's King of the Ring Final in a triple threat match up.
In a backstage interview, Rey Mysterio talked about not leaving wrestling because he still wanted to pursue his dreams and that his son Dominic helped him to see that he wasn't done and he had much more to do.
The Miz faced off against Cesaro in a one-on-one match. The Miz was looking to pick up some momentum headed into his matchup against Shinsuke Nakamura for the Intercontinental Championship. He would pick up the win over Cesaro after delivering a Skull Crushing Finale.
In a first-ever WWE Women's Showcase on Monday Night Raw, WWE Raw Women's Champion Becky Lynch teamed up with Smackdown Women's Champion Bayley to face off against the Women's Tag Team Champions Alexa Bliss and Nikki Cross. Sasha came down to ringside to observe her best friend and her bitter rival. Becky got a hot tag from Bayley and proceeded to lay waste to Nikki cross and Alexa Bliss. In the midst of doing so, Sasha Banks struck. She hit Becky Lynch with a backstabber and went outside to grab a steel chair.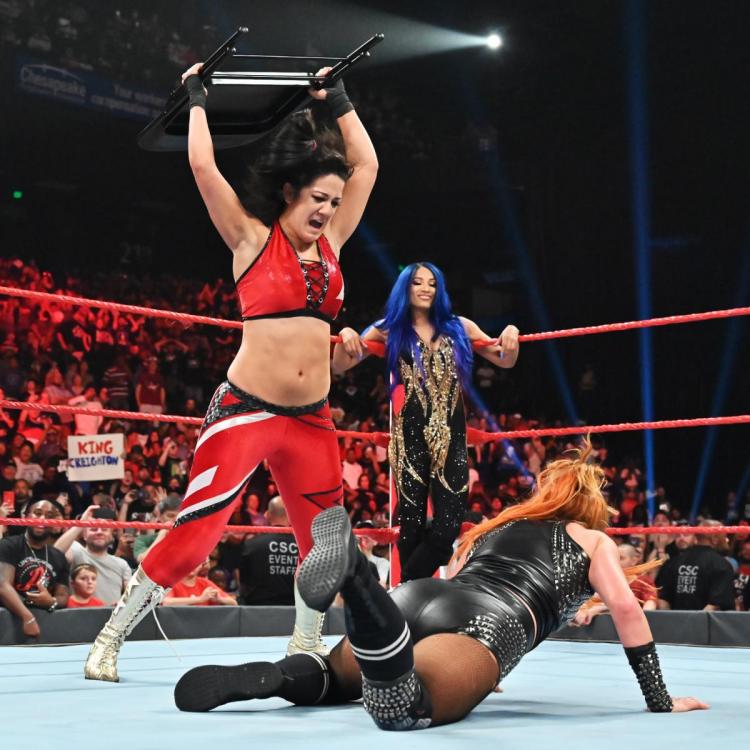 Just like 2 weeks ago, she nailed The Man with a chair in the middle of the ring. Bayley ran into the ring and grabbed the chair from Sasha. There was a long pause before Bayley turned around and hit Sasha over the back with the chair, stunning the WWE Universe.
Smackdown Live opens with the shocking events from Monday Night Raw involving Bayley, Sasha Banks, and Becky Lynch.  Bayley comes out with her streamers and regular entrance, minus the high-fiving fans and kissing babies. The crowd boos her for quite a minute before she says anything. She affirms her best friendship with Sasha Banks and says that's why she did what she did to Becky. She claims she did all the baby-kissing for the kids in order to show the parents how to teach their kids how to be loyal. She says Smackdown deserves a champion with the same recognition as Becky Lynch. Charlotte comes out and they trade insults before Charlotte nails Bayley as Sasha Banks makes her way to ringside. Bayley recovers and while Sasha is brawling with Charlotte, she nails The Queen with a steel chair. Sasha and Bayley pass the chair off to each other and take turns hitting Charlotte. 
Elias versus Ali is up next and another King of the Ring Quarterfinal match. Elias targeted Ali's leg throughout the match to neutralize his high flying abilities. After a huge spot that saw Ali pull up limping after a leap from the top rope outside, he nailed a leaping Elias with a superkick. Elias picked up the victory after dodging Ali's 450 splash. He moves on in his King of the Ring quest. 
Samoa Joe was backstage and says he doesn't care that it's a triple threat match against Ricochet and Baron Corbin, everyone knows he'll choke them out.
Aleister Black, live from a dark room says that he's going down to the ring to see if anyone is man enough to pick a fight with him. 
The Women's Tag Team Champions Alexa Bliss and Nikki Cross faced off against Sonya Deville and Mandy Rose, who feel they are the team that deserves a shot at the titles. A non-title victory against the champions would bolster their case. Sonya Deville dodged Twisted Bliss as she and Mandy Rose nailed Alexa with a double team knockout strike to pick up the win over the champions. 
The Viper Randy Orton is shown walking backstage. 
Chad Gable is backstage stretching when Samoa Joe walks up and insults his stature. He tells Gable that those jokes still hurt him and it makes it weak. There's no room for weakness in the kingdom. 
Randy Orton is out to the ring. He says that Kofi Kingston has never been on his level.  He replayed a video of how he's decimated The New Day over the past few weeks. He invites Kofi out to ring. As his music hits, The Revival is attacking Kofi as he makes his way out. Randy enters the melee and grabs a microphone and yells "stupid!" while giving Kofi The Garvin Stomp. The Revival and Randy nail Kofi with another FTRKO.  
They show the replay of Daniel Bryan slapping Rowan for lying from last week's Smackdown Live. 
It's Andrade accompanied by Zelina Vega out first to take on Chad Gable in a King of the Ring quarterfinal.  Commentary even cracks short jokes. Before the match starts, Zelina grabs the mic and even she makes a few short jokes and says Gable would be King if Andrade wasn't in the tournament. In a very competitive match, Gable picked up the upset for the underdog after reversing Andrade and rolling him up.  
Aleister Black is out next to see if anyone will pick a fight with him. Shelton Benjamin was that man, and for his actions, he ate a Black Mass and suffered the 1-2-3 pinfall at the hands of Aleister Black.  
24/7 Champion Drake Maverick and his wife are backstage running from challengers and Bo Dallas of The B-Team rolled him up to become the new 24/7 Champion. He ran away with the remaining challengers in tow.  
Shinsuke is out with Sami. He interrupts Nakamura's music and tells the WWE Universe it's not about them. He then proceeds to do live commentary with a hot mic while Shinsuke decimates some jobber and then pins him after a Kinshasa.  
The B-Team ended up in the ring running from challengers only to end up falling victim to Drake Maverick again. As he was retreating up the ramp, R-Truth snuck up behind him and rolled him up to again for like the 124th time, the 24/7 Champion. 
Daniel Bryan comes out and demands an apology from Roman Reigns. He reiterates the fact that he hates liars. Before The Big Dog can make it down the ramp, he's ambushed by Rowan who threw him around before grabbing a microphone. He says that he doesn't take orders from anyone. He begs Daniel Bryan to get in the ring and try to slap him again. He threw Roman outside of the ring and nailed him with the ring steps.  Daniel Bryan stepped in and tried to stop Rowan by slapping him in the face. Rowan responded by nailing Daniel Bryan with a Claw Slam through the announcer's table to end the show.