Brandon: It is time for The Horror Show at Extreme Rules! I'm not going to lie, the title of the show is certainly making me interested in the card. The WWE seems to be going all out with the cinematic matches as we might actually have two on this pay-per-view. I mean Rey Mysterio or Seth Rollins is going to lose an eye on Sunday night. That will be an interesting stipulation to deal with going forward for the loser. So on to the craziest card of the year! As WWE presents Extreme Rules: The Horror Show.

Marc: From the ashes of the one time, ECW One Night Stand comes an event that has managed to take extreme and gone in a rather unusual direction. With three title matches and two matches with unusual stipulations, Extreme Rules appears to have something different to offer on this evening. It's been difficult to find how well this event will be received considering the lack of fans in attendance. As the final major event before Summerslam, the question of who will walk out as champions or considered threats afterward will be interesting to see.
WWE Presents Extreme Rules
WWE Smackdown Tag Team Championship
Tables Match
New Day (c) vs. Cesaro and Shinsuke Nakamura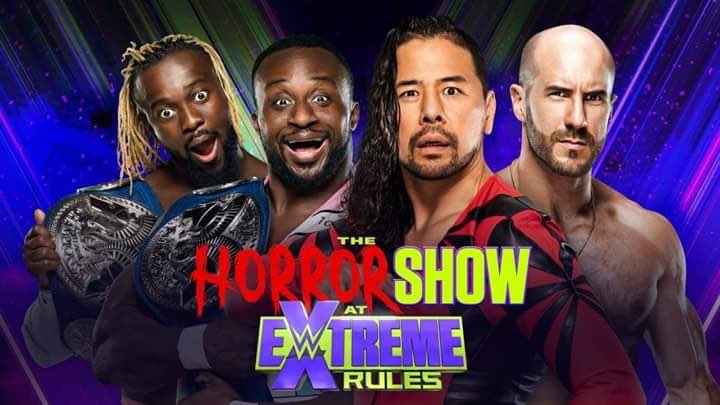 Brandon: Cesaro and Shinsuka Nakamura has set their sights on the Tag Team Champions in recent weeks. In singles matches, Cesaro and Nakamura have defeated both members of The New Day. The momentum was on their side to win the Tag Team Championships until Cesaro decided to powerbomb Kofi Kingston into Big E and through a table on a recent Smackdown.
On this Friday's Smackdown, Cesaro and Nakamura won another match to pick a stipulation for a Tag Team Championship match at Extreme Rules. Naturally they picked a Tables Match. Can the heels keep the momentum going on Sunday night? It should be a fun match between four talented competitors. 
Marc: On last night's edition of Smackdown, it was decided that the match stipulation for the titles would be a tables match. These two have had some phenomenal matches with one another and this looks to only add to that. With Nakamura and Cesaro appearing set to become the tag team champions, this could be that very coronation. A changing of the guard in the division is very much needed. At times it offers a new sense of direction and hopes that fans (at least those watching at home) can get behind. Will this be that match and will we see new tag team champions? It is only a matter of time before we see if it comes to fruition.
WWE Presents Extreme Rules
Bar Fight
Jeff Hardy vs. Sheamus
What could be said about this storyline that likely hasn't already been said before? For every reason why it wouldn't work appears to be the exact same reason why WWE is going through with it. Much has been made about Jeff's past and his run-ins with drugs and alcohol. The problem is at some point there has to be more to working a storyline that is steeped in the truth. Fans are aware that this was used in the past during the Hardy/Joe feud and even before that CM Punk and Jeff Hardy.
At some point when every angle that has been told around a story has been exhausted where is the decision to move on? With the choice of having a bar fight, is it intended to suggest that he overcomes his demons by destroying a bar? One has to wonder if this is really the best way to go about doing things.
WWE Presents Extreme Rules
Wyatt Swamp Fight
Braun Strowman vs. Bray Wyatt
Brandon: After a month-long absence, Bray Wyatt returned to WWE programming. The Firefly Fun House was interrupted by Braun Strowman. However, the bigger surprise on that Smackdown was Bray Wyatt would return on that show as his old cult leader persona. It seems we are getting the many faces of Bray in this feud. Mick Foley would be proud.
Always the Master of Mind Games, Bray has repeatedly brought up Braun's "Black Sheep" origins in WWE. Bray announced since he started Braun, he needed to end him too at Extreme Rules. Braun decided to bring up their history in the Florida swamps thus demanding a Swamp Fight. It is time for another Cinematic match! If it is anything like the Firefly Funhouse Match, expect a whole lot of crazy. If you add in the fact that it is non-title, the outcome is clearly up in the air.
Marc: The Strowman/Wyatt rivalry has taken another twist. With what appears to be one of two cinematic themed matches, the WWE has presented the upcoming Wyatt Swamp Fight match. The match appears to have run the gambit on where the Bray Wyatt has been and where it is. What is interesting to note about this could be not unlike the Cena/Wyatt matchup at WrestleMania. We could see a great deal of smoke and mirrors presented. As of this writing, the matchup isn't a title match which is interesting. Could that change and should that change? With so few matches slated to take place to have this one simply be used in the cinematic style without having a title be the end goal for Wyatt seems strange. Strowman rids himself of Wyatt if he wins. What does Wyatt earn if he wins?
WWE Presents Extreme Rules
WWE Championship
Drew McIntyre vs. Dolph Ziggler
Brandon: It seems that when you need to build up a new champion you bring in Dolph Ziggler. It was still surprising to see Dolph Ziggler traded to Raw and immediately enter into the main event feud. Ziggler brought up the long history between the two. It was Dolph who brought McIntyre back in his second run in the WWE. This led to a title match between the two on Sunday night.
The most surprising part is what Drew agreed to for this World title match. He has allowed Dolph Ziggler to pick the stipulation. Drew won't even know the stipulation until Extreme Rules itself. Can Dolph use that to his advantage on Sunday?  
Marc: While some will likely question whether or not Ziggler deserves a title shot or not, the focus should be on the bigger picture. These two have a history with one another. They were champions together. In the end, this is going to be an entertaining match. Fans can depend on Ziggler to deliver a match that showcases a great deal of passion, emotion, and storytelling throughout.
For McIntyre, he continues to build a name for himself as the champion. He has held the title for 100 days and counting facing the likes of Bobby Lashley as he continues to hold the title. With as many potential title matches for McIntyre ahead of him it is hard to see him not walk away as anything less than the winner here. How will this match play itself out and how will the match reach its conclusion is still in question.
WWE Presents Extreme Rules
WWE Raw Women's Championship
Asuka vs. Sasha Banks
Brandon: On a recent Raw after defeating the IIconics to retain the Women's Tag Team Championship, Sasha Banks challenged Asuka for the Raw Women's Title. Naturally, Asuka accepted but was distracted by Bayley. With the distraction, Banks locked in the Banks Statement on the Champion. 
Sasha Banks is bragging she will become a double champion. It would allow her to equal her best friend Bayley. Asuka is in a need of a big win to build her championship credibility. All I really know is a match between Asuka and Sasha Banks could steal the show on Sunday night.
Marc: If anyone has to answer the question anyone is asking it is Sasha Banks. Is Sasha ready for Asuka? Banks has a win over Asuka as part of a mixed tag-team match involving Ziggler and McIntyre. The stakes, however, are much greater here and when the title is on the line there is typically the same booking that the challenger defeats the champion when the title isn't on the line.
If that is the case then Asuka should walk away by blitzing through Banks. However, if that isn't the case then a very unique situation presents itself. If Banks does win we could have a case where both she and Bayley are the co-WWE Women's Tag Team Champions and both hold singles titles. We could see this a case a Two-Man Powertrip for a new generation?
WWE Smackdown Women's Championship
Bayley (c) vs. Nikki Cross
Brandon: Bayley and Sasha Banks have been the most entertaining part of WWE programming in recent months. Bayley seems to be having a lot of fun being the annoying heel champion. Other than a week when she lost the title to Charlotte, Bayley has been the face of the division for over a year now. Bayley faces an interesting challenger in Nikki Cross at Extreme Rules.
Nikki Cross has tried everything to get Bayley's attention. She attacked the Tag Team Champions just to get a match against Sasha Banks. The very next week on Smackdown,  Nikki Cross won a Fatal Four Way to get a title match against the Champion. Will this finally be the time the cocky Bayley loses her title? I'm still hopeful we start to finally build to a proper Sasha Banks-Bayley feud.
Marc: Of any match and any opportunity that appears to be presented this one certainly gives the sentimental feel tied to it. Cross has been a co-holder of the Women's Tag Team Championship. However, what she hasn't been is a singles champion. During her time in NXT, she has challenged the likes of Asuka and Shayna Baszler for the women's title.
During her time on either the Raw or Smackdown brands, Cross has had championship opportunities. The problem is that the fear is she is approaching the status of 'always the bridesmaid and never the bride'. While a win would generate a tremendous reaction with a live crowd in this instance it may be a bit anticlimatic even with talent at ringside attempting to replicate.
WWE Presents Extreme Rules
WWE United States Championship
Apollo Crews (c) vs. MVP
Brandon: It has been really cool to see Apollo getting a real chance on WWE Raw and the biggest moment so far was when he won the United States Championship on the May 25th Raw. MVP confronted Crews a few weeks later and told him he would need a manager if he was going to keep the United States Championship. After a second failed attempt at convincing Crews, MVP challenged Apollo to a non-title match. Naturally, MVP won that match.
After that victory, MVP challenged Apollo Crews to a match at Extreme Rules for the brand new United States Championship. Will MVP pull of a shocker? Or will this match simply be a speed bump on the way to Bobby Lashley getting another shot? It is hard to say but I have been loving the work of MVP this year.
Marc: We recently saw a new championship when MVP came out with Bobby Lashley. The new title has been met with a lukewarm response publicly. Regardless of the public response to the title, the fact is that the title will be given to the winner. A win here by Crews would help his reign as a champion.
Despite it being against the more experienced MVP, to earn the win here suggests the company has their faith in Crews and his ability to hold and carry the title moving forward. What could be a case here however is Crews losing the title and either Ricochet or Cedric Alexander being the cause of that loss. It wouldn't be something fans would typically anticipate.
Eye for an Eye Match
Rey Mysterio vs. Seth Rollins
Brandon: Is someone really going to lose an eye at Extreme Rules? If they do, I demand they wear an eye patch going forward for the rest of their career.
The eye has been the major focus of this feud for months now. On the May 11th Raw after losing to Rey Mysterio, Seth Rollins pierced Rey's eye on the steel steps. As Rey tried to recover from the career-threatening injury, his son Dominik tried to defend his honor but instead came dangerously close to seeing his eye pierced as well. Rey finally returned and won a tag match on July 6th. The reward for that victory was he got to pick the stipulation for his Extreme Rules match with Seth Rollins. Rey Mysterio picked the most gruesome match possible.
The WWE states to win this match one competitor must extract an eye of their opponent. Seriously? How can the WWE actually do that? What will that look like at Extreme Rules? It leads to so many questions and I cannot wait to see how it is actually done. It is a Horror Show indeed.
Extreme Rules has an opportunity to be a truly entertaining show. The two cinematic matches have the real chance of being very crazy. If we don't see a CGI eye on Sunday I will be very disappointed.
The highlight for in-ring action should be the two Women's matches. They have done a nice job of building both without any crazy stipulations for the matches on Sunday. It seems the Horror Show at Extreme Rules has something for everyone.
Marc: Two of the most talented wrestlers of this generation are finally set to face one another. The problem isn't in the actual competitors involved. It is clear that the stipulation of having this match as an eye for an eye match won't end well. Whether it is Mysterio or Rollins that walks away as the winner the result is certainly going to have unusual consequences.
The rumor circulating is that with the help of CGI graphics where someone's eye will be removed from its socket. Could this be a case where Dominic gets involved and actually joins the Disciples and walks alongside the Messiah? This could resemble the custody angle involving the late Eddie Guerrero and Rey Mysterio. Only in this instance, we could see betrayal finding the son betrays his father because of the sheer embarrassment the son has felt towards his father.