WWE NXT is back at it again with another pay-per-view which will set the bar on the brand. 3 titles on the line, a clash between NXT biggest names on the brand, another night to prove why the black and gold brand sets the trend and the bar in professional wrestling. A fight between two styles that may have brought out the best in one another. A battle between a legend of the brand vs. the rise of a man who lives forever. A clash featuring the woman who carries the women's division and the woman who calls herself the standard. And the Prince vs. the underdog, one of the unlikeliest main events in Takeover history. This is the preview for WWE NXT Takeover 31!
---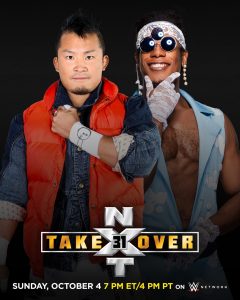 WWE NXT Takeover 31 | Preview
KUSHIDA vs Velveteen Dream
Velveteen Dream returned a few short weeks ago once again looking to get the spotlight he feels he deserves. But even with title opportunities taken, Dream still saw it necessary to destroy those in his path to greatness. Until he attempted to stop time with KUSHIDA. A man built on honor, the import legend has maintained a high level of excellence throughout his NXT tenure. That is until he went face to face with Velveteen Dream.
But on Sunday, no more run-ins, attacks in the back, or no decisions. At Takeover 31 it's KUSHIDA vs. Velveteen Dream. While again, Dream is back on a Takeover PPV, it's expected that this may be a foregone conclusion for him to take this match as another win. But in the meantime, KUSHIDA has grown to another level of aggression. One that has won him multiple titles in his career. A betting man would see this as a launchpad for the decorated Jr. Heavyweight to start seeking NXT title opportunities.
Prediction: A Hoverboard Lock seals a win for KUSHIDA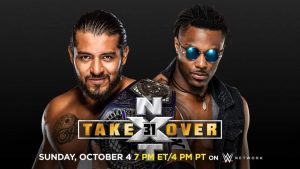 NXT Cruiserweight Championship
Santos Escobar (c) vs Isaiah 'Swerve' Scott
Since unmasking and revealing his true nature to the world, Santos Escobar has run NXT like his own personal empire. Between the savage attacks on Breezango with the rest of Legado De Fantasma to the mauling of Drake Maverick, the Kingpin of the Cruiserweights has been nothing short of dominant in the ring.
Until he ran into Swerve. And while Isaiah Scott has been a mainstay in NXT for a little less than two years, he's made headway as just one of NXT's, but 205 Live's top superstars. And when it came down to the NXT Cruiserweight Championship Tournament, Scott was the one who gained the victory over the champion.
On Sunday, conversations and politics are put to the side. Takeover 31 will see the NXT Cruiserweight Championship for the first time since the title's inception as Santos Escobar faces Isaiah Scott. It's expected this is going to be a high profile test for Scott in his first crack at title aspirations. And Escobar's first major threat to his reign since winning the title. Expect an excellent array of back and forth between these two. They have shown on multiple occasions that they have a story to tell with their ring work and chemistry. It's academic that we will definitely see some inference from Joaquin Wilde and Raul Mendoza, but we should also expect some retaliation and assistance from Breezango for Scott.
This is a close call as Escobar could still have that possibly loaded mask nearby to use. And Scott could pull out his House Call maneuver out of nowhere. In my opinion, let's pull the trigger and make the division interesting again.
Prediction: Our first title change of the nights sees Swerve become the new NXT Cruiserweight Champion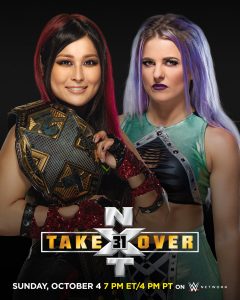 NXT Women's Championship
Io Shirai (c) vs Candice LeRae
It's been an interesting path taken by the former favorite Candice LeRae to become NXT's Poison Pixie. Broken friendship and shattered family, literally after shattering her former sister-like-friend Tegan Nox's ACL on NXT two weeks ago. LeRae has considered herself a standard-bearer and women's locker room leader.
But in hindsight, that title belongs to the champion. A road in lamest turns taken by Io Shirai on her way to becoming a titleholder. Between multiple title chances, opportunities for #1 contendership, and more, it was a historic Takeover: In Your House moment. A win versus bonafide legend Charlotte Flair and former bar setter Rhea Ripley that has built the reign of the Genius of the Sky.
On Sunday, both women want to lay claim to the head of the NXT table as Io Shirai faces Candice LeRae for the NXT Women's Championship. For Candice, the win is needed on several fronts. One, she needs this to solidify her message she's been spewing as being the Queen of the brand. But two, this may be her last opportunity for a while. Like Io, LeRae has had multiple chances and both women have gone through a metamorphosis since their last title shot. For this match though, Io seems to be a woman on another level and this match will not change the crown.
Prediction: Both women wrestle in a match of the year candidate with Io Shirai getting the win.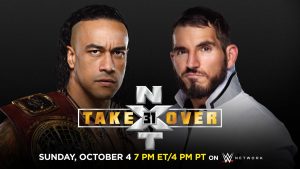 NXT North American Championship
Damian Priest (c) vs Johnny Gargano
Damian Priest has gone from scratching the surface of greatness to becoming one of the fastest rising stars on the brand, a story similar to his opponent.
You name it, Johnny Gargano has done it. Tag team champion, North American champion, NXT champion. Multiple Match of the Year winner and a plethora of NXT firsts. But this time, he has a chance to do another first. The first two-time North American.
On Sunday, Johnny Gargano faces Damián Priest for the NXT North American Championship. While Priest is early in his championship reign going into Takeover, this match will set the bar on what kind of champion he wants to be. For Gargano, like his wife, this match is a make or break on making his message as a locker room leader legitimate. Gargano is the safe bet, but Priest is maybe tapping into another level. This will be the launchpad.
Prediction: Multiple false finishes will lead to a Reckoning for Gargano as Priest retains.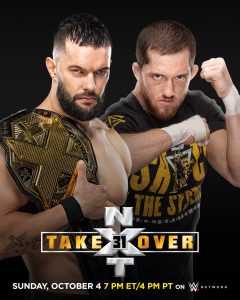 WWE NXT Takeover 31 | Preview
NXT Championship
Finn Balor (c) vs Kyle O'Reilly
Finn Balor has said time and time again, NXT is his brand to control. And while the path to the title came with many victims on it's way, including beating the man who surpassed his longest title reign record in Adam Cole, Balor has backed up his claim that all eyes are on him as the crown holder of the black and gold brand.
But they say the unlikeliest challenger can be the biggest one. Because even in NXT, it only takes one shot. Kyle O'Reilly is a decorated NXT Tag Team Champion. A top tier competitor and resident title-guitar headliner. But he is also an accomplished striker and submission tactician. And two weeks ago on NXT, he became the #1 Contender for the NXT Championship.
At Takeover 31, Kyle O'Reilly gets his first major NXT singles title shot against Finn Balor. Outside of NXT, these two have battled with and against each other for the majority of their careers. But in NXT, they are two opposites who face one another for the first time ever one-on-one. Balor has had a Hall of Fame career on multiple levels. O'Reilly has been a tag specialist for his entire NXT career. The feel-good story of the underdog triumphing as the man of the brand may be one for the ages. But this is a Balor we've never seen before. This match may be competitive but a forgone conclusion.
Prediction: It will be hard-earned and a potential five-star match, Balor holds on to the NXT Championship.
While this NXT Takeover may have been one of the most unexpected, Takeover 31 may also be one of the most underrated wrestling shows in 2020. Tune in this Sunday, October 4th, live on the WWE Network for NXT Takeover 31!
****
Be sure to stay tuned to the Pro Wrestling Post for this and additional stories from the wrestling world. Readers can rely on Pro Wrestling Post to be their daily source for all things past and present inside the squared circle from around the globe. As a result, readers can expect daily news, history, and so much more. Please visit WWE NXT's official website to access their content here.