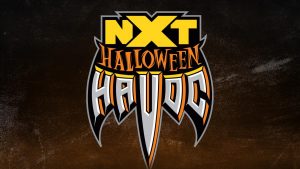 The ghouls and goblins, the terrors of the night… all have landed in the Capitol Wrestling Center for what is sure to be haunted and hallowed all through the night. Ladies and gentlemen, WWE presents to you a Takeover-level event… WWE NXT Halloween Havoc. An event 20 years since the last, NXT will bring us two championship level main events and two huge brawls that needed more than just any edition of NXT to solve! It's two titans of women delivering on unfinished business, it's a showdown of epic Halloween proportions in a Haunted House Of Terror match, and the NXT North American and NXT Women's Championships on the line as our host will add her own wrinkle to Wednesday's unbelievable show. This is Coming Up NXT preview for October 28, Halloween Havoc!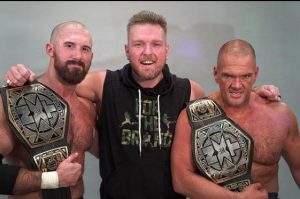 WWE NXT Halloween Havoc
The McAfee Effect
But before we preview the card, we hope to hear more from the new, most hated trio, on the black and gold brand: Pat McAfee and the new NXT Tag Team Champions, Oney Lorcan and Danny Burch. McAfee has been one of the biggest rivals of the Undisputed Era in their existence, but did he stoop so low to attack Bobby Fish, Kyle O'Reilly, and Roderick Strong just for spite and to help the BritAm Brawlers? Did he orchestrate the attack on Adam Cole from Ridge Holland at NXT Takeover 31? A lot of questions, and very little answers to this situation, so we can only hope we can get.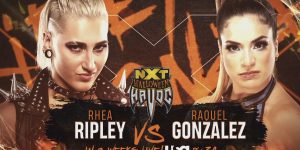 WWE NXT Halloween Havoc
Rhea Ripley vs Raquel Gonzales
The multiple clashes between the La Diabla and the Nightmare have all come down to this. Between Rhea's quest to regain the NXT Women's Championship and Raquel's journey to becoming one of the most dominant women in NXT, this match was destined to happen. Paths have crossed on more than one occasion that has now led to a breaking point and Halloween Havoc is the show to settle this.
Ripley has been up and down since her loss of the Women's Championship at this year's Wrestlemania. But when she has had her down moments, it has been due to interference and actions of Dakota Kai and her opponent Raquel Gonzales. Expect a lot of heavy-hitting and high impact between these two who have made it clear: NXT is only big enough for one. While the self-proclaimed Big Mami Cool has a boatload of potential and has a long career ahead of her, Ripley is too seasoned to be taking a loss at this moment in her career… unless this is her last match in NXT…
Prediction: The final Riptide is a nail in the coffin of this story for Rhea Ripley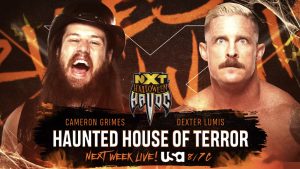 Haunted House of Terror Match
Cameron Grimes vs Dexter Lumis
There's confidence and then there's just plain stupidity. That's overall how we can describe Cameron Grime's actions over the past month when it comes to the affairs of Dexter Lumis. Lumis, who recently returned to action after an ankle injury slowed down his trajectory to the top of the NXT food chain has run into a pest over the past few weeks. Grimes, a pest for the entire NXT roster, has made it clear that he will take out anyone in his path to greatness as the greatest superstar on the brand. But he may have bitten off more than he can chew with this Haunted House of Terror Match.
While it may be presumptuous to assume this will be added to the long line of creative cinematic matches that NXT has delivered on, it should an entertaining match nonetheless. Expect some run-ins from skeletons, a little haunted mirrors interference, and possibly a surprise return of clowns in this sure to be the talk of the wrestling world after it's all said and done. Grimes is entertaining with his reactions, so expect plenty of meme-worthy moments. Either way, there's a sense of creepiness that works in the Tortured Artist favor.
Prediction: Lumis gets a high-level amount of payback with a win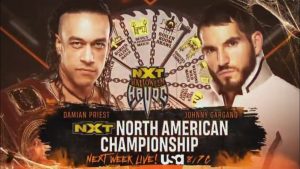 WWE NXT Halloween Havoc
NXT North American Championship
Damian Priest (c) vs Johnny Gargano
Running it back from NXT Takeover 31, we once again will see Gargano vs. Priest for the North American Championship. While most would love to see Damian Priest face a new challenger, the intrigue of how the Archer of Infamy and NXT's Wednesday knight makes this match worth seeing again. The attack on Priest last week sets up a much-needed receipt coming for Johnny Wrestling in what is sure to be a great back and forth match.
While Shotzi Blackheart's Spin The Wheel Make A Deal will terrify the former champion, this match should put Damian Priest on another level similar to his clash with now NXT Champion Finn Balor. You should expect a lot of hijinx from Gargano, which has become added staple to his matches but it should be even a bit better than their Takeover 31 matchup. Add in the predicted stipulation, and you might as well cue the coronation now for the man who hates wheels.
Wheel Prediction: Casket Match or Weapons Wild Match
Match Prediction: Johnny Gargano becomes the new NXT Women's Champion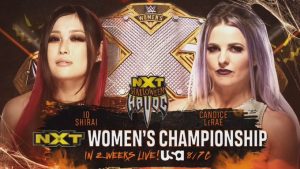 WWE NXT Halloween Havoc
NXT Women's Championship Match
Io Shirai (c) vs Candice LeRae
Io Shirai has literally put the deepest women's division in professional wrestling on her back with her reign in NXT. But it's been the proverbial thorn in the side of the locker room known as Candice LeRae that has made it difficult for any of the women in the division to prosper. From taking out Tegan Nox a few weeks back to her self-obsessed videos from the Gargano residence, LeRae has literally lie, cheat and steal her way back in contention for the title. At Halloween Havoc, two of the strongest mental forces in NXT clash for the NXT Women's Championship.
Even with the added caveat of Shotzi Blackheart's dreaded Spin The Wheel Make A Deal looming, this is going to be a highly competitive matchup. Io has not missed a step since In Your House, and Candice LeRae has embraced her Poison Pixie role in her promos and ring work. Expect this to subsequently steal the show and put a hungry women's locker room on notice. In the end, there has been a tease of Indi Hartwell being groomed as LeRae's new heavy so I expect to see her somewhere involved which ultimately leads to a shock the world moment to close the show.
Wheel Prediction: Trick or Street Fight
Match Prediction: Candice LeRae becomes the new NXT Women's Champion
Halloween may be days away, but the superstars of NXT will provide many treats to talk about for days to come after tomorrow's event! This has been another edition of Coming Up NXT for 10/28/20. Tune in Wednesday for the All Hallow's Eve extravaganza known as Halloween Havoc only on the USA Network!