Hello, everyone. Here is my last of a three-part blog series about my relationship with professional wrestling prior to my referee career. This final piece is about my initial training and my start of reffing on the independent wrestling scene. This is the journey into the wrestling school.

*******
At the end of my last retrospective post, Mike approached me about attending wrestling school with him. He began training early in 2005 at a school called the Buffalo Pro Wrestling Gym (BPWG) located in Buffalo, N.Y. Jake joined him later that year as part of a small class of students. 
I was interested and eager to train. We attended a Ballpark Brawl event at Sahlen Field the prior year, which opened the door to independent wrestling to me. After this, we started attending indie wrestling shows in Western New York after that. We went to our first Empire State Wrestling show at the St. Johnsburg Fire Hall in North Tonawanda, N.Y. in January 2005. In the summer, we attended our first Old School Pro Wrestling (OSPW) show at an American Legion Post in Williamsville, N.Y. So when he asked me to train, I was already familiar with Western New York indie wrestling and felt it was something I could be a part of in a capacity more than just a fan.
However, the timing at the time was not right. When he asked me in November 2005, my schedule was stacked with attending college, working my job and writing for my college newspaper. I told him I was in but not until the upcoming summer.
Next Era Wrestling
We continued going to shows in the area, including driving out to Rochester, N.Y. for a Next Era Wrestling show at the German House. I kept in shape by regularly working out at my college's fitness center, playing regular games of midnight basketball, and going on late-night runs. I knew my opportunity was coming soon. After my Spring 2006 semester, Mike asked me again if I still wanted to train. I reassured him that I was in. 
So the first week of June 2006, we went to the Buffalo Pro Wrestling Gym's trainer's house. His name was Mark "Killer" Kumpf. He was a former student of Al Snow's Bodyslammers school in Lima, Ohio, and traveled around the indie wrestling scenes in Ohio, New York, Pennsylvania, and Ontario. I met him at a previous OSPW event in which he sat next to Mike and I and got into a staged confrontation. Mike previously told him I was interested in being a wrestling manager, but I told him I changed my mind and wanted to wrestle now. He suggested I start as a referee as it would be easier for me to get bookings in that role, so I went with that.
After that, we drove to the school. BPWG was located in an old industrial complex that took some navigating within the building to find. The school setup was as basic as it could be: a wrestling ring setup in a large room with crash pads around the outside and a small collection of wrestling memorabilia and a small stereo on a chair. That was fine. The most important part was there was an actual wrestling ring that I could get inside and I was in total awe at that moment.
Wrestling School
I don't ever need to do backyard wrestling again
After being taught how to enter the ring, I got in between the ropes and entered and experienced a brief moment of euphoria. I thought to myself: "I don't ever need to do backyard wrestling again! This is the real thing!" Mike and Mark went over some basics that day and I observed while in the ring. It was not anything major but I was more convinced at the end that I wanted to train. After that, we parted for the day with plans to meet at Mark's house again tomorrow for a tape study session. 
The next day we watched hours of wrestling with Mark. He explained how things worked in the ring and taught us the wrestling psychology involved with the matches. I learned more about wrestling that day than at any other point in my life up to then. He then took us to the gym he worked out at to check my physical conditioning – from sit-ups to bench press, nothing too extreme just to gauge that I was physically fit to train. 
We left the gym and met back at our cars, which is where Mark told me he would train me, how much gym dues were, how often we planned to train and what gear was required (shoes, knee, and elbow pads). I was pumped! I was officially set to pursue my personal dream.
Wrestling School Training in June
We trained every weekend in June at the school. We began with in-ring essentials such as front and back bumps, running the ropes, walking the ring, chain wrestling, ring presence, and basic shoot moves (for self-protection). I always felt excited driving to school each day and eager to learn.
The amount of students dwindled down to Mike and I as the regulars each weekend, Jake came sporadically, and another student who trained here-and-there named Wayne. On Mike and I's dues alone, the school was unable to sustain rent payments in its building, so at the end of the month, we needed to move the ring out and into Mark's backyard.
The actual moving of the ring was hell. The ring was an older generation than the High Spots rings that are popular on the indie scene. There were two extremely heavy steel bars that supported the ring (no other ring I ever saw was built like this) on top of all the usual parts commonly found on a ring. I believe this and the only padding being a piece of carpeting foam contributed to it being the stiffest ring I ever worked in.
The school was also located on the third floor, so we needed to haul everything into a grain elevator before loading it into the truck. Mike and I moved the entire ring by ourselves for the most part while Mark supervised. I left work at 6:00 pm that day and came directly to the school to assist. It was not until 1:00 am that we finished unloading it in Mark's garage.
Wrestling School
Setting Up The Ring
The first weekend in July, we spent most of the time setting up the ring in Mark's backyard. It was a tedious task, but I found it educational how the ring was set up and how each part worked. We trained in Mark's yard for the rest of the summer and did our best to keep the ring as dry as possible by putting tarps down on the mat after each practice. It did not help much. The foam carpet mat underneath the canvas still got soaked and shrunk, which led to the outer areas of the rings being just boards underneath the canvas. It was less than ideal, but Mike and I were determined to train and made the best of the situation.
"If you can bump in this ring, you can bump in any ring,"
Mark said.
Mike advanced well with his training. By the end of August, he was ready for his first match and had one laid out between him and Mark. This also worked for me as I refereed their practice matches and thus got my reps in to the point where I was ready to ref on events.
However, at this time, I started my senior year of college and began working as a sports editor at the school newspaper. On top of classes and working my call center job, there was no time for me to train, so I stopped. Unfortunately, this ended training for Mike, too. It was difficult to justify operating a wrestling school – even out of a backyard – with one trainee.
I was concerned for a time that my journey was over before it started. Yet, Mark kept in contact with Mike and I and took us on the road with him to shows, hoping to get work for us. My first wrestling trip as a student was to Oshawa, Ont., Canada for Great Canadian Wrestling in the Fall of 2006. Mark talked to the promoter, David Wyldstar, about using Mike and I as referees on the show, and he was open to it.
Locker Room Etiquette
One of the lessons we first learned about going to shows as students was on locker room etiquette. We were told to only speak when spoken to and be quiet outside greeting everyone in the locker room and doing the wrestler handshake. Wyldstar approached Mike about being a referee that night but Mike did not bring any referee gear. He did not ask me and I did not feel comfortable speaking up, so I lost out on making my referee debut. We ended up just doing ring crew for the event.
Our next trip was a few months later to Windsor, Ont., Canada, for Sin City Wrestling. There were no referee spots available on this show. However, someone forgot to bring the ring bell, so I was asked to push the drink buzzer behind the bar as a makeshift solution. It was not what I wanted to do but it was a good experience for me to stay involved with the show and see how indie wrestling shows operate. I was promised $10 for my work from one of the co-promoters but ended up with just a slice of pizza – so I was still without my first wrestling payday.
My third attempt to debut was on Canada Day 2007. We went to Port Colborne, Ont., Canada for Pure Wrestling Association – Niagara. One of the promoters promised to give me matches that day. We were one of the first people to arrive and began helping set up the ring until suddenly a piece broke on the frame. A welder was needed and it threw the show into doubt. On top of it, Mark had an allergic reaction and scratched his cornea causing it to bleed so we needed to leave. 
The Debut Was Not Meant To Be That Day
I supposed my debut was just not meant to be that day. That was a shame because this show was filled with several Western New York wrestlers on the card, which was a potential local networking opportunity – I also would have met one of my future best friends Referee Andrew Mollon. Once again, I wondered if my journey ended before it even started.
Two months later, Mark and I drove to Painesville, Ohio for New Era Pro Wrestling (NEPW) – located just outside Cleveland, Ohio (I discovered years later that NEPW was once featured in an edition of Total Extreme Warfare, but I digress). After my prior experiences, I was not expecting anything and nothing was promised to me. We arrived and greeted everyone. Then Referee Nate Pierce walked up to me and asked me if I was refereeing that night. I did not hear anything definitive at this point so I said no. Then Mark and the promoter Eddie Edwards (not the Impact Wrestling star) told me I was on for the night and Pierce threw a ref shirt at me – it was finally happening!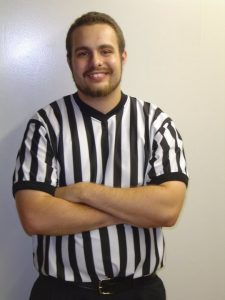 I was so nervous in anticipation of my first match. My anxiety was heightened and then Edwards asked me to take the cruiserweight title out to ringside during the opener – it was forgotten in the back. That was probably the best thing that could have happened to me. Walking down the aisle to ringside helped calm my nerves a ton and also added to my confidence.
Wrestling School
The First Match
My first match was between Nemesis and "Jiggy" Jeff Jevic. After the finish, "Notorious" Shane Taylor hit the ring and cleaned house. All I could think was "Wow, I am really doing this!" I then needed to be a part of a pull-a-part between Mark and Jason Bane (a popular Cleveland-area big man). I'd attempted to push Bane to the back when he belted out to Mark "I'M GOING TO KILL YOU M***** F*****!"" I nearly soiled my pants – this was definitely my "welcome to wrestling" moment.
My last spot for the night was refereeing on the outside for a women's battle royale won by Sassy Stephanie. I was alongside Pierce, another referee and special guest "The Deviant" Michael Hutter (the future EC3) who was recovering from a knee surgery. 
Mark said I did a good job for my first show and, maybe more importantly, so did Edwards. Going forward, Edwards wanted to use me and Pierce as his refs for all his shows. It was an elated feeling. I finally made my debut and I performed well enough that a promoter wanted to keep using me. Mark then gave me my first payday, which I believe was just him splitting his own payday with myself.
*******
So that is how I started my journey into the wrestling business. There were ups and downs on my way into breaking in, but ultimately I made it. I will always be grateful for the help I received and the opportunities that were given to me. Although I might change some things here-and-there, I hold no regrets about entering indie wrestling. I consider it as one of the best decisions of my life and am happy to share my times with you in this blog.
This blog will wrap up my early days of pro wrestling for me – but I do have more ideas on future blogs as I continue to wait until I restart my referee career, so stay tuned!
As always, thanks for reading!