Pro wrestling is currently at a standstill right now between the ongoing Coronavirus pandemic and the risk it brings to the masses across the world. But while WWE continues to hold empty arena shows out of the Performance Center, it's black and gold in NXT continues to keep up with it's television counterparts in RAW and Smackdown with it's matches. Today, the pandemic once again causes an abrupt change to the Wednesday night show plans. William Regal has announced an Interim NXT Cruiserweight Championship Tournament.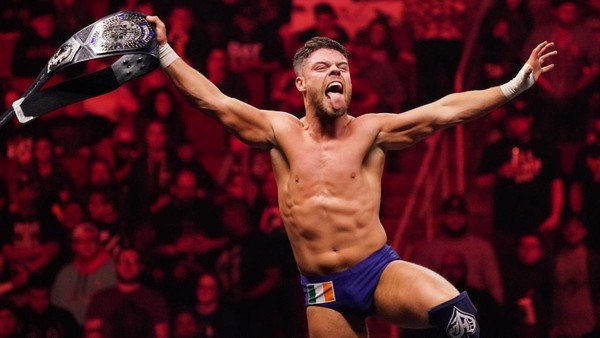 Today, exclusively on WWE's The Bump, NXT General Manager William Regal announced that due to the traveling issues of Jordan Devlin leaving the UK, there will be an NXT Cruiserweight Championship tournament to crown an interim champion. This tournament will be held in the coming weeks.
Visibly upset, former champion Devlin did not take long to comment on William Regal, and WWE's, decision to strip of the belt via Twitter.
First things first, absolutely shocking and disrespectful decision by @WWE management.

Secondly, you can crown a fraud champion and give him a little replica of my title, but everyone around the world knows who the REAL NXT Cruiserweight Champion still is. https://t.co/rIA7AJZwod

— Jordan Devlin (@Jordan_Devlin1) April 8, 2020
Regardless of this decision, Devlin ends his reign at 72 days placing him 7th all-time as champion. Regal also brought up a decision being made soon with the NXT Tag Team Championships as well. This is due to Pete Dunne also stuck overseas due to the traveling ban.
Interim NXT Cruiserweight Championship Announced by William Regal
Who will be apart of the tournament? More details will be coming soon and Pro Wrestling Post will be the first to report it to you.
---
Caul's Call
As much as I've enjoyed the wrestling action WWE and AEW has provided on network television during this entire pandemic, this is still the livelihood of many wrestlers that are affected. For Devlin, it's an unfortunate hit to his trajectory. He was becoming one of the more entertaining cruiserweight title holders since it's inception.
If we are going based off the recent NXT vs. 205 Live Originals feud that has been bubbling for weeks on both brands. We are for sure to see one the current superstars featured become the new champion. 
While the tournament entries have not bee announced yet, my early favorites have to be Jack Gallagher. Gallagher returned with some much-needed fuel to his character. Or Isaiah 'Swerve' Scott, who continues to be solid consistently when he's on NXT on USA or 205 Live. Only time will tell.