The Wrestle Kingdom card is full of title matches galore and if you've read my other reviews of the Gauntlet match and the IWGP Jr Heavyweight title match, you'll know that I'm so excited I may just scream when it starts (even though it's 7 am UK time). But, with all these high caliber title matches, I feel like one match that is getting overlooked is the special match between Jay White vs Kazuchika Okada which is probably the match I've been looking forward to the most.
Even though there's no title on the line, it's still got really high stakes. I'm going to look at it a bit differently than my other previews in some ways. This is because, as well as looking at both White and Okada as competitors and my predictions, I'm going to look into the lead up to this match. Here we are dating all the way back to January 15th. We begin with the results of this match and where it could lead too.
Jay White vs Kazuchika Okada
History
Like I said before, the seeds of this match really date back to the press conference on January 5th. This was when Jay White officially joined Okada in Chaos after turning down Kenny Omega's offer to join the Bullet Club. Jay promised Okada that there would be a day where their paths would cross in some way. After Okada laughed it off, Jay explained in an interview that it was his aim to bring the Chaos leader down.
After a seemingly smooth few months, Jay was working cohesively with the faction in tag matches. Thus emphasizing the dominance of Chaos. This was when the G1 came and Jay beat Okada in a controversial way. This was where the issues started. There seemed to be issued with him and the rest of Chaos including Sho, Yoh, and Yoshi Hashi and it almost seemed as if Jay was on his way to taking over the faction to get Chaos back to its former glory. However, at King of Pro Wrestling, White cemented his betrayal of Okada by attacking both Okada and Tanahashi before revealing that the Rainmaker's manager and best friend Gedo had also turned on him.
This went along with the fact that the two were now members of the BC OGs #TeamSwitchblade! Since then, the two have been at this war in tag matches (where Okada's and Tanahashi's hatred of Jay led to them teaming up) and it seems like the match at Wrestle Kingdom will be the culmination of this feud. Phew, with the context out of the way, let's get on to the actual match and have a look at both competitors.
Jay White
Jay White has pretty much had the best breakout year of any wrestler after returning from excursion in November 2017 and challenging Tanahashi for the IWGP Intercontinental title. He's then been from strength to strength by beating Kenny Omega for the US title, beating both Okada and Tanahashi in the G1 in August, then turning on Chaos ad then joining the BC OGs as their new leader. Okay, some of his wins haven't been the most legit and there's been some controversies, low blows and chairs involved but you can't deny that it's been the year of the Switchblade. White wants to prove that he's the best in the company so, to do that and cement his place at the top of the card, he's got to beat the man who was at the top of the company for so long.
Okada
However, even though Okada's not had the strongest year from losing his IWGP Heavyweight title belt to going through his losing streak (which included red hair and a lot of balloons), he's got a right chip on his shoulder and really hates Jay White for everything he's done and what he stands for. So, I don't think it's fair to say that Jay's got a clear advantage because you've got to remember that Okada was the Heavyweight champ for a long ass time and is still considered one of the best in the world. The Rainmaker has something to prove and sometimes pride is the best form of encouragement because he wants to get back to the top of the card.
Jay White vs Kazuchika Okada
Predictions
I mean even though both guys are two of the best wrestlers in the world, maybe I'm a bit bias, but I really think that Jay White is going to win this match. He's on such a hot streak at the moment that I don't see him losing, especially as people have said they haven't seen someone rise from the ground this quickly since Okada himself. Jay's also mentioned that he has the advantage in many ways like the way he doesn't care what the fans think of him as well as the pressure on Okada to win because he's been on the big stage before and people expect him to win.
I see Jay winning with the magnificent Blade Runner and asserting his dominance in NJPW and then challenging for one of the big titles like the Heavyweight title or maybe starting with the secondary titles like the Intercontinental belt or having his rematch for the US title. As for Okada, whether he wins or loses, the next year will really be testing because he's going into the new year without a title for the first time in ages – I mean what does the future hold for the Rainmaker.
What happens if he win will he challenge for the Heavyweight Championship?
If he does win, is he going to challenge for the Heavyweight title again? Will it be against Tanahashi or Omega? Whatever happens, it's going to be an amazing match and both White and Okada are set for an amazing 2019 because they've been two of my favorites this year!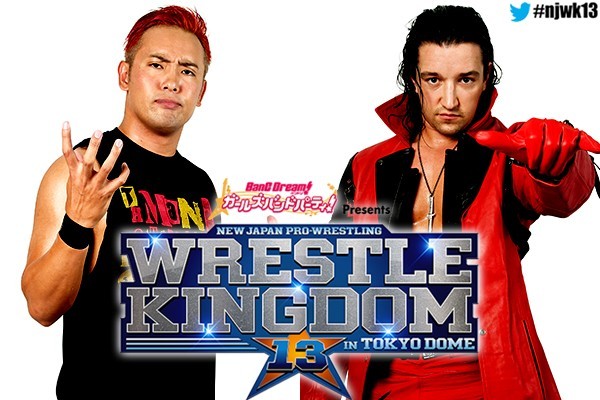 I hope you've enjoyed my look at the Wrestle Kingdom 13 special match between Switchblade Jay White and the Rainmaker Kazuchika Okada! Make sure you also have a look across the site because we've got articles looking at all of the other matches so give them a read if you've got a chance! I've also written a longer post on my blog Wrestling Chatter on the entire Wrestle Kingdom card so give that a read if you want a brief look at all the matches (here)