As Wrestle Kingdom 13 is upon us one match is slated to turn heads as it usually does. When current IWGP Heavyweight champion Kenny Omega faces former seven-time IWGP Heavyweight champion for the championship it is sure to be a match that will garner the attention of everyone watching. This matchup is as much about tradition as it is about the championship itself. For fans familiar with Tanahashi they are fully aware that he is as much a part of the fabric of New Japan Pro Wrestling as anyone else that has had a significant and longstanding tenure with the company. Along with Hiroshi Tanahashi, Kazuchika Okada is considered one of the more recent pillars of NJPW's cultural fabric.
As with recent traditions, the decision to have this match was a result of the G1 Climax 28 tournament. In the final Hiroshi Tanahashi beat former three-time IWGP Junior Heavyweight champion Kota Ibushi in the finals. Since 2012 the decision has been made for the winner of this tournament to face the then IWGP Heavyweight champion at Wrestle Kingdom. It is an event that surely will prove to have the eyes of the entire world watching. What has been dubbed as the 'IWGP Heavyweight Championship challenge rights certificate' is what, is won.
IWGP Championship Kenny Omega vs Hiroshi Tanahashi
While unlike in other promotions it is not used at any point. The rights certificate is to be used a specific place and time and that being Wrestle Kingdom. While the rights certificate was earned by Tanahashimatchup it was nearly lost before this event was to take place. During NJPW's Destruction in Kobe and King of Pro-Wrestling events, Tanahashi had to defend his right. In the process he defeated Kazuchika Okada and Jay White on consecutive nights.
The same could be said about IWGP Heavyweight champion Kenny Omega defending his championship. He faced Tomohiro Ishii. Omega then faced Elite and Golden Elite teammates Kota Ibushi and Cody. One was at the Destruction in Hiroshima and the other was King of Pro-Wrestling. With both Omega and Tanahashi having to work to ensure their matchup would still take place it was made official. As all involved continue to work to prove their worth regardless of the outcome.
While respect is something both men have easily garnered it is more a discussion of 'is respect enough'? Omega had fought countless times against Okada. In facing Tanahashi there is no question that he is a focal point before the match takes place. It is likely that afterwards as well. He is a figurehead in New Japan Pro Wrestling. To assess what the result will be as important as well. Is a win for the championship here just that simple? Both been dubbed Tanahashi are men of great value to the promotion and could this be a case of one feeling his time at the top is slipping away.
Fan Favorites
When two fan favorites face each other one undoubtedly may be seen as something that isn't considered the face of the two. In comparison, fans were witness to a potentially wonderful match between Daniel Bryan and AJ Styles in WWE. There was a moment when the direction of one character completely changed and one face became the heel. Could this be the moment when undoubtedly a face becomes a heel?
To see Kenny Omega in the role of the heel isn't unlikely as New Japan Pro Wrestling fans have seen him turn on Bullet Club members AJ Styles and Adam Cole in the past. In having him do whatever is necessary to win the match isn't much of a stretch for the cleaner. However, what if in some strange or potentially bizarre series of events we don't have Omega turn his back on the New Japan faithful, but arguably the most respected face in the promotion's history.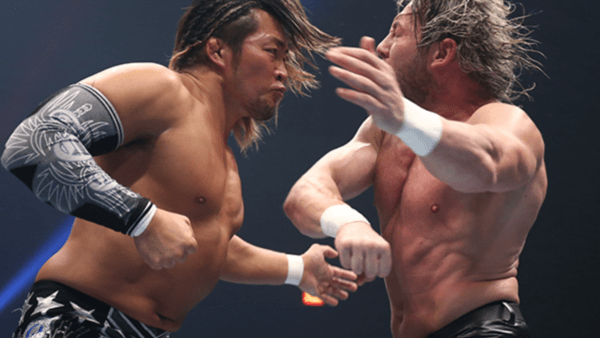 In having Hiroshi Tanahashi turn heel and do what he needed to do in order to win would send shockwaves. His betrayal would be tied to him feeling as though he has been taken for granted. That everything he has done for New Japan Pro Wrestling wasn't valued as it should have been. That betrayal would be even more heightened if it was met with the allegiance of those in the Bullet Club Firing Squad. It turns the knife even deeper as it was Tama Tonga and the remaining Firing Squad faction that excommunicated Kenny Omega among others a few months ago.