The backstory between these two men is easily tied to what initially began as simple enough. It was during their encounter towards the end of October 2018. It was during a tag team match at Road to Power Struggle. This was when the foundation began to be laid for this matchup. The team known as Taguchi Japan consisting of Ring of Honor's Chris Sabin and KUSHIDA faced off vs Bullet Club member Robbie Eagles and Taiji Ishimori.
These team squared off against one another in a tournament match at the Super Junior Tag League. This match resulted in a Bullet Club win as Ishimori not only won the match for his team but did so pinning the IWGP Junior Heavyweight Champion, KUSHIDA in the process. It was a definite message that was being sent by Ishimori.
What was he trying to say and what was trying to prove in defeating the champion? It would be nearly a week later when the murky waters of Ishimori became a little clearer. During Power Struggle, it would be KUSHIDA that would team with the duo of Togi Makabe and longtime tag team partner Tomoaki Honma affectionately known as Grand Bash Heel. The trio would engage in a matchup against Bullet Club /Firing Squad members of the Gorillas of Destiny (Tama Tonga and Tonga Loa).
KUSHIDA vs Taiji Ishimori at Wrestle Kingdom 13
It was during this time when Tajiri Ishimori accompanied Loa and Tonga to the ring while on crutches. The indication was that he had suffered some injury that went announced. However, as the match went on it was Ishimori that ultimately cost KUSHIDA and Grand Bash Heel the win. He struck KUSHIDA repeatedly with a crutch faking the injury in the process. Ishimori held KUSHIDA's title over the fallen champion.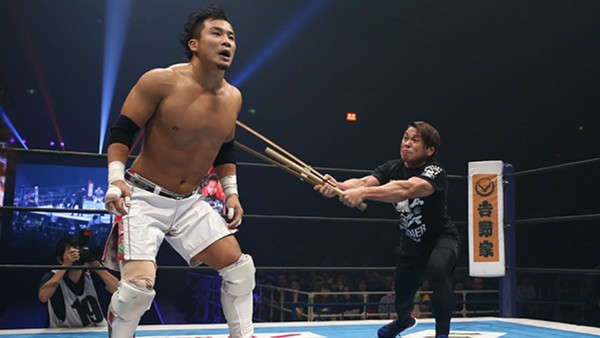 A week later New Japan Pro Wrestling announced that they have booked KUSHIDA and Ishimori for the IWGP Junior Heavyweight championship. It lends itself to some interesting storytelling between the two. For Ishimori and the Bullet Club this could be a singles championship that helps to lead the faction in 2019.
Despite the fact that the recent announcement that Tama Tonga has stated that Jay White is the 'leader' of the group, Ishimori has the opportunity to lead all the Junior heavyweights and thus puts the Firing Squad at the forefront and thus shows his dominance. In comparison going over arguably one of the top talents in New Japan Pro Wrestling in 2018 suggests there has the potential to be a huge shift in the direction with that division if Ishimori does walk away the champion.
Ready To Go
Since this match does take place at the beginning of 2019 it could be exactly what New Japan Pro Wrestling has in mind with Tajii Ishimori becoming the new IWGP Junior Heavyweight champion. With that said, a solid match with KUSHIDA remaining the champion is easily possible as well. The problem here is that there are a number of different scenarios that could play out and each of them doesn't play into KUSHIDA retaining the title.
One factor that isn't talked about as much consists of the potential involvement of KUSHIDA's Taguchi Japan tag team partner Chris Sabin in this matchup and not necessarily for the better. Fans may recall that Sabin's former tag team partner Alex Shelly used to be tag team partners with KUSHIDA. Could jealousy play a part in a potential betrayal on the part of Sabin? It very well could be. Another scenario that could play out is the outside involvement of the remaining members of Bullet Club Firing Squad. Their involvement would unquestionably ensure a championship win by Ishimori. So despite being the champion, KUSHIDA has the cards potentially stacked against him throughout this process.
If one thing is a certainty in this match it will be a hard-hitting and stiff affair. This is between the two men. Fans are likely to see both men come at each other from every angle and strike each other repeatedly without caution. While he may have more experience as a champion, KUSHIDA has less professional experience than Ishimori in comparison. If anything KUSHIDA's career accomplishments may be greater than Ishimori's which certainly tips the scales in his favor.
Career Accomplishments
It is his career accomplishments that suggest that he has competed in a number of high profile matches. This is where championship value is great of consideration. This statistic is significant because KUSHIDA has seen his share of potential obstacles within the ring. He has faced former champions capable of using underhanded tactics. They have that experience behind him could prove to be a huge asset.