We're Gonna Need A Bigger Room Again for PROGRESS Wrestling Chapter 36. On September 25th, 2016. The O2 Academy, Brixton, UK.
We're Gonna Need A Bigger Room Again Chapter 36 of the PROGRESS Prerogative is here. The last time we were able to do this was for Chapter 13 so it has been a fair old while (time codes for the start of matches are at the end of each mail listing). This time around we are looking at PROGRESS's biggest show to date at that time: Chapter 36 from historic Brixton Academy. I've been there just the once (to see Rammstein since you ask) and the building does have a very special feel to it. We're going to see inaugural champions crowned and potentially existing titles change hands as British Strong Style challenge for the tag titles, and Marty Scurll attempts to stave off the challenge of both Tommy End and Mark Haskins. This is a stacked card, so let's get to it.
https://www.youtube.com/watch?v=l-iAhlPte3o
Rampage Brown vs Joe Coffey – Atlas Division Final (13:47)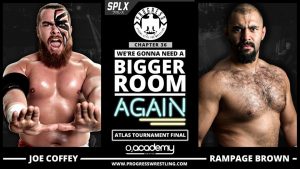 Who will be crowned the first Atlas Champion, Rampage Brown or Joe Coffey? I was quite critical of the tournament in last week's column so it's only fair to redress the balance by saying that this final match is an absolute belter. Rampage is pretty much always great value for money, but Coffey can be a bit hit and miss. The lads start as they mean to continue by running the ropes and smashing into one another with great intensity. Outside the ring, Coffey hits Rampage with a brutal scoop power slam onto the crash mats. Back in the ring Rampage hits a Samoan drop from the second rope for an agonizing near fall.
The Iron Man hits his discus lariat for a two count; Brown hits his piledriver for a two count. This is epic, breathless stuff from both and a wonderful way to kick off the show. Ultimately it all boils down to who can hit the biggest move first and that man is Rampage. He hoists the Scotsman from the top rope and decks him with another piledriver to score the pin and raise the Atlas Title above his head. A great start to the show.
We're Gonna Need A Bigger Room Again
Pollyanna, Laura Di Matteo & Nixon Newell vs Jinny, Alex Windsor & Dahlia Black (36:09)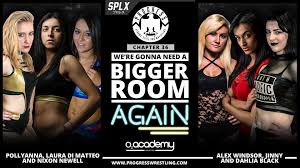 Jim Smallman announces the six-woman tag match as kicking off Natural Progression 4 which… I'm not sure how that works. Unlike the match itself though which works like Gangbusters. What we have here is your classic fast-paced six-person tag that consists of tons of big moves being hit one after another. The only part we didn't like was how sidelined Pollyanna seemed: she only really had one spot where she hit the Pollynator on Jinny. The final sequence is a particular delight as the wrestlers take turns hitting finishers one after another. The last move hit sees Jinny bury Laura Di Matteo with her second rope x-factor – that really looked like it hurt. There's an obvious cut in the show at that point, so I think that that was indeed the case.
We're Gonna Need A Bigger Room Again
London Riots (c) vs British Strong Style – PROGRESS Tag Title Match (1:00:12)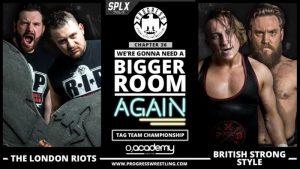 British Strong Style begins their ascent to the top of BritWres as they challenge the London Riots for the PROGRESS tag titles next. Trent Seven enters the match with a black eye, and Rob Lynch enters with his right eye nearly closed due to an in-ring incident. Wonderfully, Trent and Pete Dunne make a point of targeting Lynch's injury from the get-go with vicious rakes and whatnot. After a prolonged stint brawling on the outside of the ring (yes, Seven chops the ring post) things, get started properly as the champs take control of the offense. Credit to Lynch here, despite working with massively impaired vision he works to a his usual high standard.
It's a shame for him that things worked out the way they did; he might have made a credible Atlas champion. There are a couple of nice four-way spots to note: 1. the old sitting on chairs taking turns to punch one another gets an airing 2. all four guys stood in a circle biting the man to the right's fingers. Yum. It looks as though the Riots have retained the belts on two separate occasions after a District Line and then a spear but it's not their night. BSS takes the win following a cricket bat shot to Lynch's eye followed by a Trent Seven piledriver. A very good and heated tag match.
We're Gonna Need A Bigger Room Again
Chuck Mambo vs Paul Robinson (1:27:07)
An impromptu match is up next as Paul Robinson returns to PROGRESS to issue an open challenge. Chuck Mambo answers the call, but I'm sure in hindsight he wishes he had exercised a touch more caution as he gets utterly battered by Robbo. Holy Christ, Robinson is lethal in this match. Particularly visceral is the sequence in which Paul smashes a doubled over Mambo with wild knees to the face and chest. Chuck's nose gets busted during that. We see the debut of the disgusting spot that sees Robbo hock up a big gob of spit onto his prone opponent's chest and rub it in.
Following that, Robinson hits a brutal springboard knee to the back of the head followed by a curb stomp for the pin. This is as close to murder as you will see in a wrestling ring outside of a New Jack match.
We're Gonna Need A Bigger Room Again
Zack Sabre Jr. vs Tommaso Ciampa – 2 Out Of 3 Falls (1:45:00)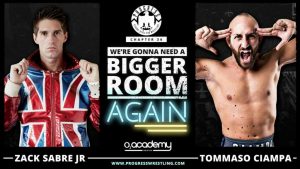 Zack Sabre Jr and Tommaso Ciampa bring their long-running feud to a close in a 2 out of 3 falls match. The first fall begins as a slow burn as ZSJ attempts to catch Psycho Killer's arm as soon as possible to wear it down for the armbar. Ciampa is too wiley to allow Sabre to take control and holds his own with some reversals and smooth chain wrestling. An early highpoint sees Ciampa run to the back of the substantial Brixton Academy in order to run back to the ring and blast Zack with a knee. Great Muta, eat your heart out. Naturally, it doesn't take long for Ciampa to become frustrated and begin to play dirty.
He grabs a handful of tights on a rollup attempt for a very near fall and tries to gain leverage from the ropes several times.
His frustration is compounded when Sabre kicks out of a huge Project Ciampa – ZSJ just will not give in. A sudden series of counters to each other's rollup attempts somehow results in both men's shoulders being counted down for the three. Result: the match is tied at one fall apiece. Understandably there are audible boos from the crowd at this decision. What is it with PROGRESS and bizarre booking for 2 out of 3 falls matches (see last year's Cara Noir – Ilja Dragunov match also).
The final fall is considerably shorter than the first one (nee two), and sees Ciampa bring out the big moves. Pointedly, he hits Zack with a Pedigree for a two count – this is shortly before he goes full time with NXT after all. A Project Ciampa from the second rope sees Sabre only just avoid the three count, but it seemingly takes as much out of Ciampa as it does ZSJ. It doesn't take long for Sabre to gain the upper hand though and he starts to grind down on Ciampa's shoulder and arm. An octopus stretch into a variation on the rings of Saturn are enough to secure the tap out, though Tommaso holds out for a respectable time before doing so. An excellent match only slightly marred by a daft piece of booking for the first fall(s).
We're Gonna Need A Bigger Room Again
FSU, Jack Gallagher & Damon Moser vs The Origin (2:23:30)
The stipulation in the penultimate match says that if The Origin should lose to FSU, Gallagher and Moser they must disband. Hilarious scenes before the match officially starts as fans pelt The Origin with mountains of toilet rolls instead of streamers (those were the days, eh?). The majority of the contest is absolute chaos: there aren't really any tags to speak of; most of the action takes place outside the ring; referee Joel Allen hits El Ligero with a stunner, this match has it all. It also effectively acts as Jack Gallagher's farewell match before heading to WWE full time. As he's the one on the way out he does the honorable thing and eats the pinfall after being hit with a car stereo followed by Helter Skelter by Zack Gibson. A short, sweet, manic encounter before the main event then.
We're Gonna Need A Bigger Room Again
Mark Haskins vs Tommy End vs Marty Scurll (c) – PROGRESS Title Match (2:58:10)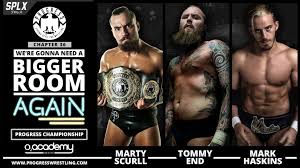 Tommy End makes his entrance for the main event with his white face paint that he reserves for special occasions. Mark Haskins is no-frills sort of dude so has no bells and whistles. Champion Marty Scurll has four random women enter to Singin' In The Rain a la A Clockwork Orange who then dance in the ring suggestively. I don't get it. It really isn't important in the grand scheme of things however as this triple threat match is an absolute belter. The three wrestlers gel so well together and the switching and interplay between them is absolutely first class. The early going sees all three in the ring constantly going back and forth (and forth) switching up who they work with every several moves or so. There are several attempts to finish the match early as everyone goes for their finisher but none quite connect.
The midsection of the match showcases are more traditional versions the triple threat as sequences between two competitors form the main body of the action. It is here that The Villain asserts himself to a much higher degree and establishes a more deliberate pace. Marty's crowd work is something else, and indeed it is something that a lot of other indy guys could learn from. Simple things such as taking a moment to look out into the crowd for disapproval – trying to get good heat during quieter moments in other words. He's an absolute class act as I'm sure you're well aware.
The final third of the match goes into absolute overdrive as each man tries to score a decisive blow.
Tommy End sets a table up at ringside which Haskins eventually crashes through taking him out of action. Scurll goes loopy with his umbrella, smashing the Dutchman and referee Chris Roberts into next week. Joel Allen runs in to count the pin, but when that only nets him a two Scurll take Allen out with the brolly. Scurll hits a Gotch piledriver on End and Paz runs in to count the pin but it's still only good for two.
There's chaos in the ring as Marty batters Paz and several members of the ring crew and looks set to take out Jim Smallman. He's only stopped by the return of Jimmy Havoc, his first appearance for PROGRESS in well over a year. Jimmy drills Scurll with an Acid Rainmaker which provides the opening for Haskins to lock on a sharpshooter for the tap out victory. Your new PROGRESS Champion in Mark Haskins following a superb main event.
And so ends a very good show from PROGRESS, the first of their yearly September spectaculars, and the start of a new era for the company. There are some timing issues throughout, the 2 out of 3 falls match's first two falls occurring simultaneously, and Marty Scurll's bizarre entrance isn't exactly shining moments. All in all, there's a real buzz coming out of this show to carry into Chapter 37 and beyond. You can't really ask for any more than that can you?
That's all for this edition of the Prerogative folks. Take care of yourselves and we'll see you back here next time.