With October around the corner, we're barreling towards Bound For Glory, the biggest event on the IMPACT Wrestling calendar. This year's promises a blowout to top last year's edition, especially with Tony Khan's "Forbidden door" deal in full swing. But before we can get to Bound For Glory, we have one last event. This Saturday night, the stars of IMPACT Wrestling walk the Victory Road 2021. But who will make it all the way to Bound For Glory? We'll find out this Saturday night on IMPACT+.
___________________
Steve Maclin vs. TJP vs. Petey Williams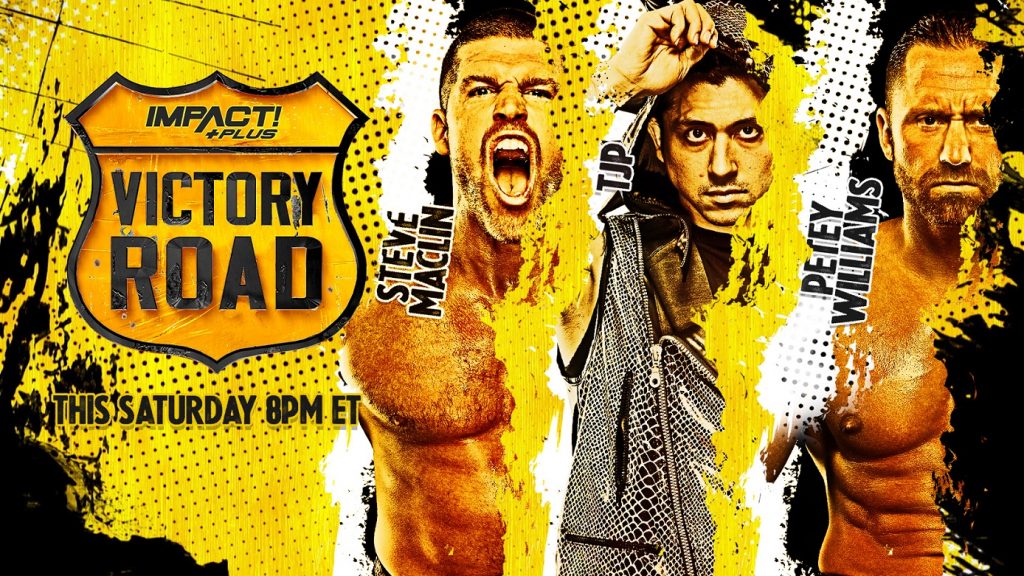 Since he debuted in IMPACT Wrestling, Steve Maclin has gone 10-0 in singles competition. Such a dominant showing so soon after debut demands a spotlight match at Victory Road. Judging by the stipulation and choice of opponents, Steve Maclin is intent on making a splash in the X-Division this Saturday night. If that is his goal, he couldn't have picked better opponents.
Between the both of them, TJP and Petey Williams have a combined 495 days as X-Division Champion over 2 reigns each. Seeing as both men have recently lost to reigning X-Division Champion Josh Alexander, they're both eager to earn another title shot. Putting an end to Steve Maclin's undefeated streak could put them back in title contention. Speaking of the X-Division Championship…
Victory Road 2021
 Chris Sabin vs. Josh Alexander (c) 
X-Division Championship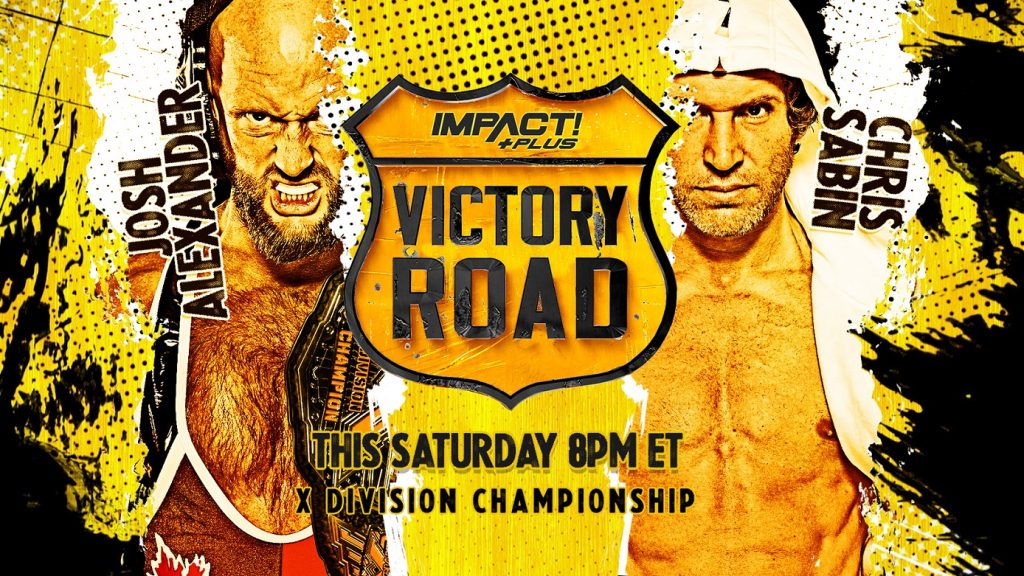 Since winning the title at Rebellion, Josh Alexander has been a shining example of what the X-Division stands for. Throughout his reign, The Walking Weapon has shown himself to be a fighting champion, rising to any and all challengers. One could argue that Josh Alexander wins so much, they had to change the X-Division. Former challengers like TJP, Trey Miguel, and Petey Williams have all stepped away from their X-Division championship ambitions to pursue other goals. In late August, Josh Alexander issued an open challenge for any former X-Division champion.
On September 2nd, Jake Crist answered that challenge. After The Walking Weapon defeated the former oVe member, Chris Sabin came to the ring and issued a challenge of his own. Josh Alexander wants to be the greatest X-Division Champion in IMPACT History. Chris Sabin currently holds the record of 432 days as X-Division Champion over 8 reigns. As Ric Flair said, "To be the man, you gotta beat the man," but will those words ring true for Josh Alexander this Saturday night?
Moose & W. Morrisey vs. Sami Callihan & Eddie Edwards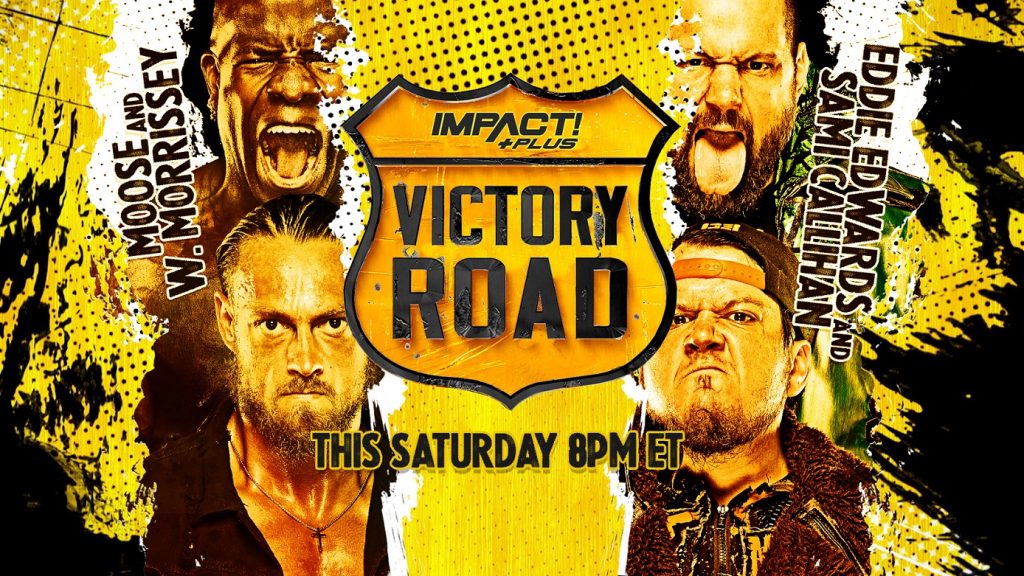 No, your eyes are not deceiving you; longtime rivals Sami Callihan and Eddie Edwards have joined forces. It started when Moose set his sights on Callihan following his shot at then-IMPACT World Champion Kenny Omega. Seeing the brutality Moose inflicted on Callihan, Eddie Edwards made the save against one of his greatest rivals. The following week, Edwards told Callihan that this was a 1-time favor.
Shortly thereafter, Moose and W. Morrissey targeted Eddie's wife, Alisha Edwards. Who would come to the aid of Mrs. Edwards but Sami Callihan? Following this gesture of goodwill, Edwards agreed to help Callihan in his war against Moose and W. Morrissey. Witness this star-studded tag team match on Saturday night.
 Tenille Dashwood (w/Kaleb with a K & Madison Rayne) vs. Taylor Wilde (w/Jordynne Grace & Raechel Ellering)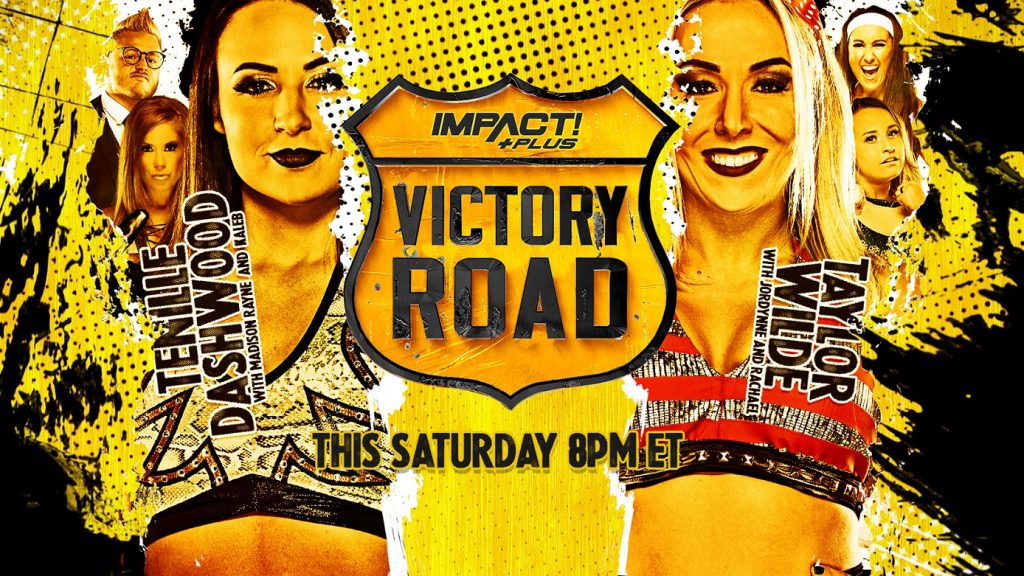 It all started when Tenille Dashwood had her personal assistant, Kaleb, with a K, report Taylor Wilde to border security. As a Canadian, Taylor Wilde could not enter the United States to compete, costing her 1 month of competition. When she returned, Dashwood and Kaleb had forged an alliance with Madison Rayne.
Wilde did her best but couldn't topple the trio known as The Influence. But now Wilde has allied with former Knockouts Tag Team Champions Jordynne Grace and Raechel Ellering. On Saturday night, they'll be evening the odds as they accompany Taylor Wilde to ringside for this epic rematch.
Victory Road 2021
 Chris Bey & Hikuleo vs. FinJuice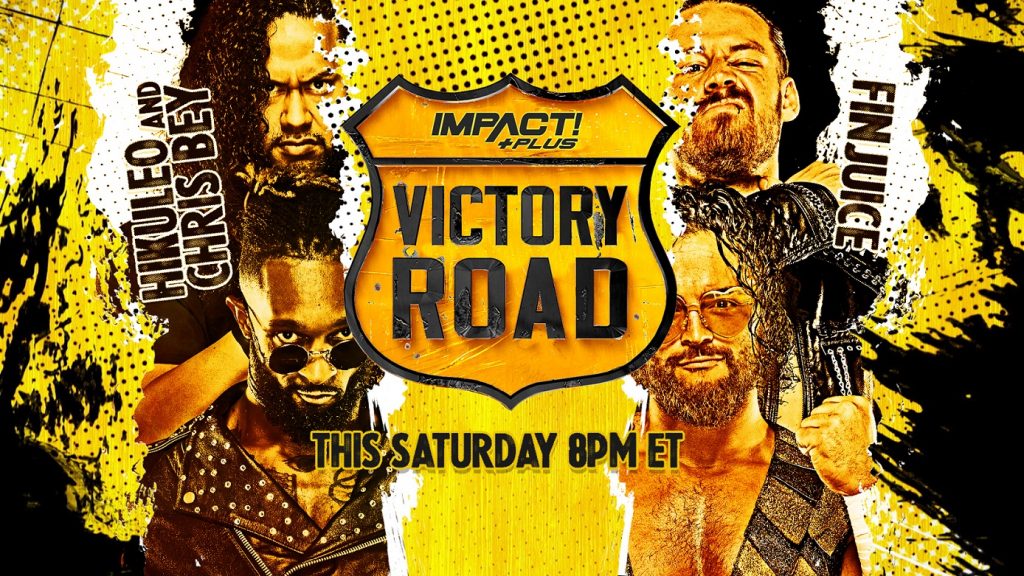 When "Switchblade" Jay White arrived in IMPACT Wrestling, we had no idea what to expect. The leader of Bullet Club wasted no time selecting a representative in IMPACT Wrestling, opting for Chris Bey. Shortly thereafter, White and Bey picked a fight with Bullet Club's NJPW rivals FinJuice. After a tag team match against David Finlay & Juice Robinson ended in a DQ for Bullet Club, Chris Bey embarked on a campaign of singles matches against Finlay and Robinson.
With Jay White tied up in NJPW, he had to send an emissary to help, and for this task, White selected Hikuleo! The younger brother of Tama Tonga and Tanga Loa, not only does Hikuleo have tag team wrestling in his blood but a rivalry with FinJuice to uphold. Can FinJuice hold back the incoming Bullet Club this Saturday night on IMPACT +?
Rohit Raju (w/Mahabali Shera) vs Matt Cardona 
No DQ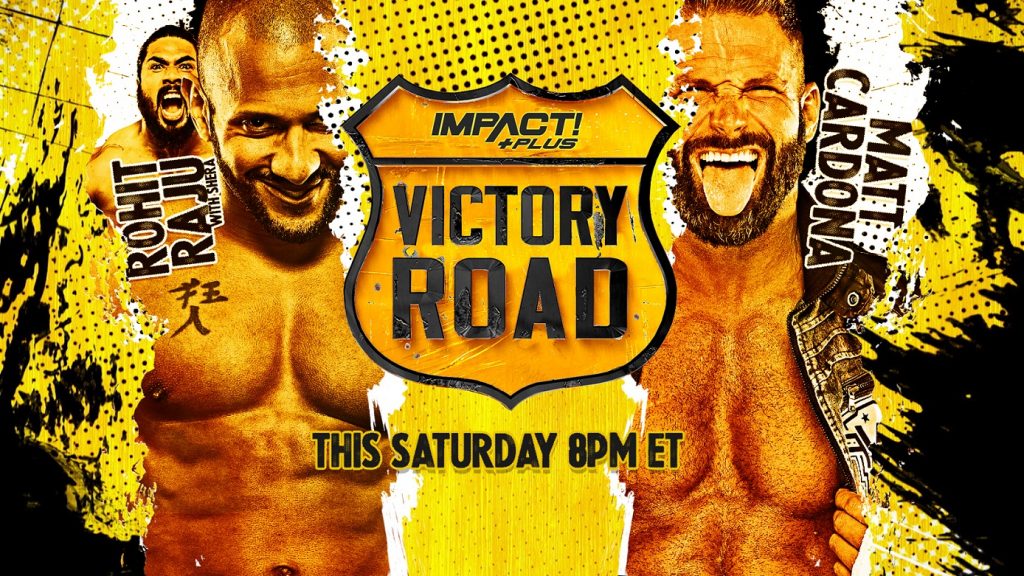 Rohit Raju has been a thorn in Matt Cardona's side for months, but on their last encounter, Raju went too far. After Raju and Mahabali Shera kept trying to ruin Cardona's life, he teamed up with his partner Chelsea Green to take on the Desi Hit Squad. During that match, however, Rohit Raju injured Green with his Tiger Knee. Following the announcement that Chelsea Green would be out of action, Raju sarcastically apologized to Cardona.
The following week, Cardona would assault Rohit Raju in the parking lot, starting a parking lot brawl that Skyway Studios Security struggled to break up. This Saturday, Cardona, and Raju will meet to hash out their differences under a No DQ stipulation. How far will they go to settle their feud once and for all?
Victory Road 2021
 Tasha Steelz & Savannah Evans vs DECAY (Rosemary & Havok) (c)
Knockouts Tag Team Championships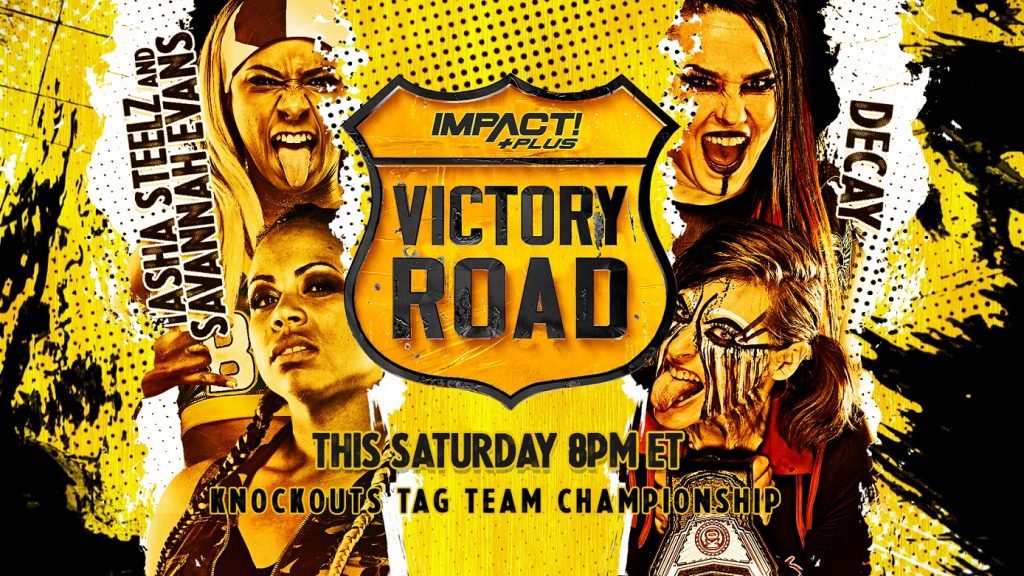 Since Kiera Hogan left IMPACT Wrestling, Tasha Steelz has been looking for a new partner in her Knockouts Tag Team Title ambitions. To that end, she's recruited IMPACT newcomer Savannah Evans. Last week, after Rosemary defeated Steelz in singles action, Savannah Evans got up in DECAY's faces.
This distracted them long enough for Steelz to sneak away with the Knockouts Tag Team Championship belts. While Steelz and Evans aren't champions, they've certainly been happy to walk around with the gold as if they are. They can talk the talk, but they'll have to walk the walk if they want to defeat reigning champions, Rosemary and Havok on Saturday night.
Willie Mack & Rich Swann vs. The Good Brothers (c) 
IMPACT World Tag Team Championships.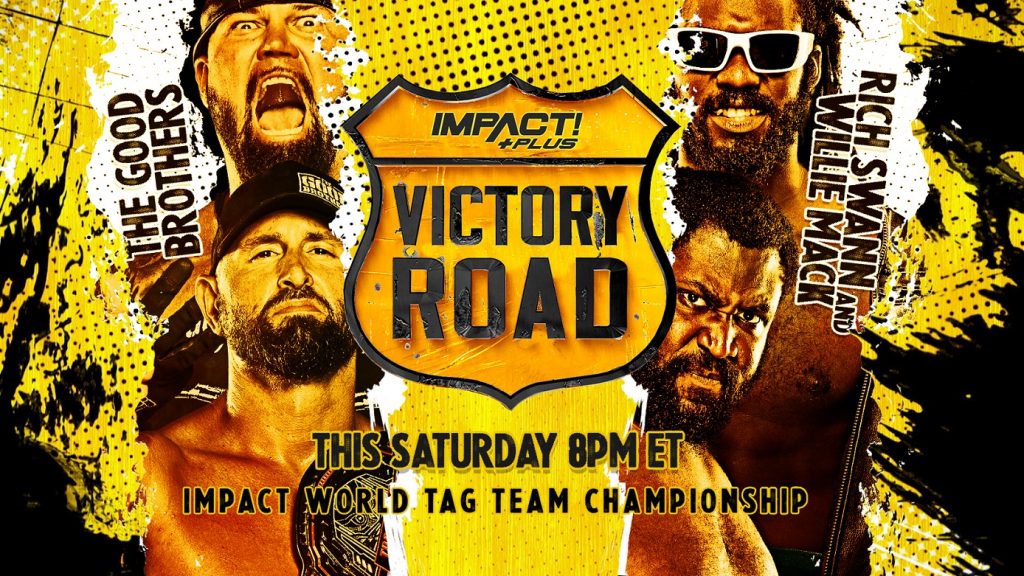 Since they returned to the tag team division earlier this summer, Rich Swann and Willie Mack have been after the IMPACT Tag Team Championships. On August 26th, Swann and Mack defeated Karl Anderson and Doc Gallows in a non-title match. Knowing Swann and Mack would be coming for their titles, Gallows and Anderson tried to put Willie Mack out of action. Following the non-title match, they put Mack through a table, leaving him on the shelf.
Interested in revenge, Rich Swann challenged Karl Anderson to a bunkhouse brawl but came up short. However, that same night, Willie Mack returned to save Swann from a 2-on-1 beatdown from The Good Brothers. Following their aggressions against each other, IMPACT Wrestling Executive VP Scott D'Amore made the match official for Saturday night. Will we see new IMPACT World Tag Team Champions at Victory Road?
Victory Road 2021
 Ace Austin (w/Madman Fulton) vs. Christian Cage (c) 
IMPACT World Championship.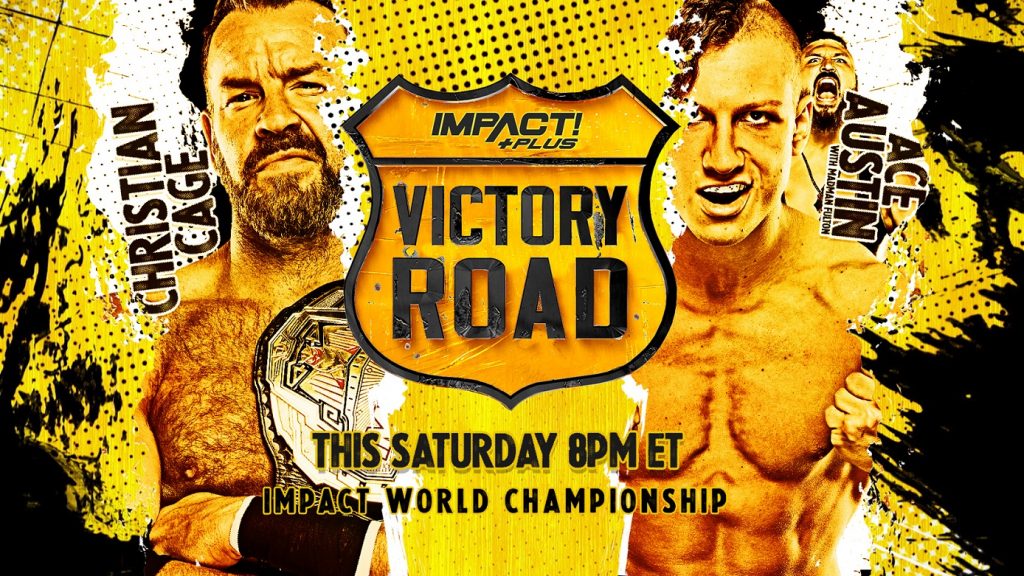 At Emergence last month, Christian Cage defeated "The Most Professional Wrestler" Brian Myers to retain the IMPACT World Championship. But there is little rest for the IMPACT World Champion, as that same night, Ace Austin defeated Moose, Sami Callihan, and Chris Sabin to become the #1 contender. The following week, Tommy Dreamer welcomed Christian Cage back into the IMPACT Wrestling fold. The Innovator of Violence said he would love nothing more than to wrestle against Captain Charisma one last time.
However, he would have to beat "The Inevitable" Ace Austin to do so. That night, Dreamer was unable to defeat Austin. As such, Christian Cage must deal with not only the young, hungry competitor in Ace Austin but also his lackey, Madman Fulton. Will "The Instant Classic" put on another barn burner of a title defense, or is a new champion "Inevitable" at Victory Road? 
*****
Be sure to stay tuned to the Pro Wrestling Post for this and additional stories from the wrestling world. Readers can rely on Pro Wrestling Post to be their daily source for all things inside the squared circle. As a result, readers can expect daily news, history, and so much more. Please visit IMPACT Wrestling's official website here for news and information on the promotion and upcoming events.