Over the course of her twenty-year-plus career, Lisa Marie Varon has shattered ceilings and blazed an unmistakable trail as Victoria. During a time when women's wrestling was typically taken lightly, Varon, who in WWE used the name Victoria, proved she was never someone you want to mess with. However, in order to point out all of Varon's achievements, it's imperative to identify where she came from and her background.
Varon comes from a multi-cultural background, being the daughter of a Puerto Rican father and a Korean-born Turkish mother. Varon's brothers were amateur wrestlers, though she herself never pursued it. She was always known for being active as she was a cheerleader as young as middle school, but her skillset went beyond athletics. Her studies in biology and medicine led to several opportunities.
The story of her athletic life begins prior to competing in the ESPN series 'Fitness America,' when she was an aerobics instructor and personal trainer. While she was participating in body-building competitions, she met future WWE Hall of Famer Torrie Wilson. Once Wilson joined WCW, she invited Varon to attend a show. While at this show, Varon was asked to appear in a segment. Even though she didn't earn a contract with WCW, she didn't rest on her laurels. She pursued bodybuilding and even earned second place as part of the National Physique Committee. It was during these competitions that she then met another future WWE Hall of Famer, Trish Stratus.
Her wrestling connections grew from there. While working as a personal trainer in L.A., Varon met the late Joanie Laurer, also known as former WWF Intercontinental Champion Chyna. With Laurer's encouragement, Varon would prepare an application package that she sent to WWE. Within days of sending the application, she was contacted by WWE. In preparation for her interview, she explored wrestling schools in her area. One prominent school was Southern California's (SoCal) Ultimate Pro Wrestling (UPW).
"I went through a lot of drills, and it was a lot more physical than I'd imagined," she says, "but with my personality, I knew I could do it. No one can say I can't do it. I didn't stop, even though I was hurting a little bit I said to myself, `I can do it. I can do it.'"

Victoria surprised her trainers in UPW. "They invited me back the next day. I went back, and they asked me, `What are you doing here?' I go, `Well, wasn't I invited back?' They're like, `We didn't think you were going to make it back because you went through a lot yesterday.' I go, `Well, I'm not saying I'm not hurt. I'm pretty sore, but I think I can do this.' It wasn't easy, but I'm a quick learner and very determined to learn something."
Victoria on her initial training with UPW.
Her first persona and character were not unlike Stacey Keibler in WCW, calling herself the HBIC (Head B**ch In Charge) while sporting a cheerleading outfit. This impressed WWE's Bruce Prichard immediately when he saw her at her first UPW event. She initially debuted as one of The GodFather's 'ho's.' In fact, after The Godfather became 'The Goodfather,' she received a powerbomb through a table. From this debut, she transitioned to WWE's developmental territory to receive further training. During her time in developmental territories MCW and later OVW, Varon found herself early on.
Eventually, she made her formal debut as Victoria, armed with a backstory of betrayal and deceit as her motivation, Soon she would be involved with another former fitness model in Trish Stratus. The genesis of all the things she said, running through her head'  was during this time. At the 2002 Survivor Series, Victoria captured her first WWE Women's Championship, defeating Stratus. For all her notable matches and accomplishments, it was her Widow's Peak finishing maneuver that was always something special to see.
"Molly Holly saw an independent wrestler, I'm not gonna say his name yet, do a move. She came back and said, "Victoria" –we don't call each other by our real names, by the way— "There's a move that I think you should use as your finisher." Because I was a big girl and I was one of the girls that could pick up everybody. So, you won't be able to do a finisher on everybody. She said, "Okay, put me here, flip me over, grab my neck, I'm gonna hook my legs, and drop to your butt." I'm like, "What?" I dropped to my butt and everybody was out in the arena, like kinda going over spots. Not rehearsing, but placements in the ring when people have promos and stuff like that. So, we're all text messaging or on our phones in the arena. Vince saw it, looks, and Molly goes, "Vince, do you like that for Lisa's finisher?" He goes, "Are you okay?" She says, "Yeah." He goes, "That's great." That was my finisher… and she saw Roderick Strong doing it."
Victoria on the origins of the Widow's Peak finisher.
Victoria's feud with Trish Stratus would continue on until WrestleMania XIX, where she would lose her title to Stratus in a triple threat match that also included Jazz. It would take a blow to the head to alter Victoria's state of mind, switching her from a heel to a face. She would later be embroiled in a feud with Molly Holly, resulting in Holly having her head shaved. It was then when Victoria would recapture the Women's Championship.
Victoria had qualities that go beyond her wrestling prowess, mainly her versatility and ability to adapt and adjust. This became evident as she was the 'muscle' for a group where she was aligned with Candice Michelle and Torrie Wilson. At a time when Bra and Panties matches were often the norm, Victoria was without question able to show her level of talent and that she was beyond those types of contests.
Later on, Victoria was in the hunt once again for the WWE Women's Championship. During a battle royal, she accidentally broke Candice Michelle's nose with a kick to the face. Accidents do happen, but if it did anything, it gave Michelle the motivation to come back stronger than she was before the injury.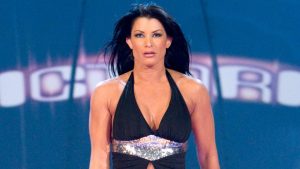 I had never felt anything like breaking my nose when Victoria kneed me in the face. However, I thank her for making me come back stronger than ever. I am pumped up and motivated to kick some ass!
– Candice Michelle, after receiving the kick from Victoria
It was as though that 'accident' led to another opportunity for Victoria. Her kick would lead to her bringing a checklist (not unlike Chris Jericho's The List') to the ring. It was a hit list of who she would be taking out next in her quest for the title. While not successful in her attempts to recapture the title, Victoria was always a perennial favorite.
After a move to SmackDown, Victoria was involved in storylines, on-screen relationships, and alliances with other emerging talents on the roster, such as Beth Phoenix and Natalya. However, in 2009, with a couple of years remaining on her contract, she asked for her release.
"No, I had two years left on my contract when I asked for my out," revealed Victoria. "I talked to Vince, Johnny Ace, and Stephanie McMahon. I asked them, 'Do you see the title in my future?' Their face gave it away. If I would have known if I would have been an enhancement talent, like Fit Finlay, all the new guys would go through him because he'll teach them the ropes in the ring ? I'd..have stayed if I had been told that.

"…I go, 'I know I'm in my 40s, but I don't know what I want to be when I grow up.' I'm a kid still and I don't want to hate the business. I didn't want to be that bitter vet, you meet those people at Comic-Con that just talk so badly about the business."
Victoria on why she left the WWE.
Her departure led to new opportunities and ways to add to her repertoire. Already armed with a tremendous skill set, Victoria would learn Jiu-Jitsu. This would serve her well when she became Tara and joined TNA.
The spider moniker followed her after she left WWE; in fact, Tara was short for tarantula. She was an instant fan favorite after she took out The Beautiful People. Armed with a pet tarantula named Poison, Tara came to the ring in a manner not unlike how Jake Roberts would utilize his snake Damien, and like Jake, she would let her pet rest on the prone body of her defeated opponent. While tapping into the fears of her opposition, Tara captured the TNA Knockouts championship from Angelina Love shortly after her debut.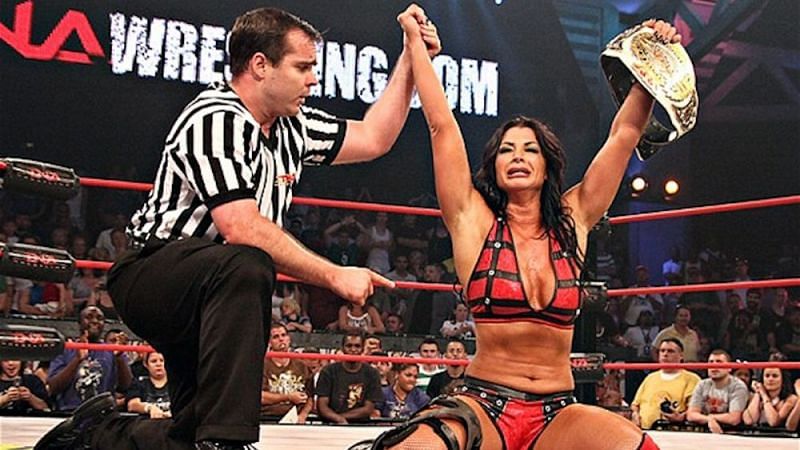 Though her reign was short-lived, she would challenge for the title against the likes of ODB and eventually captured it a second and then a third time. Of Tara's three championship reigns, she defeated ODB for the belt on two of those occasions. She would go on to feud with WCW alumni Daffney, even having a First Blood Match against her. For a time, she was an ally of Angelina Love, but as time passed, tension mounted, and she turned on her partner.
Despite all the in-ring success, she knew her value and wanted to be appropriately compensated. This was where her time in TNA came to a sudden halt. With her career on the line, she challenged Madison Rayne for her TNA Knockouts Championship. She lost the match and thus left TNA.
Although she was no longer with the company, there were reports that she and Dixie Carter had been discussing a new contract. She did eventually return, and this time she was a villain aligned with Madison Rayne. However, in order to realize an opportunity for the TNA Knockouts Championship, she defeated Rayne, Sky, and Love to regain the title. The following evening,  she laid down for Rayne, allowing her to recapture the title.
During this time, Tara was "under contract to Madison Rayne" and not TNA. This would eventually lead to distress as Tara was trapped and couldn't move on professionally. With the TNA Knockouts Championship hanging in the balance, Mickie James' was victorious (with assistance from Tara) against Rayne, not only leading to her becoming the new champion but freeing Tara in the process.
After this, Tara was part of a team alongside Ms. Tessmacher. Together they formed the tandem TNT. After Tessmacher captured the TNA Knockouts Championship, Tara would congratulate but later turn on her partner, once again turning heel. She would later defeat Ms. Tessmacher to capture the TNA Knockout Championship for the fifth time. It was at this time when she was part of the 'Hollywood boyfriend' storyline with Jesse. After losing her title to Velvet Sky, Tara was seen less and less on-screen, sadly. On July 16th, 2013 was released from her contract.
"TNA is out of the question. It wasn't a good fit for me. I had a great run there, but it was very different from WWE. It made me appreciate WWE a lot."
Victoria / Tara on her time in TNA
After leaving TNA, Varon would travel the independent circuit. Her time has seen her very much in demand. Varon's influence on those that watched her or stood across the ring from her. She has competed for Ring of Honor, Tommy Dreamer's House of Hardcore, and recently made a surprise appearance in WWE's 2021 Women's Royal Rumble. Victoria has been at the forefront of women's wrestling for the past two decades. Perhaps a behind-the-scenes role in wrestling is in her future. It is clear that whatever she does, she isn't a lady to mess with.