On June 6th, 1997, at ECW Wrestlepalooza '97, a feud would draw to a close as Tommy Dreamer and Raven would do battle. It would emanate from the ECW Arena. In Philadelphia, Pennsylvania, where a raucous ECW crowd would be on hand to see one man leave ECW in a Loser Leaves Town match. One of Extreme Championship Wrestling's most notable feuds. It was a feud that had several layers to it.
One of those layers included the intertwining of a love interest that was Beulah McGuillicuty. For some who were not aware, the two men engaged in a 'lifelong' feud with battle for Beulah McGuillicuty standing with her man. Early on in their feud, it was Beulah that stood with Raven and not Tommy Dreamer. But at this point, Beulah would stand with Tommy Dreamer as he would close out this feud with Raven.
However, as beloved as the Innovator of Violence was to the ECW faithful, it was, in fact, one man that had, time and time again had, one-upped him. Raven, as they say, was 'living in Dreamer's head rent-free. The psychological warfare between them was as effective as the sheer brutality these two bitter rivals shared with one another.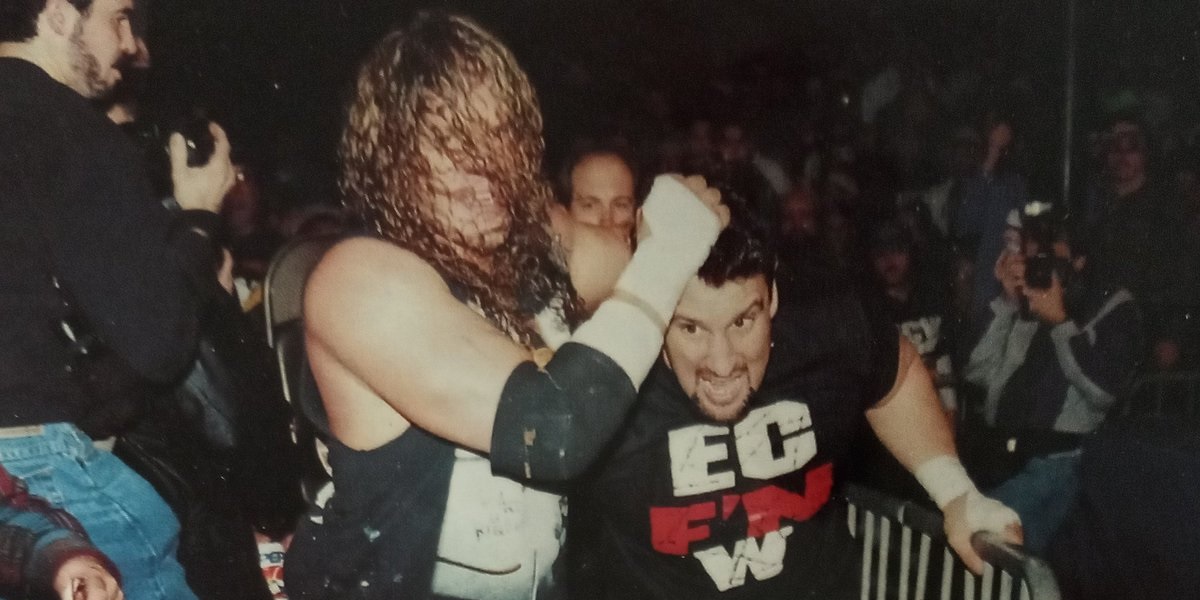 Dreamer approaches the ring with his manager Beulah McGuillicuty. Already awaiting him in the ring are Raven's Flock, Lupus, and Chasity members. Joey Styles reiterates that the winner of this match is the winner of this feud. A lifelong battle to rid themselves of the other in what is a Tommy Dreamer and Raven in a Loser Leaves town match. After Raven is announced, the fans could quite clearly be heard chanting YOU SOLD OUT! YOU SOLD OUT! This was in response to Raven having agreed to join WCW. Tommy Dreamer looks on intently at Raven as the two men meet in the center of the ring for a staredown.
Before the match begins, Lufas tells Raven to leave. Raven leaves, and Tommy Dreamer chases him to the backstage area. They begin their battle in the back and then begin to make their way back into the ring—the two men battle in the stands and into the crowd. Raven then tosses Dreamer through the merchandise table below. Raven then attempts to piledrive Dreamer through a table, but the table collapsed beneath them. The man from the Bowrey directs Dreamer to the stage and then through a table. Shane Douglas and Francine fans Dreamer below. Raven then picks up Dreamer, but Tommy reverses it into a back body drop.
Tommy Dreamer and Raven – Loser Leaves Town
Dreamer wears a crimson mask in his attack of Raven. He then attempts a splash but misses in the process. Dreamer eventually leads Raven to the ringside area. The innovator of violence then hits a modified bulldog on Raven at ringside. Both men are now busted open. Raven is thrown over the guardrail into the crowd. They make their way to the back of the arena. Dreamer is then thrown into a vending machine. With both men soaked, bloodied, and physically spent, they continue to battle on. Raven is now in control and hits Dreamer with a chair to the back of Tommy Dreamer.
Raven then hits his patented drop toe hold on Dreamer onto a steel chair in the ring. The leader of the flock asks for another chair and continues to batter Tommy Dreamer in the process. Raven sets up Dreamer for a suplex off the top rope but its turned into a rocket launcher into the chair. Dreamer reverses a whip into the ropes into a DDT. Tommy then hits a DDT onto a stop sign on Raven. He attempts to go for a pin, but Lupus gets involved in the process. Dreamer was going to hit a DDT on Lupus, but Bealuh comes into the ring and hits a DDT on him instead.
While both Beulah and Tommy Dreamer celebrate, Raven hits a low blow on Dreamer from behind. Next, he attempts to pin Dreamer, but Tommy kicks out. At this point, Raven then takes the hand of Beulah, who is clearly trying to break free from his clasp. He then tries to reason with her, but Dreamer hits a low blow on Raven. Finally, after the innovator of violence goes for the pin, Raven kicks out at two!
Chastity, at this point, runs into the ring and sprays something in Dreamer's eyes! Dreamer kicks out of Raven's pinning attempt. At this point, Beulah and Chastity begin to exchange words in the ring. This leads to a catfight between the two. But as the two are on the mat rolling around on each other, Raven pulls Beulah off of Chastity and begins to try and reconcile with her.
At this point, she hits Raven with a low blow as well. This leads to a DDT by Dreamer on Raven on the stop sign. Dreamer attempts it again, but the referee is knocked down. Louie Spicolli comes into the ring and hits Dreamer with a DDT. But guys are being hit with DDT's left and right.
Raven is then caught with a death valley driver by Tommy Dreamer. Raven is on his knees trying to, but Dreamer hits another DDT on Raven onto the stop sign. Louie Spicolli couldn't help him in the process. Fans were chanting ECW as Dreamer was being showered by accolades. As soon as the lights go out and then back on, RVD attacks Dreamer. But Dreamer is able to fight back.
It was at least temporary as Sabu arrived to help with the beatdown. The lights go out again as fans chant for Taz. When the lights come back on, it is Jerry Lawler in the ring berating Dreamer as RVD and Sabu beat on him. Beaulah is being held back by Louie Spicoli in the corner. Talent from the backstage area attempt to come and help Dreamer but are stopped at every turn. At this point, Shane Douglas was called out to come down, but he refused. But the music of New Jack and Mustafa was heard as they came down to the ring.
The assault continues as fans begin to demand for Taz to appear. Dreamer is being beaten as The Sandman appears with his cane. But he is wiped out and hit with a Van Daminator. But the music of Taz is finally heard as the human suplex machine makes his way to the ring.
We had a tremendous opportunity here. We had gone two and a half years with Raven beating Tommy Dreamer every time. Now we had a chance for one of those great moments, where Dreamer would finally get the victory over Raven – Paul Heyman (Rise and Fall of ECW)