TNT Extreme Wrestling Presents Cold Day in Hell 2021. On Thursday, November 25, TNT Extreme Wrestling will be hosting their second-ever Cold Day in Hell event. The independent powerhouses who, in the past, have seen internationally known and beloved professional wrestlers like PAC, Pentagon Jr., Will Ospreay, and Pete Dunne walk through their doors will be showcasing some of the UK's best up-and-coming independent talent.
This will be TNT Wrestling's last show under their "Extreme" brand for the 2021 year, and given the number of potential incredible matches, it's promising to be a great send-off into the new year.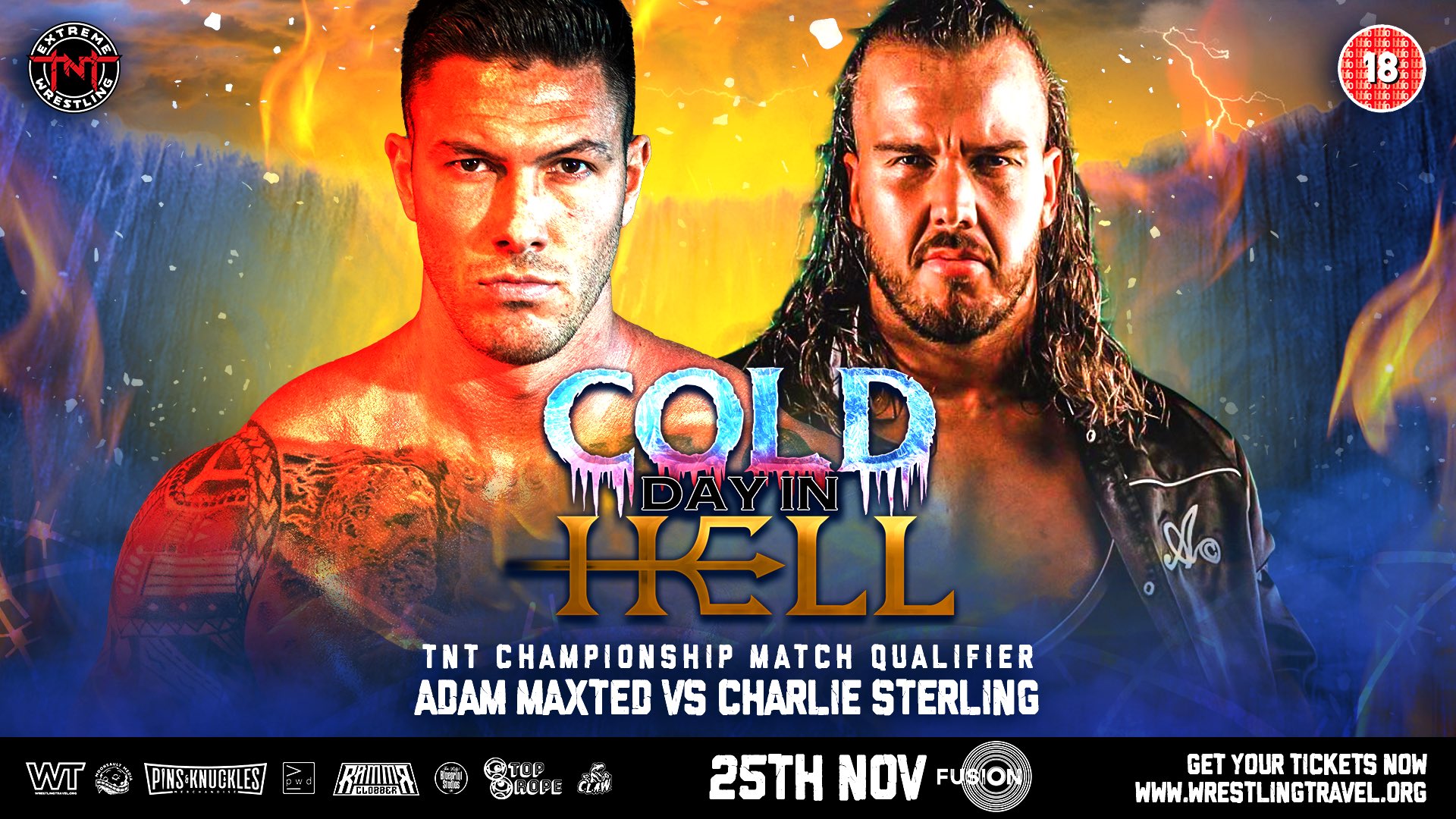 TNT Extreme Wrestling Presents Cold Day in Hell 2021
Qualifying:
Adam Maxted vs. Charlie Sterling
Former Love Island contestant and Over The Top Wrestling regular Adam "Flex" Maxted will be making his third appearance in TNT Extreme Wrestling, as he faces one half of the PROGRESS Wrestling Tag Team Champions, Charlie Sterling. The two men last met at OTT's Seven-Year Anniversary show in a six-man tag match that saw Maxted's team victorious against Sterling's.
This week in Liverpool, however, the stakes are raised as the victor of the bout will be filling a vacant spot in the event's fatal four-way match later on in the night to crown a new TNT World Champion.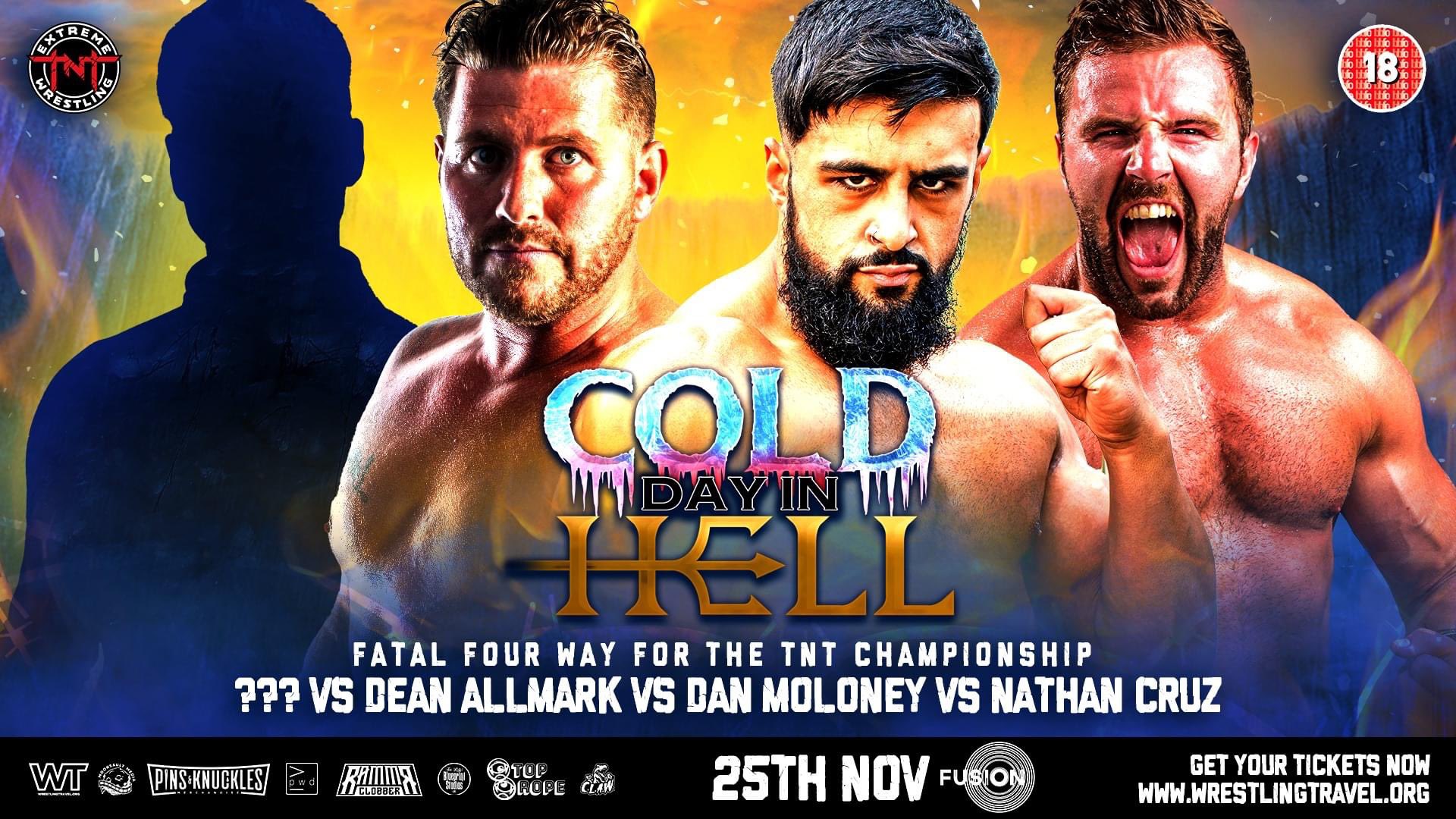 TNT Extreme Wrestling Presents Cold Day in Hell 2021
Vacated TNT World Championship Match:
Dan Maloney vs. Nathan Cruz vs. Dean Allmark vs. ???
TNT Extreme Wrestling's flagship championship will, at last, be up for grabs after nearly 17-months of vacancy. The fatal four-way match that will determine the new TNT World Champion will feature former NXT UK star Dan Maloney, one-half of the British Wrestling Revolution Tag Team Champions Nathan Cruz, 21-year veteran Dean Allmark, and the winner of the aforementioned qualifying match between Adam Maxted and Charlie Sterling.
Though all of the participants have held gold around the UK wrestling scene, none of them have captured a championship in TNT, making this a must-see match, as all men will surely be putting in their best work to obtain the promotion's most prestigious title.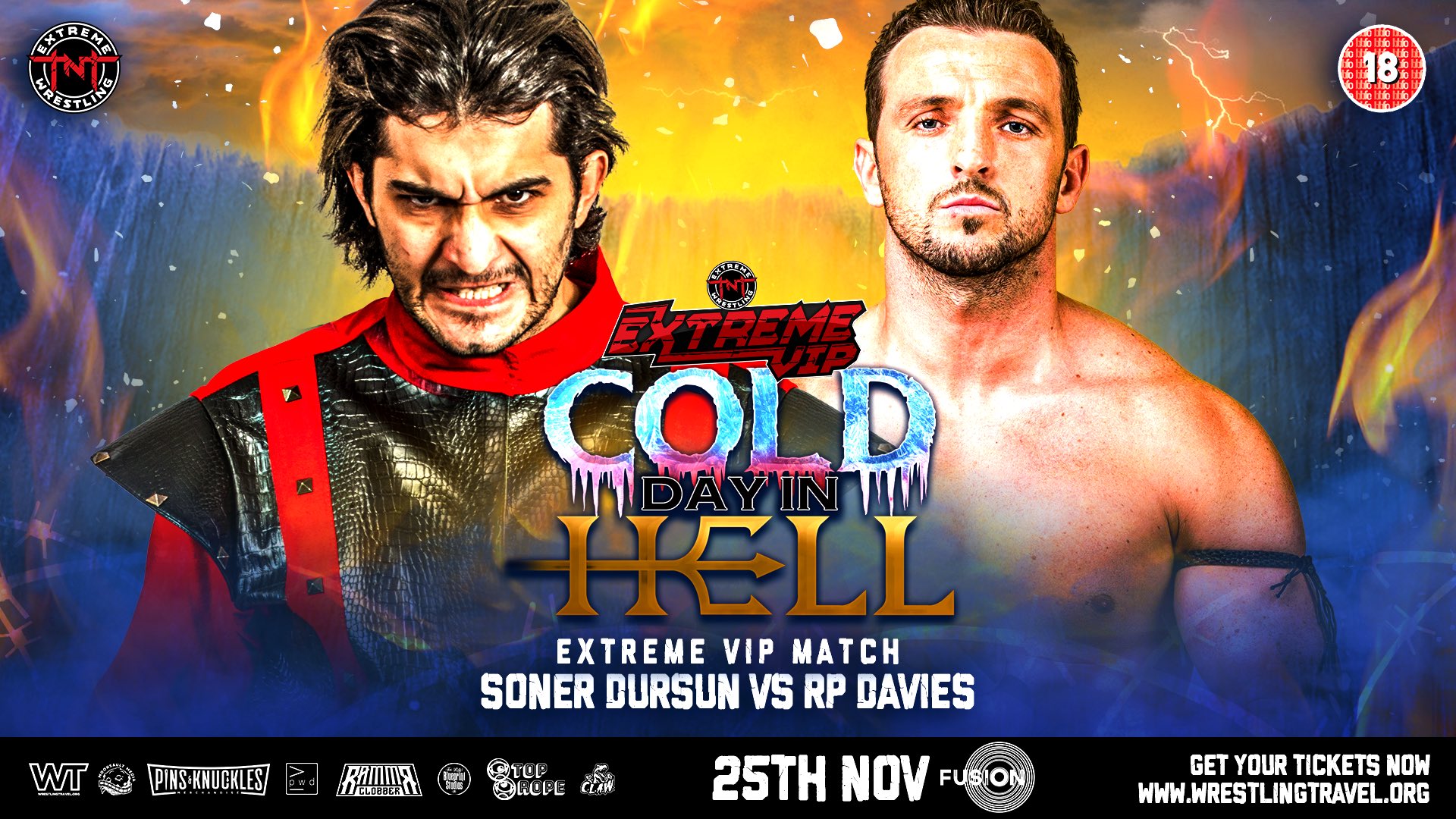 TNT Extreme Wrestling Presents Cold Day in Hell 2021
Soner Dursun vs. RP Davies
Professional wrestling and martial arts have an innate association. Whether a professional wrestler incorporates judo into their moveset or the worlds of both sports, collide in a working relationship between companies, the introduction of martial arts in a professional wrestling ring adds a whole new element of potential memorable moments.
How fortunate are us fans then that the wrestler going up against 12-1 pro boxer RP Davies at Cold Day in Hell is no stranger to memorable moments. As TNT's inaugural IGNition champion, Soner Dursun has made his name well-known to fans, wrestling for the company regularly since 2018.
Alongside regular TNT appearances, Dursun has wrestled all over the UK, amassing six different title reigns around the country. Will Davies add yet another win to his fighting record? Or will the "Turkish Wolf" be able to wrestle the boxer out of his element?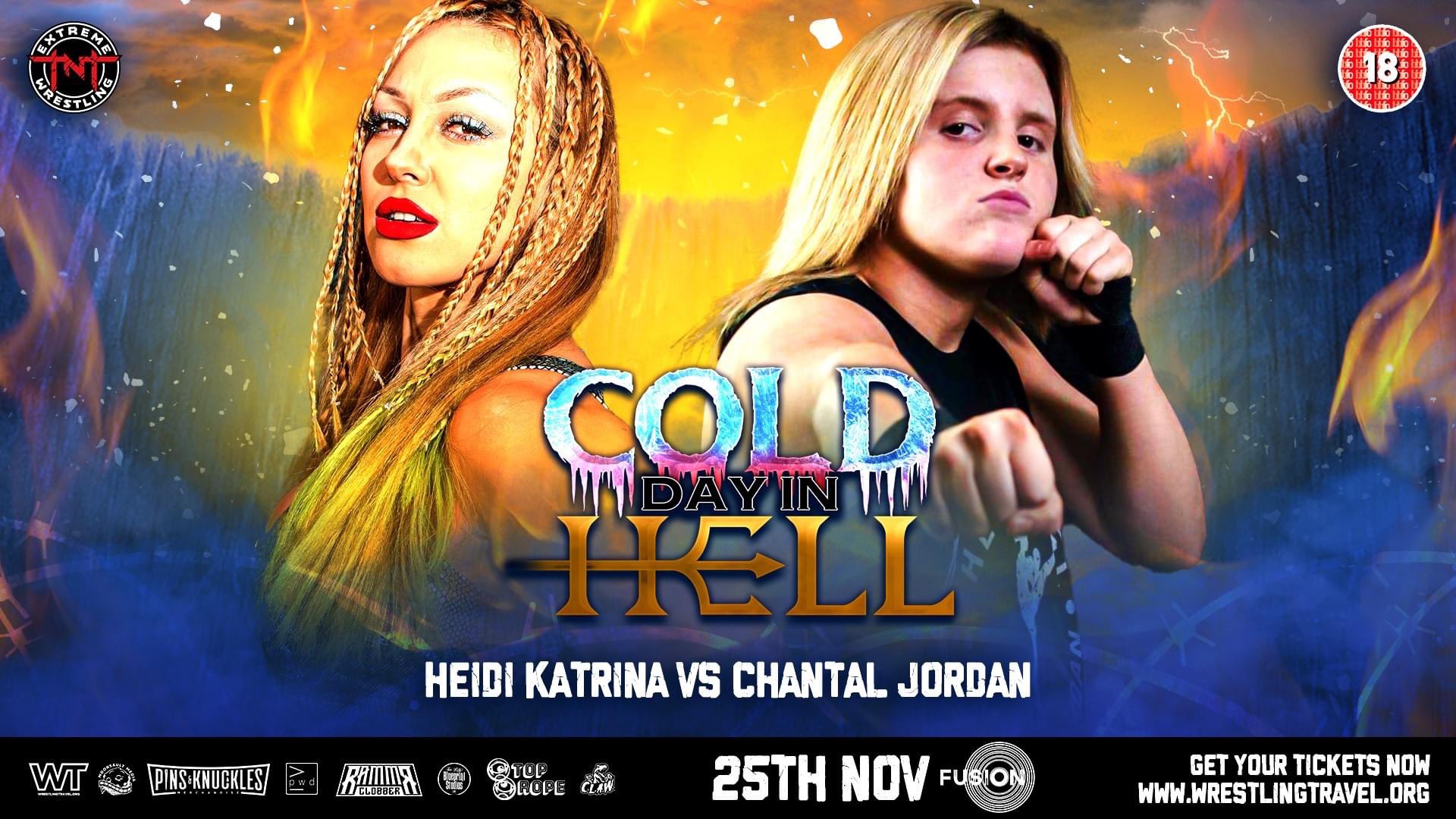 Heidi Katrina vs. "The Bad Girl" Chantal Jordan
In a match that will showcase two of the UK's most exciting up-and-coming female stars, "The British Amazon," Heidi Katrina will go one-on-one with "The Bad Girl," 18-year old Chantal Jordan. Katrina, a powerhouse who doesn't shy away from the odd spear, may pose a challenge to Jordan, even with the current CPW Galaxy Champion's kickboxing and martial arts background.
Trajectory may be on Jordan's side though, as just earlier this month, she won Kamikaze Pro's Relentless Division Championship. This will be Jordan's first showing in the company, a fact that may play to her disadvantage as Katrina's appearance at TNT Sirens Fury this past summer left a solid impression in the minds of fans.
What is certain about the outcome of this match, however, is that both women will surely demonstrate the bright future that is ahead when it comes to British women's wrestling.
TNT Extreme Wrestling Presents Cold Day in Hell 2021
TNT Women's Championship:
Lizzy Evo vs. Alexxis Falcon
At one point, Lizzy Evo was TNT's hometown heroine. Lately, however, Evo has seemingly turned on the Merseyside fans, donning a new attitude that has granted the Women's Champion villain-like status in the eyes of the TNT faithful. She and her opponent, Alexxis Falcon, are no strangers to one another, as in the 2021 alone, they have met five times in the squared circle across the UK.
This will be Falcon's fourth time challenging for Evo's title, first losing in a double countout at this year's Going Off Big Time event to "The Princess of Wrestling," then later in a Falls Count Anywhere match at Sirens Fury, followed by a Two-Out-Of-Three Falls match at Summer Explosion.
On an episode of PROGRESS in early October, Falcon managed to pin Evo in a first-round eliminator match in the Revelations of Love Tournament. Does Falcon's recent victory over Evo potentially foreshadow a title change this upcoming Thursday? Or will Evo, alongside her protege, Angel Hayze, steal yet another victory from Falcon?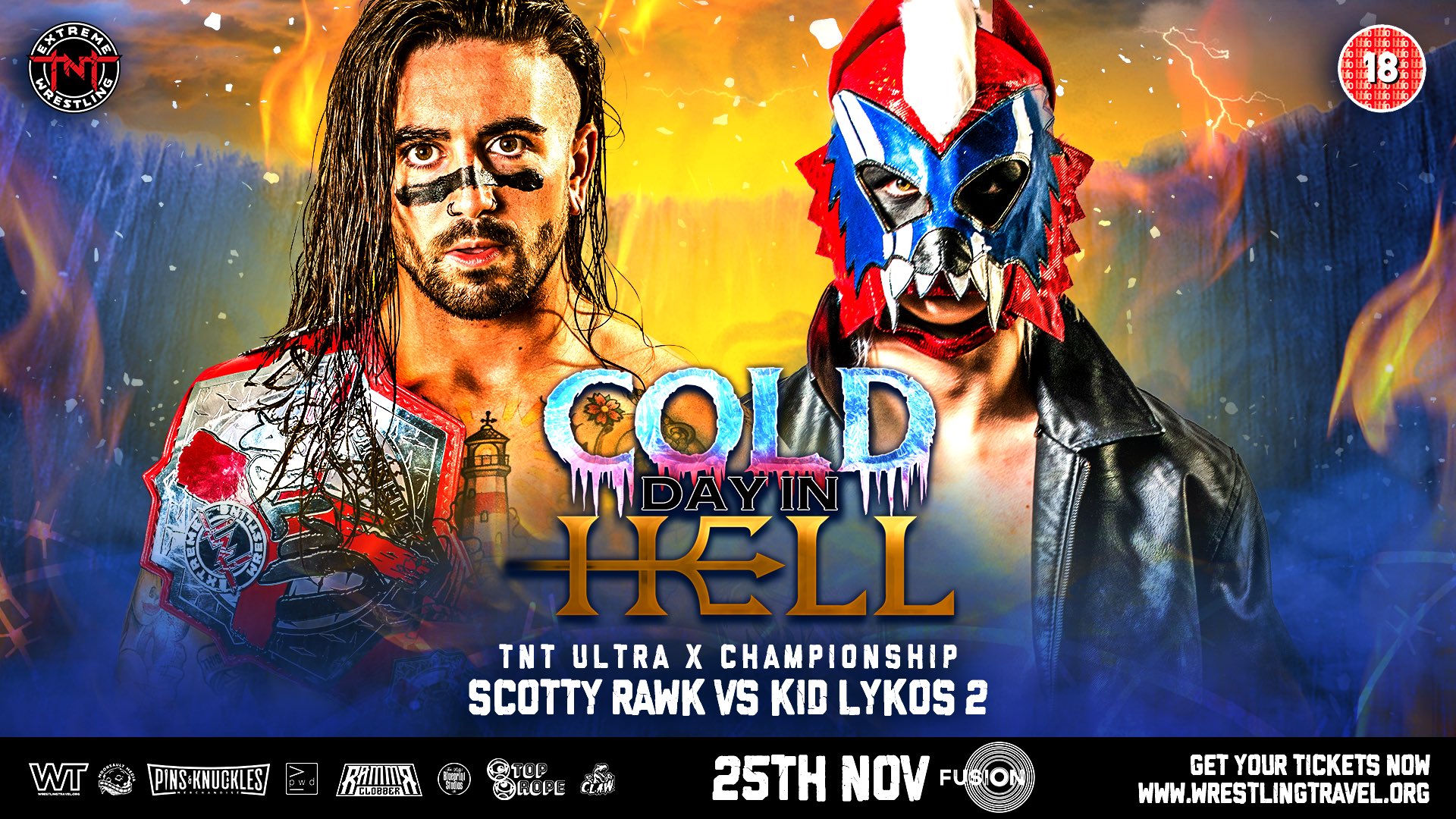 TNT Extreme Wrestling Presents Cold Day in Hell 2021
TNT Ultra X Championship:
Scotty Rawk vs. Kid Lykos II
In what should prove to be a display of some of the UK's most awe-inspiring high-flying action, former TNT Ultra X Champion Kid Lykos II has a chance to regain the title from its current holder, Scotty Rawk. Lykos had previously held the title for 569 days before being dethroned by Rawk in a four-way elimination match at this year's Thrill Kill event.
As is implied by its name and past challengers, the Ultra X Championship is reserved for the company's most acrobatic and spectacular performers. Previous challengers include IMPACT Wrestling's Ace Austin, PROGRESS Wrestling's Ethan Allen, and Insane Championship Wrestling's Leyton Buzzard.
Lykos's reign as Ultra X Champion gave TNT audiences a taste of English cruiserweight and lucha libre-esque action, whereas Scotty Rawk's hard-hitting and high-risk style has given the championship newer opportunities for different kinds of matches. When high-flyers meet in the ring, it's hard to take your eyes off the screen.
With a trophy added into the mix, it's safe to say that Scotty Rawk vs. Kid Lykos II for the Ultra X Championship is bound to be some quintessential "blink-and-you-miss-it" action.
Who else to expect:
TNT Tag Team Champions, The She Wolves (Molly Spartan and Kasey Owens)

New Sick Boys (Rory Coyle and Screwface)

Total Carnage deathmatch tournament 2021 winner, Session Moth Martina

TNT Extreme Division Champion and DOA Deathmatch Tournament 2020 winner, Clint Margera
TNT Extreme Wrestling's Cold Day in Hell 2021 can be watched on-demand at powered4.tv.
*card subject to change
*****
Stay tuned to Pro Wrestling Post for this and additional stories from the wrestling world. Readers can rely on Pro Wrestling Post to be their daily source for all things inside the squared circle. As a result, readers can expect daily news, history, and so much more. Please visit TNT Extreme Wrestling's official Facebook page here for news and information on the promotion and upcoming events.