A- 3,000 Approx MCU Park Brooklyn, NY 7/21/12 Mr. Anderson W. Robbie E. 2* More comedy shtick than actual wrestling. Entertaining but instantly forgettable Rosita W Gail Kim 1 ½* Over before you blinked and didn't much matter. RVD W Kazarian 2* Big pop for RVD. Match nothing one will ever remember. AJ Styles W Jeff Hardy 2 ½* Eight-minute matches shouldn't have lengthy rest holds. Felt Rushed. Disappointing. Sting W Bully Ray No DQ Falls Count Anywhere 3* Sting by far biggest fan reaction of the night. Exciting 12-minute brawl throughout stadium into stands. This was a TNA IMPACT Wrestling Brooklyn house show.
Austin Aries W Bobby Roode Championship Match 3* Great to see deserved Aries with the belt. Real solid 18-minute match although I've seen Aries, my favorite active wrestler, in far better ones in ROH. Roode strong in-ring performer but essentially colorless. This was a TNA / IMPACT Wrestling Brooklyn house show.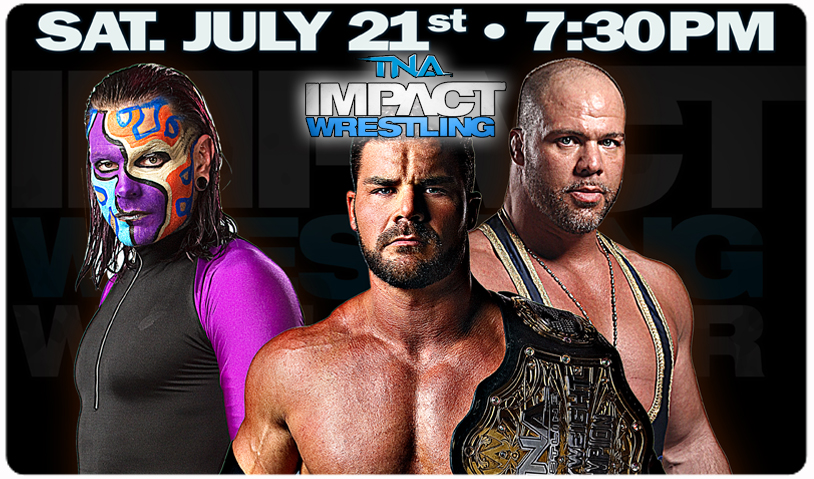 TNA / IMPACT Wrestling | A Brooklyn House Turn Back The Clock Report
Summary- Overall show was entertaining but way too much talking and shtick while the total in-ring time was anemic on a six-match show. Of the three shows I saw in NY over the past month, ROH, Extreme Rising, and this one, TNA's was unquestionably the weakest of the three. For $20 it was a fun night out, but really nothing I'd likely be inclined to seek out again. When AJ Styles wrestles 8 minutes and they hawk merchandise for a half-hour at intermission following, the balance is just plain off. Dixie Carter was there in-ring saying she appreciated feedback, well, hope this helps: a once a year stadium show in a major market like NY should feel special. This felt like any other indy, albeit a loaded one.
****
Be sure to stay tuned to the Pro Wrestling Post for this and additional stories from the wrestling world. Readers can rely on Pro Wrestling Post to be their daily source for all things past and present inside the squared circle from around the globe. As a result, readers can expect daily news, history, and so much more. Please visit IMPACT Wrestling's official website to access their content here.