The Unstoppable Thunder Rosa is a former AEW Women's Champion. She faced Hikaru Shida at ALL OUT.
Rosa was a former NWA Women's Champion upon initially competing in AEW. She also holds the International Princess Championship and the Inspire Pro Twin Dragon Connection Champion.
Ms. Rosa is familiar with toting championships around with her, and this Saturday, she looks to add another prize to her collection. Until then, let's learn a little bit more about the women who has the internet buzzing. Here is Thunder Rosa.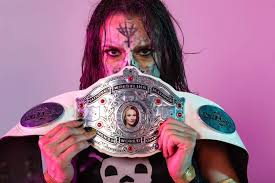 Thunder Rosa – Early Life

Thunder Rosa was born on July 22nd, 1986, as Mel Cervantes. She was born and raised in Tijuana, Mexico. Although she was not the biggest fan of professional wrestling growing up, she still watched AAA here and there.
She did eventually move to America and went to high school in San Diego. She went to college at UC Berkley, where she got her degree in Sociology. Rosa had gotten a full-time job at a drug rehab facility and was still looking for more.
Her journey into the world of professional wrestling is one that easily could have never happened. One day she and her husband attended an All-Pro wrestling show in Hayward, CA.
After the show, they announced that they were holding tryouts the next day, and her husband suggested she to try it. She was extremely out of shape and did not do well. She was still determined, and she came back 6 months later in great condition and nailed the tryout.
Starting in Pro Wrestling
At the age of 28, Thunder Rosa was starting a journey that would help her with her aggression. While working in a mental health facility she had to deal with many frustrating clients. Rosa credits professional wrestling as the reason for getting most of her anger out.
She got her start training with Dylan Drake and Matt Carlos at All Pro Wrestling. Rosa debuted in October 2014 against Kimmy Shellhammer under the name Thunder Rosa. She got the name Thunder Rosa from the drug rehab facility she was working at:
"I worked for a drug rehab facility for minors that was named Thunder Road, and I decided to call myself after that to honor the kids that have struggled so much in their daily battles of recovery. Just changed the word Road to Rosa to add a Spanish flair to it." –
Thunder Rosa on creating her name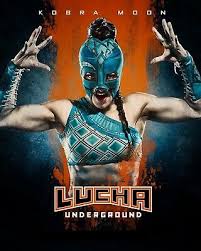 Her first match and many others earlier in her career were squash matches. Rosa knew she had to pay her dues, and her time would come eventually. Rosa was starting to get noticed, and she would soon find opportunities outside of APW.
In 2015 Rosa would compete in Japan's World Wonder Ring Stardom. Thunder Rosa would also compete in Lucha Underground under the name Kobra Moon donning a mask. She would be the leader of the Reptile Tribe.
Thunder Rosa – Is Establishing Herself as a Top Talent:
In 2017 she would get the chance to wrestle for SHINE Wrestling. She would debut at SHINE 46 just 3 years after starting her career. She teamed with Holidead to form Twisted Sisterz. The painted-faced duo challenged Ivelisse & Mercedes Martinez for the SHINE Tag Team Championship but failed to win.
The Twisted Sisterz would return a few months later at SHINE 52, and this time would win the Tag Team titles. The duo would hold the belts for 183 days before losing to Rainbow Bright (Gabby Gilbert & Luscious Latasha) at SHINE 56.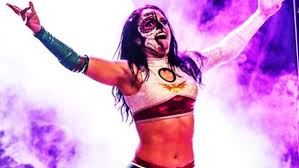 She would debut in Ring of Honor on June 15, 2018. Her first match was with Kelly Klein, and they lost to the team of Sumie Sakai and Tenille Dashwood. The next night she would lose again, but this time by herself to Tenille Dashwood. Thunder would return 5 months later during the December 15 episode of ROH.
She brought her Holidead with her, and the Twisted Sisterz were together again. The duo defeated Britt Baker and Madison Rayne. Rosas's time in ROH would be brief, and her last appearance came on March 16th, 2019, coming up short against Madison Rayne.
Thunder Rosa would be offered a WWE contract, but she turned it down:
"The WWE offer wasn't something that I was interested in. It definitely offered stability for my family and I, but that's not what I want. My goal in life is bigger than that.
Being a fighter and continuing to wrestle at the same time is the platform I need," she shared. "I am fighting not only for me and my family but for those I inspire along the way to believe in themselves." –
Thunder Rosa on turning down WWE
Thunder Rosa believes in herself and wants the platform to be a top talent. She turned down the biggest contract of her life, and she wouldn't look back.
Putting Her Strength to the Test
Thunder Rosa would do something that only a handful of professional wrestlers have attempted. On September 13th, 2019, Melissa Cervantes signed a multi-deal with Combate Americas. Rosa had been practicing in the martial art of Jiu-Jitsu for years. Leading up to this signing, she had been training for MMA.
She made her debut on November 8th, 2019, in San Antonio, Texas. Rosa would, unfortunately, lose to Nadine "Too Much" Mandiau by unanimous decision. Rosa was scheduled to have at least one more fight by now, but due to the Coronavirus pandemic, they are to be determined.
She will look to redeem herself from her debut loss in the future. For now, she still has the respect of many for even attempting to fit in both worlds.
Thunder Rosa Signs with NWA
The rebirth of the National Wrestling Alliance has brought a platform for a plethora of talent. Thunder Rosa signed with the NWA in 2019 and made her debut on NWA Powerrr. She would attempt to recruit Marti Belle in her debut but was turned down. She then took her frustrations out on Ashley Vox and picked up her first win.
After the match, Marti Belle came to the rescue of Ashley Vox when Rosa would continue to beat her after the bell. Eventually, then NWA Women's Champion Allysin Kay came to ringside, which led to Rosa attacking her. Then Marti Belle would reconsider Rosa's offer and turned-on long-time friend Allysin Kay.
The stage was set for NWA Hard Times. Thunder Rosa would face off against NWA Women's Champion Allysin Kay. Rosa would come out victorious via a vicious armbar to become the new NWA Women's Champion. She is still the reigning champion, and she has been the champion for an incredible 221 days.
Thunder Rosa CAME To ALL OUT
Since becoming AEW Women's Champion, Hikaru Shida has been stating she is always ready for a challenge. Victory after victory, she would be interviewed, and she would keep the door open for any challenger that wants a chance at her title.
Well, with a depleted women's roster due to injuries and lack of attention, Thunder Rosa answered the call. This is the first time that AEW has opened its doors to an inter-promotional match.
With NWA Powerrr having to close their doors due to the pandemic, Thunder Rosa has been yearning for an opportunity to wrestle. This Saturday, she gets that chance. The AEW Women's Championship is on the line. Thunder Rosa will look to add to her collection and walk out of ALL OUT as a double champion.
The match should be a phenomenal one as both talents are in the prime of their careers. The spotlight is back on the AEW Women's division, and Thunder Rosa and Hikaru Shida look to show the world just how great they can be.