Results from September to Remember 2019
Friday, September 6 – German Club – Regina, Sask
There has been a shift of talent in the Saskatchewan indy scene, and it was certainly felt at Ringside Wrestling's September to Remember VI.
Screaming Eagle vs. Bucky McGraw
In the opening bout, long-time High Impact Wrestling (HIW) star Bucky McGraw made his Ringside debut. A man of many roles at HIW, Bucky leaves all that behind for a fresh start with Ringside Wrestling. But it didn't go as he planned. When Bucky attempted a superplex, the Screaming Eagle blocked it and threw Bucky to the mat. The Screaming Eagle then hit Bucky with a huge Top-rope Crossbody for the pin.
Winner: Screaming Eagle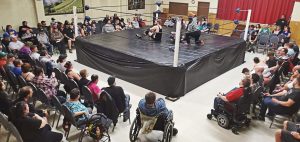 Dixie Dragon vs. The Chief
Two men who are big enough and tough enough to show up whenever they want (remember that for later in this article) returned to Ringside Wrestling action. With the Chief weighing in at 400 pounds, the only way Dixie Dragon was going to get a win, was by making strong contact at the right time – and did he ever. The moment he had the Chief reeling, Dragon hit his opponent with a superkick followed by a roaring elbow. With the Chief on his back and feeling the effects, Dixie Dragon got the pin.
Winner: Dixie Dragon
"The Individual" Mike McSugar vs. Ace Riviera
In a video that was viewed over 1,000 times within a few days, Mike McSugar – the self-professed "Individual" – was seen sipping a drink and eating a hotdog before proclaiming that he'd be coming to Ringside Wrestling. Ace Riviera wanted to spoil McSugar's big debut. But after missing a V-trigger knee, Riviera was passionately kissed by McSugar on the lips. While Riviera was throwing a tantrum from being kissed, McSugar pinned him with a "school person roll-up."
Winner: Mike McSugar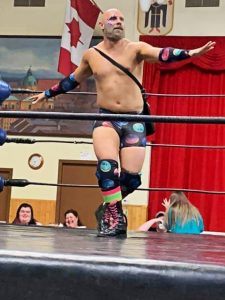 "The Zombie Killer" Mentallo vs. "Mat Messiah" Shaun Moore
Another huge Ringside debut, Shaun Moore battled Mentallo. Both men wowed the crowd with their speed, their smooth ring presence, and their innovative offense. After what was described as "absolutely incredible back and forth action," Mentallo got the upper hand just long enough to hit his patented Sliding Knee (accompanied with his trademark shriek). Mentallo got the pin on Shaun Moore.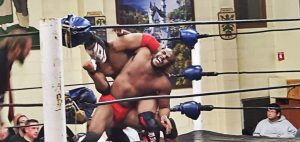 Mentallo, normally a man of very few words, then grabbed the microphone to challenge Ringside Wrestling North American Champion Cannonball Kelly to a title rematch on October 4 at Ringside's Fall Brawl.
Winner: Mentallo
Billy Blaze vs. Jeff Tyler
In the evening's David vs. Goliath battle, the smaller but more experienced Jeff Tyler faced an uphill battle. While Tyler always brings the fight, Billy Blaze's size was too much this time around. Blaze hit a belly-to-belly superplex on Tyler and got the win.
Blaze has been shining in singles competition since him and Dick Blood lost the tag team titles in earlier this year. And with this kind of momentum, a man of his size poses a real threat to everybody on the roster.
Winner: Billy Blaze
Ringside Wrestling Tag Team Title Match
Jacob & the Jackass and/or Thryllin' Villains vs.  Joey Vendetta and Moses Luke (C)
The ongoing troubles between Thryllin' Dylan (THAT'S ME!) and my best frenemy Jacob Creed have dominated 2019 for each of us. So, I decided to simply NO-SHOW September to Remember.
It wasn't the classiest way to go about it, especially since I was advertised to be there, but it was part of my plan. When the match was about to start, my music played. But I wasn't there.
The Tag Champs, Joey Vendetta and Moses Luke, were not willing to delay the match. So, Moses grabbed the microphone and said, "It happens now or not at all!"
Creed was figuratively and literally backed into a corner by the tag champs. So he agreed to wrestle for the tag team titles by himself.
Actually getting the best of the tag champs for a moment, Creed's momentum was abruptly cut short by the tag champs.
Just as it appeared Moses Luke and Joey Vendetta were about to win the match, Creed's long-time former tag partner Dixie Dragon came to his rescue. (Remember when I said Dragon kind of does what he wants?). The Dragon spit his dreaded green mist into the eyes Vendetta.
As Moses went to check on his blinded tag partner, Vendetta accidentally hit Moses with a Codebreaker! Still blinded, Vendetta turned towards Creed. That's when Creed hit the Black Hole Slam, pinned Joey Vendetta and won the tag team titles.
I wasn't there. I wasn't in the match. I didn't help Creed get the win. But I'll tell you where I was. I was in the contract. I was one-half of the number one contenders. So, I claim my half of the Ringside Wrestling International Tag Team Titles. And the results from September to Remember 2019 will reflect that.
In fact, I was even nice enough to reply to Creed, the fans and Ringside Wrestling with a video all the way from San Francisco. Be sure to check it out.
Winners: The Thryllin' Villains (title change)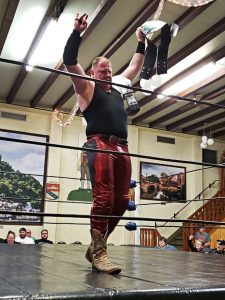 You can read all my previous blogs by clicking RIGHT HERE!