It's time for wrestling's last outlaws to ride again…so, are you ready? This is a sold-out event, but you can watch it streaming live on IWTV and FITE.tv! As we present the Wrld On GCW Part 2.
The Wrld On GCW Part 2 Preview
GCW makes its Indianapolis debut this weekend! I'll be there live on Saturday evening to catch all of the action (while catching none of the coronavirus, thank you). This event marks the return of live GCW events after a two-month hiatus that began after March's Acid Cup 2 show. It's time to get excited if you haven't been already, though. The game changers are BACK with 10 solid matches that you don't want to miss out on! Here's a look at the lineup that's been announced.
Tre LaMar vs. Lee Moriarty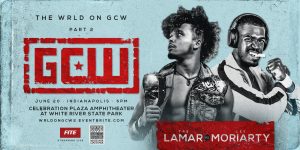 This Saturday's show will feature the debut of two of the best names on today's independent wrestling scene. You may not yet have heard about Tre LaMar and Lee Moriarty, but rest assured after this weekend you'll know both names on sight! Fans in the midwest know very well what these two can get up to, though. I can't wait to see how the rest of the world reacts!
AJ Gray vs. KTB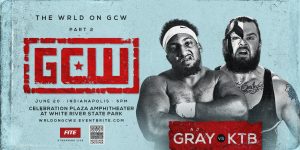 I just have one question about this match: is the ring reinforced? It damn sure better be! If you like to see big meaty men slapping meat, as they say, then this is THAT match. This will be my first time (and I'm fairly sure the first time for all) seeing AJ Gray going up against KTB in a GCW ring. I'm pulling for my guy AJ as always, but I have to say I can't wait to see what moves The Beast from the Woods will bust out in this one.
EFFY vs. Allie Kat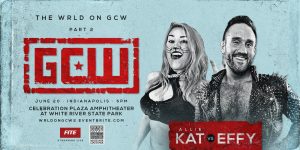 Putting two of the baddest and most beloved people on the indie scene in the ring is just GCW at its best. Since I love the hell out of both these two, it's impossible for me to pick a favorite for the winner here. I'll say for sure that we're all bound to be thoroughly entertained here. Expect this one to start off with just enough fun and then just watch and see how down and dirty Effy and the Kat can be in the GCW ring.
The Wrld On GCW Part 2
Tony Deppen vs. Shane Mercer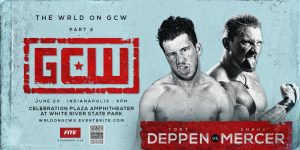 Part of me wants to start a prayer circle for Tony Deppen. The other part of me, however, wants to warn Shane Mercer ahead of time to watch the hell out for Tony Deppen. On paper you'd think the Iron Demon would make quick work out of Deppen. That is…you'd think so if you're new to how the Hershey hell raiser operates in his matches. One thing I've learned is that you don't discount Deppen, ever! I won't be so bold as to pick a winner for this one. However, I'll say that we shouldn't be surprised if Deppen uses this David and Goliath style match to his best advantage and gets what would fairly be called an upset victory.
Alex Zayne vs. Jimmy Lloyd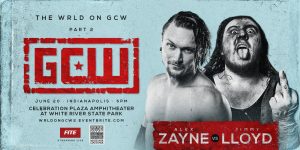 Oh hell yes! This is the first time we'll see Alex Zayne and Jimmy Lloyd go one-on-one and we know already it's going to be wild. This will be the bout that, in my opinion, shows everyone that Lloyd has range beyond the brutality we've come to know from him. On the flip side of that, however, if things get crazy enough we'll see Zayne incorporate some chair-and-door f*ckery along with his highly praised aerobatic ring style.
The Wrld On GCW Part 2
Blake Christian vs. Myron Reed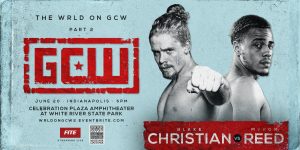 Get ready for this one, everybody. This one's going to be the show-stealer! 'All Heart' Blake Christian has proven himself in the GCW ring, but now it's time for Myron Reed to make a strong debut with the outlaws. GIFers, get your apps ready! Reed's style is an excellent match for Blake's high speed and high flying ring technique. We're going to see some mind-blowing spots in this match for sure.
Second Gear Crew (Mance Warner and Matthew Justice) vs. 44OH (Rickey Shane Page and Atticus Cogar)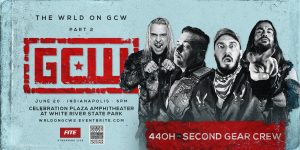 Oh man, I am hoping with everything in the world that this tag match delivers the sound ass-beating that RSP deserves. Atticus Cogar thinks that the 44OH crew is solid enough to take on anyone, however, I think he and RSP are for damn sure learning something about that this weekend. The Second Gear Crew is by far the favorite team to win this match, but if RSP and Cogar want to escalate this fight by involving more of their weak wanna-be's, that's just dandy. The SGC will be ready with backup available right there in Indy.
The Wrld On GCW Part 2
Chris Dickinson vs. Manders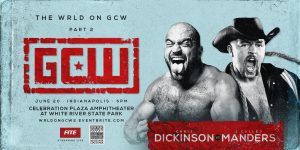 How hossed-up is this show? We've got Gray/KTB in one match and then we have this most promising banger as well! The Dirty Daddy goes one on one with the Cornbelt Cowboy and there's no way in the world I could call the potential winner here. The only sure bet I'd make right now on this one is that there will be meat slammed from bell to bell.
Calvin Tankman vs. JJ Garrett vs. Jonathan Wolf vs. Gringo Loco vs. Cole Radrick vs. Benjamin Carter (Scramblef*ck Match)
The scramblef*ck match looks insane as it is, but be on the lookout for Calvin Tankman in this one! This is his GCW debut and I think putting Tankman in the same match with all of these guys is the best introduction possible. I can surely see this banger being another possible show-stealer.
The Wrld On GCW Part 2
Spyder Nate Webb vs. Nick Gage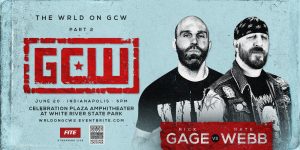 The King takes on Spyder Nate Webb in Indy! Expect both Nate and Gage to show out, too, as this is the first match back in the GCW ring for both guys after a too-long time out. I'm not so sure, however, if having RSP and his 44OH crew in the same 5-mile radius as Gage is such a great idea. We all know RSP's guys always pick their moments for the attack, so will this match get hijacked…?
As a reminder – tickets to this Saturday's show are sold out, but it's all good. You can watch every moment play out live on IWTV and FITE.tv! The summer of GCW is just getting warmed up, so be ready for the 4th of July Backyard Wrestling 2 show coming up in just a few weeks. Independent wrestling is slowly but surely on its way back, ya'll!