The Revival Are The Present and Future of Tag Team Wrestling.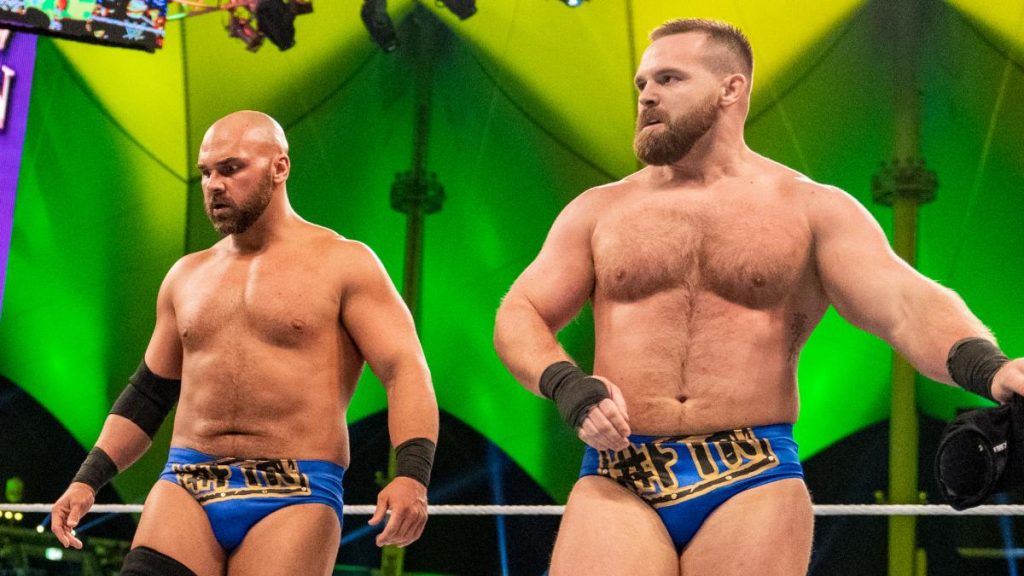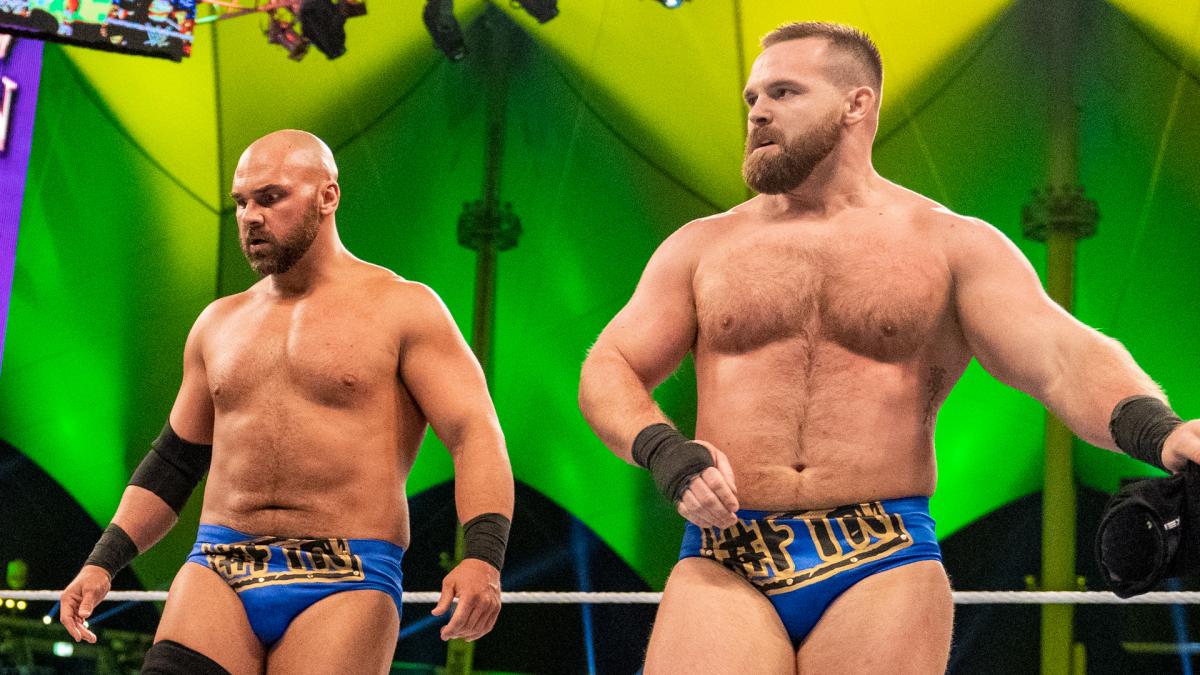 This became the origins of what would later become The Revival, a tag team like no other in wrestling today. Since their formation in 2014, the duo underwent a bit of a metamorphosis. Upon their formation, they were called The Mechanics. The name was originally what the duo was referred to upon their initial time in NXT. They sported jean jackets with a very common non-flashy way about them. A mechanic by trade works with their hands and is very blue-collar. It is that working style that is a reflection of who Wilder and Dawson were in the ring.
After returning to television the duo would often refer to wanting to 'revive' the glory days of tag team wrestling. For fans of the AWA, NWA and WWF years ago, tag team wrestling was synonymous with the likes of The Midnight Express, Rock n Roll Express, Four Horsemen/Brain Busters (Arn Anderson and Tully Blanchard). In fact, the duo's style was more reflective of a no-nonsense use of spots and aerial tactics. This was no better reflected than their 'No fists, no flips' catchphrase.
However, before you look at where Dash and Scott are going it is important to know where they were. Influences played a great part in their early development. For both men, they embrace the past as much as they do the present and the future.
Edge's influence on Wilder influence was paramount. Whether it was advice, unwavering support and belief in him Edge saw something special in Dash Wilder. Wilder (while competing under his real name, Daniel Wheeler was helped by Edge early on. Wheeler was humble and rather than intrude or find himself pestering the World Heavyweight Champion would rather have not inconvenienced him.
Dawson and Wilder would come together in NXT and usher in a new, old-wave of tag team wrestling.
His early documented matches go as far back as 2007 as Steven Walters. During that time he competed for the likes of National Wrestling Alliance Anarchy and the National Wrestling Alliance. His success is long tied to tag team wrestling. In fact, throughout his career, whether it was working with John Skyler or Derrick Driver, Wilder had a championship pedigree about him. He co-held the NWA Anarchy tag team championships with Derrick Driver on separate occasions. As one-half of Love Hate Machine, Wilder held the WrestleForce Tag Team Championship with John Skyler.
When he joined WWE's NXT brand, Wilder was immediately thrust into a tag team alongside Scott Dawson. While not wrestling as long as Wilder, Dawson's skillset was certainly recognized by those around him.
With WWE and their NXT, that's amazing and it's great to see guys achieving down there is someone that I've trained and helped get started and that's Scott Dawson. He and Dash Wilder are just a phenomenal team. Just expect big things from them.– The Stro on what he thinks of Scott Dawson and Dash Wilder
Dawson's career originated in CWF-Mid Atlantic as part of the Carolina Wrestling Federation. As KC McKnight he wrestled primarily as a singles wrestler. It wasn't until his time in the WWE where he was often tied to tag team wrestling. While he may have competed in tag team matches, his documented tag team success in the way of championships has been in the WWE.
Wilder and Dawson have demonstrated the versatility needed to be successful throughout their careers.
Both Wilder and Dawson came together in NXT. Their journey in NXT saw them engage in clashes with the likes of Big Cass and Enzo, The Vaudevillians, and American Alpha. They would capture and lose the NXT Tag Team Championships. In defeating American Alpha, Dash and Scott were now the first-ever two-time NXT Tag Team Champions. Their ability to adjust and work with these phenomenal talents was never forgotten. However, their most storied rivalry and feud in NXT came against DIY, Johnny Gargano, and Tommaso Ciampa.
At NXT TakeOver: Brooklyn II, Wilder, and Dawson retained their championships against Tommaso Ciampa and Johnn Gargano. However, at the NXT TakeOver: Toronto event during Survivor Series weekend, Gargano and Ciampa would win the titles in a two-out of three falls matchup. It was never a matter of wins or losses. These two were arguably part of 2016's match of the year.
After losing the titles to the Authors of Pain, Wilder and Dawson emerged on the main roster in the most notable way. The duo defeated The New Day in their Monday Night RAW debut. A week later they defeated The New Day again. However, for a string of bad luck would hamper the teams' early success on RAW. A fractured jaw by Dash Wilder and eventually a ruptured bicep by Dawson would put a halt to any momentum the duo had created in NXT.
Wins and Losses haven't defined Wilder and Dawson, but rather match quality and storytelling.
Once they returned to television they faced former Smackdown Live tag team champions Rhyno and Heath Slater. Their quest for the Raw Tag Team Championships could be seen as an uphill battle. However, the consonant professionals that Wilder and Dawson were made the most of what was put before them. A feud with Lucha House Party lent them the opportunity to work on and showcase their promo skills. Several matches with Roode and Gable, DIY and Ricochet and Aleister Black.
In the Winter of 2019, The Revival captured their first WWE Raw Tag Team Championship. However, much like everything else the duo had endured, they would partake in a storyline that saw them face a series of losses. This would ultimately culminate with their loss of the tag team championships to the winless Curt Hawkins and Zack Ryder at WrestleMania.
The string of losses ultimately led to a new feud this time with The Usos, who had now joined RAW. Again in a rather unforgiving storyline, The Revival made the most of an awkward storyline. As committed as they are to their craft they are equally as committed to telling the best story possible. They rode the storyline to eventually re-capture the RAW Tag Team Championship.
The Revival are tag team wrestling personified.
After losing the championships, fans had the chance to see the duos ability to collaborate with other singles wrestlers or as part of factions. For example, Randy Orton's feud with Kofi Kingston led to The Revival's alliance with The Viper. This alliance eventually lead to Dawson and Wilder capturing the Smackdown Live tag team championship. As the first team to be two-time Smackdown Live and Raw tag team champions they were certainly setting the bar. With their time in the WWE coming to an end, Dawson and Wilder look to the future.